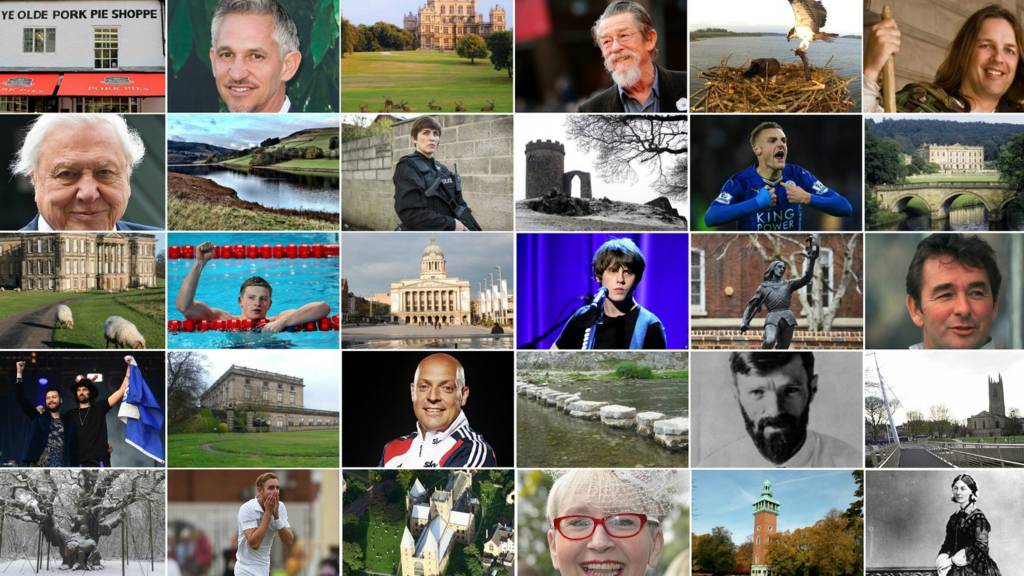 Summary
Live updates for Friday 16 June 2017
Ex-teacher Paul O'Neill who paid men to abuse children jailed for life
The 57-year-old directed the abuse of youngsters in the Philippines
Murderer jailed for 'frenzied attack'
Architect shares Grenfell Tower cladding concern
Cyclist killed in crash on A50 in Hilton
Foxes in talks with Hull City keeper
News, sport, travel and weather updates resume at 08:00 Wednesday
Our live coverage across the day

This week's updates have come to an end. We'll be back at 08:00 on Monday.

Weather: Warm weather for the weekend ahead

Maryam Qaiser

BBC Local Live

The warm weather is set to continue this evening and into the weekend.

Tonight will be dry with some light winds and temperatures will reach 19C.

It will be a great start to the weekend with plenty of sunny spells and temperatures reaching 27C on Saturday and Sunday.

Gavin Bevis

BBC Local Live

Derby County have agreed a deal to sign Liverpool's Andre Wisdom for an undisclosed fee.

The 24-year-old right-back, who can also play at centre-back, has agreed personal terms and is set to sign after taking a medical when he returns from holiday later in June.

Severe disruption: M1 Derbyshire northbound

BBC News Travel

M1 Derbyshire northbound severe disruption, between J30 for A616 and J31 for A57 Sheffield.

M1 Derbyshire - Very slow traffic and two lanes closed on M1 northbound between J30, A616 (Worksop) and J31, A57 (Sheffield), because of a broken down vehicle.

To report traffic and travel incidents dial 0330 123 0184 at any time

Renovation for Gedling tower block on hold

Maryam Qaiser

BBC Local Live

Plans to renovate and improve the appearance of Walton Court tower block in Gedling have been put on hold in the wake of the Grenfell fire.

While investigations focus on the role that exterior cladding may have played in the blaze, Gedling Homes says it has cancelled the proposed works indefinitely.

The London tower block fire has killed at least 30 people with many more still missing.

Your photos: Summer in Derbyshire

Like you've just stepped out of a salon....!

Pic taken by Bolsover Weather Watcher Rockape.

Primary school children to get lessons in how to deal with stress

Maryam Qaiser

BBC Local Live

Pupils at St Paul's Primary School, in Leicestershire, will be given lessons in how to deal with stress.

Head teacher Cal Hurst said it was important particularly in the wake of recent terror attacks in Manchester and London.

Mrs Hurst said: "There is a lot of demands on children today and society is running at such a high speed, we need to give them the skills to handle stress but also for us to recognise if they are feeling stressed."

Pupils at the school in Woodhouse Eaves are being encouraged to talk about things that are worrying them such as exams.

Graphic details of ex-teacher's crimes

Liam Barnes

BBC News Online

After pleading guilty to 30 counts of sexual offences - including rape of a child, causing a child to engage in sexual activity and making indecent images - Paul O'Neill was sentenced to life in prison today.

The 57-year-old former teacher, from Wroxham Drive in Wollaton Vale, faced away from the public gallery as the details of the abuse were read out at Nottingham Crown Court.

Many of the details are too graphic to be published, but Judge Gregory Dickinson said O'Neill "demanded" young children "suffer pain and degradation".

O'Neill must serve a minimum of 12 years as part of his sentence, though the judge warned him it is "highly likely you will remain in custody for considerably longer".

Copyright: Nottinghamshire Police

Abuser 'treated children as commodities'

Maryam Qaiser

BBC Local Live

Paul O'Neill's conviction for the rape and abuse of victims over the internet is thought to be one of the first cases of its kind.

He used webcams and chatlogs to instruct adult abusers in the Philippines, often paying thousands of pounds on the exploitation.

Charlotte Caulton-Scott, district crown prosecutor at the Crown Prosecution Service (CPS) said that he "presented himself as a respectable citizen" while carrying out the abuse behind closed doors.

Quote Message: O'Neill may have been thousands of miles away but because the offences were taking place on his instigation, with him issuing instructions about what was to take place, he was guilty of the offences himself. O'Neill treated his victims as commodities, hiding behind the perceived anonymity of the internet, but these were real children suffering horrendous abuse at his direction." from Charlotte Caulton-Scott District crown prosecutor

Ex-teacher 'was obsessed with the horrific abuse' of children

Maryam Qaiser

BBC Local Live

A judge has told former teacher Paul O'Neill he is a danger to children and likely to offend again.

The 57-year-old used webcams to direct rape and the sexual abuse of girls as young as four in the Philippines.

The apparently-respectable churchgoer, who retired from a school in Nottingham last year, preyed on poverty-stricken families to become a "virtual" child rapist during years of sickening abuse, the court heard.

Sentencing O'Neill to life in prison, Judge Gregory Dickinson said: "You are a danger to children. Given the chance, you will offend again.

"You are obsessed with, and addicted to, this most vile and horrific abuse."

Severe disruption: M1 Leicestershire northbound

BBC News Travel

M1 Leicestershire northbound severe disruption, between J20 for A4303 and J21 for M69.

M1 Leicestershire - Two lanes closed and slow traffic on M1 northbound between J20, A4303 (Lutterworth) and J21, M69 (Leicester), because of a vehicle fire.

To report traffic and travel incidents dial 0330 123 0184 at any time

Breaking

Life sentence for former teacher who paid men to abuse children

Maryam Qaiser

BBC Local Live

A former teacher has been sentenced to life in prison with a minimum of 12 years for the rape and abuse of children as young as four.

Paul O'Neill, 57, of Wroxham Drive, Wollaton Vale, paid men to abuse the youngsters in the Philippines while he watched and directed over the internet.

Copyright: Nottinghamshire Police

O'Neill admitted 30 charges at Nottingham Crown Court.

Gavin Bevis

BBC Local Live

Chesterfield woman Pamela Payne, who was reported missing earlier, has been found safe and well, Derbyshire Police have said.

Robber attacks cyclist with metal pole

Maryam Qaiser

BBC Local Live

A cyclist was hit on the head with a metal pole by a balaclava-clad robber, while he was riding along the canal in Ilkeston, Derbyshire Police said.

The robber took the victim's cash, a Samsung mobile phone and a gold chain before running towards Cotmanhay on 4 June.

The victim was taken to Ilkeston hospital and received stitches for his injuries.

Details of the attack have only just been released by the police.

East Midlands teams learn EFL Cup fate

Gavin Bevis

BBC Local Live

The draw has been made for the first round of the EFL Cup - now rebranded as the Carabao Cup. Here's who our East Midlands teams will be playing:

Nottingham Forest v Shrewsbury Town
Mansfield v Rochdale
Grimsby v Derby
Oldham v Burton
Sheffield Wednesday v Chesterfield
Scunthorpe v Notts County

Leicester City will enter the competition in the second round, along with other Premier League sides not involved in Europe.

Defeat for travellers in Barlestone caravan site battle

Investigation into Keith Vaz newspaper claims reopens

Gavin Bevis

BBC Local Live

A House of Commons investigation into Leicester MP Keith Vaz has reopened after being put on hold during the general election.

The Parliamentary Commissioner for Standards began an inquiry after allegations were made about the Labour MP's private life in September last year.

North West Leicestershire Conservative MP Andrew Bridgen had argued his actions amounted to a breach of the parliamentary code of conduct.

A police investigation into newspaper claims he paid for the services of two male escorts and indicated to one of the men that he would pay for cocaine was closed without charge in December.

Championship challenge for Port Vale and Crewe in League Cup first round

Both Port Vale and Crewe Alexandra will face Championship opposition in the first round of next season's League Cup.

The Vale travel to Leeds United, while The Alex host Bolton Wanderers.

Meanwhile Burton Albion are away at Oldham Athletic - all ties will be played the week starting 7 August.