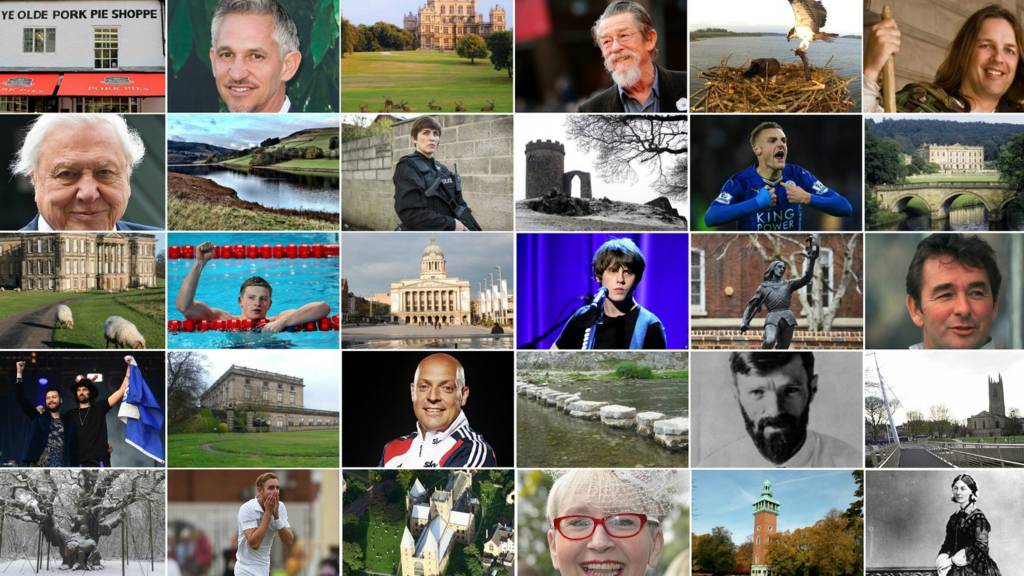 Our live coverage across the day

Today's Local Live finished have come to an end. We'll be back at 08:00 on Wednesday.

Weather: Feeling warm with some sunshine

There'll be some clear spells tonight with scattered cloud - lows of 10C (50F) with the chance of some mist patches forming.

There'll be sunny spells and scattered cloud on Wednesday. It'll stay dry with highs of 24C (75F).

It's also worth noting to allergy sufferers that the forecast for pollen is expected to be high to very high.

Your videos: Pot hole patch up

A resident of Rupert Road in Bingham has been in touch with this video after the road was repaired yesterday...

Stephen Perkins counts 50 patches where pot holes used to be.

He said: "When driving over it feels just as bad as when they were holes. It will be dangerous to cycle over."

Former Brewers keeper set for big money move

Gavin Bevis

BBC Local Live

Everton are on the verge of signing Sunderland goalkeeper Jordan Pickford for a whopping £30m.

The 23-year-old's certainly come a long way since his loan spells at Burton Albion and Alfreton Town.

Gavin Bevis

BBC Local Live

MEP Roger Helmer to stand down

Gavin Bevis

BBC Local Live

UKIP's Roger Helmer has announced he's to stand down as MEP for the East Midlands at the end of July.

The former Conservative was elected to the European Parliament in 1999 and switched to UKIP in 2012.

Helmer, who was the party's energy spokesman, also stood for South Leicestershire in last week's general election but said his decision to step down as an MEP was made before then.

Traffic: Accident causing delays on the M1 south

Traffic is really beginning to build up on the M1 south near Nottingham after an accident involving a car and a lorry.

You can see the congestion here at the junction with the A52...

Copyright: Highways England

War Horse meets Robin Hood

Heather Burman

Journalist, BBC News Online

The National Theatre's War Horse puppet trotted along to meet Robin Hood earlier.

Nottingham's Royal Concert Hall will stage the acclaimed production on tour next March.

I can't believe how life like it is.

Severe accident: M1 Derbyshire southbound

BBC News Travel

M1 Derbyshire southbound severe accident, between J25 for A52 Brian Clough Way Nottingham and J24 for A6 affecting Trowell Services.

M1 Derbyshire - One lane closed and very slow traffic on M1 southbound between J25, A52 (Nottingham) and J24, A6 (Kegworth), because of an accident involving car and lorry. Congestion to Trowell Services.

To report traffic and travel incidents dial 0330 123 0184 at any time

Watch: Police officer takes on bucking bronco

Amy Woodfield

BBC Local Live

It seems the police at Download Festival had a great weekend.

First we saw your selfies with them... then we saw some of you playing football with them.

Now we bring you this - courtesy of Thomas Jenkinson on Facebook...

He lasts about 10 seconds - not a bad attempt.

High pollution levels in Kibworth

Amy Woodfield

BBC Local Live

Harborough District Council has told the BBC it has been carrying out air pollution monitoring along the A6 in Kibworth Harcourt and Kibworth Beauchamp.

It's found there's an issue with higher than average levels of nitrogen dioxide.

They are now in the process of declaring it an Air Quality Management Area - this means the authority will put together a plan to improve the air quality.

There are already a lot of these in the East Midlands but they are generally just in the cities and big towns.

The council will now start consulting with residents about the plan.

Cricket: Somerset chase 430 target

Gavin Bevis

BBC Local Live

It's looking good for Nottinghamshire in their One-Day Cup quarter-final at Somerset.

Set 430 for victory, the hosts are currently on 148-3 after 18 overs.

Follow the scorecard and listen to live commentary here.

Bathroom spy's victims awarded council compensation

Aleena Naylor

BBC Radio Derby newsreader

Six young women who were secretly filmed by a drama teacher while using his bathroom have been awarded £70,000 in damages from Derbyshire County Council.

Russell Singleton, who was head of drama at Alfreton Grange Arts College for 35 years, was jailed for three years and two months in April 2013.

The settlement follows a major High Court ruling last year, in which a judge concluded those affected by non-physical abuse - such as via text message or being the subject of indecent images - should be awarded damages.

Man accused of modern slavery

Amy Woodfield

BBC Local Live

Police have charged a man from Derby with modern slavery offences.

It's after they identified a man who had allegedly been brought into the UK to work but had his wages withheld.

The 51-year-old has been charged with arranging or facilitating the travel of another person with a view to exploitation and holding a person in slavery or servitude.

He is due to appear at Derby Crown Court on Thursday.

Travellers in Leicester 'for hospital appointment'

Amy Woodfield

BBC Local Live

I've had an update from Leicester City Council regarding the travellers who have parked on land near Evington Leisure Centre.

Quote Message: We understand they are here for a local hospital appointment on Wednesday, and have served an order for them to be off the site by 10:00 on Friday." from Leicester City Council Spokesperson

Sexual assault reported at Download

Amy Woodfield

BBC Local Live

A woman has reported being sexually assaulted at the Download Festival last weekend.

She said it happened in the early hours of Sunday in a grassed area at the top of Car Park C.

Copyright: Leicestershire Police

The woman spent the evening with a group of people she met in the main arena when a man offered to walk her back to her tent before assaulting her.

Police are appealing to the public to try and find out who the man is - he's described as being white with dark swept back hair, in his mid to late twenties and has a Geordie accent.

Forest boss expects to see Grant progress

Gavin Bevis

BBC Local Live

Nottingham Forest boss Mark Warburton has challenged midfielder Jorge Grant to establish himself as a first-team regular after being handed a new three-year deal.

He told the club's official website: "I am looking forward to working with him and watching how he takes his chance.

"He is a young player who has gone out on loan to develop and prove a point and he has done that.

"He has gone out, scored goals and impressed the loan club and comes back to his parent club to take the next step in his career.

"He wants to break into the squad, force his way into the plans."