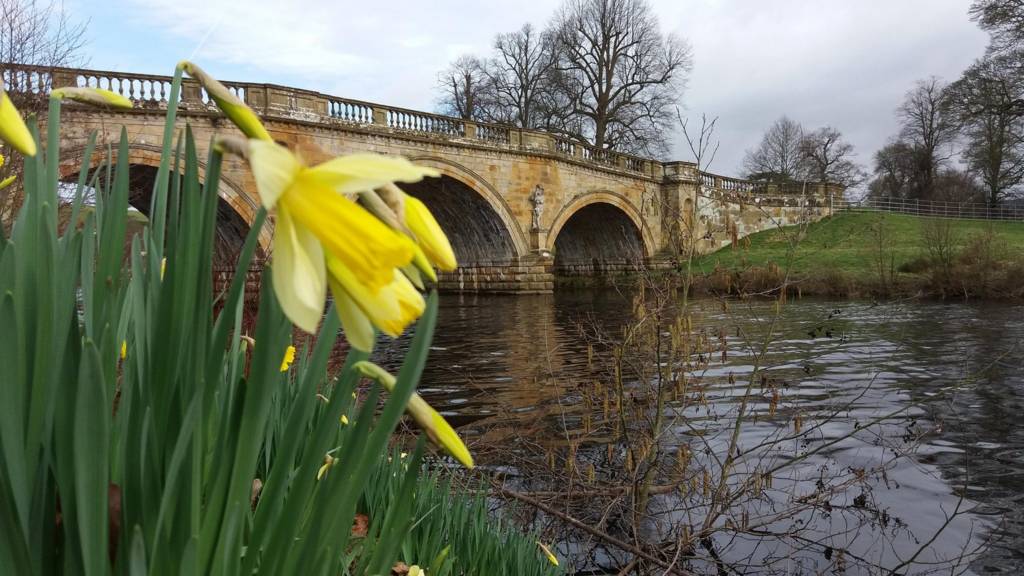 Latest updates: Derbyshire Live
Our live coverage across the day

Today's updates have now finished. We'll be back at 08:00 on Thursday.

Weather: Clouds to arrive overnight

Largely clear skies with a few patches of cloud through this evening. Overnight skies will begin to gradually cloud over from the west. A few patches of hill fog in prone spots with lows of 7C (45F).

Derbyshire Police involved in election expenses probe

Gavin Bevis

BBC Local Live

The Crown Prosecution Service has received files from 11 police forces - including Derbyshire - relating to general election expenses in 2015, a spokesman said.

Staffordshire Police have told the BBC they have also sent a file to the service.

The probe into the Conservative Party's battle bus campaign in the 2015 contest is examining whether strict spending limits in target seats were breached.

Man wanted over Derby attack

Gavin Bevis

BBC Local Live

Police say they want to speak to this man - Nathan Brandy - about an assault in Derby last month .

The 33-year-old has strong connections to the Nottingham area. Anyone with information is urged to call 101.

Copyright: Derbyshire Police

Severe accident: A617 Derbyshire eastbound

BBC News Travel

A617 Derbyshire eastbound severe accident, between B6425 Hassocky Lane and M1 J29 affecting A61.

A617 Derbyshire - A617 in Heath closed and queuing traffic eastbound between the B6425 Hassocky Lane junction and Chesterfield, because of an accident involving five vehicles. Congestion to the A61 junction.

To report traffic and travel incidents dial 0330 123 0184 at any time

Brewers forwards in race for fitness

Ed Dawes

BBC Radio Derby Sport

Burton Albion will wait on the fitness of Marvin Sordell, pictured, and Luke Varney ahead of the visit of Brentford on Saturday.

Both strikers were substituted through injury during the win over Nottingham Forest. 

Keogh set for Forest comeback

Ed Dawes

BBC Radio Derby Sport

Derby County captain Richard Keogh has welcomed the arrival of new manager Gary Rowett. 

The defender, who has played under seven different managers since joining the Rams, has also declared himself fit for the trip to Nottingham Forest on Saturday after missing the previous three matches through injury. 

Derby serial sex attacker could be night worker

Cannabis found and sword confiscated

Gavin Bevis

BBC Local Live

Sinfin has one less sword as of this morning...

Sports Direct brands pay report 'fake news'

Mike Ashley's Sports Direct has criticised a shareholder lobby group, accusing it of "fake news" for claims regarding its executive pay ratios.

The Shirebrook-based firm says a PIRC (Pensions & Investment Research Consultants) report wrongly states the firm has a chief executive-to-average-employee pay ratio of 400:1.

Such a ratio would be the second highest in the FTSE 350.

But the retailer says the PIRC figures include a bonus that was never paid, and a "true ratio" would be about 9:1.

Your comments: 'Bagpuss' dumped in field

More Facebook response to our story about a cat being put in a bag and dumped in a Burton field.

Karen O'Donnell said: "This makes my blood boil."

Brian Gamble posted: "I hope she finds a good home and soon."

Your pictures: Blue skies in Derbyshire

Here's how Ladybower's looking today. Pic by Cloudspotter.

Prescription error 'may have caused woman's death'

Navtej Johal

East Midlands Today reporter

An inquest has heard how a Codnor woman could have died as a result of a prescription error. 

Kymberley Holden, 27, was a dispatch officer for East Midlands Ambulance Service and was described by her boyfriend and father as a "bubbly young woman".

Eleven months before she died, she was diagnosed with multiple sclerosis and the condition was so severe, she was using a wheelchair because she'd lost the use of her right leg.

We heard from her boyfriend that on the night she died in November 2014, she'd taken three doses of a strong liquid painkiller in the afternoon and evening to help her cope with the pain.

She went to bed at about 23:00, and a few hours later, her boyfriend woke to find her collapsed, lying on the floor and not breathing.

A post-mortem examination gave the cause of death as an oxycodone intoxication and Devic's disease, which is very similar to multiple sclerosis.

The coroner also said there had been a prescription error.

The consultant neurologist - who had worked with Kymberley - went through the medication she had been given in the months leading up to her death.

She said she believes it was the dosing of the painkiller over a short period of time in the final hours that caused the respiratory depression that led to her death.

The inquest continues. 

Rowett explains backroom team selection

Gavin Bevis

BBC Local Live

New Derby County boss Gary Rowett has been profiling his backroom team on the official club website .

He will be supported by Kevin Phillips (first team coach), Kevin Summerfield (assistant manager), Mark Sale (first team coach), Kevin Poole (goalkeeping coach) and Joe Carnall (head of performance analysis). 

Your photos: Blue skies in Derbyshire

A gorgeous pic of Bamford Edge, courtesy of Keith B.

Firefighters called to waste machine fire

Gavin Bevis

BBC Local Live

If you spotted a commotion near Wilmore Road a little earlier, here's what was happening...

Man 'pulled out knife during family row'

Teenagers beaten up in Eyam car park

Gavin Bevis

BBC Local Live

A 19-year-old man suffered serious head injuries when he was allegedly hit with a bat after being dragged from a parked car by a group of up to six people in Eyam.

Another 19-year-old man was kicked in the face after getting out of the Citreon Saxo at the Hawkshill Road car park on 8 March. 

Three people, aged 15,17 and 20 have been arrested on suspicion of assault. Police have appealed for witnesses.   

Your views: Bagpuss dumped in field

Victoria Plum got in touch via Facebook after reading our story about a cat being tied in a bag and dumped in a Burton field.

She wrote: "Where are these people's head's at?" 

Afternoon weather update: Warm and bright

It should feel fairly warm for most of this afternoon with light winds and highs of 15C (59F).