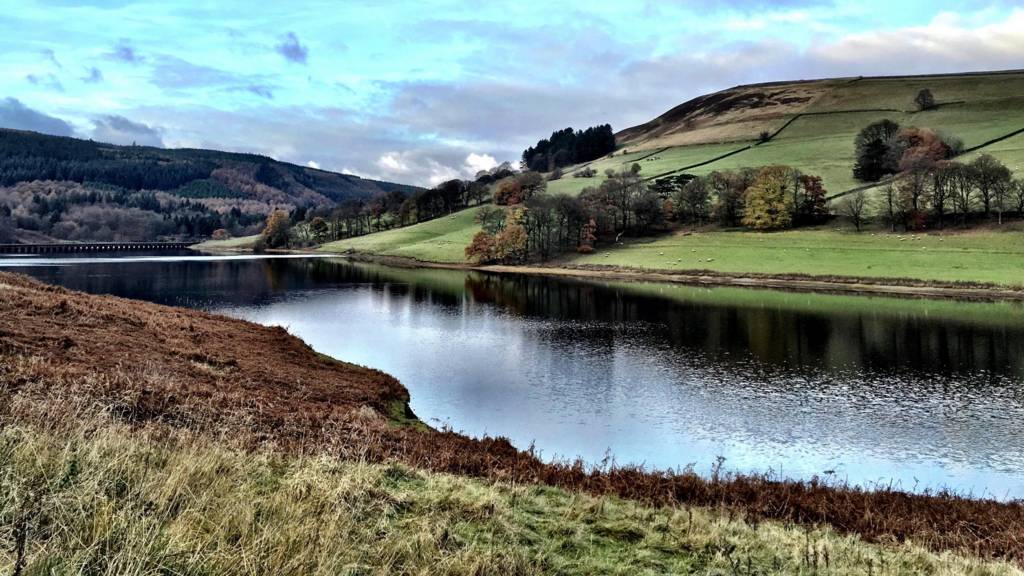 Latest updates: Derbyshire Live
Our live coverage across the day

Today's updates have now ended. We'll be back at 08:00 on Wednesday.

Weather: Rain expected tonight

Patchy cloud with the risk of an isolated shower this evening. Overnight cloud will thicken up from the west with outbreaks of rain and drizzle. Lows of 3C (37F).

Y Not headliners to be revealed

Gavin Bevis

BBC Local Live

I know the line-up for this year's Y Not Festival is announced later but I can't remember what time...

Watch: Kilbane's bottle rocket challenge

Gavin Bevis

BBC Local Live

Random video of the day - former Derby County star Kevin Kilbane taking part in a science challenge for Football Focus.

School forces rethink from inspectors

Aleena Naylor

BBC Radio Derby newsreader

A Derbyshire primary school will no longer be placed in special measures after Ofsted agreed to take another look at what its inspectors had found.

Scargill CE Primary School in West Hallam had initially received a rating of 'inadequate' last November. 

However after the school queried some of the points made by the inspection team, officers made a rare return last month and have now rated the school as "requires improvement".  

Severe disruption: A50 Derbyshire eastbound

BBC Travel

A50 Derbyshire eastbound severe disruption, between J4 A38 and J3 A514 Swarkestone Road Swadlincote.

A50 Derbyshire - One lane closed on A50 eastbound between J4, A38 (Toyota Island) and J3, A514 (Swadlincote), because of a broken down vehicle. Traffic is coping well.

Check local traffic and travel reports for:

Police ceremony to be streamed online

Gavin Bevis

BBC Local Live

What a glorious time to be alive!

A professional boxer - dubbed The Ginger Rocket - has been jailed for 12 months after assaulting his girlfriend and for committing a burglary at her home with intent to cause damage.

Mac finds Ranieri speculation hard to fathom

Owen Bradley

BBC Radio Derby Sport

Derby manager Steve McClaren said it was "unbelievable" that Claudio Ranieri's position at Leicester was being questioned.

He said: "Managers stick together. We all go through it. This week it is Claudio, next week it will be someone else."

Foxes v Rams: Latest team news

Owen Bradley

BBC Radio Derby Sport

Steve McClaren promising to play another strong side at Leicester tomorrow, but there are plenty of injury doubts for Derby.

Question marks over Johnson (pictured), Bryson and Russell. Nugent back in training but by no means certain to feature. Hughes still out  

Police hunt man after court no-show

Gavin Bevis

BBC Local Live

Have you seen Jamie Day? Police are looking for him after he failed to appear in court in September charged with burglary.

The 28-year-old is from Leicestershire but it's thought he could be in the Swadlincote area.

Copyright: Leicestershire Police

Man held knife to pregnant wife's throat

Latest headlines for Derbyshire and East Staffordshire

Gavin Bevis

BBC Local Live

Here's a reminder of our top stories right now:

The mother of killed backpacker Mia Ayliffe-Chung blasts Donald Trump for including her death on a list of "under-reported terror attacks"
A funeral takes place for a former Royal British Legion chairman who raised millions for the Poppy Appeal in Derbyshire
Leicester City reiterate their backing for under-fire boss Claudio Ranieri ahead of tomorrow's FA Cup replay against Derby County

Mystery photos from the archives

Gavin Bevis

BBC Local Live

Here's another great pic from the archives of Derby-based photography firm W. W. Winter, which is about to celebrate its 150th birthday.

The company said like many of the pics it has been restoring, little is known about the date or location of this shot.

Email me if you can provide any clues.

Severe disruption: M1 Derbyshire southbound

BBC Travel

M1 Derbyshire southbound severe disruption, between J29 for A617 and J28 for A38 Alfreton.

M1 Derbyshire - One lane closed on M1 southbound between J29, A617 (Chesterfield) and J28, A38 (Alfreton), because of a broken down vehicle. Traffic is coping well.

Check local traffic and travel reports for:

Packed cathedral for poppy fundraiser's funeral

Wesley Mallin

Reporter, BBC Radio Derby

The eulogy for former Royal British Legion chairman Bernard Page described him as "a man whose dedication to service, duty, honour and country knew no bounds". 

This afternoon's weather outlook

Rebecca Wood

BBC Midlands Today

Brighter spells expected across the East Midlands this afternoon and staying mainly dry, although there is the risk of a shower later. Highs of 9C (48F).

Rams' FA Cup rivals back boss

Gavin Bevis

BBC Local Live

An interesting development ahead of Derby County's FA Cup replay at Leicester City tomorrow night...

Following murmurings over Claudio Ranieri's future with the Foxes after a run of poor form in the league, the club has just issued a statement reiterating its "unwavering support" for the Italian.

However, it also says: "There is a collective appreciation from everybody at the club that recent form needs to improve."  

Wesley Mallin

Reporter, BBC Radio Derby

The funeral is taking place at Derby Cathedral for Bernard Page, a former chairman of the Royal British Legion in Derbyshire. 

Mr Page raised millions of pounds for the Poppy Appeal and was recognised with an MBE in 2012.