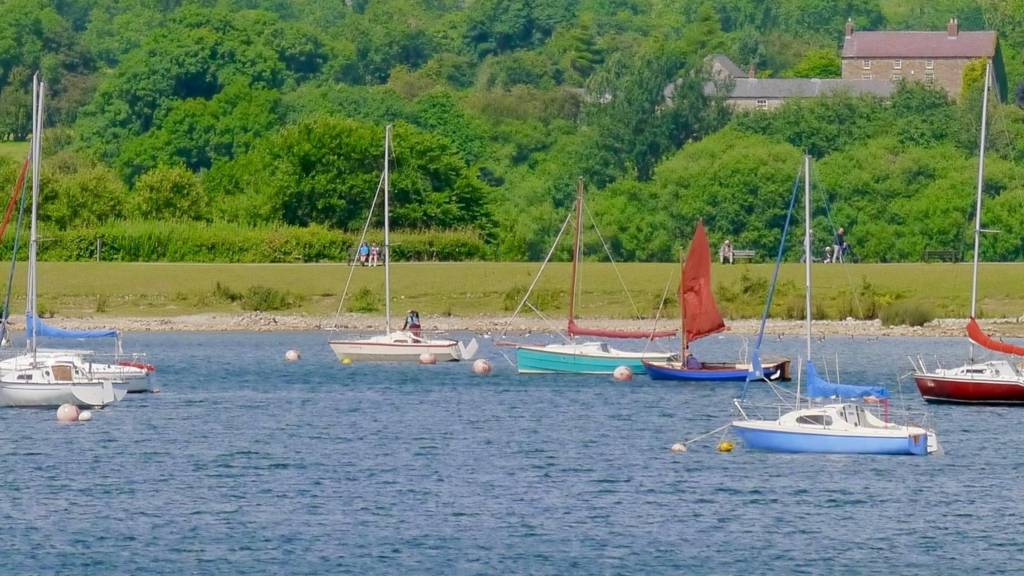 BBC Local Live: Derbyshire
Summary
Updates for Tuesday 20 September
More news, sport, travel and weather from 08:00 on Wednesday
Our live coverage across the day

That's all from Local Live today.

Join us again tomorrow.

Weather: Staying dry tonight

A dry night with isolated patches of mist or fog developing and lows of 13C (55F).

'Amazing to see kids putting smiles on adults' faces'

It'll be a few days before we know if the 400 or so schoolchildren who gathered in Derby city centre this morning have broken a world record.

They were aiming to perform the largest number of random acts of kindness in one place, such as handing out sweets and opening doors for people.

Ex-Derby Mayor Lisa Higginbottom said: "Seeing smile's on children's faces, putting smiles on adults' faces, it's just amazing."  

Man cuts tent and assaults camper

Police are appealing for witnesses after a man opened the zip of a tent, cut it from the outside and then assaulted a woman inside.

It happened on Sunday between 08:30 and 09:00 in Chadwick Nick Lane in Crich.

The man then took four folding chairs and left in a car.

He's described as white, aged between 19 and 20, and was wearing a tracksuit and gold chain.

Furniture fly-tipped near Bolsover

Remembering Angelina's East Midlands nod

Tenuous local link alert... 

Sad news about Brangelina, but remember when Angelina Jolie said "ay up me duck"?

Your pictures: Heanor butterflies

Thanks to Weather Watcher Stoneyford View.

Copyright: Stoneyford View

Sex assaults on girls at bus station

Two 15-year-old girls were sexually assaulted at Derby bus station on Sunday afternoon, police have said.

The girls were sitting at bay 10 at about 15:00 when a man came up behind them, stroked their hair and made inappropriate comments.

He's described as white and aged between 50 and 60, with balding fair or white hair.

After the assault he got on a number 22 bus to the Chaddesden and Oakwood areas.

Firm to move into town's former Co-op

A millionaire businessman who once sold ironing board covers on Ilkeston market when he was 17 is moving his business back to the town, creating 160 new jobs in the process.

Derby child rapist's sentence increased

A Derby man who raped and molested a young girl has had his jail term increased today. 

Steven Robert Cook, 40, gave his victim sweets and threatened her.

He was originally jailed for five-and-a-half years in May at Derby Crown Court after admitting rape and sexual assault of a child under 13. 

His sentence has now been upped to seven-and-a-half years at the court of appeal in London by judges, who said his original term was far too lenient.

Clough 'gone but not forgotten'

Skinner not a fan of media's treatment of Corbyn

"You've not succeeded yet and you'll never manage it."

Bolsover's Dennis Skinner, outside Labour's NEC meeting earlier.

Liverpool fan Hughes on facing Reds tonight

"I've followed Liverpool since I was a lad so to get to play against them is a big thing for me," says Rams midfielder Will Hughes.

Derby face Liverpool in the EFL Cup Third Round tonight.

Travel: A6 by-pass to close nightly

Banned driver led police on 121mph chase through city

A motorist led police in Derby on an "outrageous" 20-minute chase through the city and into the countryside at speeds of up to 121mph.

Former Rams manager's Guthrie tribute

Ed Dawes

BBC Radio Derby Sport

A minute's silence will be held before Rams v Liverpool at the iPro later for Gordon Guthrie, who died aged 86.

Listen here to former Derby County manager Arthur Cox on Gordon Guthrie's role in two promotions there.

How much food has been eaten in the lounge?

Sandish Shoker

BBC News Online

And it's been two years since the executive lounge opened at East Midlands Airport.

Since then 183,000 cups of tea and coffee have been sold, 82,000 breakfast rolls have been enjoyed, 30,000 soft boiled eggs have been dipped and more 45,000 pies have been eaten.

That's a lot of pies! 

Passenger numbers rise for airport

Sandish Shoker

BBC News Online

It's been a good summer for East Midlands Airport.

Passenger figures for August released today show 596,000 people flew from the airport last month - a 6.2% rise compared to August 2015.

Veterans in Matlock Bath lights boat parade

There have been some spectacular sights at the annual Matlock Bath illuminations this year...

Derby beat Liverpool three times in 90s

Tom Brown

Sport reporter, BBC East Midlands Today

Derby have beaten Liverpool three times in their last 26 meetings. 

They all came between 1997-99 and Paulo Wanchope scored the winner in each.