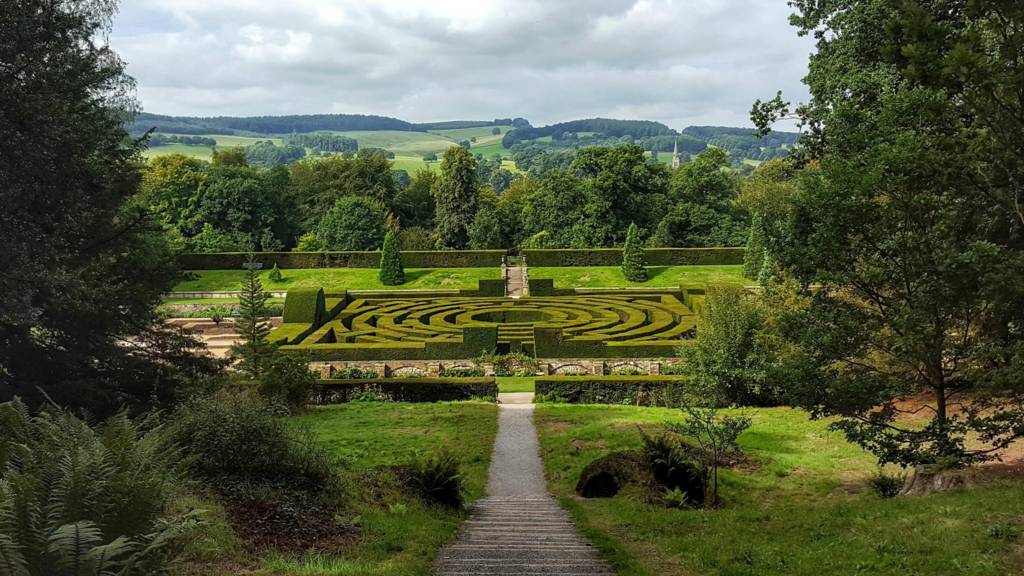 BBC Local Live: Derbyshire
Summary
Toyota boss: Brexit forecasts 'unfair and premature'
Man arrested in 'road rage' incident
Woman 'mad' at council in pothole compensation row
Olympic champion Adam Peaty set for tattoo
Updates for Monday 5 September 2016
Our live coverage across the day

Our live updates have now ended and will return from 08:00 tomorrow.   

Weather: Chance of sunny spells

Kay Crewdson

BBC weather presenter

Tonight will be very warm and humid, but tomorrow will be a drier day.

It will still be cloudy and murky - with a little drizzle - but we should see more in the way of breaks developing for spells of sunshine.

Fingers crossed...

Cabbies 'could lose £500' after taxis damaged

Taxi drivers say they could lose up to £500 after their cars were broken into and damaged by a thief.

At least two private hire taxis and one Hackney Carriage were targeted in the spree, which happened in Littleover in the early hours of Sunday morning.

Mickleover sign Clinton Morrison

Alex Smith

BBC News Online

I didn't know Clinton Morrison was still playing!

The former Coventry, Birmingham and Crystal Palace striker will certainly bring a wealth of experience to Mickleover. 

Travel: Rush-hour congestion across Derbyshire

You almost want to look away, but you probably shouldn't if you're heading towards any of these areas...

There is still slow traffic on the A52 Ashbourne Road in Brailsford at the Wildpark Lane junction. Also, there's very slow traffic on the A5111 Kingsway westbound in Derby at Kingsway Island.

Meanwhile, there's slow traffic on the A61 Sir Frank Whittle Road outbound in Derby between Pentagon Island and Little Eaton Island. 

Appeal after BMW bike stolen

Alex Smith

BBC News Online

Derbyshire Police is appealing for information after a BMW motorbike was stolen from a property in Hayfield.

The theft took place at about 02:00 on Wednesday 10 August, when three men forced the steering lock on the white F650 bike.

They then continued to push the bike down Meadows Road and make off with it.

Double lung transplant man rebuilding life

Alex Smith

BBC News Online

James Eyre, 42, from Derbyshire, has spoken to BBC East Midlands Today nearly a year after his double lung transplant operation.

Mr Eyre, who was born with cystic fibrosis, is now back at work and is attempting to rebuild 13 miles of dry stone wall in the county over the next 10 years.

The interview coincides with National Transplant Week.

Police release images of two men after car 'arson'

Alex Smith

BBC News Online

The good news continues...

Police have launched another appeal for information - this time over a suspected arson attack on a car in Chesterfield.

Images of two men seen in the area at the time of the "attack" at the Spire Walk Business Park at 19:00 on 1 September have also been released.

It is believed the car, a Jaguar XK Dynamic R, may have been set alight deliberately.

Cash and bike stolen from pub

Alex Smith

BBC News Online

Witnesses are being sought after thieves burgled a pub and stole cash and a blue VooDoo Bantu mountain bike.

A fruit machine was also damaged during the break-in at the Jubilee Arms in Simmondley between 03:00 and 07:00 on Monday 29 August.

Burglar jailed for 16 months after DNA cider drop

Alex Smith

BBC News Online

A burglar has been jailed for 16 months after his DNA was left at the scene of the crime - on a bottle of cider he dropped.

Karl Beeson, 27, was seen running away from a house in Campion Street, Derby, on 5 May, and dropped a bag of items he had stolen.

A bottle of cider was one of those things - the burglar's fingerprints were also found on a bottle of whisky taken from the house.

Copyright: Derbyshire Police

Beeson, of Harington Street, Derby, was sentenced on Thursday.

Bet he's not so happy now...

Fire boss asks public to join funeral

Amy Woodfield

BBC Local Live

Paul Wilkens's funeral is going to be this Friday at All Saints with Holy Trinity Church in Loughborough.

Chief Fire and Rescue Officer Steve Lunn says: "We are encouraging members of the public to join us as we say farewell to Paul, by lining the route that he will travel to the church."

Fireman to get ceremonial funeral

Amy Woodfield

BBC Local Live

Last month we told you about the death of the Leicestershire fireman Paul Wilkens while on duty in Castle Donington.

Copyright: Leicestershire Fire and Rescue

The fire service have now announced he will have a "full ceremonial funeral" and they're asking for the public to come along.

Brexit forecasts 'unfair', say Toyota

Simon Hare

BBC Inside Out East Midlands

Toyota said those comments are "premature and unfair at this stage".

Car analysts: Toyota 'most likely' to leave the UK

Simon Hare

BBC Inside Out East Midlands

Toyota - which employs almost 3,000 people in Derbyshire - is among the firms most likely to leave the UK following the EU Referendum result, according to car industry experts.

Professor David Bailey (pictured below), from the Aston Business School, said the car industry is one of those industries that is "most exposed to the risks" around Brexit.

Two detained over van theft

Alex Smith

BBC News Online

Two men have been arrested and bailed in connection with the theft of a van from outside a house in Chellaston. 

Builders carrying out work on the roof of a house parked the van on the drive outside the property in Station Road.

The workers heard the white Ford Transit van start up and saw it being driven away. It was later found abandoned in a car park off Kestrels Croft Road in Derby.

The men, aged 36 and 37, remain on bail while enquiries continue.

Rams striker 'better prepared' for Championship

Alex Smith

BBC News Online

Derby County striker James Wilson has told the club's website he is better prepared to take on the Championship this time around after a loan spell at Brighton last season.

The Manchester United forward joined the Rams on a season-long loan deal last month.

Drug dealer jailed for more than three years

Alex Smith

BBC News Online

A drug dealer has been jailed for more than three years after admitting possessing heroin and crack cocaine with intent to supply.

Ishmail Kiwanuka, 30, of Batemoor Road, Sheffield, was stopped by police in Chesterfield on 20 July and found to be carrying drugs, Derbyshire Police said.

He was sentenced at Derby Crown Court on 19 August.

Copyright: Derbyshire Police

Drone captures footage of hot air balloons

Alex Smith

BBC News Online

This is great - always worth another watch in case you missed it the first time around...

A drone captured aerial footage of hot air balloons taking to the skies around Chatsworth House in Derbyshire.

The lift-off took place as part of the Chatsworth Country Fair. 

Latest headlines for Derbyshire

Alex Smith

BBC News Online

Toyota boss: Brexit forecasts 'unfair and premature'
Man arrested in 'road rage' incident
Footage reissued after bar break-in
Olympic champion Adam Peaty set for tattoo

Members 'saddened' by legion closure

Alex Smith

BBC News Online

Members of the Mickleover branch of the Women's Royal British Legion said they are "saddened" by the charity's decision to close the women's section entirely.

Some members think it could have been different had "they been given more of a say", but the charity said the move is essential to comply with regulations and to cut costs.