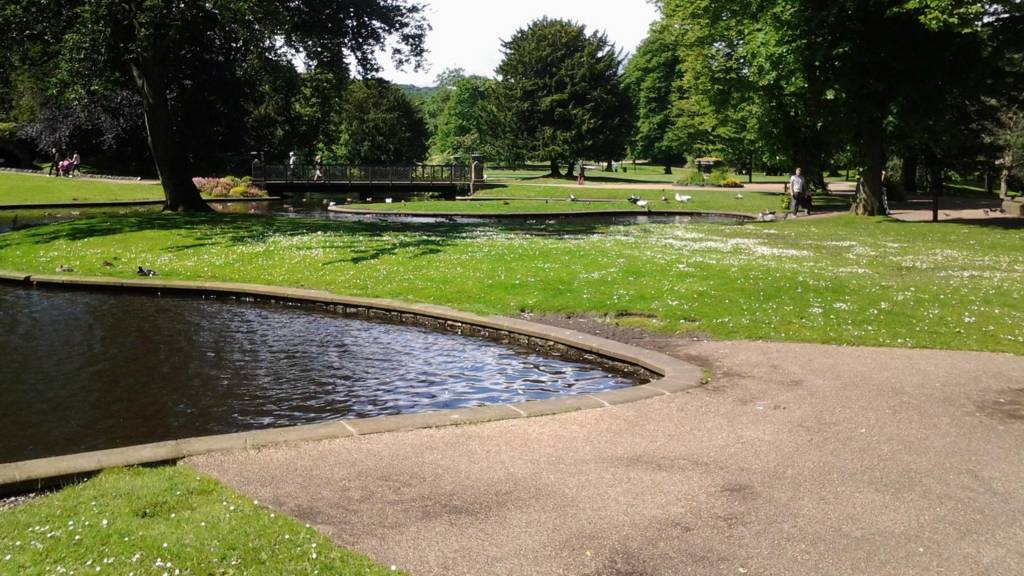 BBC Local Live: Derbyshire
Summary
Updates for Thursday 1 September 2016
More news, sport, travel and weather from 08:00 on Friday
Our live coverage across the day

That's it for today's updates. We'll be back at 08:00 tomorrow.

Weather: Cloud to roll in later

Kay Crewdson

BBC weather presenter

Remaining dry and fine this evening with some blue skies in places, especially further south. 

High cloud rolling in from the north with temperatures peaking at 23C (73F).

Man punched through car window

A man leaned through the window of a parked Mercedes car and punched the driver, police have said.

It happened in Richmond Road, Normanton, at about 17:00 last Wednesday, police said.

The attacker then ran off towards Yates Street.

Copyright: Derbyshire Police

They've released this CCTV image of a man they'd like to speak to.  

So sticking with the theme of odd thefts...

Police want to speak to this man about a theft of Sirloin steaks, beef burgers and chicken skewers from a Total garage in Mickleover.

Copyright: Derbyshire Police

Police said a man walked into the store at about 18:10 on Saturday, concealing the meat packets in his jacket and walking out without paying.

Hot tub stolen from Chaddesden

We get a lot of appeals from Derbyshire Police asking for us to publicise thefts. This one's got to be one of the weirdest.

An inflatable hot tub, like the one pictured, has been stolen from a back garden in St Andrews View, Chaddesden.

Copyright: Derbyshire Police

It's a black Lay-Z-Spa Miami and was pinched some time between 22:00 on Monday and 10:00 Tuesday.

PC Jodi Coombes said it could have been deflated before the thieves removed it, "alternatively they would have had to carry it away at full size."

Your pictures: Elvaston Castle in the sunshine

Thanks to Weather Watcher, Steve A.

And here's an effort from my BBC Online colleague Gavin Bevis.

He's concerned he looks a bit "oafish"...  

Don't forget to send us yours!

Watch: Blind self portrait challenge

BBC Radio Derby's Kristina Thornton also tries her hand at Derby Museum's self portrait challenge.

The lips are my favourite bit.

Rams signing on a mission from God

'Things like this don't happen to me!'

New Rams winger Ikechi Anya talks to BBC Radio Derby after signing from Watford...

Fears for bridge after crash

The manager of a pub near the bridge on Nottingham Road that was hit by a van this morning says she's worried repeated crashes may be causing long-term damage to the structure.

Penny Miring, who runs The Peacock, said: "It's got to damage it each time it hits, especially this morning where he's hit it with a fair force.

"We heard an enormous bang and we just knew it was another van hitting because it happens so often."

You've been having your say over on Facebook about the van crashing into the underpass bridge in Derby this morning.

Effie Robinson wrote: "I worked very close to this place for 18 months and I can recall it happening three times in that small time period."

Gwen Sharp commented: "Not again what's wrong with these drivers!!!!!!"

Travel: Shed load closes A511

Underpass crash: Your comments

Over on Twitter you've been reacting to the crash in the Nottingham Road/Derwent Street underpass, which has now been cleared.

'20 underpass crashes' since road was built

Back to the crash at the underpass in Derby now.

John Towell, who lives nearby, said incidents like this keep happening.

"There's been about 20 since it's been built," he said

"The council say they're going to sort it but they never get round to doing it. I don't know why."  

Ilkeston FC 'heavily fined' by league

The Robins have been fined a substantial figure by the Northern Premier League for failing to fulfill four fixtures at the start of the season, the Advertiser understands.

Riders rescued after rollercoaster stopped mid-ride

Here's another view of The Smiler after it was stopped mid-ride this afternoon.

It follows last year's crash on the same rollercoaster, which left two women requiring leg amputations and seriously injured three other people.

Copyright: Liam Dennett/PA Wire

Fresh emergency on The Smiler

This photo shows the precarious position The Smiler was in when it had to be stopped by Alton Towers staff.

Copyright: Lindsey McQueen

The theme park said all riders were rescued safely.

The Smiler stopped mid-ride over debris fears

An Alton Towers spokeswoman said: "On Thursday September 1, Alton Towers Resort stopped The Smiler to investigate claims a piece of debris had fallen from a carriage. 

"At no time were guests on the ride at any risk and all were safely removed from the ride promptly by staff in line with our comprehensive standard procedures.

"As the health and safety of our guests is our priority, the ride will remain closed whilst the resort's technical team investigate the matter."

 The theme park said there were 32 people on the ride when the incident happened.     

Riders rescued after crash rollercoaster breaks down

Rebecca Woods

BBC News Online, Journalist

The Smiler ride at Alton Towers has been evacuated following a "technical breakdown" - 14 months after it crashed seriously injuring five people.

The rollercoaster broke down during a ride at about midday on Thursday leaving several people stuck, the Press Association reported. 

"There was an evacuation and all guests are now clear," a spokeswoman for the Staffordshire theme park told the BBC.