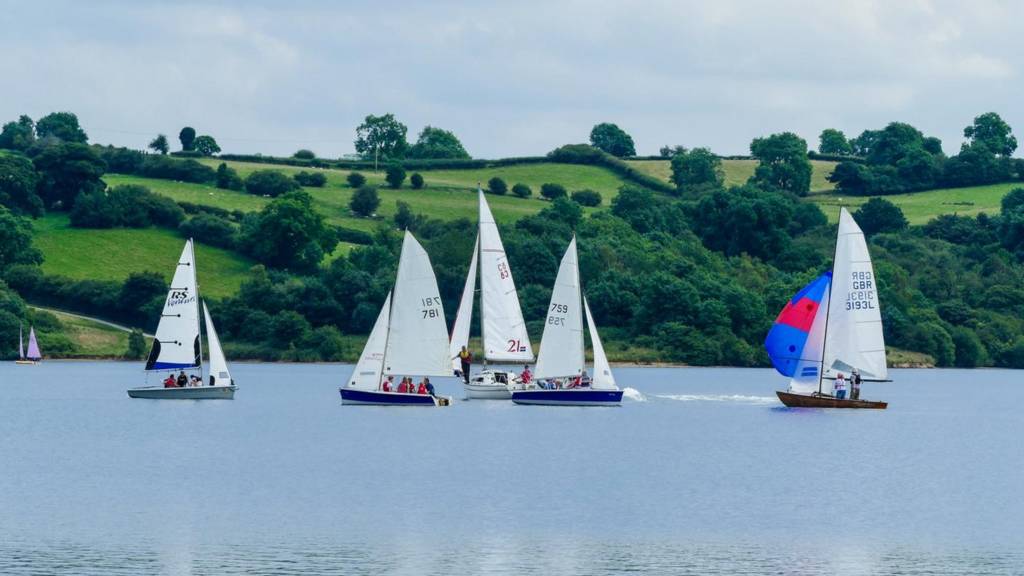 BBC Local Live: Derbyshire
Summary
Chatsworth Country Fair opens
Australia media report Mia Ayliffe Chung's funeral has taken place
East Midlands top baby names revealed
Derbyshire v Gloucestershire: Hosts trail by 73 runs, going into day three on 16-2
Our live coverage across the day

That's all from Local Live today.

Join us again on Monday.

Weather: Chance of drizzle

Kay Crewdson

BBC weather presenter

Cloud continues to thin and in more northern areas break allowing for sunny spells. 

Still a lot of cloud further south and a little drizzly rain in places. 

Highs around 18C (64F) with a moderate southwesterly wind.  

Many strings to Bake Off judge's bow

Ex-teacher fined for chalk drawings

A 56-year-old former teacher, who admitted using chalk to draw on a bandstand in Chesterfield park has been handed a 12-month conditional discharge and ordered to pay £150 for committing criminal damage.

Bake Off judge has good old British fun

Looks like he's been having a ball.

Red Arrows wow crowds at Chatsworth

A dazzling display as always...

Could have been a lot worse by the looks of things...

Hopelessly devoted to Oll

So if you have a boy and a girl in the East Midlands under one, they're most likely to be called, ahem, Olivia and Oliver...

Disappointed to see 2015's most popular baby names in England and Wales and not find Dave in the top 10.

The Office of National Statistics has revealed that Oliver is in fact the most popular boy's name overall.

Amelia is the most popular girl's name overall but here in the East Midlands, it's a different story - Olivia is at number one.

Titchmarsh meets extreme parachutists

Wesley Mallin

Reporter, BBC Radio Derby

Green-fingered legend Alan Titchmarsh has been at Chatsworth County Fair today.

Here is with the Jump4Heroes - the Royal British Legion's extreme human flight team, who had just jumped from 2,500ft to land in the Grand Arena.

Cathy Booth

Journalist, BBC Look North

I'm at the Chatsworth Fair today and look who I've bumped into. It's the Great British Bake Off's very own Paul Hollywood!

Check out my chat with him on Look North this evening.

Re-enacters at Chatsworth

Wesley Mallin

Reporter, BBC Radio Derby

Denise, Lysette, Kath and Jackie, from the Northern World War II re-enactment group at Chatsworth Country Fair.

Just some of the varied entertainment on offer here.

'We might be disabled but we enjoy a bit of violence'

Ryan was selected for the Rio back in May - something he described as "a massive shock".

He explained a bit about the sport on Radio Derby earlier: "There is an element of wrapping people up in bubble wrap," he said.

"Wheeelchair rugby tends to rip off that bubble wrap.

"We may be in wheelchairs, we may well have physical disabilities, but we enjoy a bit of violence too."

Funeral held for British backpacker killed in Australia

Peter Spencer

Reporter, BBC Radio Derby

Australian media are reporting that a private funeral has been held for the Derbyshire backpacker Mia Ayliffe Chung (pictured right), who was stabbed to death last month.

The 21-year-old former Chesterfield College student was killed in a knife attack at a hostel in North Queensland.

Mia spent most of the year living at the Surfers Paradise where she worked at The Bedroom nightclub but left in August to spend three months working on North Queensland farms to extend her holiday visa. 

Matlock wheelchair rugby player heading for Rio

It doesn't start for another couple of weeks but we've got six Derbyshire Paralympians on their way to Rio this weekend. 

Ryan Cowling from Matlock is one of them - he's part of the GB Wheelchair Rugby team, hoping to capitalise on the sport's success since London 2012. 

He was injured in the Army in 1994 and lost the use of his legs and some movement in his hands.  

Derbyshire's Strictly glory remembered

Can you believe it's been eight years since Derbyshire actor Tom Chambers won Strictly?

Two other opportunities to see poppies

But the Lincoln poppies are only a section of the original London display.

More of the flowers, which were handmade in Derby, can be seen at the Black Watch Castle and Museum in Perth, Scotland, until 25 September.

A section will also be on display at Caernarfon Castle from 12 October.  

Two days left to see castle poppies

In its first weekend, the free exhibition in Lincoln saw nearly 30,000 visitors.

It's led to a boost in people visiting the city's famous castle, which has just undergone a multimillion-pound makeover.

Copyright: Lincolnshire County Council

But if you want to see them, you'd better be quick - it ends this Sunday.