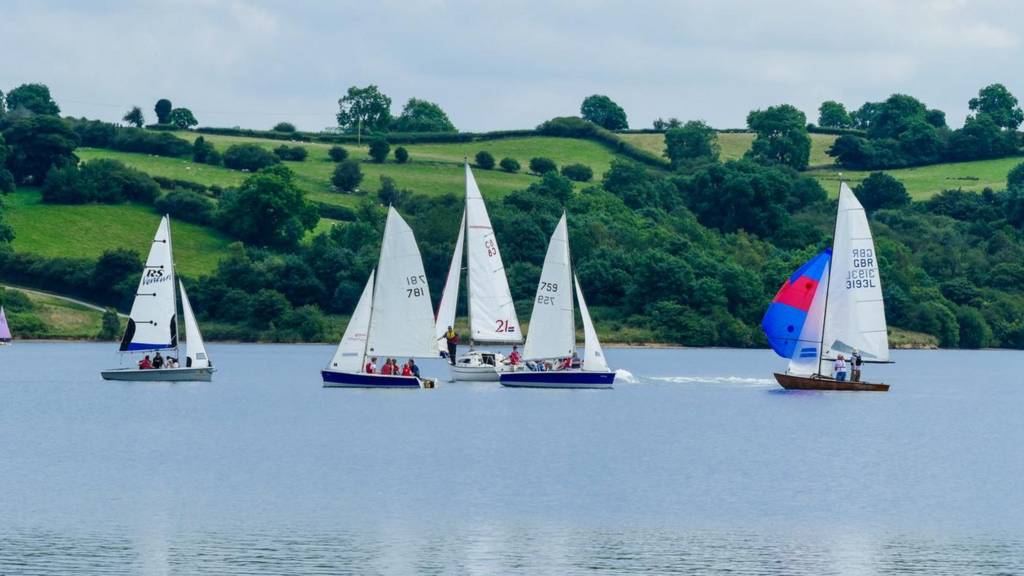 BBC Local Live: Derbyshire
Summary
Updates for Wednesday 3 August 2016
More news, sport, travel and weather from 08:00 on Thursday
Our live coverage across the day

Today's updates have now finished. We'll be back at 08:00 on Thursday.

Weather: Rain could arrive later

  A generally cloudy and breezy evening with the chance of showers and lows of 15C (59F).  

Latest headlines for Derbyshire and East Staffordshire

Euan Duncan

BBC Local Live

Here our final recap of the current top stories:

Train services are returning to normal after yesterday's bridge collapse in Barrow upon Soar
A 16-year-old boy has gone missing in Bakewell
This year's Bakewell Show is under way

Birds of prey at Bakewell Show

Euan Duncan

BBC Local Live

This has the makings of a caption contest ... BBC Radio Derby presenter Sally Pepper got a first hand look at the falconry display during the Bakewell Show today.

Parental sacrifices helped Peaty

Euan Duncan

BBC Local Live

City of Derby swimmer Adam Peaty has the support of his parents to thank for putting him within touching distance of an Olympic gold medal, according to his coach.

His mum Caroline has sacrificed holidays abroad and conquered a fear of driving to help her son to the top.

"It was really hard going. I'd have given up many a time," Caroline, from Uttoxeter, has told the Radio Times.

You can read more from Caroline and the story of their support of their son on the way to Rio here.

Costly delay for hospital IT system

Burton's hospital trust spent £1.7m on an IT system it couldn't use. The NHS trust paid for the new patient record system for six years before it was actually able to use it.

It finally went live in March this year, and the trust says it should improve outcomes for patients.

Burton Albion 'face tough start'

Burton Albion face a daunting start to their first-ever Championship campaign, according to boss Nigel Clough.

The Brewers begin the season with a trip to Nottingham Forest and also face Bristol City, Sheffield Wednesday, Blackburn and Derby County in August.  

"You look through the fixtures and wonder where we're getting a point from sometimes, never mind a win," said Clough.

Plea for help to find flytippers

Euan Duncan

BBC Local Live

White van ... are those dents in the side? Narrows it down, doesn't it?

Police on gun boy's disapperance

Euan Duncan

BBC Local Live

Derbyshire Police has issued a statement over the disappearance of a boy who was convicted of a firearm offence.

Insp Ranjit Dol, based at Peartree police station said: "Derbyshire Police received information on 6 June that an 11-year-old boy was residing in the Czech Republic.

"Prior to this date, officers from Derby carried out a number checks at addresses in the city centre in an attempt to locate the boy. These proved negative."

Fire quickly put out at Derby cafe

Euan Duncan

BBC Local Live

Fire crews were called to the Intu shopping centre in Derby after a small fire at the Caruso Cafe Boutique today.

Theme park fans warned about ticket scam

Euan Duncan

BBC Local Live

Alton Towers is warning people not to fall for an online scam after a post shared on social media promised five free tickets to the resort.

Theme park bosses confirmed it's not an official offer and believe it could be an attempt to steal personal details.

Weather: Cloudy with chance of a shower later

Charlie Slater

BBC Weather presenter

It will stay breezy and turn increasingly cloudy this afternoon, with the risk of a couple of showers and highs of 21C (70F).

There'll be a couple of showers around in the early hours of tomorrow, with overnight lows of 15C (59F).

Scenic setting for Bakewell Show

Euan Duncan

BBC Local Live

A perfect setting for show day in Bakewell ... all that's missing is the sunshine, although at least it isn't raining.

Latest headlines for Derbyshire and East Staffordshire

Euan Duncan

BBC Local Live

Here's a summary of the main stories this lunchtime.

Engineers work through night to reopen region's train lines to London after bridge collapse
Fire at cafe in Derby shopping centre
This year's Bakewell Show gets under way

Police concern over missing teenager

Euan Duncan

BBC Local Live

Police are concerned about a teenager who's gone missing from Matlock.

Copyright: Derbyshire Police

Cameron Adams, 16, was last seen in Hopton yesterday evening.

Barrow upon Soar bridge collapse 'unusual'

Quote Message: It's extremely rare. I think the last time I saw a spandrel wall like this fall off was probably five years ago. And, bearing in mind there are 50-60,000 railway bridges, that's not many." from Bill Harvey Institution of Structural Engineers

'Water leak may have triggered bridge collapse'

Euan Duncan

BBC Local Live

More from Bill Harvey of the Institution of Structural Engineers about the cause of the bridge collapse at Barrow upon Soar.

He said: "From the photos it looks as though over recent months or years there's been water leaking from the main, so water would have been washing down, very small quantities, but that may have built up a bit of pressure.

"That may have caused the structure to be that little bit more fragile when they started on there with a digger. And away it went."

Arrests follow police chase

Euan Duncan

BBC Local Live

Another busy night for the local traffic police ... a bit of leg work was involved as well.