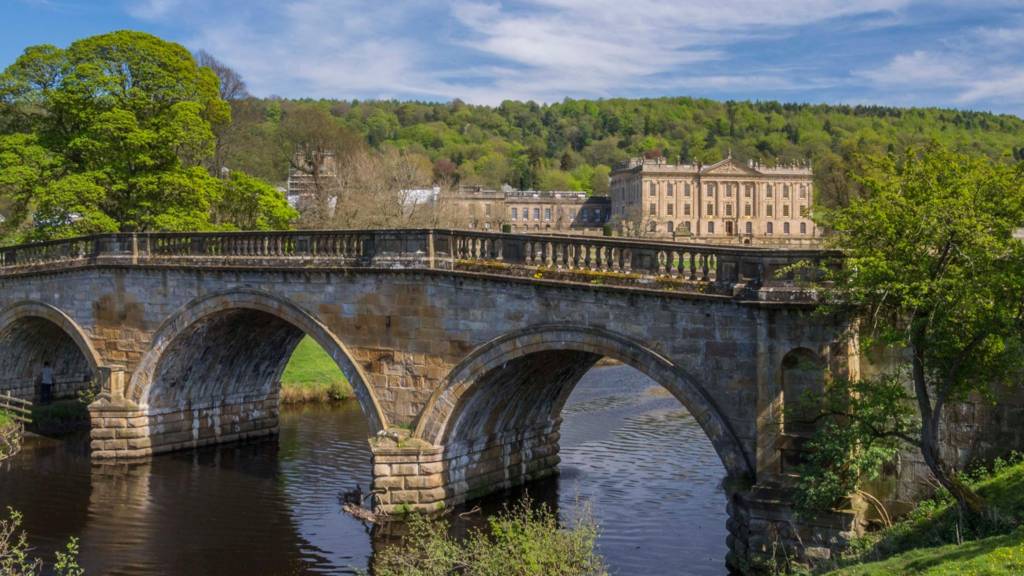 BBC Local Live: Derbyshire
Summary
Updates for Monday 1 August 2016
More news, sport, travel and weather from 08:00 on Tuesday
Our live coverage across the day

Today's Local Live updates have now finished. We'll be back from 08:00 on Tuesday.

Weather: Rain fizzles out overnight

Kaye Forster

Weather Presenter

Any rain will ease off overnight and become lighter and patchier, but it will remain damp and cloudy, with lows of 13C (55F).

It's a damp start to Tuesday, as there's rain on and off through the morning.

Shackell plotting promotion push

Euan Duncan

BBC Local Live

Derby County defender Jason Shackell says consistency is needed if the Rams are to win promotion this season.

He told the club's official site: "We need to thrive on being a side that people think will be near the top end of the table.

"We need to be at our best more consistently and live up to our expectations – rather than doing it occasionally."  

EU referendum voting figures the stuff of headaches

Close-up on children's heart surgery

Euan Duncan

BBC Local Live

It's incredible what technology can do for us ...

Latest headlines for Derbyshire and East Staffordshire

Euan Duncan

BBC Local Live

These are top stories today.

Exploding heater burns pensioner

Euan Duncan

BBC Local Live

Kevin from Shardlow, whose 73-year-old mum Eileen was badly burnt when an outdoor heater exploded, says all open flames should have a guard to protect people.

He also said the bio-ethanol fuel for the heater comes in a "flimsy plastic bottle".

"You can't buy petrol in plastic bottles. Why are we selling bio-ethanol in plastic bottles? It's the same as petrol, if not worse."

Police yet to name dead man

Euan Duncan

BBC Local Live

Supt Jim Allen, from Chesterfield police, said "We are in the very early stages of the inquiry.

"We are using our forensic teams to try to build a picture of the events that led to the man's death and are not yet in a position to name him."

Police investigate suspicious death in Chesterfield

Euan Duncan

BBC Local Live

A man has been found dead at a house in Chesterfield.

Police say the body was found at a property in Thorntree Court in Grangewood this morning and the death is being treated as suspicious.

No further details on the man have yet been released.

Derby golfer under the weather

It seems that Melissa Reid felt below par for one of the biggest tournaments of the year ... that must be so frustrating.

On Instagram she wrote: "Great to have so much support... Shame I didn't feel 100% last week but game is close. Time to recover and get healthy."

Euan Duncan

BBC Local Live

Derby's Melissa Reid slipped down the field over the final two rounds of the women's British Open golf at Woburn.

She was two under par at the halfway stage, but ended on five over.

Council tells travellers to leave

Travellers who have set up on a Chesterfield playing field have been asked to move on.

Former Rams players feature in charity cricket contest

Euan Duncan

BBC Local Live

If you ever wondered what he does at weekends ... BBC Radio Derby's Rams summariser Craig Ramage took part in a charity cricket match in Spondon yesterday in memory of BBC presenter Colin Bloomfield. 

He'll be back on the airwaves tonight from 18:00 for the return of Sportscene Talk-In. 

Latest headlines for Derbyshire and East Staffordshire

Euan Duncan

BBC Local Live

Here's a reminder of the main stories we've been covering:

A pensioner is seriously injured by an exploding patio heater
Thousands of Bakewell puddings are being sent to food festivals in Japan
Ex-Rams boss Paul Clement tells newspaper he turned down England coaching job

Bio-ethanol heaters safe, fire service says

Euan Duncan

BBC Local Live

Despite a 73-year-old Derbyshire woman being seriously injured by an exploding bio-ethanol heater, fire experts say they are safe if used properly.

The heaters use liquid fuel which burns cleanly and Dave Coss, from Derbyshire Fire and Rescue Service, says they should pose no risk if the manufacturers' instructions are followed.  

Clement said 'no' to England role

Euan Duncan

BBC Local Live

Former Derby County head coach Paul Clement has revealed he turned down the chance to join Sam Allardyce's England coaching staff.

Clement told the German newspaper Bild: "There was an inquiry, and it is a huge honour. I thought about it but there is so much to do at Bayern [Munich] that it is incompatible. That's why, after consulting with the team, I turned it down."

Cooling down after a hard day's work ...

Puddings to be part of food fairs

Quote Message: Every year for the last 40 years, they've had an English food fair and they go exploring the British countryside looking for Artisan producers. And this year they came to talk to us in Japan about supplying them with Bakewell puddings." from Richard Nealon from Bloomers of Bakewell

Bakewell puddings set for sea journey to Japan

Euan Duncan

BBC Local Live

A Derbyshire bakery has been asked to send 15,000 Bakewell puddings to Japan.

Bloomers Craft Bakery in Bakewell was asked to provide them for two food festivals later this year.

The journey by sea from Southampton will take up to 40 days.

Your photos: Lush gardens

Euan Duncan

BBC Local Live

What a great pic - thanks to Weather Watcher dodger for uploading it.