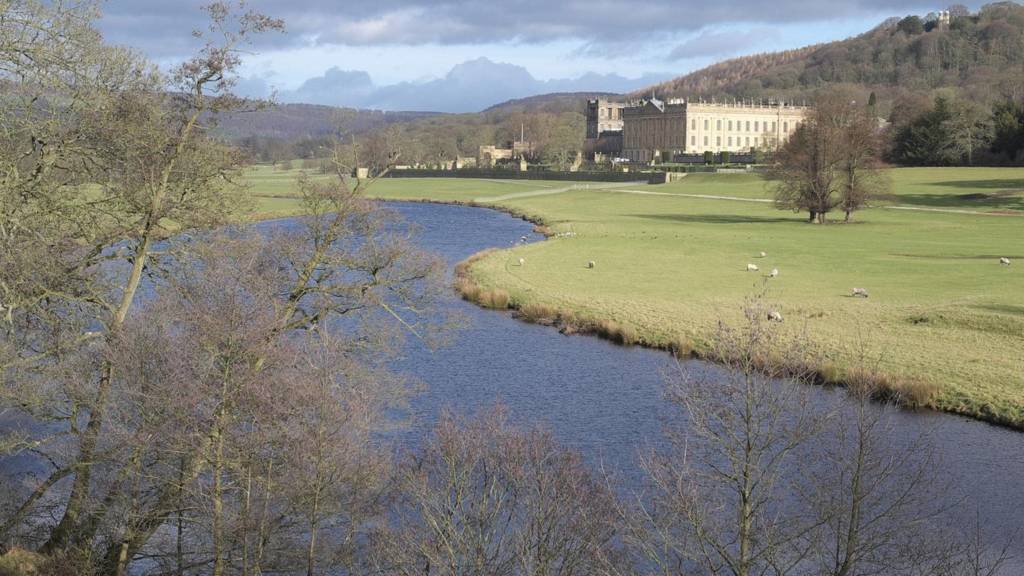 BBC Local Live: Derbyshire
Summary
Updates for Friday 15 July 2016
Our live coverage across the day

Thanks for reading our updates today. Local Live will be back on Monday at 08:00

Weather on St Swithern's Day: Wet...

Kay Crewdson

Weather presenter, BBC Look North

It's St Swithin's Day, it has rained, therefore we are doomed now for 40 days. Or maybe not. 

More than likely not as it looks dry, fine and warm on Sunday and Monday and, at this stage, Tuesday too. However, some rain tomorrow…

Rachel Webb: 'Tom was everything to me'

Gavin Bevis

BBC Local Live

Latest headlines for Derbyshire and East Staffordshire

Gavin Bevis

BBC Local Live

Here's our final recap of the main headlines:

The mother of Tom Webb pays tribute as a teenager is found guilty of his murder
Drivers complain of major delays around the Kingsway retail park
Derby County have unveiled their new away kit

A few more Facebook comments about the new Rams away kit...

Phil Butt writes: A bit too dark for my tastes.

Howard Wall says: Nice strip,pity about the logo.  

Chris Henchcliffe death: Family pay tribute

The family of Chris Henchcliffe, who died on Tuesday after being attacked in Chesterfield town centre ten days before, have been paying tribute.

They said the former soldier was a "marvellous daddy" and a "crazy, wonderful son".

Two men who were arrested on suspicion of causing grievous bodily harm have been released on bail.

Tears for Peaty at farewell party

City of Derby swimmer and Olympic medal favourite Adam Peaty got a surprise send-off to Rio last night at Repton School.

The Olympics begin in just three weeks and dozens of supporters from the City of Derby Swimming Club threw a party to wish him well.   

Travellers take over Ashbourne car park

There are about 50 traveller caravans on a car park in Ashbourne. 

The travellers, who arrived at Shawcroft car park last night, told police and council staff they'll be there for a couple of nights and are on their way somewhere else.

Anger at Kingsway traffic light chaos

Susan Colbourne writes: "Just to say that since they turned the traffic lights on at what was an island into the Kingsway shopping area it is absolute chaos. 

"Took 2 hours to get out of it on Wednesday. Had a hospital appointment today so wanted to call in - chaos again, just went round the little island at the bottom and drove out. 

"If it is going to be like that all the time, (a) the shops will lose out, (b) I'm certainly not shopping there again.

Jail for distraction burglar who targeted pensioner

Gavin Bevis

BBC Local Live

Remember this distraction burglar who posed as a council worker to steal from a Chesterfield pensioner in her own bungalow?

It happened in February. Police say the culprit has now been jailed for four years.

Market Hall cash bid looks doomed

Chris Doidge

BBC Radio Derby political reporter

The council says the "commercial viability" of the scheme is one reason it would be unlikely to get money from the Heritage Lottery Fund.  

Setback for Market Hall revamp plan

Chris Doidge

BBC Radio Derby political reporter

Plans to renovate Derby's Market Hall have been thrown into doubt - the council's been told a lottery bid is unlikely to succeed.  

There's a lane closed on the M1 southbound at J29 because of a broken down vehicle.

More Kingsway traffic misery

Gavin Bevis

BBC Local Live

We've been sent this photo by Nicola Vincent, who complains she's been queueing to leave Sainsbury's at Kingsway for more than 90 minutes.

Copyright: Nicola Vincent

There have been major delays around the retail park for several days due to changes to traffic lights. Get in touch by email if you've been affected.

'Stupidity' of knife decision

Det Ch Insp Dave Cox, who led the investigation into Tom Webb's murder, has been talking about the "abject stupidity" of people like Haris Mohammed who choose to carry knives.

Watch: Tom Webb's mother pays tribute

Gavin Bevis

BBC Local Live

Here's Rachel Webb's statement in full.

Mother pays tribute to murdered son

Gavin Bevis

BBC Local Live

Speaking outside court, Tom Webb's mother Rachel said she felt "utterly lost" without him.

She said: "Tom was a warm, kind, loving son. He was my rock."

Latest headlines for Derbyshire and East Staffordshire

Here's a quick recap of our top stories right now:

A 16-year-old boy is found guilty of the murder of Tom Webb
Margaret Beckett calls the attack in Nice "chilling and dreadful"
Derby County unveil their new away kit for the 2016/17 season

Pic shows Tom Webb minutes before murder

Gavin Bevis

BBC Local Live

This CCTV image shows Tom Webb and his two friends leaving Tesco in St Peter's Street just before the fatal clash with Haris Mohammed.

Copyright: Derbyshire Police

Mr Webb, 22, is the one in the middle.

Butterfly knife used to kill Tom Webb

Gavin Bevis

BBC Local Live

Haris Mohammed used a butterfly knife - a type of folding pocket knife - about seven inches long to stab Mr Webb.

Copyright: Derbyshire Police

Michael Auty QC, prosecuting, said: "He must, at the very least, have had the intention to cause some really serious bodily harm."