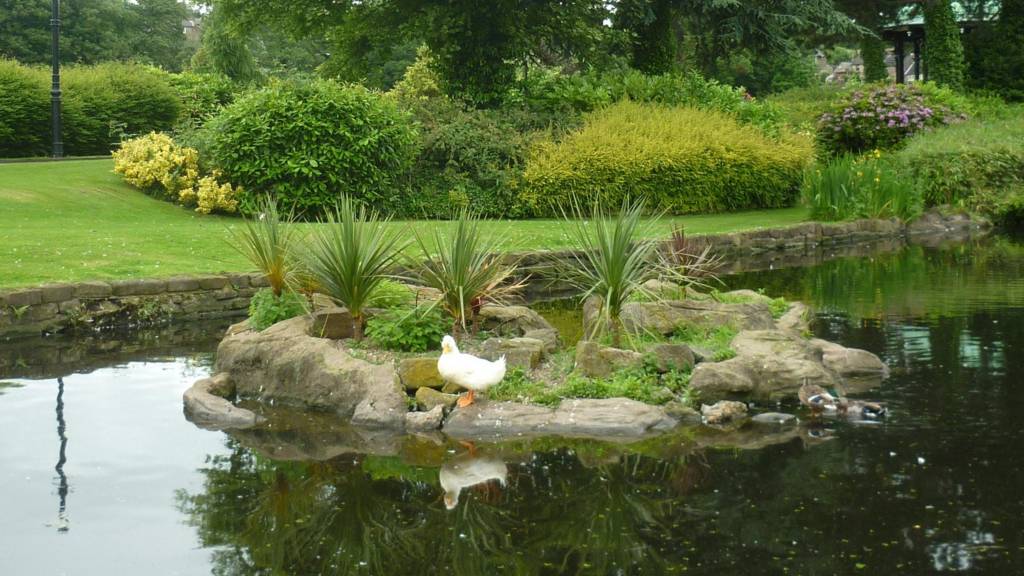 BBC Local Live: Derbyshire
Summary
Updates for Wednesday 22 June 2016
More news, sport, travel and weather from 08:00 on Thursday
Our live coverage across the day

That's all our Local Live updates for today. We will be back at 08:00 tomorrow.  

Weather: Showers die out later

Kaye Forster

Weather Presenter

There'll be a few showers this evening, but they will fizzle out, and it's another muggy night with lows of 14C (57F).

It's a dry day tomorrow but there'll be a fair amount of cloud and it will feel warm and humid with highs of 20C (68F).

Your views: Bigger bus station

You've been reacting on our Facebook page to today's announcement that Derby City Council plans to extend the bus station in the city centre.

Ann Everton said: "Why a bigger bus station? We need another swimming pool. Here we go again."

And Katie Foxton agreed, posting: "Bigger bus station? What a joke! A swimming pool should be number one priority."

Search for town crier goes on

Euan Duncan

BBC Local Live

It can't be that hard to find a town crier, can it? You just need to be able to shout, ring a bell and enjoy dressing up smartly. Swadlincote needs you.

Latest headlines for Derbyshire and East Staffordshire

Euan Duncan

BBC Local Live

These are the main stories we're covering this afternoon.

More than 240 knives handed in so far during Derbyshire Police amnesty
Plans submitted for three new wind turbines near Carsington Water
And rare Chinese vase used as door stop could sell for £1m at auction in Derbyshire

New wind turbines plan near Carsington Water

Euan Duncan

BBC Local Live

Plans have been submitted for three new wind turbines near Carsington Water. 

Five turbines at the site were turned down in February last year.

Show organisers count cost of cancellation

Euan Duncan

BBC Local Live

The organisers of the Derbyshire County Show say they'll lose thousands of pounds after having to cancel this year's event because Elvaston Castle's showground is waterlogged, with more rain forecast.

Edward Hicklin chairs the Derbyshire Horticultural and Agricultural Society and says exhibitors are being supportive after being told in good time.

Large load arrives at Ripley

Could this be a useful way of pruning those overhanging branches around Derbyshire and East Staffordshire? 

Home cup ties for Brewers and Rams

The draw's been made for the first round of the EFL Cup today. Derby County will host Grimsby Town, who were promoted back to the Football League last month.

Burton are at home to Bury, while Chesterfield visit Rochdale, with the ties to be played in the opening week of the season.

Opening day reunion for Brewers boss

Burton's trip to Nottingham Forest means an early return to the City Ground for ex-Reds striker and now Brewers boss Nigel Clough. 

Amnesty sees 200 knives handed in

Euan Duncan

BBC Local Live

I doubt you'd see many of these in the average kitchen drawer. Derbyshire Police says more than 200 knives have been handed in during the first four weeks of a knife amnesty across the county.

Spireites sign Dundee defender

Chesterfield have signed defender Paul McGinn on a two-year deal following his release by Dundee.

Weather: Dry bright spells today, but risk of rain later

Charlie Slater

BBC Weather presenter

It will stay dry this afternoon with plenty of cloud around although there's potential for drizzle and rain this evening, with highs of 21C (70F).

There'll be some heavier rain through the first part of the night before this clears in the early hours, with lows of 15C (59F).

Mudbath risk if show went ahead

Euan Duncan

BBC Local Live

This site should have hosted the Derbyshire County Show, but wet weather put paid to that as The Showground at Elvaston was in danger of becoming a mudbath.

Town crier role lacking appeal

Euan Duncan

BBC Local Live

The search continues for a town crier in Swadlincote after no-one turned up for auditions to fill the role.

Latest headlines for Derbyshire and East Staffordshire

Euan Duncan

BBC Local Live

Here's a summary of the main stories this lunchtime.

First double century for Derbyshire captain

Euan Duncan

BBC Local Live

Welcome to the club ... Derbyshire skipper Billy Godleman made 204, his first double century, with his team on 467-5 at home to Worcestershire at lunch on day two of their Championship match.

Copyright: Derbyshire County Cricket Club

Full commentary continues on BBC Radio Derby on 1116AM and via BBC Sport online.

Bus station could be extended

Euan Duncan

BBC Local Live

Plans to extend Derby's bus station have been announced at the city's annual property summit.

More details about the proposed replacement of the Assembly Rooms were also revealed but extra funding will be needed to bring about some of the projects planned for the city centre.

Fishing ban at lake where swan got caught in hook and line

Euan Duncan

BBC Local Live

I wouldn't want this piercing my skin. Volunteers from Yorkshire Swan Rescue helped a swan which got caught in a fishing hook and line at Straws Bridge Park near Ilkeston.

Copyright: Yorkshire Swan Rescue

They expect the swan to make a full recovery and say fishing is banned at the lake.