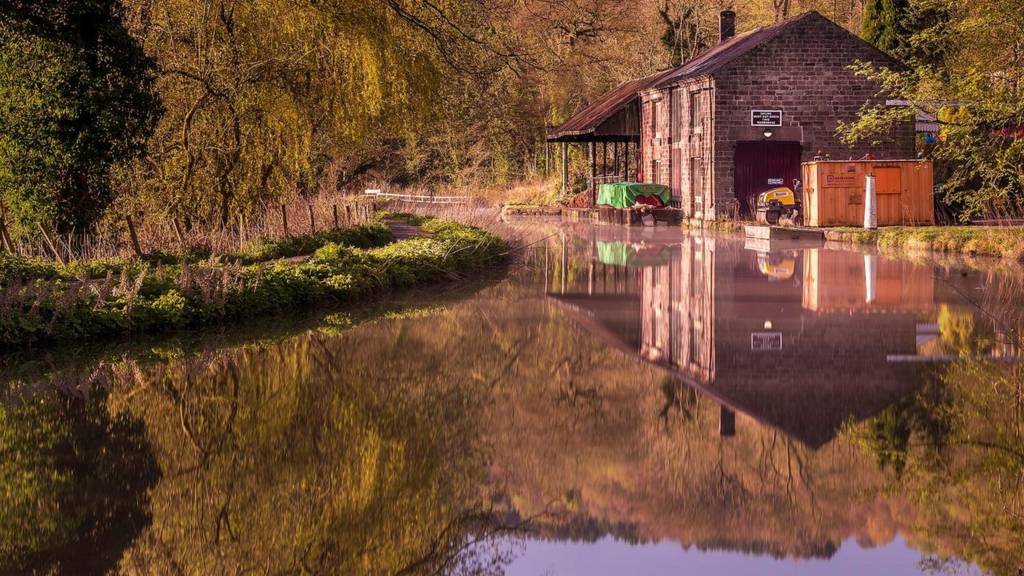 BBC Local Live: Derbyshire
Summary
Updates for Tuesday 24 May 2016
News, sport, travel and weather updates resume at 08:00 Wednesday
Our live coverage across the day
Today's Local Live updates have now finished. Updates will start again at 08:00 on Wednesday.
Weather: Dry night expected

It should stay mainly dry and fine overnight with the odd spot of drizzle over the hills and lows of 8C (46F).
Your comments: Derby fly crisis
The fly infestation affecting part of Derby has got you talking on our Facebook page.
Toni Smith posted: "It's got to the point where we are not eating at home so not only is it costing for fly spray it's costing to eat out too!"
Latest headlines for Derbyshire and East Staffordshire

Gavin Bevis
BBC Local Live
Here's your final set of headlines for today:
A city councillor in Derby will be investigated by police over possible electoral fraud
A £2.3m fund to tackle inequality across Derbyshire is approved by the county council
A convicted drug dealer has gone on the run from Sudbury open prison
Spireites snap up midfielder
Chesterfield have signed former Grimsby Town midfielder Jon Nolan on a free transfer.
The 24-year-old spent the second half of the season with the Mariners and helped get them promoted back to the Football League.  
UKIP councillor could face election fraud charges
Rachael Gilchrist
News editor, BBC Radio Derby
John Evans, UKIP councillor for the Alvaston ward, is facing a police investigation for using his mother's Alvaston address in his pre-election application rather than his permanent address in Chellaston.
The city council takes any allegation of election fraud very seriously and the concern will be whether giving Alvaston as his address had any bearing on his successful election campaign.  
University rises up the rankings

Gavin Bevis
BBC Local Live
Kathryn Mitchell, vice-chancellor at the University of Derby, welcomed news it had risen 25 places in the Guardian's rankings.
"The fact this is our highest ever ranking says a lot about where we are currently at as a University," she said.
"It is particularly pleasing to be recognised in the Top 50 in the country by The Guardian which puts such a heavy focus on student experience and satisfaction which has always been at the heart of our approach."
Severn Trent customer complaints down by quarter
Customer complaints to Severn Trent Water have fallen by more than a quarter, the firm says.
It said it was "learning" from a recent chlorine contamination scare in Derbyshire which affected 3,700 homes and businesses and led to the water giant paying compensation to affected homeowners.
Severn Trent's annual results showed customer complaints fell by 28% in the year to March 31.  
Cricket: Kent battling to avoid follow-on

Gavin Bevis
BBC Local Live
Derbyshire have a little more work to do...
Your comments: Derby fly crisis

We've had a few comments on our Facebook page about the ongoing fly problem around Slack Lane in Derby.
Jo Hobson wrote: "We are suffering as far away as mackworth so I feel so sorry for the residents of Morley and slack lane as they have it 10 times worse. There's seem to be super flys too as fly spray isn't really working."  
Rams and Brewers fixture list due out next month

Gavin Bevis
BBC Local Live
Date for your diary, footy fans - next season's Football League fixtures will be announced on 22 June.
Praise for university's student-run restaurant

Gavin Bevis
BBC Local Live
More good news for the University of Derby - the fine dining restaurant at its Buxton Campus has been highly commended by the AA's College Rosette scheme.
In awarding it the top accreditiation available, a mystery diner said it was clear to see why it's one of the top five universities providing degrees in tourism, hospitality events and spa management. 
The restaurant is run by first-year students with second-year colleagues overseeing their work.
Your photos: Biscuit-loving bird

Gavin Bevis
BBC Local Live
Just been browsing photos sent in by our hardy Weather Watchers so far today - this one made me chuckle.
He looks like he's really enjoying it. Thanks to snookerballo for the pic.
Fly crisis: No comment from waste firm

Peter Spencer
Reporter, BBC Radio Derby
I've been to visit the waste management site on Slack Lane that's thought to be the source of the fly problem affecting part of Derby.
Nobody there was willing to be interviewed for the radio and sheets have now been placed over gates preventing people from looking in.  
Watch: Jack O'Connell plays Would You Rather?

Gavin Bevis
BBC Local Live
Derby actor Jack O'Connell has been playing a game of Would You Rather with BBC East Midlands Today's Navtej Johal.
Watch the clip below to find out whether he'd rather win an Oscar or see Derby County claim the Premier League title.
University of Derby rises up rankings

Gavin Bevis
BBC Local Live
Good news for the University of Derby - it's jumped up 25 places from 73rd to 48th in the Guardian's university rankings.
The newspaper's panel rated 119 institutions by comparing students' entry qualifications with their final degree results, examined the student-to-staff ratio and asked final-year students how happy they'd been with their course.
Latest headlines for Derbyshire and East Staffordshire

Gavin Bevis
BBC Local Live
Here's a reminder of the top stories we're covering at the moment:
Police are to investigate potential election fraud involving a newly-elected UKIP city councillor
An action plan is being drawn up to try to bring Derby's fly crisis to an end
Boxing: Derby's Sandy Ryan loses her quarter-final bout at the Women's World Championships
Cricket: Derbyshire chipping away

Gavin Bevis
BBC Local Live
Slow progress for Derbyshire as they look to put themselves into a winning position against Kent.
Get the latest here.
UKIP councillor could face election fraud charges

Chris Doidge
BBC Radio Derby political reporter
Court papers say the inquiry into newly-elected UKIP councillor John Evans (see 12:07) was partly prompted by BBC Radio Derby questions.
Drug dealer absconds from Sudbury
A convicted drug dealer has gone on the run from Sudbury open prison.
Shawn Anthony Khera, from Nottinghamshire, was a few months into a four-year sentence when he absconded at the weekend.  
Derby ranks highly for lotto wins

People living in a DE postcode are particularly lucky when it comes to winning the National Lottery. 
Statistics show 364 people living in that area have won prizes of £50,000 or more over the past five years. The postcode is ranked 25th out of 121 nationwide. 
Weather: Sunny spells through this afternoon

A bit of cloud is starting to build as we move into the afternoon, creating sunny spells. When the sun's out we'll have highs of 17C (63F).
Website launched to explain Mickleover homes plan
CEG has also launched a website to show off the New House Farm plans - called Land West of Mickleover.
It says the land where it wants to build already has permission for 550 new homes, and it wants to add a further 1,100 - bringing the total to 1,650.  
Vast new estate could be built in Mickleover

Gavin Bevis
BBC Local Live
Developers CEG want to build 1,100 homes on land to the west of Mickleover, with the estate being linked from Etwall Road.
The development would include a primary school, shops, a doctors' surgery and a pub.
Mickleover could get 1,100 new homes

Gavin Bevis
BBC Local Live
Plans for 1,100 new homes in Mickleover are to go on display later.
Developers CEG will be giving out information and answering questions on the New House Farm plans at Mickleover Court Hotel from 16:00 to 20:00.
Newly-elected councillor 'registered two addresses'

The court heard John Evans registered to be living in Coronation Avenue in Alvaston - and also in Derby Road in Chellaston.
The Alvaston address is where his mother lived. In documents released by the court today, Mr Evans said he stayed there on occasion when his wife "threatened me".
Today returning officer Janie Berry said she would refer the case to Derbyshire police.
QC Honourable Judge Nigel Godsmark said: "It is of considerable public interest that a city councillor has had his registration details deleted...and the public have a right to know how that came about."
New councillor could face election fraud charges

Derbyshire Police has been called in to investigate a newly-elected city councillor over a potential election fraud.
UKIP councillor John Evans was elected in the Alvaston ward in May. He appeared at County Court in Derby this morning following an appeal by the electoral registration officer that he was not living at the address he registered on his application form when he stood to be a city councillor.
Watch: Ice skater stars in BBC documentary

Gavin Bevis
BBC Local Live
And here's Genevieve in action yesterday...
Cricket: Birth stops play

Dave Fletcher
BBC Radio Derby Sport
Joe Denly will not bat for Kent this morning at Derbyshire as he became a father last night.
He's retired not out on 34  
Listen live: Derbyshire v Kent

Gavin Bevis
BBC Local Live
It's day three of Derbyshire v Kent at the County Ground. The visitors resumed on 79-1 in reply to Derbyshire's 492 first innings total.
You can listen to live commentary on 1116AM or via the BBC Sport website.  
Boxing: Ryan misses out on medal

Sandy Ryan has been knocked out of the Women's Boxing World Championships at the quarter-final stage.
The Alvaston fighter lost on a unanimous points decision to Wenlu Yang of China.
Ice skating star to feature in documentary

Gavin Bevis
BBC Local Live
Next we'll turn our attentions to a 12-year-old ice skater from Mickleover who's set to dazzle on our screens soon.
Genevieve Somerville is to appear in The Making of an Ice Princess - a new BBC documentary about the world of competitve ice skating.   
Special needs transport cut

Chris Doidge
BBC Radio Derby political reporter
Cuts to transport for pre-school children with special needs and disabilities have been confirmed by the county council's cabinet. Transport for sixth-formers gets a reprieve though.  
Council approves extra funding for poor areas

Chris Doidge
BBC Radio Derby political reporter
The county council's cabinet has approved the Communities Priorities project, which will see £2.3m spent on deprived areas.
The Conservatives are chuckling at what they believe was a pre-election stunt by Labour - who in turn say it's aimed at tackling inequalities and making a long-term impact with short-term funding.
Councillors assemble at County Hall

Chris Doidge
BBC Radio Derby political reporter
I'm at Derbyshire County Council's cabinet meeting this morning. Plenty on the agenda.

Gavin Bevis
BBC Local Live
Dairy UK says there are positive signs doorstep milk deliveries could be back in fashion.
A spokeswoman said: "The latest statistics available up to 2015 do not show an increase of the doorstep delivery sector  but anecdotal evidence from our members show some very positive trends in terms of outreach from prospective customers. 
"Although it is a bit early to draw conclusions, over the next few weeks, we will survey our members to see if we can substantiate this evidence."
Boxing: Ryan faces Yang in quarter-final

Owen Bradley
BBC Radio Derby Sport
Sandy Ryan takes on China's Wenlu Yang later in the quarter-finals of the Women's World Championships in Kazakhstan.
 We're expecting her in the ring at about 10:45 UK time. She's guaranteed a medal if she wins.   
Are milkmen making a comeback?

Martyn Williams
Reporter, BBC Radio Derby
Ripley milkman Rob Yeomans says he's noticed a rise in the number of people opting to have milk delivered to their door.
He thinks the increase might be partly down to people wanting to show support for dairy farmers following their long-running dispute with supermarkets.

Gavin Bevis
BBC Local Live
After years of decline, is it possible milkmen could be coming back into fashion?
A group that represents the UK dairy industry says anecdotal evidence suggests more people could be coming back to the idea of having milk delivered to their doorstep.
Watch: Fly problem brings misery

Sarah Teale
Reporter, East Midlands Today
Here's my report on Derby's fly problem...