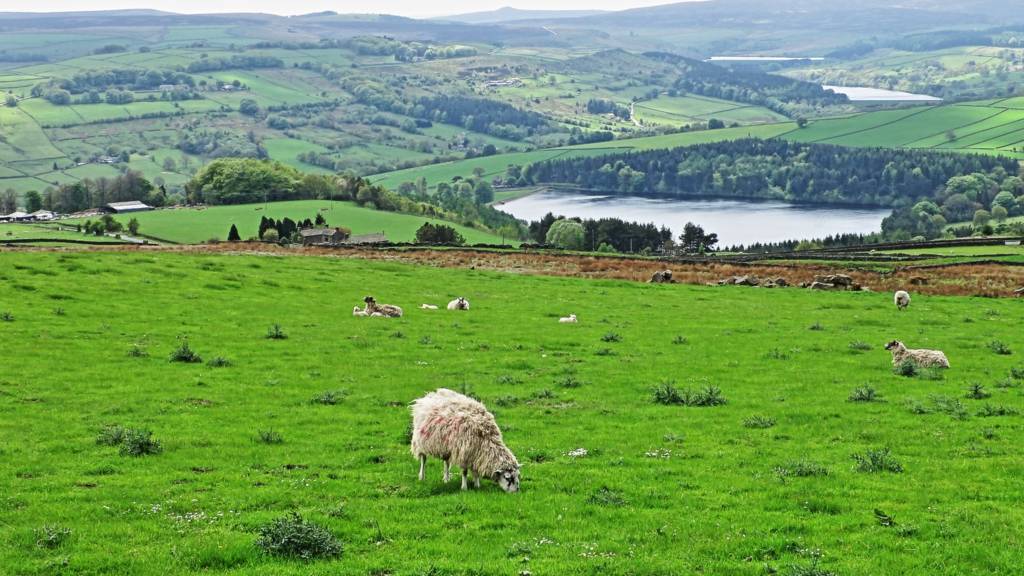 BBC Local Live: Derbyshire
Summary
Updates on Wednesday 6 April 2016
More news, sport, travel and weather from 08:00 on Thursday
Our live coverage across the day

That's all our Local Live updates for today. We will be back at 08:00 tomorrow.

Weather: Showery cool evening ahead

Charlie Slater

BBC Weather presenter

It will remain breezy overnight as the showers continue to feed in, but they won't be as heavy, with lows of 3C (37F).

It's a similar story tomorrow with plenty of showers and a few brighter spells on another breezy day, with highs of 11C (52F).

Latest headlines for Derbyshire and East Staffordshire

Euan Duncan

BBC Local Live

Here's a reminder of the main stories we're covering today.

Public warned to stay away from rusty chemical barrels dumped along canal in Derbyshire
Derbyshire Police figures show slight rise in recorded rise
And Rams keeper ruled out for two weeks after groin operation

Travel: Lorry blocking lane of A515

New High Sheriff to promote county's attractions

Euan Duncan

BBC Local Live

The new High Sheriff of Derbyshire says she wants to fly the flag for all that's good in the county.

Former president of the East Midlands Chamber of Commerce Liz Fothergill takes up the role tomorrow after four years of preparation.

Euan Duncan

BBC Local Live

Thank you to Weather Watcher snookerballo for this charming shot of a bird taking a swim in Chaddesden.

Visit the BBC Weather Watchers website to see more pics and to find out how you can get involved.

Crime increases in Derbyshire

Euan Duncan

BBC Local Live

Recorded crime in Derbyshire rose by 2.6% during 2015/16 compared with the previous 12 months.

The latest statistics from Derbyshire Police showed the number of offences rose from 51,687 to 53,007.

Rams goalkeeper sidelined for fortnight

Owen Bradley

BBC Radio Derby Sport

Derby County goalkeeper Lee Grant will be out of action for a couple of weeks after an operation to treat a minor groin problem.

Jonathan Mitchell has been recalled from a loan spell at Luton to provide cover.

Rusting barrels containing chemical left by canal

Euan Duncan

BBC Local Live

The Environment Agency is warning people to stay away from 23 barrels containing an unknown chemical dumped by a canal on the Derbyshire/Nottinghamshire border.

The fly-tipping has taken place at Trent Lock near Sawley Marina and at Cossall.

It's tweeted details of the incident and photographs of the barrels which show them rusting away.

Warning over chemical barrels dumped by canal in Derbyshire

The Environment Agency is investigating a fly-tipping incident involving 23 barrels of an unknown chemical at Trent Lock and Cossall.

Latest headlines for Derbyshire and East Staffordshire

Euan Duncan

BBC Local Live

These are the main stories we're covering this afternoon.

Your views: Knickers for Zimbabwe

A few of you have got in touch on our Facebook page after reading about members of the Women's Institute in Long Eaton collecting underwear to send to Zimbabwe.

Diane Ward wrote: "What a load of pants!! Brilliant idea."

Supermarket drivers dispute settled

Euan Duncan

BBC Local Live

Co-op drivers in Derbyshire have voted to accept proposals to settle a dispute over outsourcing jobs.

The Unite union said the issue concerned the future of the employees as plans were put forward to transfer 87 members to haulier Eddie Stobart.

Unite represents more than 700 Co-op drivers  across the UK, and said it had been given "a firm commitment for their future" in line with a five-year plan, while the Co-op said it was happy with the ballot's outcome.

Post-mortem to take place on body found in river

Euan Duncan

BBC Local Live

Officers investigating the disappearance of Josh Cotton say a post-mortem examination will be carried out later on a body found in the River Trent.

The 22-year-old lived on a narrowboat at Sawley Marina and hadn't been seen for over a month.

Copyright: Derbyshire Police

His family has been informed. 

Scheme highlights extent of cold calling

If cold callers get under your skin it won't surprise you to learn that 36 call blockers installed in homes in Derbyshire intercepted a staggering 11,000 calls in a two-year period.

The device protects vulnerable residents by keeping them in contact with friends and relatives, while filtering out any numbers that weren't pre-registered by the owner.

Mole hanging based on tradition

Euan Duncan

BBC Local Live

At first glance it could resemble a washing line ... but there's rather a lot of one particular item, and that's moles.

Becky Brooks from Crich sent us this slightly macabre photograph of the bodies of 17 moles hanging on a fence round a field near Upper Holloway in the Derbyshire Dales.

Steve Povey is a professional mole catcher and says it's an instant kill when they're caught in a trap, although he doesn't hang them from a fence.

He said it was traditionally done by gamekeepers to prove they've done their job.

Travel: Ripley route blocked

Council launches cost-cutting drive

Derby City Council is launching a new efficiency drive to help deliver £45m savings.

Called Delivering Differently, it will aim to keep as many services in place as possible but deliver them in more effective ways.

The local authority is setting aside almost £6m of its reserves to achieve the cost-cutting targets.

Weather: Showers bring snow risk for some

Heavy showers today bring a risk of hail and thunder, and even some snow falling on higher ground, with highs of 11C (52F).

Further showers are possible tonight, perhaps giving way to a longer spell of rain and hill snow late on, and it'll be colder than of late, with frost possible in places and lows of 3C (37F).

Flights to resume between East Midlands and Brussels

Airline bmi regional says its evening flights between Brussels and East Midlands Airport will resume later following last month's terror attack.

However, morning flights remain cancelled for the rest of this month.