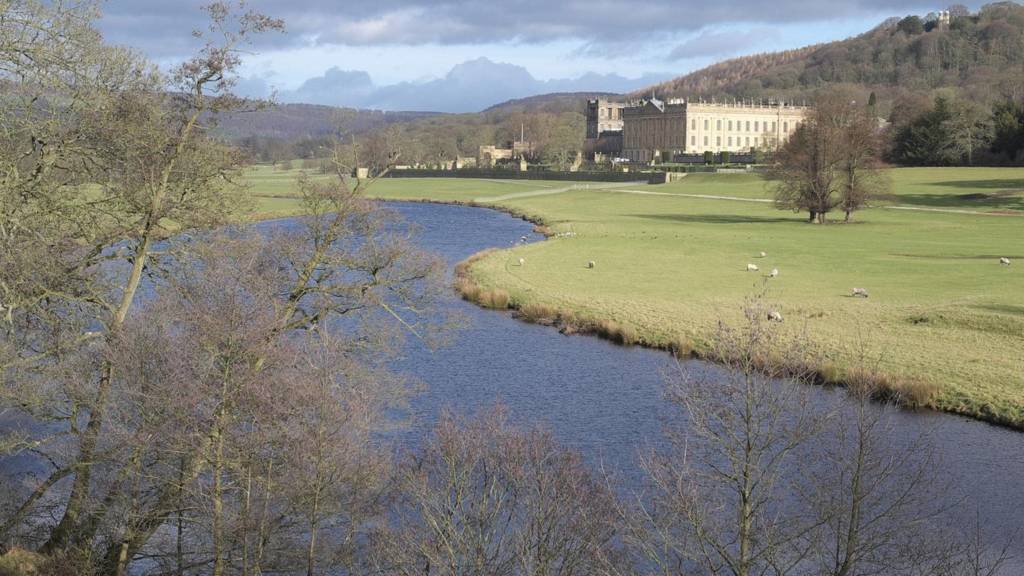 BBC Local Live: Derbyshire
Summary
Updates for Thursday 31 March 2016
More news, sport, travel and weather from 08:00 on Friday
Our live coverage across the day

Today's updates have now come to an end. We'll be back at 08:00 on Friday.

Weather: Clear night with chance of frost

Alexandra Hamilton

BBC Weather

Any scattered cloud will disperse leaving a clear night so frost is expected, especially in rural areas, with lows elsewhere of 3C (37F).

Cloud will increase over the course of the day tomorrow, but again plenty of sunny spells with highs of 11C (52F).

Rams midfielder won't feature in Cardiff clash

Euan Duncan

BBC Local Live

Championship football resumes this weekend after the international break, and Derby County held their media conference today ahead of the trip to Cardiff.

Midfielder Will Hughes won't be involved as he works his way towards full fitness after a serious knee injury.

The Rams have no fresh injury concerns.

Latest headlines for Derbyshire

Euan Duncan

BBC Local Live

Here's a reminder of our top stories this afternoon:

The council is closing Moorways Swimming Pool and switching off several water features in Derby
Ken Clarke is accused of being "unhelpful" during regional devolution negotiations
Derby County are unlikely to risk Will Hughes against Cardiff City this weekend

Travel: Delays after crash in Clowne

Vox: Moorways Pool closes to public

Navtej Johal

East Midlands Today reporter

Earlier today, users of Moorways Swimming Pool told me what they thought about it being closed by the council.

Brewers likely to make changes

Burton Albion manager Nigel Clough says midfielder Robbie Weir and defender Shane Cansdell Sherriff are pushing for recalls to the starting line-up against Bury on Saturday.

Both players have spent the past few games on the bench but Clough admits he probably should have started Weir against Millwall on Easter Monday.

Clarke denies he's to blame for devolution deadlock

Euan Duncan

BBC Local Live

An MP has denied being responsible for the failure of Derbyshire and Nottinghamshire's plans for an elected mayor.

Ken Clarke was one of a handful of MPs who council leaders said had been unhelpful.

Mr Clarke says he has spoken to ministers about his concerns, but can't be blamed for the deal being in trouble.  

Man dies after car struck tree

A man has died in East Staffordshire after the car he was driving hit a tree. 

The victim was confirmed dead at the scene in Hollington Road at Croxden earlier today.

Philpott children deaths have lasting impact on paramedic

Latest headlines for Derbyshire and East Staffordshire

Euan Duncan

BBC Local Live

Here's a summary of the main stories we're covering this afternoon:

Royal wedding cake could make up to £100

Euan Duncan

BBC Local Live

More on that relic of Queen Victoria's wedding now. The cake was found in a small envelope which had "a piece of Queen Victoria's wedding cake" written on it.

Auctioneer Charles Hanson said: "Although it may not have intrinsic value, it has great historical worth and we hope it will sell like hot cakes."  

Copyright: Hanson's Auctioneers

Hanson's reveals that Queen Victoria's wedding cake weighed in at an impressive 300lbs, measured three yards in circumference and cost more than £100.

Your views: Waterfall switched off

Booing accompanied the moment the water was switched off at Derby city centre's waterfall.

On Facebook, Sam Beighton commented: "Oh great so instead of a waterfall we have a big chunk of nothingness doing nothing... Brilliant,, come to derby, see our nothingness.""

New leader for Derby Lib Dems

The leader of Derby's Liberal Democrats is standing down to devote more time to other interests within the community.

Hilary Jones has worked at the city council for 16 years and represents the Mickleover ward.

Councillor Ruth Skelton will be taking over as Liberal Democrat group leader. 

Royal wedding cake up for grabs

Euan Duncan

BBC Local Live

Are you feeling peckish? Well, a piece of what is reputed to be Queen Victoria's wedding cake from 1840 is going under the hammer in South Derbyshire tomorrow.

Copyright: Hanson's Auctioneers

The not-so-appetising fragments were discovered by auctioneer Charles Hanson wrapped up in parchment in a chest and are expected to attract offers up to £100.

MP: Corbett 'brought joy to a nation'

Two boys rob eight-year-old girl

Euan Duncan

BBC Local Live

An eight-year-old girl has been robbed by two boys in Derby as she made her way home from a shop.

The victim was leaving the Premier store in Clarence Road when she was followed by two boys who had been standing outside the store.

One stopped and threatened her before taking cash out of her hand and pushing her to the ground.

Boos as waterfall turned off to save money

Euan Duncan

BBC Local Live

This was the moment as the waterfall sculpture in Derby Market Place was reduced to a trickle as it was switched off as a cost-cutting measure by the council.

There were a few jeers from a small crowd of onlookers as the flow of water was halted earlier today.

Rams losses within fair play rules

Owen Bradley

BBC Radio Derby Sport

Derby County's £10.1m loss comes despite the club achieving another record year of ticketing and commercial revenue.

The net spend in the transfer market was nearly £4m. The club has repaid the £15m mortgage on the iPro Stadium and spent £7.5m on its Moor Farm academy.

For the purposes of the Football League financial fair play rules, Derby's loss was £5.6m which is well within the FFP limit.

Owen Bradley

BBC Radio Derby Sport

Derby County have announced a loss of £10.1m for the year to June 2015.

The losses increased from £7m the previous season when the Rams missed out on the play-offs and there was a 32% increase in the wage bill to £21.8m.