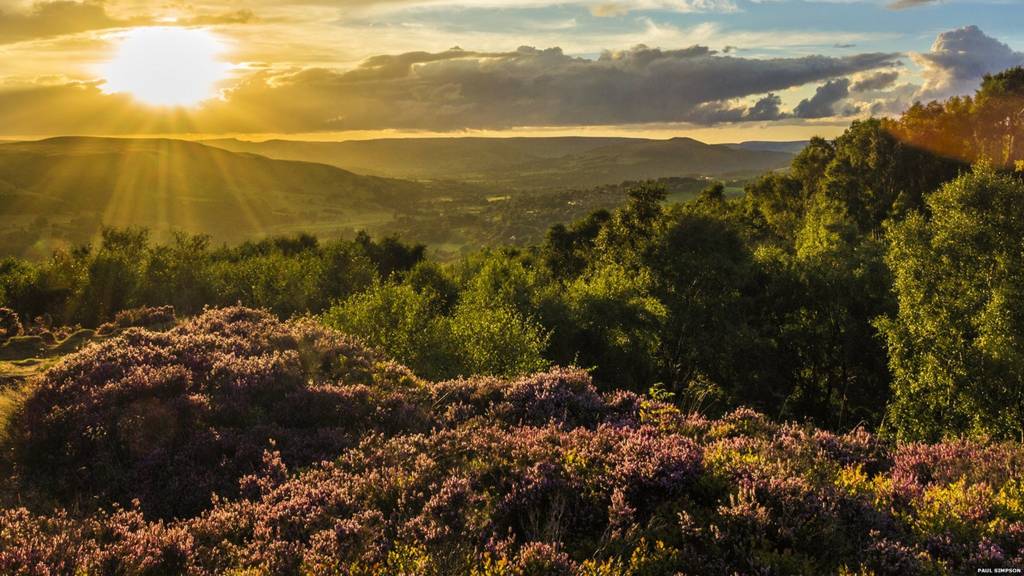 BBC Local Live: Derbyshire
Our live coverage across the day

Our live updates have now ended but will return tomorrow at 08:00. 

Weather: Dry and clear night across region

Anna Church

BBC East Midlands Today weather presenter

Remaining dry and cloudy to end the day. There will be some clear spells overnight but temperatures should stay above freezing.

A few spots of drizzle are possible with lows of 5C (41F). 

Rams midfielder ruled out of Republic of Ireland friendlies

Calum McKenzie

BBC Local Live

The hard work never stops...

Hotel boss releases CCTV footage to try to trace thief

Calum McKenzie

BBC Local Live

Can you help identify this man who took two wooden antique sculptures from The Old Bell Hotel in December. 

Copyright: The Old Bell Hotel

The owner has released the CCTV footage having unsuccessfully appealed to the man to have them returned. 

Latest headlines for Derbyshire and East Staffordshire

Calum McKenzie

BBC Local Live

Here's what's happening across Derbyshire and East Staffordshire: 

The leader of Derby City Council says it's "outrageous" the government has seized a plot of land in Normanton 
Police are trying to find out who damaged 15 cars in Uttoxeter on Sunday evening 
Jeff Hendrick pulls out of the Republic of Ireland's friendlies with a shoulder injury 

Flights grounded for third day

Calum McKenzie

BBC Local Live

Flights from East Midlands to Brussels cancelled again tomorrow...

Police hunt Uttoxeter car vandal

Calum McKenzie

BBC Local Live

At least 15 vehicles on a number of roads were damaged in Uttoxeter on Sunday night. 

Many had deep scores in the paintwork, three had their windscreen wipers pulled off and one had the word "dead" scratched on it. 

Police are keen to trace a teenager seen riding a bicycle in Park Street at about 03:45 on Monday morning. 

He's described as white aged between 14 and 16 and was wearing a grey jumper and hat.

Derbyshire CCC to hold AGM this evening

Calum McKenzie

BBC Local Live

Derbyshire CCC chairman Christopher Grant tweets...

Council leader: We're owed money for Normanton land

Quote Message: At a time of government cuts, give us rent for it so we can use it as income to keep other council services running. Or, give us a two million pound payment for it so we can refurbish the Assembly Rooms and the swimming pool." from Councillor Ranjit Banwait Leader of Derby City Council

Hendrick pulls out of Republic of Ireland squad with shoulder problem

Normanton land 'taken' by the government

Calum McKenzie

BBC Local Live

Here's the plot of land that the government has seized from Derby City Council in Normanton. 

Council criticise government land grab

Calum McKenzie

BBC Local Live

The leader of Derby City Council says it's outrageous that the government's seized a plot of its land, worth over £1m, to allow a free school to be built there. 

The site at Normanton had been earmarked by the city council for a new school for special needs pupils. 

But now the Department for Education has used powers to take it - without paying a penny.

Your photos: March across Derbyshire

Calum McKenzie

BBC Local Live

Thanks to BBC Weather Watcher Chutney for sending in this fabulous panoramic shot from Beeley. 

Bryson: Getting Hughes back is 'excellent'

Calum McKenzie

BBC Local Live

Here's a little more of what Craig Bryson has had to say about Will Hughes' impending return from injury. 

"Me and Will both got injured on the first day of the season and it was a bad injury," the midfielder said. 

"When he was told he was going to be out for six months it was a big blow for the club and what we wanted to do for the rest of the year. Getting him back on the pitch will be excellent." 

Bin collection changes on Easter Monday

Calum McKenzie

BBC Local Live

Essential information for getting rid of all those Easter egg boxes...

City council to sign agreement with Slovakia

Calum McKenzie

BBC Local Live

An agreement to help vulnerable Slovakian children make their way back to their home country will be signed in Derby today. 

A delegation from the eastern European republic will meet with Derby City Council this afternoon. 

Representatives from Slovakia want children in the care of the council to be repatriated as quickly as possible if they can't return to their parents' care. 

Roundabout to be renamed after regiment

The roundabout at the junction of London Road and Traffic Street in Derby is due to be officially renamed Royal Lancers Island by Derby's mayor, Paul Pegg, shortly.

He said: "I believe it shows our appreciation of their efforts and sacrifices made over the years."

Derbyshire squad prepare for new season

Calum McKenzie

BBC Local Live

The lads look hard at work ahead of the new season at the County Ground...

Mosque leader calls for tougher punishments for extremists

Police: 'Someone must know watch's owner'

Calum McKenzie

BBC Local Live

Derbyshire Police says it hasn't been able to track down who owns the items. 

Linda Fletcher, a force enquiry officer said: "We have completed all our usual checks on found property and have not yet found an owner, however the inscription is so specific that we feel sure someone must know who the watch belongs to.

"We think that B.S.C. stands for British Steel Corporation and we have spoken to their pensions department to see if they can help but unfortunately they say they just have too many J. Stewarts to start narrowing it down."