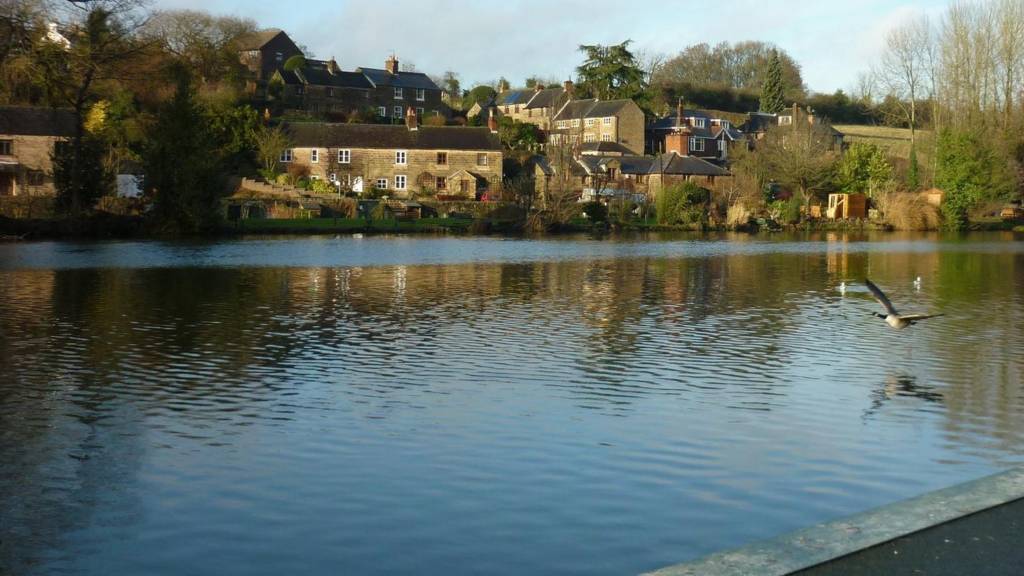 BBC Local Live: Derbyshire
Summary
Updates for Tuesday 9 February 2016
News, sport, travel and weather updates resume at 08:00 Wednesday
Our live coverage across the day

That's all our Local Live updates for today. We will be back at 08:00 tomorrow.

Weather: Showers move in tonight, as cloud builds

Kaye Forster

Weather Presenter, East Midlands Today

There will be a few showers creeping in this evening, so it will cloud over with some rain for the end of the day.

These will clear later to leave a mostly dry night, but we will keep the cloud so the temperatures will remain above freezing for most, with lows of 1C (34F).

It's a mostly dry but fairly cloudy start tomorrow morning, and temperatures will peak at 7C (45F).

Gritters set for Peak District today

Up'Ards bag the first goal

It's mine! Did you get that photo of me holding the leather ball?

At least this competitor can take comfort that one of the news agencies snapped him at the crucial moment.

And what's that I'm hearing, the first score of this year's event and it's a goal for the Up'Ards ... at 17:16 to be precise. 

Streaming out of Ashbourne town centre

We did suggest the ball had reached the river at one stage today during the annual Royal Shrovetide football game in Ashbourne.

Here's a photograph to prove it. It's wet as well as muddy for the competitors following this winter's rainfall.

Latest headlines for Derbyshire and East Staffordshire

Euan Duncan

BBC Local Live

Here's a reminder of the main stories we're covering today:

Neath to Ashbourne all for Shrovetide

Wesley Mallin

Reporter, BBC Radio Derby

BBC Radio Derby reporter Wesley Mallin says the ball's still in the middle of Ashbourne, and has been speaking to some of those watching the Shrovetide football game. 

Lauren said: "I've come every year it's part of our tradition and culture in Ashbourne. It's amazing Everyone should come."

Hannah set off at 07:45 from Neath in Wales and got to Ashbourne at 11:30 just to be there, and said: "It's such a fantastic occasion and I really feel everyone's missing out by not being here.

"It's getting bigger over the years. I really feel like I'm missing out not to be part of this. I was brought up here, it's part of the family. You just can't miss it."

Rams chairman explains Clement sacking

Owen Bradley

BBC Radio Derby Sport

Derby County's owner and chairman has been speaking for the first time about his decision to sack Paul Clement as head coach.

Mel Morris says it was purely performance driven, even though the team is currently fifth in the league, despite not winning their last seven league games.

He said academy director Darren Wassall has taken over until the end of the season because: "You need now someone who understands the culture and the philosophy, and Darren's had two years working with us on that.

"He's probably the best motivator we have in the entire club, so right now he's a really good safe pair of hands to stabilise the ship, get us back on track, while we begin the search to see what we do for a long-term appointment."

Jury to consider evidence for third day in Langley Mill fire trial

Euan Duncan

BBC Local Live

The jury at the trial of three men accused of killing two teenagers and a baby in a fire at a Derbyshire flat has spent a second day deliberating.

The jurors have to decide whether Peter, Simon and Anthony Eyre, from Sandiacre, are guilty of three counts of murder after the fire at Langley Mill last June.

It resulted in the deaths of two 17 year olds, Amy Smith and Edward Green, as well as Miss Smith's six-month-old baby daughter Ruby-Grace Gaunt.

The jury will return on Thursday morning, as the court isn't sitting tomorrow.

Rainfall raises river level

Euan Duncan

BBC Local Live

Away from Ashbourne, there may have been one or two eyes cast at the level of the River Derwent in Derby today.

Standing water has been seen by the side of the old magistrates' court building and the level of the River Derwent was significantly higher than usual.

Ball became wedged under school bus

Wesley Mallin

Reporter, BBC Radio Derby

The traditional Royal Shrovetide Football game in Ashbourne got under way this afternoon, and hundreds of players are now trying to get the ball from the centre of town out to one of two goals placed three miles apart.

The ball got stuck under a school bus at one stage, and was last seen in a big crowd of competitors near the river.

Shrovetide football memories

Shrovetide 2016: Ball reaches the river

Euan Duncan

BBC Local Live

Back in Ashbourne, it's thought the ball could be in the river now, not far from the Sainsburys supermarket.

The action continues until 22:00 and will resume tomorrow afternoon.

Marshalls say the first part of the game can be the most hazardous "because everyone is still quite exuberant and has lots of energy".

Police on hand for Shrovetide football event

Shrovetide football: "It's brutal, it does hurt"

Competitior Matt's been telling BBC Radio Derby why he takes part in the annual Shrovetide football game.

He said: "It's a traditional thing to do. It's a fun game. It's brutal, it does hurt, but we do it every year. so it's just a traditional thing. Bring your friends down and, yeah, it's a good laugh." 

And Jess, who said she'd be drinking and spectating, said: "It can get pretty rough, so keep your distance, but it's a great atmosphere."

Ball 'turned up' at Ashbourne

Catch ... the ball is turned up at the start of the annual Royal Shrovetide football game in Ashbourne.

It drops into the massed ranks of competitors who need to work it carefully towards the two goals for the opposing teams which are around three miles away from the plinth.

Shrovetide 2016: Moment game got under way

Quote Message: The ball has just been turned up. That's it, it's out, it's in free play. The ball has gone hurling into the crowd and that hug has started already. There's a sea of largely young men positioning themselves to get their hands on that ball." from Wesley Mallin BBC Radio Derby reporter

Annual tradition marked ahead of game

Wesley Mallin

Reporter, BBC Radio Derby

The out of bounds areas were read out and the ball is placed on a plinth before being turned up.

People are asked to obey the spirit of the rules for the event which has been held for nearly 1,000 years.

Former schoolteacher and choir singer Barry Greenwood guided the crowds through the National Anthem and Auld Lang Syne, and he also sings the Shrovetide song at the annual dinner.

Shrovetide game is under way

Wesley Mallin

Reporter, BBC Radio Derby

The pre-game rituals for Ashbourne's Shrovetide game included the National Anthem and Auld Lang Syne.

The ball has been turned up, and the game's under way.

Apparently the greatest risk of injury is during the first half hour of the event.

Traditional lunch precedes Shrovetide game

Wesley Mallin

Reporter, BBC Radio Derby

Preparations have been going on for the annual Royal Shrovetide football game in Ashbourne for some time, but there are also last-minute traditions too.

As well as boarding up the shop windows, there's the Shrovetide lunch ahead of this afternoon's game.