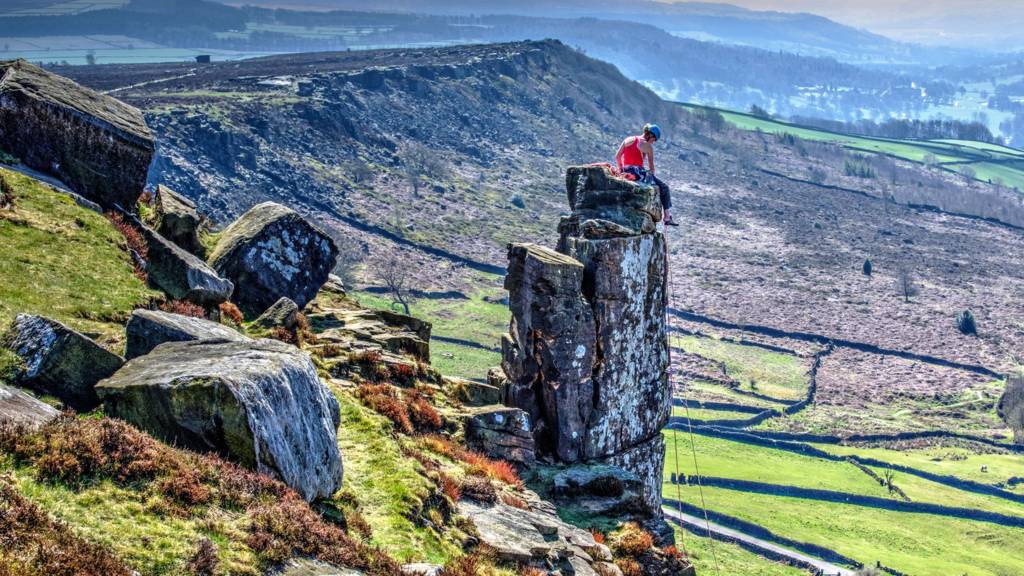 BBC Local Live: Derbyshire
Summary
Updates for Thursday 4 February 2016
News, sport, travel and weather updates resume at 08:00 Friday
Our live coverage across the day

That's all our Local Live updates for today. We will be back at 08:00 tomorrow.

Weather: Mild night with chance of light shower

Alexandra Hamilton

BBC Weather

It will be a mostly dry and cloudy night with occasional drizzly showers, and lows of 9C (48F).

Tomorrow it will be cloudy with occasional drizzly showers and the odd brighter spell, with highs of 10C (50F).

Brewers look to loan window for striker cover

Ed Dawes

BBC Radio Derby Sport

Nigel Clough says there will be opportunities to strengthen his Burton Albion squad in the emergency loan window next week.

Auralien Joachim, Jerome Binnom Williams and Nasser El Khayati have depleted the Brewers options in attack after leaving the club during January.

Attempted burglary at electronics firm

Lucy Vladev

BBC Radio Derby

CCTV images have been released after two men walked into the Meteor Centre in Derby and tried to force a door to an electronics company.

When the alarm was triggered they escaped via a fire exit on 30 December.

Copyright: Derbyshire Police

Police are asking anyone who recognises the men to contact them.

Cash recovered from antiques shop owner

Police have seized £2,000 from the owner of a Derby antiques shop.

Copyright: Derby Telegraph

Latest headlines for Derbyshire and East Staffordshire

Euan Duncan

BBC Local Live

These are the main stories we're covering today:

Derby City Council agrees cuts of £23m
Bus services under threat in rural Derbyshire
And Rams add Bent and Weimann to squad for Fulham game

Your views: Bus services 'needed in rural areas'

You've been responding on the BBC Radio Derby Facebook page to our report about potential cuts to rural bus services.

Jean Gerrard said: "We need our bus service in the rural areas. It's the only way for many to do their shopping, get to the doctors, dentist, and hospital. I know cuts have to be made. Perhaps the top dogs in the government and council can cut their high wages and perks before hitting the vulnerable with cuts."

And Gerry Belmore posted: "This council wastes money on stupid "gyms" in parks that no-one uses, advertising itself on billboards that distracts drivers, and a council house with a phone system that you can never get to speak to a human on. But hey ho, that's Derby councillors at the mad house for you." 

Rams add to attacking options for Fulham trip

Owen Bradley

BBC Radio Derby Sport

Paul Clement has confirmed that Darren Bent and Andreas Weimann will both be involved in Derby County's match at Fulham on Saturday.

Neither have been involved in recent match day squads as the Rams have struggled to six Championship matches without a win.  

Travel: Breakdown partly blocks A6096 in Ilkeston

Police appeal over missing teenager

Police want help to locate Deon Borrington who's been missing from his home in Derby for a week.

Copyright: Derbyshire Police

The 13-year-old is 5ft 1in tall, with short brown hair and blue eyes, and was wearing a dark top, grey jogging bottoms and trainers.

Latest headlines for Derbyshire and East Staffordshire

Euan Duncan

BBC Local Live

Here's a reminder of the main stories we're covering this afternoon.

Fire service thinks 'toxic smoke' responsible for man's death in fire at farm in Morton
Council tax rise of 12% over three years in Derby as city authority agrees savings plan
And Rams boss says he's staying calm despite six-match winless streak

12% council tax rise over three years

Euan Duncan

BBC Local Live

Let's put some meat on the bones of the budget cuts being made by Derby City Council.

The local authority has agreed to make savings of £23m and council tax will go up by 12% over three years to help meet the rising cost of social care.

Leader of the council Ranjit Banwait says they've made some tough decisions.

"We've warned for several years now that we would reach a point in time where many services would start to lose out, and most importantly discretionary services."

Travel: Lane blocked northbound in M1 roadworks

Community welcomes first Roma PC

Bell tolls for rural bus services

Following on from Derby City Council's budget announcement, it's the turn of Derbyshire County Council next week, with rural bus services in the firing line.

Research by the Campaign for Better Transport suggests many of these routes in England and Wales face being scrapped by financial cuts.

The organisation likens the situation to the impact on the rail network from Dr Beeching in the 1960s.

Derbyshire and Leicestershire are among the top 10 worst affected local authorities in England.

Your views: Pool 'sacrificed to build velodrome'

Our reports about Derby City Council's budget cuts have been generating some response on the BBC Radio Derby Facebook page today.

Val Woods posted: "I am appalled that a city the size of Derby does not support a state-of-the-art swimming pool/leisure facility. I can only think that there are no swimmers on the council who realise how much more important swimming is than cycling. Why a velodrome but no swimming pool?

"It was obvious all along that the pool would be sacrificed to build the velodrome. We moved to Derby a year ago and I really am shocked at the way things are run here."

And Laura Seaman said: "I can't also believe they're cutting the funding for the Darley Park concert; that surely brings a lot of revenue into Derby off the back of it."

Weather: Sunny spells and feeling mild

Brighter intervals this afternoon, and milder conditions, with highs today of 11C (52F).

It will stay largely cloudy tonight, but further patchy outbreaks of rain are expected and it will be a mild night, with lows of 8C (46F).

Why green space should be home to housing

A planning consultant for a developer has set out why he thinks 125 homes should be built on green wedge land in Spondon.

Copyright: Derby Telegraph

Facing the flack ahead of Fulham

Owen Bradley

BBC Radio Derby Sport

Talking to the media ahead of Saturday's Championship trip to Fulham, Derby County boss Paul Clement said: "This is a big challenge, I knew that when I arrived. But we stay calm. I've got a good dressing room."

'Toxic smoke' caused man's fire death

Euan Duncan

BBC Local Live

A joint police and fire investigation is under way to discover the cause of a fire in a farmhouse at Morton.

A 69-year-old man who was found collapsed in a downstairs room died at the scene, around 20:45 yesterday.

Group manager for Derbyshire Fire and Rescue Service Bob Curry has been back at the scene today, and said: "It was a relatively small fire in the lounge of the property which produced a large amount of toxic smoke, and we believe that is what affected the casualty."