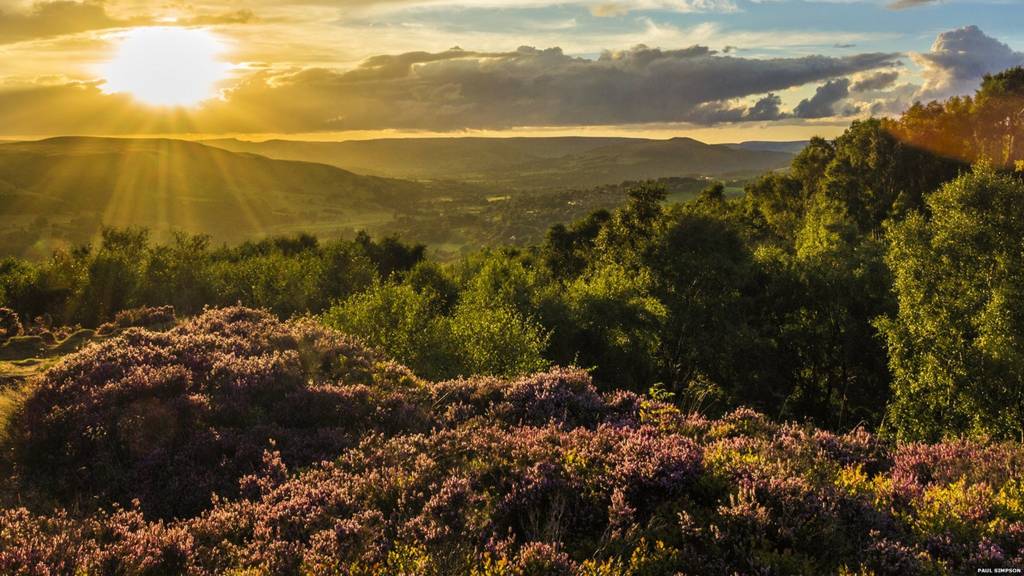 BBC Local Live: Derbyshire
Summary
Updates for Wednesday 25 November 2015
News, sport, travel and weather updates resume at 08:00
Our live coverage across the day

That's all for Local Live today. Join us tomorrow from 08:00.

Weather: Cloudy night ahead

The evening and night will become largely cloudy with a small amount of light rain or drizzle. Winds will become more westerly and lighter.

Minimum temperature: 5C (41F).

Spending Review: 'Frustration' over HS2

Quote Message: "One big disappointment was the lack of acknowledgement for the Midlands Engine for Growth. Largely positive... but frustrating that we still have no clarity on the route or timeframe of HS2." from East Midlands Chamber

Your views: 'Brave ladies' in breast cancer exhibition

We posted pictures on our Facebook page earlier from a Royal Derby Hospital exhibition, which features women who've had breast cancer surgery.

Here are some of your responses:

Janet Morley wrote: "Brave ladies, inspirational of them to show future patients the results, of what they might expect after reconstruction, well done to them, they look lovely."

Trish Caroll: "It is a beautiful display, very brave and beautiful ladies. Well worth the visit."  

There's heavy traffic on Kingsway in Derby in both directions between the A516 junction and the Kingsway Island this rush hour.

Rowing record bid in Duffield

Latest headlines for Derbyshire

A final recap of the top stories in Derbyshire and East Staffordshire:

Spending Review: An East Midlands perspective

Tony Roe

BBC East Midlands political editor

Investment in the East Midlands part of the "engine room" is limited.

Extending an enterprise park in Derby and £1.25m to prepare the way for the HS2 station at Toton plus investment in the electrification of the Midland mainline was as far as it went. 

Local councils, as predicted, are going to be able to spend the business rates but lose direct government grants. More assets will have to be sold. They are also going to be "encouraged" to cut back on excessive salaries.

Derbyshire PCC: Let's wait for detail on no police cuts

Derbyshire Police & Crime Commissioner on the announcement of no cuts to the police budget: 

Quote Message: We're not jumping up and down yet because we want to look at the detail. A lot of work and time has been wasted, but we will live with that if we get the funding coming through to us." from Alan Charles

Pothole angers Burton residents

Angry residents have hit out after a deep pothole in the middle of their road has steadily got worse.

Your Pictures: Rainbow in Brailsford

Weather Watcher Anne Brown took this lovely picture in Brailsford.

It's now the cover photo on our Facebook page.

Boxing: Derby's Sandy Ryan at GB championships

Natalie Jackson

BBC East Midlands sports editor

Wicked day with Derby boxer Sandy Ryan at Team GB base in Sheffield. 

Good luck tomorrow Sandy at the GB Champs!

Spending Review: How will it affect Derbyshire?

Chris Doidge

BBC Radio Derby political reporter

What was in the Spending Review that affects us here in Derbyshire and East Staffordshire, I hear you ask?

There's more than £1m to develop agrowth strategy for Toton- that's almost certain now to be the home of the region's high speed railway station 
Derby's enterprise zone atInfinity Park, near Rolls-Royce, will be extended and the government'sprotecting grants for the aerospace industry, which probably led to some cheering at Rolls-Royce's Sinfin campus
Highways England's road improvement schemes will go ahead in full by 2021 - they includemajor upgrades to the A38through Derby and the A50 near Uttoxeter 
Andunderused courts will be closed- no absolute confirmation, but Burton and Buxton's magistrates' courts were among those earmarked for closure, so that could now go ahead

Christmas 'cancelled' at primary school

Irate parents claim that Christmas has been "cancelled" at Reigate Primary School in Derby after the interim head teacher axed church carol concerts and festive craft days for parents.

Copyright: Derby Telegraph

'Bald' flasher on Long Eaton towpath

A flasher, carrying a torch, exposed himself to two women on a canal towpath in Long Eaton, police have said.

The women, in their 20s, said the man, described as having a shaved or bald head, was stood on the other side of the canal on the towpath, near Fox Covert on Sunday.

Black screws 'blight' on Burton roads

Drivers are facing expensive pre-Christmas bills as the scourge of Burton's black screws returns to the town's roads.

It is unclear exactly where the mysterious objects have been scattered, but one Burton garage has carried out an incredible 70 repairs since Thursday.

Spending Review: Local MPs react

Conservative MP for Burton tweets...

Spending Review: Funding for growth strategy on planned HS2 station

More from BBC Radio Derby's political reporter...

Warnock: Rams should aim for win at Hull

Tom Brown

BBC East Midlands digital sports reporter

On Friday's match against Hull, Derby County's Stephen Warnock says it's in the team's DNA to go for the win - not to aim for a point.

Spending Review: Court closures to go ahead

BBC Radio Derby political reporter tweets...

Rams boss 'happy' with squad

Tom Brown

BBC East Midlands digital sports reporter

At a press conference today, Derby County manager Paul Clement has ruled out making any emergency loan signings. 

He's happy with his squad, he says.

Spending Review: No more VAT on sixth forms

George Osborne announced that sixth form colleges will be able to become academies "so they no longer have to pay VAT". 

BBC Radio Derby political reporter tweets...

Spending Review: Mainline electrification 'to go ahead'

East Midlands Today political editor tweets...

Latest headlines for Derbyshire

Making the news today...

Strike action has been suspended at Alfreton Grange Arts College following talks
Rolls-Royce is to cut £200m of costs a year 
A mystery loose sheep in Belper has been collected but there are claims it's the second time it's happened in a fortnight

Spending Review: 'Continued support' for aerospace

BBC Radio Derby political reporter tweets George Osborne has hinted at continued Rolls-Royce support.

Spending Review: Local MPs react

Conservative MP for Mid-Derbyshire tweets...

Spending Review: East Mids not on elected mayors list

Chris Doidge

BBC Radio Derby political reporter

Predictably, the East Midlands isn't on the list of areas signed up for devolution and an elected mayor... yet.  

Spending Review: Midlands employment growing

BBC Radio Derby political reporter tweets...

Spending Review: Local MPs react

A lane has been closed on the A42 just over the border into Leicestershire because of a broken-down lorry. It's causing slow traffic between junction 12 and the M42.

Travel: Abnormal load on M1

Belper sheep escape: 'Second time in fortnight'

Elise Chamberlain

East Midlands Today reporter

A sheep has been causing a stir after arriving in a quiet residential street in Derbyshire five days ago.

The animal, nicknamed "Shaun the Sheep', by people living on Charnwood Avenue in Belper, was first spotted on Saturday morning.

It was collected by people known to the owner at about 12:00 today - and comes just over two weeks after a similar incident.

Robin Beck, of Alport Close, awoke to find a different sheep on his lawn on 7 November, which was also later picked up - he said he "can't believe it's happened again".

Brewers: El Khayati pleased with 'perfect' performance

Abdenasser El Khayati says Burton Albion's performance at Wigan Athletic was a perfect display from the Brewers. 

El Khayati scored in the 74th minute as his side won 1-0 on Tuesday to move up to third in the League One table, two points adrift of second place. 

"I had to wait for my moment but my moment came and I am happy to score my goal," he said.

Buxton head injuries man 'slipped on ice'

A man who was found with serious head injuries in Buxton had slipped on ice, police have said.

Officers put out an appeal for information after the 43-year-old man was discovered by a passerby in Springdale, off St John's Road, at about 23:45 on Saturday.

He was taken to Salford Royal Hospital with serious head injuries but his condition is now improving.

Long Eaton firm to receive millions after bra battle

A High Court battle over bras has ended with a Derbyshire underwear company in line to receive millions of pounds from one of the world's biggest high street retailers, H&M.

Copyright: Derby Telegraph

Your pictures: Derbyshire sunrise

The skies above Derbyshire have been catching people's eyes this morning.

Diana Higman tweeted us this picture of the sunrise in Allestree.

"My view out of bed...nothing like putting you in a good mood for the day ahead," she said.

School strike action suspended

Further strike action at Alfreton Grange Arts College has been suspended following talks. 

Staff have staged six walkouts as part of a dispute over timetable changes. 

But after the school's trust met with union leaders, future strikes have been called off. 

New timetable conditions have been agreed - parents and staff will now be consulted.

Rolls-Royce 'needs to get in shape'

The boss of Derby's Rolls-Royce has described the company as "an athlete that's a bit overweight and needs to get fit".

Copyright: Derby Telegraph

Dogs running wild in Pinxton

Rolls-Royce boss warns Chancellor over business cuts

And sticking with Rolls-Royce. Its chief executive Warren East has said he's been in touch with George Osborne about the Spending Review, due to be announced later.

He warned cutting business grants would have an impact on Britain's engineering future.

The Chancellor is to set out government spending plans up to 2020 later, which will include billions of pounds in cuts to Whitehall and budgets and welfare but also new money for housebuilding.

Rolls-Royce to cut £200m a year

More today on the problems faced by Rolls-Royce. Its chief executive has said the company will be more transparent about the risks it faces and will cut up to £200m of costs a year.

Warren East said the engineering group had developed an "accounting fog" which had left investors unclear about the direction it was going.

He said investor "confidence was not in a good place", and the company must make shareholder returns a priority.

Rolls-Royce employs more than 21,000 people in the UK, with more than 12,000 employed at its Derby aerospace engines and submarines division.  

Brewers: 'Daring' win against Wigan

Nassel El Khayati's second-half goal was the difference as Burton Albion beat Wigan 1-0 to move back up to third in League One. 

Manager Jimmy Floyd Hasselbaink described the performance as, "daring". 

Burton are within three points of leaders Coventry, with a game in hand.

Burton brew from 19th century set to return

An iconic Burton beer with a history dating back nearly 200 years is set to make a comeback.

The M1 appears to be back to normal after the problems across the county this morning.

Lost sheep 'could run out of food'

There's concern for Belper's lost sheep Shaun who appeared in the town on Saturday and has been shepherded into a garden.

Jack Bailey and his wife Ann spotted him on Charnwood Avenue and called the RSPCA and the police but nothing has been done.

Jack's worried he might start to get hungry: "That's all he's got is four square yards of grass - you can't bring it a sandwich down, so we don't know what to do with him."

The RSPCA says it has to prioritise animals most at risk but is looking into the matter.

Latest headlines for Derbyshire

Here are the stories making the news in the county this morning:

Travel: M1 delays continue

Long delays still on the M1 after an earlier incident involving a lorry between junctions 24A and 25.

Travel time through the area is estimated at 55 minutes.

There are also delays southbound between junctions 26 and 25 and northbound between junctions 30 and 31.

Residents baffled by lost sheep

More now on Belper's lost sheep - "Shaun" who appeared on Saturday and is now being looked after by residents on Charnwood Avenue.

Ray Bailey said he called the police, who shepherded him into a back garden.

"I don't know where it's come from - it's not like there are any farms nearby really," he said.

The RSPCA says it's looking into the matter but has to prioritise animals most at risk, first.

There's queuing traffic on the M1 southbound between junctions 26 and 25.

Here's the view at junction 26 for the A610.

Copyright: Highways England

There are severe problems further down between junctions 24A and 25 northbound.

Travel: M1 lanes now open

Stray cats and dogs are nothing new but stray sheep?

Shaun (as he's been named by locals) turned up in Belper two days ago.

Residents have been keeping him safe until they work out who he belongs to.

Watch him frolic in a back garden over on BBC Derby's Facebook page.

Weather: Bright and breezy

Charlie Slater

BBC Weather presenter

Sunny spells on and off throughout the morning before clouding over in the afternoon with a couple of showers. 

Breezy with highs of 9C (48F).

Copyright: Highways Engand

Two lanes have been closed on the M1 northbound between junctions 24A and 25 because of an accident.

Good morning: Join us for today's live news coverage

Good morning Derbyshire and East Staffordshire.

It looked like a cracking sunrise over the East Midlands this morning. Did you get a picture? 

Copyright: Chelsea Mansell

Chelsea Mansell sent us one on Facebook. It shows the dramatic sky above Asda in Spondon.