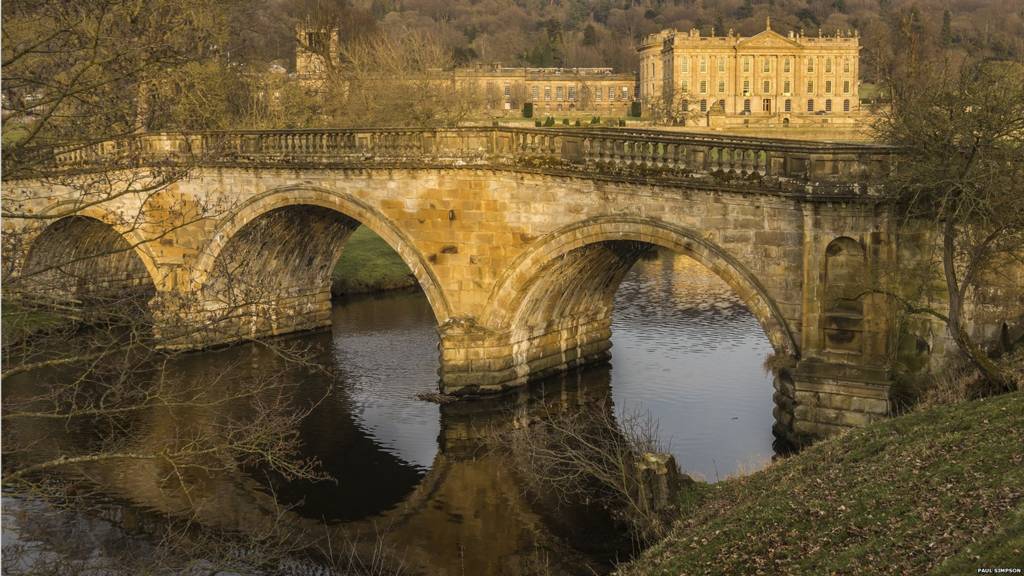 BBC Local Live: Derbyshire
Summary
Updates for Wednesday 18 November 2015
More news, sport, travel and weather from 08:00 on Thursday
Our live coverage across the day

Local Live has finished for the day. Join us again from 08:00 tomorrow.

Weather: Another wet and windy evening

Alexandra Hamilton

BBC Weather

Expect more wind and rain overnight with some potentially heavy showers and lows of 9C (48F).

Office plan scrapped in favour of student flats

Chris Doidge

BBC Radio Derby political reporter

Looks like Friar Gate Square will be completed with student accommodation - officials are recommending it's approved.

Phase 2 (to the right in this picture) was intended to be more office space, but now looks like becoming part of the University of Derby's estate.

The development was supposed to be part of the city's "suits on the street" strategy, getting new businesses into the city centre.

But the planned accommodation, combined with the re-use of the first phase by the University of Derby, suggests the development might result in more "sneakers on the street" (not to be too down on student fashions).

Man in court on ABH charge

A man has been charged with causing actual bodily harm after a man was found unconscious in a Derby car park, police have said.

At about 02:00 on Monday, officers received a report that a man was unresponsive at the Bradshaw Way retail park, pictured.

The 36-year-old was taken to the Royal Derby Hospital where he remains in a critical condition.

A 41-year-old man was due to appear at the city's magistrates' court today, also charged with breaching a restraining order.

Egging allegations in Wirksworth

Police in Wirksworth are investigating a suspected egging incident...

Inquest plans laid out for Tunisia attacks couple

A high court judge has set out plans for an inquest into the deaths of Scott Chalkley, from Chaddesden and his partner Sue Davey in the terror attacks in Tunisia.

Your views: Assembly Rooms plans

You've been having your say on the news that the city council has hired a firm to find a new performing arts venue.

Steve Evans said Duckworth Square would be an obvious choice but he had some words of advice for the council.

"Concentrate on building a venue that is big enough to attract the major artists away from Nottingham!" he said.

Derek Bale suggested: "Skating rink or bowling alley for Duckworth Square!!"

Latest headlines for Derbyshire

The top stories this afternoon:

Police are treating the deaths of two men, believed to be migrants, whose bodies were found in a container at a factory near Burton, as suspicious
A replacement for Derby's Assembly Rooms could be on the cards as the city council hires a firm to find a suitable site for a new performing arts venue
Weather: Storm Barney caused some minor havoc in Derbyshire, with power cuts and felled trees. More settled conditions ahead

Drug raids in Amber Valley

Police in Kilburn tweet...

Burton bodies believed to be migrants

Staffordshire Police has said two bodies found at a factory near Burton yesterday were suspected migrants.

They are believed to have been men under the age of 30 but officers said they were still working to establish their identity.

The wooden transit case in which they were found was part of a consignment of commercial boilers which left northern Italy on Monday 5 October and entered the UK, by ferry, from Dunkirk to Dover the following Thursday.

The bodies were discovered at Italian-owned firm Ferroli in Branston.

Burton bodies: Deaths are suspicious

Police say they are treating the deaths of two men, whose bodies were discovered at a factory near Burton, as suspicious.

Det Chf Insp Dave Giles, of Staffordshire Police, said the men, believed to be migrants, who were found inside a wooden crate at the Ferroli factory in Branston on Tuesday, had been "dead for some time".

"We are almost certain they were helped to conceal themselves amongst the delivery load by a third party," he said.

"In view of this, we are treating the deaths as suspicious and will be carrying out a thorough investigation into the circumstances. "

Popular night market to return to city

Derby Night Market, which attracted 2,000 people in the first hour last time it was on, will take place in the Cathedral Quarter for a third time tomorrow.

Copyright: Derby Telegraph

Burton bodies 'found in container'

More on the story of the two bodies that were found at industrial premises in Burton on Tuesday morning.

Police have confirmed both bodies were inside a container.

Ch Insp Steve Maskrey from Staffordshire Police said the container's link to Italy was forming part of the inquiry.  

Moves to tackle troublemakers in Burton

Action to tackle antisocial behaviour across Burton and East Staffordshire is set to be stepped up.

Assembly Rooms replacement on the cards

The Assembly Rooms have been out of action for a long while but now the city council's appointed advisers to look at where - and how - to replace the venue. 

Property firm Cushman and Wakefield have been tasked with finding a site for a new performing arts venue. 

The two sites they'll examine first are the Assembly Rooms itself and Duckworth Square - also known as Becketwell. 

The council says the development is likely to include a four star hotel, housing and other leisure and entertainment facilities. More details are expected in the new year.

Care home closure plans set for approval

Derbyshire County Council looks set to confirm plans to close four care homes next week. 

A report going before the council's cabinet seeks approval to close the homes, which include the Glebe in Alfreton (pictured) and the Willows in Ripley. 

Six respite care beds at Ecclesfold Resource Centre would also go under the plans, which were announced in June. 

Sod cut at Littleover homes site

Work has started on building more than 300 homes on the south-western edge of Derby.

Copyright: Derby Telegraph

Storm Barney: Tree damage in Mickleover

Weather Watchers user Caz's Corner has uploaded this photo showing damage caused by last night's storms.

Storm Barney: Cricket ground battered

Ed Dawes

BBC Radio Derby Sport

A scene of devastation at Derbyshire's County Ground following last night's storms.

Barney downs dozens of trees

More than 30 trees have been felled by the passing gales of Storm Barney last night.

Timelines tell history of cricket club

Ed Dawes

BBC Radio Derby Sport

Derbyshire County Cricket Club has erected new timelines depicting the history of the club as part of a heritage project.

Weather: Rain expected this afternoon

A band of scattered showers, some of which could be heavy, is due to work its way across the region this afternoon. Highs of 13C (55F).

Storm Barney: Helicopters inspect power damage

Choppers are out inspecting damage caused by last night's gales...

Police investigate Burton bodies discovery

More from police on two bodies found in a transportation container at an industrial estate near Burton yesterday.

Ch Insp Steve Maskrey said: "We have a good idea where the containers have come from and when they arrived but I'm not in a position at the moment to release those details."

Assembly Rooms could be replaced by hotel

Bodies found at industrial estate

More now on two bodies found at an industrial estate near Burton yesterday.

Ch Insp Steve Maskrey said: "We were called by the firm at about five past nine yesterday morning where tragically members of their staff had found two bodies.

"We cordoned off the area for most of yesterday while the bodies were recovered and are looking to carry out a post-mortem on them later today."  

Luxury cat hotel opens in Derbyshire

The owners of a new holiday retreat for cats say it is already proving popular with pet owners.

Woodland Nook Boarding Cattery, in Swanwick, offers five cabins furnished with a double bed, cat toys, wall-mounted television and a conservatory

Preparing for epic council meeting

Chris Doidge

BBC Radio Derby political reporter

Next week's Full Council meeting at Derby City Council looks like being - to use a bit of political jargon - "a whopper". 

 As well as a petition from school support staff over their pay, there are also 17 public questions, seven motions from councillors, and (my personal favourite) some amendments to the council constitution. 

 Better re-assess how long I'll need to be there...

Bus route switch savings revealed

Travel: Road closed after crash

Weather: Low pressure zone heading in

Keep holding on to your hats...

Storm Barney clear-up begins

Storm Barney: Your stories

You've been letting us know how Storm Barney's affected you overnight.

Not quite time to send in disaster relief for this Twitter user...

Dead bodies found in sealed container

Police were called to the Italian-owned Ferroli boiler factory in Lichfield Road shortly after 09:05 yesterday, after workers opened a sealed container, which had been "smelling" for some time.

A full-scale forensic operation was still under way at the Ferroli warehouse last night.

Travel: Roadworks delays in Burton

Derbyshire escapes worst of Storm Barney

Loos like Derbyshire may have escaped the worst of Storm Barney last night.

According to Western Power Distribution, there are no properties currently without power in the county.

However, fallen trees are causing problems in Derby (pictured), on the A6 at Ambergate and just over the Notts border at Teversal.

Spotted any storm damage? Drop us a line.

Latest headlines for Derbyshire

Here's a recap of the main stories we're currently looking at:

Two bodies are found at an industrial estate near Burton
Storm Barney brings down several trees across Derbyshire
A holiday lodge for cats opens in Swanwick

Purr-fect venue for felines opens

Lucy Vladev

BBC Radio Derby

A new holiday lodge for cats has been opened in Swanwick. 

The resort offers cabins furnished with double beds and wall-mounted televisions.   

Travel: Fallen tree at county border

More Storm Barney-related delays: A fallen tree is slowing traffic in Teversal just over the Nottinghamshire border on Pleasley Lane at the Peartree Lane junction.

Bodies found at industrial estate

Post-mortem examinations will take place this morning after two bodies were found on an industrial estate near Burton. 

Police launched an investigation yesterday after two bodies were found at an engineering firm off Lichfield Road.

Weather: Showers moving in later

Alexandra Hamilton

BBC Weather

A cloudy start with some brighter spells. 

A band of quite scattered showers, some heavy at times, will work south eastwards over the course of the day. Highs of 13C (55F).    

Travel: Fallen tree on A6

Good morning: Join us for today's live news coverage

It's all looking fairly calm out there after Storm Barney last night... If you spotted any damage caused by the weather last night, let us know by sending in a picture.