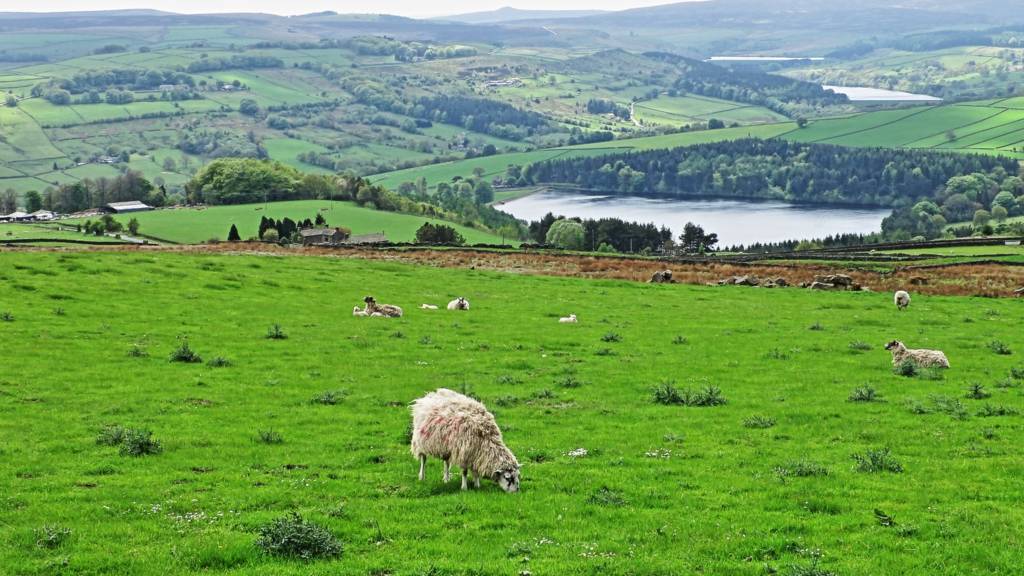 BBC Local Live: Derbyshire
Summary
Updates for Friday 13 November 2015
More news, sport, travel and weather from 08:00 on Monday
Our live coverage across the day

Today's updates have now finished. We will be back at 08:00 on Monday.

Weather: Rain and wind expected to fade

Wind and showers should gradually easy overnight and it should become largely dry by dawn with lows of 5C (41F).

Your views: Too early for Christmas decorations?

On our Facebook page, some have accused Ilkeston's Michael Bishop of putting his Christmas decorations up too early.

However, Stephanie Brown doesn't agree. She wrote: Well done that man, at our advancing years you can't do it all at once, you have to pace yourself! 

"Too early or not the children love to see the decorations as they walk past."

Windy forecast forces Christmas market cancellation

Euan Duncan

BBC Local Live

The Christmas Market at Chatsworth has been cancelled this Sunday because adverse weather has been forecast.

Chatsworth House says it's concerned high winds might damage the market's temporary structures.

It will still go ahead tomorrow and is expected to reopen on Monday.

WW1 nurse diary found in attic

Euan Duncan

BBC Local Live

It's amazing what you can find in an attic. A rare nurse's scrapbook containing a first-hand account of the atrocities of World War One has just been discovered during a valuation day in Derbyshire.

The book contains extracts of the day-to-day life of a young nurse named Violet Gossett, who looked after soldiers serving on the Western Front from 1916 to 1919.

Copyright: Violet Gossett

Auctioneer Charles Hanson says the album is emotive and highly charged for what is a unique and powerful time in our history.

Children in Need: Long Eaton welcomes Pudsey

Euan Duncan

BBC Local Live

Pudsey has certainly been busy today - this is him at Trent College in Long Eaton.

Council leader calls for united devolution approach

Euan Duncan

BBC Local Live

The leader of Derbyshire County Council says remarkable progress is being made at a devolution meeting with the government.

Some smaller local councils have expressed concerns about what the deal will mean for them. 

But Anne Western says it's new territory for everyone and they must stick together to get the deal done.

Latest headlines for Derbyshire and East Staffordshire

Euan Duncan

BBC Local Live

Here's a reminder of the main stories we're covering right now:

Derby man appears in court after being arrested as part of terror investigation
Derbyshire County Council leader says devolution progress being made with government

Council leaders meet over devolution for Derbyshire

Chris Doidge

BBC Radio Derby political reporter

Derbyshire's council leaders have been meeting near Chesterfield this afternoon to decide what to do about devolution.

Two councils say they don't have enough information to make any decisions, even though the deal was supposed to be agreed today.

Meanwhile, the Treasury has said it's working through 38 devolution proposals across the country, and can't say at this stage when any deal might be signed for Derbyshire and Nottinghamshire.

Rams striker gets monthly young player award

Ed Dawes

BBC Radio Derby Sport

Derby County striker Offrande Zanzala has beennamed the U21 Premier League player of the month for October.

The 19-year-old scored four goals in three matches. The award is voted for by opposition managers.

The academy graduate says it's an exciting time to be coming through the ranks at Moor Farm, especially following owner Mel Morris' promise to focus on young players.

Derby terror suspect appears in court

Euan Duncan

BBC Local Live

Four men, including one from Derby, arrested in Britain as part of an international investigation into an alleged European Islamist terror network have appeared at Westminster Magistrates' Court.

Zana Rahim, 32, of Curzon Street, was remanded in custody with the other three ahead of a full extradition hearing at the same court on 20 November, after they didn't apply for bail.

The men only spoke to confirm their personal details and to refuse to be extradited apart from Rahim, who gave a different date of birth to that on the arrest warrant and said it was because of the 'silliness of the authorities'.

The four were detained on European Arrest Warrants in an operation led by Italian authorities probing a group called Rawti Shax, which is described as a terrorist organisation of Kurdish-Sunni origin. Italy has requested the extradition of the four men.

League and cup double bill for Trailblazers

Ed Dawes

BBC Radio Derby Sport

Latest headlines for Derbyshire and East Staffordshire

Euan Duncan

BBC Local Live

Here's a summary of the main stories we're covering this afternoon.

Local resident offers monthly wages to help pay for cost of cleaning Derby cemetery headstones after vandalism
Council leaders meeting in Derbyshire today over devolution deal
And Team Derbyshire strengthen badminton squad for new season

Derby County groundsman shares Baseball Ground memories

Former Baseball Ground groundsman Bob Smith says it was Brian Clough who pushed him all the way to a successful career at Derby County.

Clough offered Smith a Championship medal in 1972 but he said no. This week he's been given a lifetime achievement award by the Institute of Groundsmen.

You can hear a full interview with Bob after 18:00 on BBC Radio Derby or watch a preview clip here.

Devolution latest: No indication when deal could be done for Derbyshire

Chris Doidge

BBC Radio Derby political reporter

I've just spoken to the Treasury, which is looking after the devolution deals up and down the country.

They say they've had 38 devolution proposals come in, and they're working through all of them.

In relation to Derbyshire and Nottinghamshire's deal, which we understand has been delayed, the Treasury spokesperson wasn't able to say when the deal might be signed.

Talks continue on devolution issue despite missed deadline

Chris Doidge

BBC Radio Derby political reporter

There's been a development in one of the stories we're covering today, over the creation of new powers for the region, including an elected mayor.

Adevolution deal for Derbyshire and Nottinghamshirewas expected to be announced in the next two weeks, but will now miss the government's deadline.

This afternoon, a Treasury spokesperson told BBC Radio Derby they can't say when the devolution deal for the two counties might be signed, but confirmed talks are ongoing.

Listen again: Pudsey tours Derbyshire

Sally Pepper

BBC Radio Derby presenter

My programme was dominated by this adorable chap today (Pudsey, not Martyn Williams).

You can listen back to the whole showon BBC iPlayer Radio.

Pair threaten man with knife

Two additions to Team Derby badminton squad

Ed Dawes

BBC Radio Derby Sport

Team Derby, champions of the inaugural National Badminton League, have signed Swedish mixed doubles international Amanda Hogstrom and Malaysian doubles player Hui Lin Ng ahead of the new season.

Hogstrom is currently ranked 69th in the world with fellow Swede Nico Ruponen in mixed doubles, while Malaysian star Hui Lin was ranked 20th in the world in 2014.

Copyright: Badminton Photo

Team Derby will face the Surrey Smashers in their first home game on Monday 30 November at the University of Derby's new sports centre.

Delays on A38 after breakdown

Weather: Sunshine between the showers

The latest radar image shows rain and snow showers across much of the UK. Some sunshine in between though.

Drivers warned delays will last 14 weeks

Road users face 14 weeks of roadworks being planned for one of Burton's busiest commuter routes.

Positive reaction to junctions revamp plan

Euan Duncan

BBC Local Live

Highways England says its plans to improve three key junctions in Derby have been widely supported by the public.

A consultation about the £220m proposals for parts of the A38 found most people favoured the creation of underpasses at Markeaton and Kingsway roundabouts, and a flyover at Little Eaton. 

Alternative suggestions from residents included building a tunnel under Derby itself, or creating a new bypass.

Weather: Afternoon showers anticipated

Children in Need: Pudsey makes his way across Derbyshire

Euan Duncan

BBC Local Live

Pudsey is in demand today and has been an extremely busy bear already as he made a surprise visit to South Wingfield Primary School.

Afterwards he headed to the Pretty Polly tights factory in Belper to see how fundraising was going there.

Latest headlines for Derbyshire and East Staffordshire

Euan Duncan

BBC Local Live

Here's a recap of the main stories we're covering right now:

Derby man among four due in court over alleged terrorist network offence
The family of a war hero whose grave was vandalised in Chaddesden say they're heartbroken
And Pudsey Bear joins Children in Need fundraisers across the region 

Burton man's refugee mercy mission

A Burton fundraiser is taking hundreds of children's blankets with him as he joins the effort to try and ease the refugee crisis.

Out-of-form Reds set for Harrogate test

Ed Dawes

BBC Radio Derby Sport

Rise in airport noise complaints

Euan Duncan

BBC Local Live

There's been a slight increase in the number of complaints about noise coming from East Midlands Airport.

The total number of complaints for 2014/15 was 749, up from 737 the previous year.

The airport says it continues to monitor noise levels and has even set fines for airlines failing to comply with the restrictions.

It's not just for boys...

Working on the bin lorries is often seen as a man's world as it involves a lot of heavy lifting, but one lady is proving that this is a load of rubbish.

Jumper only fit for a goalpost

Owen Phillips

BBC Sport Online

Derby County head coach Paul Clement was in a cheeky mood after his side's 7-1 friendly win against Notts County yesterday - even having a pop at Owen Bradley's choice of knitwear.

Copyright: Derby County Football Club

Rail delays following signalling fault

There are delays of up to 30 minutes on rail services between St Pancras and Nottingham, between St Pancras and Sheffield and between Matlock and Nottingham after an earlier signalling fault between Derby and Long Eaton.

Children in Need: Pudsey's in town

Euan Duncan

BBC Local Live

I did promise you more of Pudsey Bear during the day, so here he is facing the camera this time.

In case you'd hadn't heard, Dermot O'Leary is to stand in for Sir Terry Wogan on tonight's Children in Need programme. The 77-year-old has got a bad back.

Awards handed out to Derbyshire's top sports stars

Man donates wages to help clean vandalised graves

Euan Duncan

BBC Local Live

On a day when charity fundraising is in the spotlight, a man from Derby says he'll donate his month's wages to help repair the 24 graves vandalised at Chaddesden's Nottingham Road cemetery.

Ammo Jandu wants to start a fund to help clean them up, saying it would be nice to do something for the community in which he's lived for more than 25 years.

Rams players ready for Republic's Euro 2016 play-off

Owen Bradley

BBC Radio Derby Sport

Four Derby County players are hoping to be involved for the Republic of Ireland as they face Bosnia-Herzegovina in the first leg of their Euro 2016 play-off.

Defender Richard Keogh is likely to start, with midfielder Jeff Hendrick expected to play a part too.

Train delays at Derby because of signal problem

Rams boss says no need to dip into loan market

Owen Bradley

BBC Radio Derby Sport

Derby County head coach Paul Clement says his squad is in good shape and he isn't looking to bring in any players on loan before the transfer window closes later this month.

Clement's main area of concern is at left-back following a season-ending injury to Craig Forsyth but the Derby boss insists he's happy with what he's got in reserve thanks to the form of Stephen Warnock.

Family's heartbreak over son's death

A family torn apart by grief are demanding answers from health chiefs after their son died fewer than 24 hours after being discharged from Burton's Queen's Hospital.

Shared mayor plan put on hold

Chris Doidge

BBC Radio Derby political reporter

Plans for an elected mayor for Derbyshire and Nottinghamshire have hit a stumbling block. 

Councillors in Erewash have expressed serious concerns about the offer on the table from the government and it's understood South Derbyshire District Council is also sceptical.

Agreement from all of the local authorities is needed so a planned signing of the devolution deal has now been delayed and Erewash Borough Council leader Chris Corbett says it's possible the proposals will fall apart.

Latest headlines for Derbyshire and East Staffordshire

Euan Duncan

BBC Local Live

These are the main stories we're covering this morning.

Work continues to clean up vandalised cemetery headstones

Euan Duncan

BBC Local Live

The Commonwealth War Graves Commission is working to clean the graffiti off the military graves vandalised at the Nottingham Road cemetery in Chaddesden.

Pete Stevens (pictured), from the commission, who was working on two military graves at the site, described the spray painting as disgusting and said he was shocked because it's such a rare occurrence.

Derby City Council says it is trying to identify relatives of some of the headstones affected.

Family of war hero devastated by defacing of his grave

Euan Duncan

BBC Local Live

The family of a war hero from Derby whose grave was vandalised say they're heartbroken.

The headstone of Sgt Mark Whittaker, who served with the Royal Dragoon Guards in Afghanistan, was spray painted and damaged along with 23 others at the Nottingham Road Cemetery in Chaddesden earlier this week.

His cousin Michaela Cooper cried when she saw what had happened and says nobody deserves this.

Derby man due in court on alleged terrorism offence

Euan Duncan

BBC Local Live

A man from Derby is due to appear at Westminster Magistrates Court this morningafter being arrested as part of an international operation into an alleged terrorist network.

Four men, aged between 32 and 52, were detained yesterday on European Arrest Warrants at addresses in Derby, Birmingham, Sheffield and Hull.

Another nine people were arrested in Italy and Norway.

Weather: Showers heavy at times today

A windy day with sunny intervals but also a risk of blustery showers throughout, some of which will be heavy.

It will feel markedly colder than of late, with a maximum temperature of 9C (48F).

Good morning: Join us for today's live news coverage

Euan Duncan

BBC Local Live

Remember what day it is today? Well, yes, it is Friday the thirteenth but we'll quickly move on from that.

Here's a clue... do you recognise this character?

You guessed it ... it's the BBC's Children in Need appeal today. We'll see some more of Pudsey Bear during the day, while keeping you up-to-date with the rest of the news, sport, travel and weather.

And you're welcome to email your comments, questions and photos throughout the day, or get in touch on our Facebook page or via Twitter.