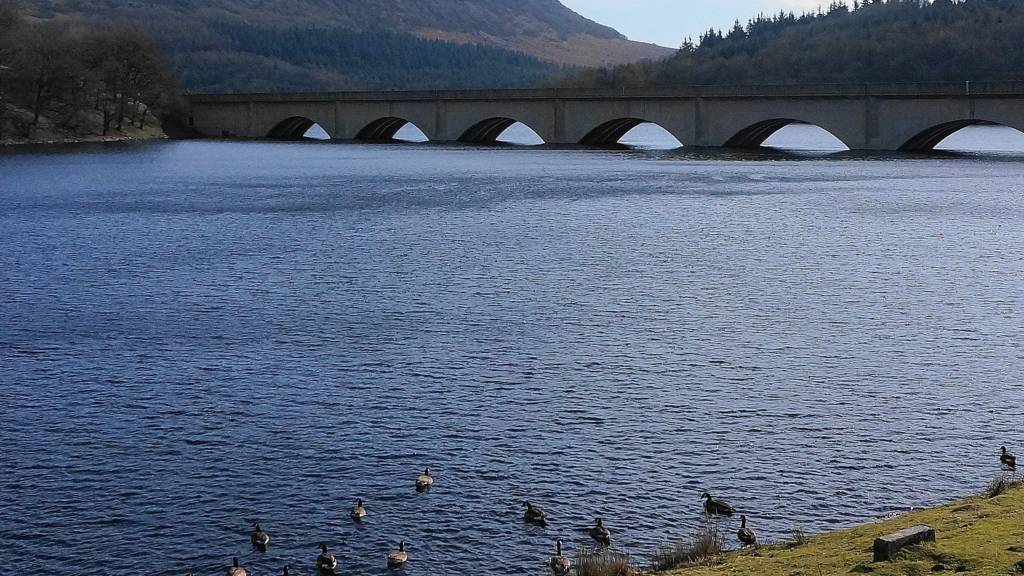 BBC Local Live: Derbyshire
Summary
Updates for Thursday 12 November 2015
More news, sport, travel and weather from 08:00 on Friday
Our live coverage across the day

Thanks for reading our updates today. We will be back at 08:00 tomorrow.

Weather: Rain arriving tonight, giving way later to blustery showers

Anna Church

Weather Presenter, BBC East Midlands Today

The wind will strengthen as a band of rain arrives this evening, which will be heavy at times through the first part of the night, but should clear quickly.

This will be followed by some blustery showers, and it's a colder night than recently with some clears spells and lows of 7C (45F) in urban areas, colder elsewhere.  

Rams defender has successful knee operation

Owen Bradley

BBC Radio Derby Sport

Derby County head coach Paul Clement has confirmed defender Craig Forsyth will miss the rest of the season after undergoing successful surgery on his ACL knee injury yesterday.

The Scottish international left-back suffered the problem during the recent Championship match against QPR.

Graves vandalised: 'Catch the culprits and spray paint them blue'

Euan Duncan

BBC Local Live

Reaction's continued to come in on our Facebook page after 24 gravestones were spray painted by vandals at Chaddesden's Nottingham Road cemetery.

Steve Gaskin posted: "Catch the culprits and spray paint them blue so we all know who they are!"

And Ursula Mellors says: "I find it very hard to believe that these ignorant thugs have nothing better to do with their time and their tiny little minds."

Latest headlines for Derbyshire and East Staffordshire

Euan Duncan

BBC Local Live

Here are the main stories we're covering today:

Former S&A Foods staff given jobs help

Euan Duncan

BBC Local Live

Many of the 300 workers who were made redundant from Derby-based S&A Foods have been learning how to get back into the jobs market today.

They were invited to a special event giving practical help on how to write CVs, apply for jobs and perform well in interviews.

The workers were told they were being laid off at the end of October after the company lost its contract to supply ready meals to Asda.

Fundraisers ready for Children In Need

Children in Need takes place across the country tomorrow and the nation's fundraisers will be carrying out all kinds of stunts, challenges and sponsored silliness to raise money for the annual BBC-run campaign.

Copyright: Ashbourne News Telegraph

Reds to auction off unique poppy kit

Ed Dawes

BBC Radio Derby Sport

Alfreton Town Football Club is to auction a special red poppy kit the players are wearing for two of their league games this month.

Proceeds will go to the Royal British Legion as a Remembrance Day tribute.

The Reds will wear the kit at Harrogate this Saturday, and then for a final time on 21 November for the home game against Boston United.

Rolls-Royce shares drop after profits warning

Euan Duncan

BBC Local Live

Shares in Derby-based manufacturer Rolls Royce fell dramatically this morning after the company warned that next year's profits would be significantly lower than previously forecast.

At one point the value of shares dropped more than 22%.

The firm has been affected by a decline in its main aircraft engine business, and says that although new engine orders remain unchanged, demand for spare parts and servicing of older engines has reduced.

Brewers goalkeeper joins Tangerines

Burton Albion has joined Blackpool on loan until 2 January.

The move comes almost a year to the day he broke his leg in Jimmy Floyd Hasselbaink's first session in charge as Burton Albion manager.

Two lanes closed on M1 northbound after accident

There's been an accident on the M1 northbound with two lanes closed and slow traffic between J27 for Hucknall and J28 for Alfreton.

And further north on the M1 there's another accident closing one lane in the roadworks area at J29a for Markham.

New regional centres being created by HM Revenue and Customs

Euan Duncan

BBC Local Live

HM Revenue and Customs is to close 137 of its offices, including Northgate House in Derby, and will concentrate its staff in 13 new regional centres over the next five years.

The Derby premises will close by 2019 and staff will be moved to an East Midlands Regional Centre based in Nottingham.

Markham House in Chesterfield will also be shut. HMRC hasn't said how many redundancies will be involved.

Latest headlines for Derbyshire and East Staffordshire

Euan Duncan

BBC Local Live

Here's a recap of the main stories we're covering this afternoon:

Overturned lorry leads to delays on A623

Burton needs help to promote beer overseas, says MP

Burton beer could be enjoyed in far flung places such as Argentina if more help was given to brewers, according to the town's MP.

More strikes scheduled for Derbyshire school

James Roberson

Reporter, East Midlands Today

A teaching union is promising another 11 days of strike action by staff at a Derbyshire school, after the trust there increased the number of lessons from five to nine a day.

The National Union of Teachers says the increase is damaging the education of pupils at Alfreton Grange Arts College.

Some parents are backing the union, but the trust says more lessons increases learning time.

Families view gravestone vandalism

Families have been seeing the extent of vandalism to 24 graves at the Nottingham Road Cemetery in Chaddesden today.

The clean-up operation has begun after words and pictures were spray painted on to headstones at the site.  

Rambler rescued after injuring arm in fall

A rambler was taken to Chesterfield Royal Hospital after falling in woodland near Matlock Golf Course and injuring an arm.

Copyright: Derby Mountain Rescue team

The Derby Mountain Rescue team used a splint on the 71-year-old victim's injury before carrying her on a stretcher to an ambulance, yesterday afternoon.  

Jobs event for former S&A Foods staff

Euan Duncan

BBC Local Live

Workshops are being held to help former employees at S&A Foods in Derby find new jobs.

The two-day event was organised by Derby City Council and JobCentre Plus, after the ready meal company went into administration last month.

Information and support is also being offered for those interested in further education and training.

Rams crush Magpies in friendly

Derby County's friendly against Notts County has finished 7-1 to the Rams with hat-tricks for Andreas Weimann (pictured) and Tom Ince. Darren Bent was also on the scoresheet.

Latest headlines for Derbyshire and East Staffordshire

Euan Duncan

BBC Local Live

Here's a summary of the main stories we're covering this lunchtime.

HM Revenue and Customs to move out of Derby

Euan Duncan

BBC Local Live

We've just learned HM Revenue and Customs is to close its Northgate House base in Derby as part of a plan to shift operations to a large regional headquarters in Nottingham.

The service is also closing Markham House in Chesterfield. The shake-up will involve redundancies but HMRC has not yet given a figure.  

Weather: Rain likely by this evening

Rams stars fill their boots in friendly

Euan Duncan

BBC Local Live

Derby County are playing Notts County in a friendly at Moor Farm this afternoon.

The half-time score is 4-1, with Andreas Weimann (2), Tom Ince and Darren Bent grabbing goals for the Rams.

Ex-Spireites goalkeeper dies

Former Chesterfield goalkeeper Marton Fulop has died at the age of 32, his club MTK Budapest have announced.

As well as his loan spell with the Spireites, the Hungarian also played for Sunderland, Ipswich, West Brom and Leicester City.

Brewers rearrange Millwall fixture for next month

Ed Dawes

BBC Radio Derby Sport

Burton Albion's League One match at home to Millwall has been rescheduled for Tuesday 1 December with a 19:45 kick-off.

The match was due to be played this weekend, but was called off because three Lions players are on international duty.

Striker Aurelien Joachim would have been missing for the Brewers as he's in action with the Luxembourg squad for the current round of fixtures.

Phones to blame for bus crashes

Euan Duncan

BBC Local Live

It appears modern technology might be an influence in our research which shows a pedestrian is being hit by a bus in Derby city centre once a month on average.

The figures, from January 2013 to March 2015, show almost half of the incidents result in serious injury.

Derbyshire Police say the accidents are usually not the fault of bus drivers while Tom Morgan from the Trent Barton bus company says it's noticeable that lots of people pay more attention to their mobile phones than to nearby traffic.

Derby arrest follows investigation into terror organisation

Eurojust, the European Union's Judicial Cooperation Unit, has more on today's terror arrests, which included a 32-year-old man from Derby.

It says the detentions were part of an Italian-led investigation into Rawti Shax, a terrorist organisation of Kurdish-Sunni origin which aims to violently overthrow the current Iraqi Kurdish government and replace it with a caliphate governed by Sharia law.

Euan Duncan

BBC Local Live

A Derby man is one of four people arrested in the UK as part of an Italian investigation into a European jihadist network.

Copyright: North East Counter Terrorism Unit

A total of 13 people have been targeted in raids across Europe.  

Latest headlines for Derbyshire and East Staffordshire

Euan Duncan

BBC Local Live

Here's a reminder of the main stories we're covering right now:

A 32-year-old Derby man is arrested as part on an Italian terror investigation
Two men die in crash in north Derbyshire
Rolls-Royce set to make changes after latest profits warning

Derby terror arrest: 'Communities not at risk'

Breaking

Derby man held on alleged terrorism offence

Euan Duncan

BBC Local Live

A man from Derby is among four UK people arrested by counter terrorism officers today.

The 32-year-old is due to appear before Westminster Magistrates' Court following a pre-planned operation relating to alleged terrorism offences under Italian legislation.

It follows an Italian police investigation into a European Jihadist network, with three other men detained in Birmingham, Sheffield and Hull.

Cemetery headstones vandalism 'as low as you can get'

Reaction's been coming in viaour Facebook page to the news of gravestones being defaced at the Nottingham Road cemetery in Chaddesden.

Andrea Elton posted: "This is when you know society has messed up. To deface someone's final resting place is as low as you can get. I hope they catch whoever did this."

And Paul Convery goes further, saying: "Some serious community payback is required if they're ever caught."

Witness appeal after fatal crash

Euan Duncan

BBC Local Live

Police are keen to hear from anyone who may have seen a dark blue Land Rover Discovery before it crashed on the A515 near Buxton this morning, killing its two male occupants.

If you have information, call 101 and quote incident number 11/12/11/15.

Pair killed in Buxton crash

Euan Duncan

BBC Local Live

Changes at Rolls-Royce after profits warning

Euan Duncan

BBC Local Live

The fourth profits warning for 2016 from Rolls-Royce will resound through the Derby firm today.

Initial reports imply that the company will look to streamline senior management and it has around 2,000 staff who would fall into this category at present.

But it's not clear how many jobs might be cut and the firm says it won't be limited to its UK operations.

Pedestrians hit by buses once every month

Euan Duncan

BBC Local Live

BBC Radio Derby has some new figures which show pedestrians have been hit by buses in Derby city centre about once a month on average since January 2013.

About a dozen of those have resulted in serious injuries.

Rams defender set to miss Euro 2016 play-off game

Owen Bradley

BBC Radio Derby Sport

Derby County defender Richard Keogh is a doubt for the Republic of Ireland's Euro 2016 qualifying play-off against Bosnia-Herzegovina.

Keogh hurt his knee in training yesterday but it's hoped he'll still be fit to travel for the first leg in Zenica tomorrow.

There are four Rams players in the Republic of Ireland squad.

Profits warning prompts Rolls-Royce management rethink

Euan Duncan

BBC Local Live

Derby-based Rolls-Royce is talking about "streamlining" its management next year after downgrading its profits forecast for 2016 for the fourth time.

The company is blaming the drop in demand for spares and services to existing aero-engines, which are produced in Derby.

Railway line sheep cause delays

Improving fortunes for pub firm

Burton-based Punch Taverns has revealed its latest financial results.

Latest headlines for Derbyshire and East Staffordshire

Euan Duncan

BBC Local Live

These are the main stories we're covering this morning.

Derby-based Rolls-Royce issues profits warning
Vandals spray paint on cemetery headstones in Chaddesden
And Rams defender set to miss Republic of Ireland's vital Euro 2016 play-off

Profits warning at Rolls-Royce

Chris Doidge

BBC Radio Derby political reporter

Spray paint vandals target cemetery headstones

Euan Duncan

BBC Local Live

One of our main stories today concerns the defacing of 24 graves in a Derby cemetery, which a police inspector says is one of the most disrespectful acts of vandalism he's ever seen. 

Words and pictures were spray-painted onto headstones and a bench at the graveyard in Nottingham Road in Chaddesden.

Police say it happened between 16:00 on Monday and 11:00 yesterday.

Weather: Dry start, but rain moves in later

Euan Duncan

BBC Local Live

After a dry start with some morning sunshine, cloud will spread in from the west with rain arriving by this evening.

The winds will strengthen through the day with gales in places and highs of 14C (57F).

Accident and debris result in A515 closure

Good morning: Join us for today's live news coverage

Euan Duncan

BBC Local Live

Hi everyone. I'll be bringing you today's news and sport as well as travel and weather updates for Derbyshire and East Staffordshire.  

We're going to start by looking at how often buses are involved in accidents with pedestrians and we'll also be hearing about vandalism to 24 graves in Derby.

You're welcome to email your comments, questions and photos throughout the day, or get in touch on our Facebook page or via Twitter.