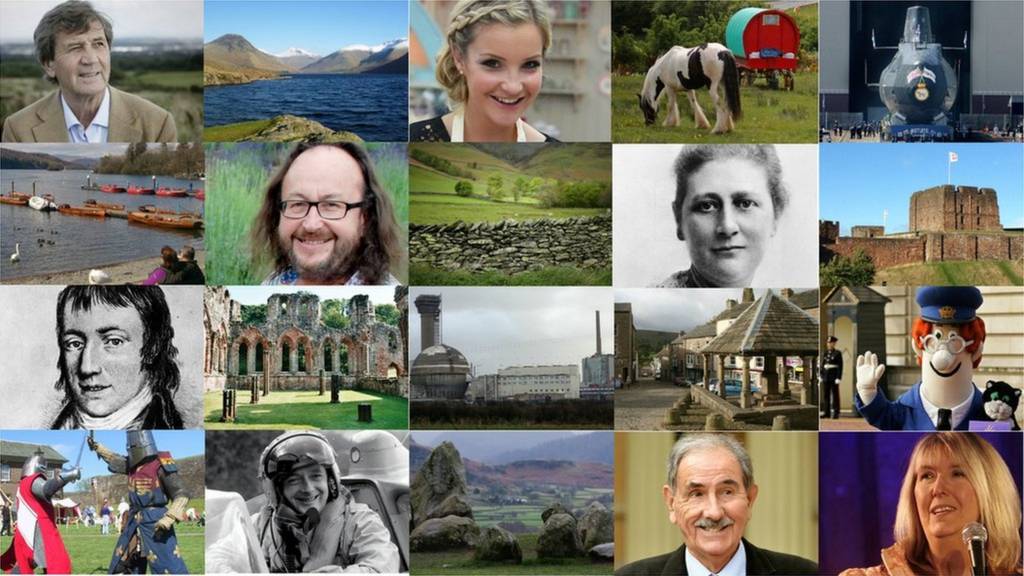 Through the day: BBC Cumbria Live

We've now finished posting news and other useful or interesting items about Cumbria for today and this week.

Here's a reminder of some of today's developments:

We'll be back on Monday from 08:00. If you've got any news you think we should know or photos let us know by sending us an email, getting in touch on Facebook, or on Twitter.

Have a very good weekend.

Cumbria's weather: Showers dying away, cloud increasing

Any showers will die away this evening to leave it mostly dry overnight but with cloud tending to increase.

A light northerly wind is expected, with lowest temperatures from 9C to 12C (48F to 54F).

You can always find the latest, hour-by-hour, BBC weather forecast for where you are, here.

Extra police patrols deployed as Keswick Convention opens

Police say extra officers are being deployed in Keswick from this weekend because of the growing numbers of people attending the anual Keswick Convention.

Copyright: Keswick Ministries

The event, which runs until 2 August, brings thousands of Evangelical Christians into the town.

Insp Rachel Gale said local people might notice more police on duty.

"The numbers involved are the equivalent of a small town in itself, so this means we provide extra policing resources to make sure everything runs smoothly," she said.

Quote Message: I fully support the increased visible police presence during the Keswick Convention and indeed at other high profile events where large numbers of people gather." from Peter McCall Cumbria Police and Crime Comissioner

Survey highlights 1,500 speeding cars passing school

Local Democracy Reporting Service

Nearly 1,500 speeding cars pass outside a Barrow school every day, new figures have shown.

A traffic survey on Hawcoat Lane found that on average, 7,578 vehicles went past St Paul's Church of England Junior School every day, at an average speed of 26.4 mph.

But 18%, equivalent to 1,364 vehicles, topped the 30-to-35mph mark when the survey was carried out, with nearly 3% traveliing at more than 35mph.

Councillor Roy Worthington, the Conservative member for Hawcoat, called the results "shocking".

He has called for Cumbria County Council to install a zebra crossing and an official school crossing patrol, but a report going before a meeting next week says the existing crossing patrol is adequate.

Barrow pilots special mental health team in schools

Health services in the Morecambe Bay area are to be among the first to deploy special teams of mental health workers who will work in schools, with one of the two first teams in Barrow.

The idea is to intervene early with mild to moderate problems such as exam stress and supporting school and college staff.

Copyright: Morecambe Bay CCG

One of those involved in redesigning the services for children and adolescents is Jade Ainsworth (pictured), who struggled with mental health from the age of 14 and has been treated in a number of hospitals and other facilities.

Jade says she believes early help is crucial.

"I firmly believe that if I had of received the help I needed when I was 14, I might not have ended up in hospital at 16, having to put my life on hold," she said.

Court told how drunken three attacked train passenger

A passenger who intervened between a group of drunken men and a teenage girl on a train in west Cumbria was kicked unconscious, Carlisle Crown Court heard.

A female guard who waded in to try to stop what one bystander described as a "Wild West" mass brawl saw one of the three strike the victim "as if kicking a football" while he lay prone on the floor of the train between Parton and Harrington.

Daniel Lloyd, 27, and Shaun Wilson, 26, both of Ellen Garth, Aspatria, and 31-year-old Scott McMaster of St Mungo's Park, Aspatria, all admitted affray, after leaving the victim with cuts and swelling to his head and face.

Judge Brian Cummings QC was told the three had no previous convictions and would lose jobs and homes if jailed and said he was "just persuaded" not to send them to prison.

Each had a 14-month jail term suspended for two years, and must complete 200 hours' unpaid work and pay £750 costs.

South Cumbria's 400 mental health staff under new managers

Health managers will be questioned next week over the impending transfer of 400 staff involved in south Cumbria's mental health services.

From 1 October, Lancashire Care NHS Foundation Trust is taking charge of the mental health and learning disability services in the southern half of Cumbria.

Health service officials have said the services "will still be delivered in south Cumbria by the same people" and that only the trust management is changing.

The switch is also taking place to pave the way for the major job of integrating physical, mental and social care services across the Morecambe Bay area.

Cumbria's health scrutiny committee, which acts as a watchdog with elected county councillors, will be considering a report from Jo Moore from the Lancashire trust.

Community groups unite for Carlisle festival

A number of community groups in Carlisle will be setting out their stalls in the city's fourth Unity Festival in the Market Place tomorrow.

Copyright: Unity Festival

There will also be performances and entertainment from arts groups, poets, dancers and a juggler.

Quote Message: The Unity Festival in Carlisle is a fantastic way to celebrate diversity and how we can all just get on with each other with respect." from Peter McCall Cumbria Police and Crime Commissioner

Appeal goes out for more blood donors in Cockermouth

The organisation that arranges blood donor sessions says fewer than half the appointments at a session in Cockermouth later this month are taken.

NHS Blood and Transplant staff say stocks of blood can fall in summer because people are away on holiday and supplies can only be kept for 35 days, so filling every session is important..

The session is on Monday 22 July at the Hundith Hill Hotel, from 15:00 to 19:00.

Zoo joins national campaign to safeguard insects

The Lakeland Wildlife Oasis is having a week of events next month highlighting the plight of insects.

Copyright: Lakeland Wildlife Oasis

Staff at the zoo say that although there are almost a million species, they are declining at the rate of 2.5% a year, which according to the manager, Jack Williams, means there could be none left in a century, "precipitating a catastrophic collapse of nature's ecosystems long before then."

Insects, he said, pollinated the crops that made up one third of the the world's food supply.

The Big Bug Bonanza week starts on 3 August, and visitors will be able to handle a number of tropical insects, with some new acquisitions.

Rescue volunteers stand by for search for missing man, 91

Mountain rescue volunteers are now on standby in the search for a 91-year-old man who has been missing for 24 hours.

Police, some with dogs, and coastguard teams are combing the area around Salterbeck, and rough ground falling steeply to where the Cumbria Coast railway line runs next to the Irish Sea, for Jed Doran, who was last seen in Garnet Crescent.

Officers say concern is growing because of his age, and local people have been asked to search gardens and outbuildings.

Police warn public wanted man could be violent

Police say a wanted man who could be in Cumbria should not be approached because he is a risk to the public.

Copyright: Lancashire Police

Matthew Parkinson, 26, is wanted for recall to prison and also in connection with a sexual assault in Bamber Bridge in June.

He has connections in Cumbria as well as Preston and Bamber Bridge and officers say anyone who sees him should alert police on 101.

Det Con Catherine Thomas, of Lancashire Police, said: "Parkinson presents a risk to the public and could be violent if approached."

More than 2,000 comment on A66 improvement plans

More than 2,000 people went to public consultation events across Cumbria and North Yorkshire about plans to rebuild the remaining single-carriageway sections of the A66 from Penrith to Scotch Corner as dual carriageways.

Comments from those who went to the events, along with letters and online communications, covered subjects such as where bypasses were most needed and where junctions could be improved.

Copyright: Highways England

The £1bn project will concentrate on the 18 miles of the 50-mile route and Matt Townsend of Highways England said the general mood was enthusiasm.

A report on the consultation and an announcement on the preferred routes, will come out next spring.

Bin crew problem means collection delay in Bowness

South Lakeland Council says that problems on a refuse collection round mean they will not be able to collect green bin recycling in the Bowness and Crook Road areas today.

Householders are asked to leave green bins out and they will be picked up tomorrow.

Police renew appeal for missing Workington man, 91

Police in Workington have called in help from Coastguard teams in the search for a missing 91-year-old man.

Officers have appealed for people in the Salterbeck area to check outbuildings in the search for Jed Doran who has now been missing for about 22 hours.

He is 5ft 8in tall and was last seen in Garnet Crescent, wearing grey trousers, a cardigan and a flat cap.

Driving lessons for 10-year-olds to start in Carlisle

Cumbrian councils sign up to making climate top priority

Three Cumbrian councils have now passed motions declaring a "climate emergency", effectively saying that all decisions will be made with the consequences for the environment and carbon emissions taken into account.

Campaigners with banners and posters crowded into a meeting of Eden Council last night to see a motion by the Liberal Democrat leader of the authority, Virginia Taylor, commit to being carbon neutral by 2030 and taking a number of other steps.

The motion also declared there was an ecological emergency, saying the council should actively safeguard the natural environment.

Carlisle and South Lakeland councils have already passed similar resolutions and Barrow is expected to follow next week.

Gallery hits the peaks with Ruskin and Turner exhibition

The Abbot Hall Art Gallery in Kendal has opened one of its biggest ever exhibitions with more than 135 works by the Victorian artist and social reformer John Ruskin and the painter JMW Turner.

Copyright: Abbot Hall Art Gallery

This picture by Turner (above) is one of the treasures of the Abbot Hall, showing the Passage of St Gothard, a pass in the Alps.

Both Turner and Ruskin were great landscape painters and one of the themes of the exhibition is the changes in the landscape since they were at work.

Copyright: Abbot Hall Art Gallery

The picture above is the Mer de Glace glacier, depicted by Ruskin in 1854, and the photo below is the same valley in a photograph taken last year by the artist Emma Stibbon, both of which are in the exhibition.

The exhibition is open until October.

Eight pairs of ospreys breed chicks in Cumbria revival

Staff at the Lake District Osprey Project say they are aware of eight breeding pairs of ospreys in the county, with at least 14 chicks.

The species was extinct in the county for 150 years until 2001, when a pair returned to Bassenthwaite.

Various pairs of birds have nested near the lake ever since, this year hatching a female that has now been ringed, so its progress can be traced on annual migrations to Africa.

At the other end of the county, on the Foulshaw Moss reserve, two chicks were ringed on 29 June.

The RSPB says not all nests across Cumbria have been visited for ringing yet, so a final number of chicks isn't known.