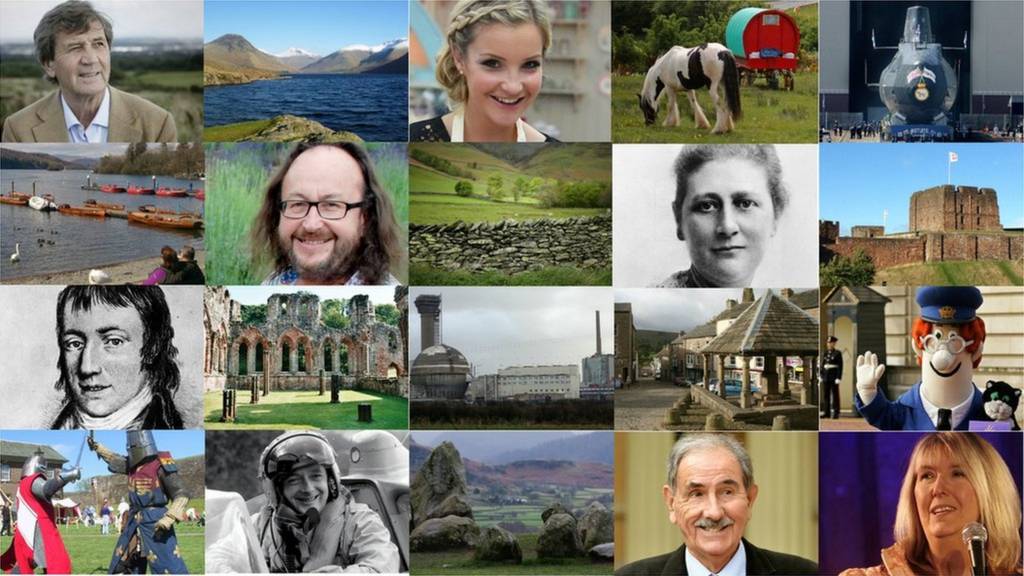 Our live coverage across the day

Lee Macaulay

Journalist, BBC Cumbria

Our posts have now ended for the week.

Here's a recap:

If you've got any news you think we should know, or photos that you would like to share in the meantime, let us know by sending us an email, getting in touch on Facebook, or on Twitter.

Have a good weekend.

Farmer's osprey disturbance convictions quashed on appeal

A farmer who was found guilty of recklessly disturbing ospreys in the Lake District has won an appeal against his conviction.

Paul Barnes, 59, of Braithwaite, near Keswick, had denied two charges of disturbing a male and female bird which were both nesting at Bassenthwaite on his land.

The original case was brought after Mr Barnes was seen driving a tractor close to the nesting site as he carried out an educational visit for children and the birds were said to have left their nest for 20 minutes.

But following an appeal at Carlisle Crown Court earlier, a panel comprised of Judge James Adkin and two magistrates ruled that the case should be stopped, and Mr Barnes' appeal should be upheld.

The panel found that Mr Barnes had been told by an "individual in authority" to carry on farming as usual, that Mr Barnes' actions were "agricultural disturbances rather than criminal acts" and that there had a been a "lamentable failure" by prosecutors to fully disclose evidence.

Mr Barnes spoke of "emerging from 18 months of turmoil" which had a "massive impact on family life".

Copyright: Craig McGlasson

Scam warning for rural Furness

Police are warning of a new phone scam targeting people living rural areas, and in particular farmers.

Officers in Furness says that they've had reports of someone calling homes pretending to be from the police, and then asking for money to cover the cost of policing their area.

Cumbria Constabulary says it would never call the public and ask for money.

The force adds that anyone in doubt should hang up the phone and report the call to them.

New wall mural for arts centre

A new wall mural has been unveiled in Carlisle on the side of an arts centre.

The Old Fire Station now has a six-metre high painting of a Mexican firefighter, created by the Dutch artist Tymon de Laat.

The artist got in touch with firefighters in Mexico, held a photoshoot with them and used one of the photographs as a reference for the piece.

Weather: Cloudier as rain moves in

This afternoon will become more cloudy with rain moving in from the north-west.

A brisk southerly breeze and highs of 13C (55F).

The rain should start to move away into the evening for a mostly dry night with clear spells and lows of 1C (34F).

Musical theatre impresario visits Cumbrian cathedral

Carlisle Cathedral has had a celebrity visitor.

On its Facebook page, the cathedral says that the world-renowed composer Andrew Lloyd Webber had a look around the building.

The life peer also visited Tullie House Museum and Art Gallery, where he browsed its collection of pre-Raphelite art.

Revealed: Keith Curle planned to take Carlisle Utd to an employment tribunal

Keith Curle planned to take Carlisle United to an employment tribunal following his departure as manager, it can be revealed.

Morecambe Bay bridge idea dismissed by council leader

Local Democracy Reporting Service

Ellis Butcher

The Government has no interest in footing half the bill for an £8bn bridge across Morecambe Bay, according to the leader of Barrow Council.

David Pidduck has become the latest councillor to enter the debate after the scheme was roundly rejected by fellow Labour members on Tuesday.

The concept of a bridge linking Barrow to the M6 at Lancaster has been revived recently by Conservative Alan Pemberton.

But Mr Pidduck said the enormous cost and the bay's protected status were serious obstacles likely to kill off the project.

Barrow Council has expressed "in principle" support for a barrage along with South Lakeland District Council and Lancaster City Council.

Mr Pemberton, the Conservative councillor for Hawcoat, responded: "The population of this area is forecast to reduce by thousands of people in the next 20 years. Our geographical isolation is the cause of it, so we have to try and find some way of improving that situation."

Flood warning for North Cumbrian coast

A flood warning, which means flooding is expected, is in place for the Cumbrian coastline from Gretna to Silloth.

The Environment Agency says that flooding of low lying properties, roads and farmland is expected between half past 11 and 1 o clock, when the spring tide is at its highest.

Low lying properties in the Port Carlisle are may also be affected.

Less serious flood alerts are in place for other sections of the Cumbrian coast - including Morecambe Bay and from Silloth to St Bees

Van thefts prompt investigation

Van owners are being warned not to leave tools in their vehicles overnight following a number of reported thefts in Penrith.

Cumbria Police say that thieves targeted vehicles on Brent Road, Roman Road, Wordsworth Street, Arthur Street and Macadam Way on Wednesday and Thursday.

Insp Joanne Walker said: "Investigations are under way into these thefts and would we would like to remind van owners to take the necessary precautions to protect themselves.

"Tool theft is anything but a victimless crime.

"It not only hurts financially in terms of replacement tools - but also lost work for those who need them as part of their job."

Stadium business plan approved

Councillors have approved a business plan for building a new multimillion-pound shared stadium in Workington.

The stadium would be home to football club Workington Reds and rugby league side Workington Town.

Allerdale Council says that other planned tenants include Sellafield Limited and the National Health Service.

Delays on Settle-Carlisle line

There are delays of about 20 minutes to services running between Appleby and Carlisle so that a safety inspection can be carried out on the railway track.

The train operator Northern is expecting the disruption to continue into the afternoon.

Opening ceremony for new village hall

A new public hall opens in a Cumbrian village today.

The Community Services Hub in Stainton near Penrith was built after the former hall was demolished last year.

A private opening ceremony is being held at 13:30 this afternoon and the hall is due to open to the public next month.

Strong winds on the fells

Here's the Fells Forecast for daylight hours on Friday 22 March 2019:

Temperatures at 3,000 feet: +4C (39F).
Winds: Strong to gale-force south-westerly winds with gusts over the summits of up to 65mph.
Cloud: Extensive low cloud with a base around 300-400m (980-1,300ft) for much of the day, starting to clear in the North West by evening.
Visibility: Often poor on the summits, especially in the afternoon, but mostly good at low levels until rain arrives.
Freezing level: Well above the summits.

Walkers taking on the high fells today should still expect to tackle some hard snow and ice according to the Lake District Weatherline service provided by the fell top assessors.

Full winter equipment and an ice axe are still essentials for those going above the snow line.

Copyright: Lake District National Park Authority

New stadium plan is a 'vanity project'

Plans to build a shared stadium for a West Cumbrian football and rugby league club have been described as an "expensive vanity project" by an opposition councillor.

Allerdale Borough Council has strongly denied the claims made by Conservative councillor Mark Jenkinson, as the council's executive is due to meet later this morning to decide how it will fund the project.

The 8,000 capacity stadium in Workington would replace Borough Park, the home of Workington Reds Football Club, while rugby league team Workington Town are also expected to move in.

It's also due to host three games at the 2021 Rugby League World Cup.

Options which are being considered to pay for the new stadium include:

borrowing money from the Public Works Loan Board to build the ground and pay the money back over 30 years
invite a private investor to finance the stadium and then lease it back to a council-owned company over 40 to 50 years

Officers have recommended that councillors approve the second option, private investment.

Copyright: Allerdale Borough Council

Weather: Cloudy with patchy drizzle

Abbie Dewhurst

Weather Presenter, BBC Look North

A mostly cloudy morning with patchy drizzle.

Becoming cloudier in the afternoon as rain moves in from the north-west.

A brisk southerly breeze and top temperatures of 13C (55F).

Welcome to BBC Cumbria Live

Lee Macaulay

Journalist, BBC Cumbria

Good morning.

Keep checking in with us through the day for the latest news, sport updates, a regular weather forecast and travel reports for Cumbria.

If you've got any news you think we should know, or photos that you would like to share in the meantime, let us know by sending us an email, getting in touch on Facebook, or on Twitter.