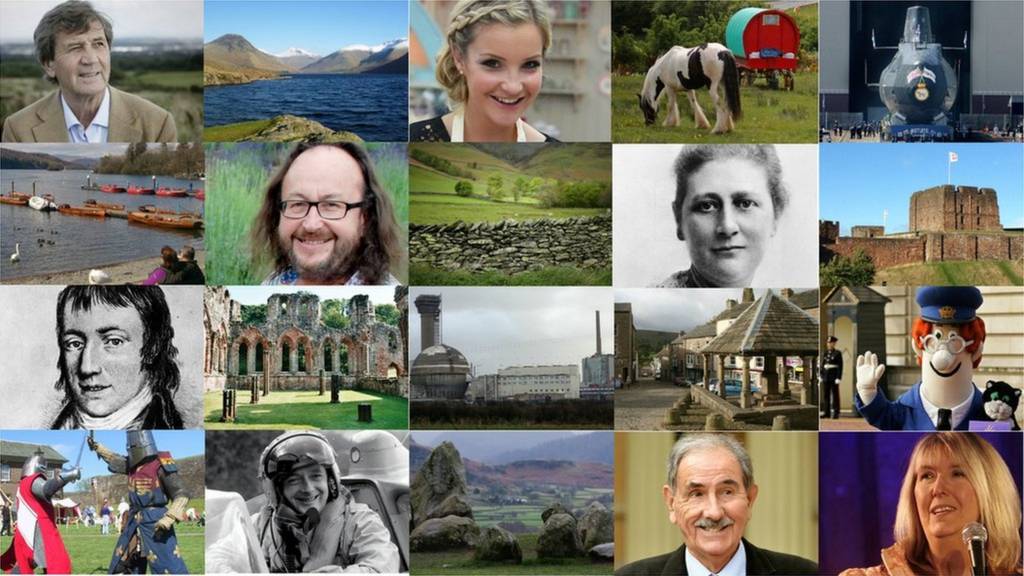 Summary
Mourning father to run race after daughter's death
New twist in mystery 'Thai bride' death
Post Office closure petition handed in
Through the day: BBC Cumbria Live

We've now finished posting news and other information about Cumbria for today, and this week.

Here's a reminder of some of today's developments:

We'll be back at 08:00 on Monday to do it again. If you've got any news you think we should know, or photos that you would like to share in the meantime, let us know by sending us an email, getting in touch on Facebook, or on Twitter.

Have a very good weekend.

Weather: Staying mild and cloudy with drizzle

The odd break in the cloud is possible overnight but in general, it looks like staying cloudy with the cloud thick enough to give a few patches of drizzle.

It will be mild with temperatures from 4C to 7C (39F to 45F).

You can find the latest BBC weather forecast for where you are here.

College lecturers confirm strike plan in pay dispute

College lecturers in south Cumbria have confirmed they will walk out on Tuesday in a dispute over pay.

The University and College Union said Kendal College staff will then go on strike for a second day in February if the dispute cannot be resolved. The union claims other colleges have raised salaries by 5%.

Kendal College said it sympathises with staff but cannot afford to increase pay by more than 1% because of government under-funding.

DNA tests may link missing Thai woman to Dales inquiry

It's hoped DNA testing may now help identify a woman, who may have lived in South Cumbria before she was found dead in a Yorkshire mountain stream 15 years ago.

North Yorkshire police investigators have previously said forensic analysis of chemicals in her hair suggests she spent the last part of her life in South Cumbria or North Lancashire, before her body was discovered near the Dales peak of Pen-y-Ghent in 2004.

Now a news conference in North-East Thailand has heard a family's come forward saying they believe she's their missing relative, and police in the UK say they will be following up the new lead.

Cumbrian firms 'not sure how to prepare for Brexit'

Almost half of Cumbria's businesses are not preparing for Brexit even though a majority expect it to have a negative effect on them, according to the organisation which represents commerce in the county.

Just under half of the businesses which responded to a survey by Cumbria Chamber of Commerce said they had yet to begin preparations.

Slightly more than a quarter said this was because they didn't expect Britain leaving the EU to affect them, while others said a lack of information made planning impossible.

Copyright: Cumbria Chamber of Commerce

Quote Message: I sympathise with businesses who say they can't prepare because we still have no idea what Brexit will look like, or even if it will happen." from Rob Johnston Chief executive, Cumbria Chamber of Commerce

Club tightens sail for final award vote weekend

A Cumbrian sailing club has been shortlisted for a national title.

Arnside, which sits at the mouth of the Kent Estuary, is in the final 11 for the Royal Yachting Association's UK Club of the Year.

It has already been given the title of North West Sailing Club of the Year, and online voting closes on Monday.

Royal Navy visit to Whitehaven is cancelled

A visit to Whitehaven by the Royal Navy patrol boat HMS Biter, which is normally assigned to a reserve unit based in Manchester and Salford Universities, has been cancelled for what are described as operational reasons.

Barrow keeper Firth follows 'idol' Gerrard to Rangers

Rangers have completed the signing of Barrow goalkeeper Andy Firth on an 18-month deal subject to international clearance for an undisclosed fee.

Firth started his career at Liverpool under Steven Gerrard, who was then boss of Liverpool's U23 side, and is now manager at Ibrox.

Speaking to Rangers TV, Firth said he was looking forward to working under Gerrard once again, saying: "That's the massive thing, he was my idol growing up"

Technical glitch halts farmer's osprey appeal

An appeal brought by a Lake District farmer against his conviction for disturbing ospreys has been adjourned for a month.

Paul Barnes, 59, from Braithwaite near Keswick, was found guilty last year of disturbing the birds and their chicks when leading an educational trip for children on his farm.

He has appealed to a panel at Carlisle Crown Court. Hearings began on Wednesday but today, a witness from Thailand was unable to give evidence due to a technology failure.

Judge James Adkin adjourned the case until 26 February.

Family speaks of Annie Sowerby's 'passion for life'

Relatives of Annie Sowerby, 69, who died at her home in Dearham earlier this week, have described her as having "a real passion for life".

In a statement released through police, they described Mrs Sowerby, pictured with her husband Lenny, as: "A true friend to many, often putting other people before herself and having a real passion for life."

Today her son, Lee, appeared on a video link at Carlisle Crown Court, charged with murdering Mrs Sowerby.

Village church prepares for final worship

A final service will be held in a listed South Cumbrian village church today before it closes its doors, possibly forever.

St Paul's in Lindale now has only about 12 regular worshippers, and the bill for pending repairs and replace the heating has been estimated at £60,000.

The building is listed, and the Diocese will take it over until a new use can be found.

St Paul's has been put forward as the possible burial place of John "Iron Mad" Wilkinson who set up Backbarrow ironworks and was a major figure in the developments of cast iron in the industrial revolution.

Town and landowner at loggerheads after trees are felled

The felling of 30 trees along a popular footpath has sparked a row in Ulverston.

The Gill footpath is the start of the Cumbrian Way and a popular walk for local people. Landowner Sam Duncan said the work was just "responsible land management".

But the chairman of the town council, Colin Pickthall, says he believes some of the trees were on public land and the council is consulting its lawyers.

Cumbria's weather: Mild with low cloud and drizzle

Lots of cloud will linger across Cumbria with further patchy drizzle, and some mist or low cloud remaining over the hills.

It will be mild, with temperatures from 8C to 11C (46F to 52F).

You can find the latest BBC weather forecast for where you are, here.

Family comes forward with possible name for 'Thai bride'

A Thai family believe a woman who is thought to have been murdered and then dumped in a mountain stream in in the Yorkshire Dales in 2004 is their missing relative.

Copyright: North Yorkshire Police

Last year, new scientific tests established the woman may have lived for several years in South Cumbria or North Lancashire.

A news conference in Thailand, organised by a Thai Women's Network, has now heard that a family has come forward saying one of their members had gone to live in the UK with her husband in 1996 and disappeared in 2004.

North Yorkshire Police say they are investigating the latest lead.

Severe accident: A591 Cumbria both ways

BBC News Travel

A591 Cumbria both ways severe accident, from Bp Garage to White Cross Ba Holiday Park.

A591 Cumbria - A591 in Troutbeck Bridge blocked and queuing traffic in both directions from the Bp Garage junction to the White Cross Ba Holiday Park junction, because of an accident.

To report traffic and travel incidents dial 0330 123 0184 at any time

Travel: Road closed after three-vehicle crash

The A591 between Ambleside and Windermere has been closed while police clear the wreckage of a three-vehicle crash.

Copyright: @CumbriaRoadsPol

Cumbria Police say they don't believe anyone has been injured.

Workington man in court accused of murdering mother

A Workington man accused of murdering his mother earlier this week has made his first appearance at Carlisle Crown Court.

Lee Sowerby, 45, of Honister Drive, appeared via video link from Durham Prison in front of Judge Peter Davies.

He was arrested earlier this week after Annie Sowerby was found fatally injured at her home in Dearham.

In the 10 minute hearing, Mr Sowerby confirmed his personal details but made no plea, and the case was adjourned until 20 May with a trial date provisionally listed for 24 June.

Carlisle boss waits for news on Liddle's injury

Carlisle United manager Steven Pressley says he may need to change his transfer plans if the injury to defender Gary Liddle (pictured) is worse than first feared.

Fellow defender Macaulay Gillesphey is expected to be out for between six and eight weeks once he has had knee surgery next week.

A specialist was due to give a second opinion on Liddle's knee injury this week, with United trying to sign a midfielder ahead of tomorrow's game at Port Vale.

Hannah hopes to raise £40k at farmers' charity auction

There's hopes that £40,000 could be raised in Carlisle today during the largest ever charity auction held by Cumbrian auction marts.

Since its first auction in 1983, the event has raised tens of thousands of pounds for worthy causes in the county.

Items up for auction range from livestock and feed to food hampers and days out, and the first lot, a sheep, will be sold by Hannah Jackson, better known as the Red Shepherdess.

The five auction marts across Cumbria have worked together to organise the sale of almost 400 lots, at Harrison and Hetherington's mart in Carlisle, starting at 10:30.