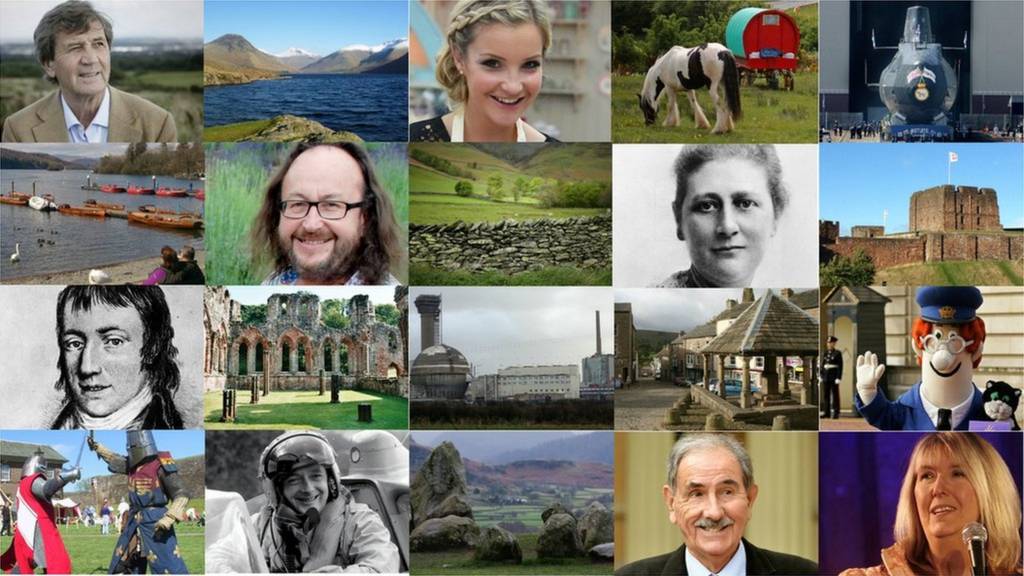 Summary
Police say man found in woodland near Shap with a shotgun died at 10:50 this morning
Third man in Carlisle Christmas Eve sex attack is finally brought to justice
Workington massacre charges trial told man would not talk to Prevent 'race traitors'
Through the day: BBC Cumbria Live

We've now finished posting news and other Cumbrian information for today, and this week.

Here's a reminder of today's main developments:

Police said at 18:00 that a man, thought to be in his 60s and armed with a shotgun, in woodland near the giant Hardendale Quarry just across the M6 from Shap, had died when the weapon was discharged at 10:50 this morning
A third man involved in a sex attack just over a year ago on Christmas Eve in Carlisle, who had been on the run since being released on police bail, faced justice at Carlisle Crown Court
And the RAC Foundation said Cumbria's policy of trying of repair the biggest potholes "immediately" put them in the national top three, although the national motoring organisation didn't say how well the county's highways engineers met the target.

We'll be back at 08:00 on Monday. If you've got any stories or photos to share, let us know by sending us an email, getting in touch on Facebook, or on Twitter.

There's snow forecast, so stay warm and have a good weekend.

Workington bomb charge man 'refused to meet race traitors'

A white supremacist from Workington accused of planning a massacre in his home town had been referred to the government's anti-extremist Prevent programme, but refused to get involved, Manchester Crown Court has been told.

Shane Fletcher, 21, of Wastwater Drive, denies possessing information on making napalm and pipe bombs, and soliciting murder.

Fletcher's probation officer, Lee Cartner, told the court he became concerned about Mr Fletcher's views after he described how he dreamed of shooting at a mosque.

Mr Cartner decided the defendant was a "risk to minorities" and referred him to Prevent, where talks were held about the possibility of Mr Fletcher meeting former members of the English Defence League or another far-right group, Combat 18, but he said he did not want to meet "race traitors".

The trial continues.

Man found with shotgun 'died at 10:50 this morning'

A man who was found with a shotgun in woodland near Shap died when the weapon was discharged at 10:50 this morning, police have just announced.

He is said to have been in his 60s, and was found just after 01:00 this morning after officers were called to the scene by local people.

Just now police said in a statement that his family had been informed.

"In line with normal procedures, the constabulary referred the matter immediately to the Independent Office for Police Conduct.," the statement said.

Vicar hopes pies will fund church window repairs

Jennie Dennett

BBC Cumbria

A Cumbrian church is hoping that pies will raise enough money to repair a stained glass window which was smashed by vandals in the summer.

St George's in Barrow faces a £7,000 repair bill after stones were thrown through a 160-year-old window depicting the Resurrection.

Tonight at 18:30 it is holding a pie-making competition with four local bakeries, with money from the ticket and pie sales going towards the cost of the restoration.

Quote Message: Barrow's that sort of place where people do pull together and work together and that's a very positive thing." from Gary Creegan Vicar of St George's Church, Barrow

Police praise victim after third man jailed for sex attack

Police have praised a woman who was subjected to a sex attack by three men who offered to find her a taxi home on Christmas Eve, for bringing her attackers to justice.

Two of the men were jailed earlier this year, and today a third, who went on the run, was sent down for 10 years.

Det Con Naomi Raine said the convictions were "thanks in no small part to the bravery and courage of the victim".

Quote Message: The three men have all preyed on a woman in an extremely vulnerable state, attacked her and then sought to lie to the police about their involvement." from Det Con Naomi Raine

Cumbria's weather: Rain and hill snow dying out

It will be mostly cloudy this evening and tonight, with some further patchy rain and hill snow, but this will tend to fizzle out especially after midnight.

There is a yellow warning from the Met Office predicting up to 4cm (1.5in) of snow on the highest ground.

Some mist and fog will form and it will be an icy night with lowest temperatures from -2C to 1C (28F to 34F).

You can find the latest BBC weather forecast for where you are, here.

Third man traced and jailed for Christmas Eve sex attack

A man involved in a Christmas Eve sex attack in Carlisle, who went on the run after being charged, has been jailed for 10 years.

Copyright: Cumbria Police

Mohammed Miah, 38, of The Strand, Exmouth, had raped a woman brought to a flat by two other men, Kabir Hussain, 41, and Marco Martins, 32.

Hussain had already raped the woman twice, and Martins had sexually assaulted her, in what Tim Evans, for the prosecution, described as "a gang assault".

Miah was arrested and then bailed on Christmas Day, but while the other two men were dealt with, he was then on the run for nearly a year before he was caught in Devon because of DNA evidence. He pleaded guilty to rape.

Quote Message: This was a gang rape of a vulnerable woman for whom you showed utter contempt, and you must be severely punished for it." from Judge James Adkin

Car charging points to be wired into three Eden car parks

Points where electric cars can be charged up are to be installed in two car parks in Penrith and one in Appleby.

The car parks, Drovers Lane and the leisure centre in Penrith, and Broad Close in Appleby, will be fitted out by a commercial company, so the installation will not cost the authority.

Officials say provision for electric cars is poor in Cumbria, and the council hopes to be one of the first in the area to offer facilities.

Police charge two after Penrith cashpoint robbery

Police investigating a robbery earlier this week near a cashpoint in Penrith have charged a 19-year-old man from Kirkoswald and a 16-year-old youth.

Both were appearing before Carlisle magistrates today charged with robbery, and the youth is also alleged to have had a bladed article.

Officers who at first thought the victim of the attack was unhurt now say she was treated at hospital for injuries to her leg and body, and then discharged.

Waste plant developers hope to change £80m Carlisle plan

Councillors are being asked to approve changes to plans for an incinerator at Kingmoor Park in Carlisle.

The £80m "energy from waste" plant has been given planning permission, but the developers now say they want to alter the design.

People opposed to the changes say it will cause air pollution, but the companies behind the scheme say it's safe, and well regulated.

Cumbria County Council's development committee will meet to discuss the plan in Kendal.

RAC: Cumbria claims top-three place in pothole repairs

Road users in Cumbria are being told that the county council is among the top authorities in the country for fixing potholes quickly.

The RAC Foundation surveyed more than 200 councils, asking how soon they tackle problems that pose the greatest safety risk to road users.

Cumbria County Council says its target is to deal with them "immediately".

Cumbrian NHS trust reports 147 cyber attacks in five years

Bob Cooper

Political reporter, BBC Cumbria

The NHS trust that runs hospitals in South Cumbria, says it's had 147 cyber attacks in five years.

The Morecambe Bay trust said it was not clear whether some of these were the same attack reported a number of times, and the cost of dealing with them was put at £30,000, so not all will have succeeded in doing damage.

The rest of the NHS ins in Cumbria reported just 14 attacks, defined as "malicious attempt to damage disrupt or gain unauthorised access to computer systems, networks or devices".

The most serious attack, which affected the whole NHS in 2017, meant some emergency patients had to be transferred from Whitehaven to Carlisle.

Experts like Tom Fairfax, the managing director of the cyber security firm SRM in Newcastle, say cyber crime is a huge international menace.

Quote Message: It's a global industry, anecdotally larger than narcotics." from Tom Fairfax

Travel: A590 closed after Newby Bridge crash

The A590 is expected to be closed in both directions for some time after a crash involving a vehicle at Newby Bridge roundabout.

Paramedics treat one person for smoke inhalation

A person was treated for the effects of smoke after a fire in a house in Cleator Moor early this morning.

Cumbria Fire and Rescue Service say the blaze broke out in the kitchen of a home in Heather Bank just after 05:00 and crews from Frizington and Whitehaven were called.

The casualty was treated by paramedics.

Woman injured in Langdales fall

A walker was flown to hospital with neck and shoulder injuries after falling near Stickle Tarn in Great Langdale yesterday.

Volunteers from Langdale-Ambleside and Coniston rescue teams gave the woman first aid, before a coastguard helicopter flew her to hospital.

Cumbria's weather: Rain, sleet and snow edging eastwards

Rain and sleet will edge eastwards across Cumbria this afternoon, with snow on high ground. The highest temperatures will be from 1C to 4C (34F to 39F).

The Met Office has issued a yellow warning for the snow, predicting 1cm to 4cm over 250m.

You can find the latest BBC weather forecast for where you are, here.

Snow forecast for county this afternoon

The Met Office has issued a yellow warning for up to 4cm (1.5in) of snow this afternoon, mainly above 250m (800ft).

Pressley plans busy shopping in transfer window

Carlisle's new manager Steven Pressley says United have a "busy couple of weeks ahead" before the end of the January transfer window.

Pressley says the need for new strikers is clear, with Ashley Nadesan and Jerry Yates having left after successful loans, and the squad is thin in other areas as well..