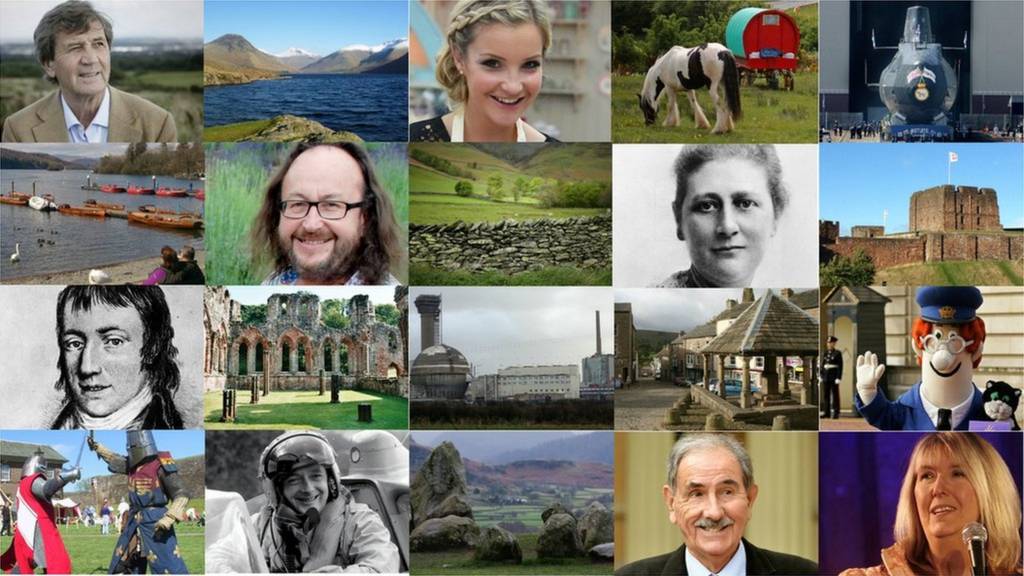 BBC Local Live: Cumbria
England's his
Our live coverage across the day

We've now finished posting news and other useful and interesting things about Cumbria for today, and this week.

Here's a reminder of some of today's developments:

Police urged revellers to enjoy the start of Christmas week this evening, but not too well, officers calling this evening "Festive Friday", in contrast to the more traditional description of "Black-eye Friday";
Allerdale council responded to criticism about its lack of Traveller sites by responding that it was in the first stage of allocating land;
And a travel writer set off from the far side of the country on an almost continuous run across Hadrians Wall, hoping, she said, to find a pub open when she's due to arrive in Bowness on Solway, on Christmas night. It may be better to travel hopefully...

My colleagues will be back on Monday from 08:00 to cover the news of Christmas Eve, but this is my chance to wish everyone a Happy Christmas.

If there's news you think we should know or you want to share a photo you've taken in the county, let us know by sending an email, on Facebook, or on Twitter.

Have a very good weekend.

Lune valley bridge reopens after £500,000 Desmond repairs

Another of the county's bridges has reopened after repairs to damage done by Storm Desmond.

Cumbria County Council has spent £500,000 rebuilding parts of the western end of the bridge, which links the east and west sides of the Lune between sebergh and Kirkby Lonsdale.

Hundreds of bridges and roads were damaged by the floods, and the programme to repair them is running into next year.

Cumbria's weather: Staying cloudy with more rain spreading in

Tonight looks set to remain cloudy with outbreaks of rain spreading from the west, the rain heavy in places.

Rain should ease to leave a few showers later with clear intervals developing and lowest temperatures from 1C to 4C (34F to 39F).

You can find the latest BBC weather forecast for where you are, here.

Travel: Another Saturday strike to hit Northern trains

Train services operated by Northern across Cumbria will be badly disrupted again tomorrow by the 41st strike in the long-running dispute over the role of guards, and the 19th consecutive weekend..

Very few trains will run after 17:00, and only a limited number of services during the day.

The RMT union has already announced that the strikes will continue every Saturday into the new year.

Allerdale responds to Traveller site criticisms

Allerdale council officials say they are in the first stage of providing a permanent site for Travellers.

The authority had been criticised by the leader of Cumbria County council, Stewart Young, as the only area in the county which had no permanent provision.

But in a statement, Allerdale said the suitability of an allocated site would be examined at a public inquiry when the new local plan was considered.

it said: "Cumbria County Council has been consulted throughout the development of the Local Plan (Part 2) and they have praised the 'positive evolution' of the plan in the Executive Summary of their report."

Surgery patient's wait reaches two years

A woman, whose case was highlighted by BBC Radio Cumbria, says she's still waiting for surgery two years after suffering a prolapse.

The surgery Julie Monteverde needs usually involves a mesh implant associated with painful side-effects, the use of which has been "paused" by the government after serious safety concerns.

She refused to have the mesh surgery in Carlisle and was referred to Newcastle.

Quote Message: To a certain extent I've got used to it, I live with it, but it is so much worse than it was, every day it gets worse." from Julie Monteverde

Passenger groups back Acas talks in Northern dispute

Three groups representing passengers and businesses said today they would like to see an independent inquiry by the conciliation service Acas into the long-running Northern dispute over the role of guards.

Northern has already asked Acas to set up such an inquiry and Travelwatch Northwest, a passenger group that supports having a second crew member on trains, said it was surprised the RMT union had not yet agreed.

The RMT says the call for an inquiry is 'a publicity stunt', and said a government assurance that a second person on trains would be supported was worthless because it was not supported financially.

Severe accident: A595 Cumbria westbound

BBC News Travel

A595 Cumbria westbound severe accident, from B5307 Caldcotes to Ashley Street.

A595 Cumbria - Heavy traffic on A595 westbound in Caldewgate from Caldewgate Roundabout to the Ashley Street junction, because of an accident involving three vehicles earlier on. All lanes have been re-opened.

To report traffic and travel incidents dial 0330 123 0184 at any time

Cumbria's 'miracle boy' Noah spreads festive cheer at hospital wards

A Cumbrian "miracle" boy has donned his elf suit and delivered a whole host of festive goodies to young patients and hospital staff.

Cumbria's weather: Continuing cloudy and damp

Today will continue cloudy and damp with outbreaks of rain or drizzle, the rain mostly quite light this afternoon.

It could be rather misty in places too with highest temperatures 5 to 8°C (41 to 46°F)

You can find the latest BBC weather forecast for where you are, here.

Phoebe sets out for Christmas walking the Wall

A travel journalist is spending Christmas walking the length of Hadrian's Wall, starting today.

Phoebe says she will need to walk almost continuously until Christmas Day to complete the journey, as she would normally camp in the wild but this is illegal along the Wall.

Her challenge started at the Centrepoint HQ in Sunderland this morning, from where she will walk up the coast to Newcastle and then across to Bowness on Solway, a distance of 100 miles.

She is raising money for the homelessness charity, Centre Point.

Two missing Cumbrian teenagers found

Danielle Rhodes from Longtown, who was reported missing yesterday, and Alfie McIntosh, from Carlisle, missing since 14 November, have both been traced, police say.

Flood alert lingers for Borrowdale valleys

There's still an Environment Agency flood alert in place for the Upper River Derwent, Stonethwaite Beck and Derwent Water.

The alert, the lowest level of warning, says the level of the lake is still high after this week's rainfall.

Pedestrian, 72, badly hurt in Brampton collision

A 72-year-old pedestrian was seriously hurt when she was hit by a car in Moat Side, Brampton, last night.

The crash happened at about 17:30 and involved a Ford driven by a 68-year-old man.

The woman is being treated in the Cumberland Infirmary, but police say they don't believe her injuries are life changing.

They have appealed for witnesses, and anyone who has dashcam footage from the area at that time.

Police warn revellers to to keep within their limits...

Cumbria Police is putting extra officers on patrol for tonight, which they call Festive Friday, but which has been known as "black-eye Friday" in parts of Cumbria.

It is the last day of work for many people before Christmas, and they are expected to go out to celebrate.

Copyright: Cumbria Police

Police are encouraging people to enjoy the night responsibly and warn that any alcohol-fuelled disorder will not be tolerated. Cumbria's ambulance service is also expecting a busy night.

Quote Message: An enjoyable night should also mean a safe night – not one that ends up in hospital or in one of our cells." from Supt Sarah Jackson

Allerdale criticised for having no Traveller sites

Local Democracy Reporting Service

John Connell

Allerdale council has been criticised for failing to create any sites for Travellers to stop.

The comments came from the leader of Cumbria County Council, Stewart Young, who said the borough council had identified a need for 20 pitches in its planning policies, but failed to provide any.

He told a cabinet meeting: "The consequences of that is that it is very difficult to move people on if they choose to camp on the highway - or anywhere else - because you can't refer them to another site.

"We do work with the other five councils but it's not working quite as well with Allerdale."

Allerdale council has been approached for comment.