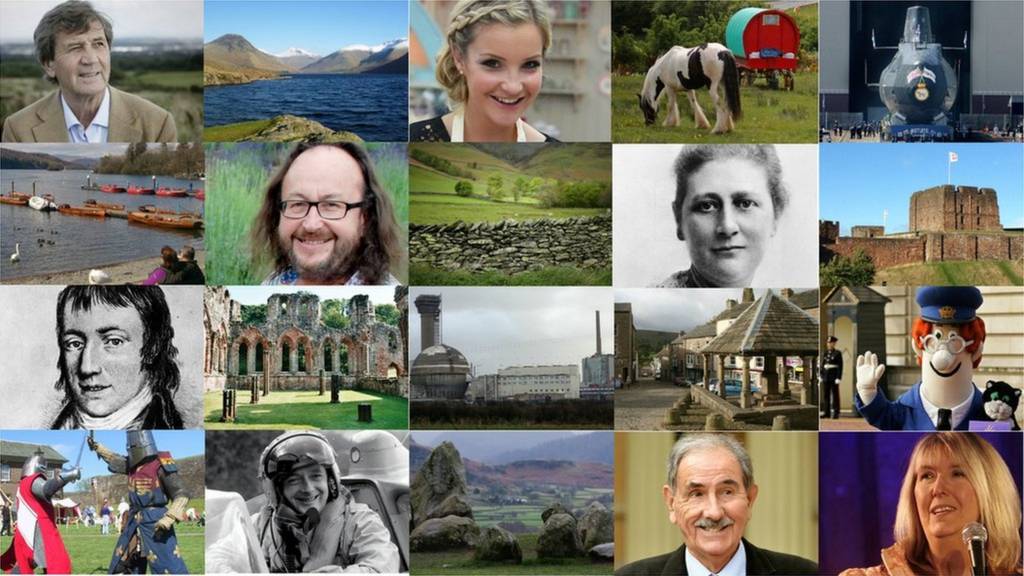 Summary
Met Office warns of 'very dangerous' freezing rain
Lakes festival founder called in to help set up USA event
Yard boss calls for investment in Barrow to stop town's population dwindling
Brexit 'could hit nuclear industry'
Weather: Dry and clear with the odd mist patch

It should be dry tonight with light winds and banks of cloud breaking up to reveal some clear spells at times.

The odd mist or fog patch may develop. Minimum temperature will be 3 to 6°C (37 to 43°F).

You can always find the latest detailed BBC weather forecast for where you are here.

Van driver in A590 crash still in 'critical' condition

The 33-year-old driver of a Mercedes Sprinter van who was flown to hospital in Preston after a crash on the A590 yesterday is still in a critical condition.

The driver of the other vehicle involved, a truck, was not hurt.

Police have renewed an appeal for witnesses to the collision, which happened just before 10:00 between Greenodd and Haverthwaite.

One in four go to Euro polls in Barrow

We have the final figures for the turnout in yesterday's elections for the European Parliament.

The 13,876 people whose ballot papers will go into the count from Barrow represented 26.49% of the electoral roll - the lowest in Cumbria.

In Allerdale, 16,649 marked a ballot paper - 33.78 of the electorate.

With the voting numbers verified, the ballot papers will be counted on Sunday to pick the MEPs for the North West region - although because Britain is in the process of leaving the EU, they may never take their seats.

Treetop attraction offers high-life thrills to more people

Treetop Trek, the high ropes course at Brockhole, near Windermere, says it can now give a far wider range of people zip wires rides and other aerial thrills after investing £50,000 in new equipment.

The firm has worked with Bendrigg Lodge, which provides outdoor holidays to youngsters with disabilities, to provide training to staff and extra facilities.

Special hoisting equipment means people who use wheelchairs can now ride the 250m zip line down to the shore of Windermere.

The attraction is in the shortlist for the accessible and inclusive category at the Cumbria Tourism Awards in June.

Travel: A5084 remains closed for resurfacing at Blawith

The A5084 will remain closed for resurfacing until 1 June at Blawith meaning diversions for drivers heading towards Coniston from Greenodd or south from Torver.

Filming starts on series three of BBC's The A Word

Youngsters continue climate strikes

Students have staged more climate strikes at a number of Cumbrian schools today, along with cities in 110 countries worldwide.

Drug gang member caught replacing 'eaten' contacts jailed

A debt-laden drug user, sent from Manchester to Carlisle to regain addicts' phone numbers after a county lines gang member "swallowed" a crucial contacts list, has been jailed.

Copyright: Cumbria Police

Carlisle Crown Court was told Jack Henstock, 28, of Grimshaw Lane, Middleton, Manchester, was seen by police approaching known drug users in Carlisle and was arrested after trying to run off.

In a statement to the court in which he admitted being concerned in the supply of heroin and crack cocaine, it emerged a gang member had swallowed a SIM card containing addicts' numbers to avoid detection by the police.

Henstock, who owed the gang money, was sent to Carlisle "to repopulate the phone contacts for the criminal organisation's customer base of addicts"

Judge Peter Davies jailed him for three years.

Conservative MPs look to future after May names leaving date

Two of the county's Tory MPs have been reflecting on the future after the Prime Minister, Theresa May, announced she would trigger a party leadership contest next month by leaving 10 Downing Street.

Copeland MP Trudy Harrison put her support behind Michael Gove to replace Mrs May.

Quote Message: On becoming a member of Parliament I have seen him time and time again perform in meetings and on the floor of the house." from Trudy Harrison

John Stevenson, the member for Carlisle, said whoever was elected had to reunite the party, combining the best policies from all sides.

Quote Message: I believe in the centre ground of British politics. I think that is where the majority of the British people are, and that is where I think we need to be." from John Stevenson

Cumbria's weather: Sunny spells and maybe a light shower

There will be sunny spells this afternoon but also areas of cloud around, that could be thick enough to produce an isolated light shower.

Highest temperatures will be from 14 to 17°C (57 to 63°F)

You can always find the latest detailed BBC weather forecast for where you are, here.

One-third of voters have their say in Carlisle and Eden

We can now say Carlisle City Council recorded a turnout in yesterday's EU elections of 33.85%, while Eden recorded 38%.

Allerdale Council is verifying the contents of the ballot boxes in that district today, and so far we have been unable to contact Barrow Borough Council.

Councils start to publish EU election turnout figures

We won't know the results of the European Parliamentary elections, held yesterday, until Sunday, but what can be made public is how many people voted.

In Copeland 10,571 electors of the 52,861 on the register made their mark on a ballot paper, giving a turnout of 31.07%.

In South Lakeland, 45.04% of electors turned out.

This figure is known because the first job of the authorities is to make sure the number of ballots in the boxes corresponds with the numbers of people who have voted - a process called verification.

Cumbria's councils were doing this either last night or first thing this morning.

Lakes wool firm through to national business final

A Cumbrian company is among the regional winners for this year's Countryside Alliance Awards.

Herdy Sleep in Coniston, which buys fleeces from five local farmers at double the market value and uses them to make mattresses, toppers and pillows, is the North West winner in the Rural Enterprise category.

The national final will be held at the House of Lords in London on 19 June.

Train firm sues over West Coast line decision

Train operator Stagecoach, which owns the majority of the Virgin trains operation on the West Coast Main Line, is taking the government to court over its disqualification from running services on the route from 2020.

Stagecoach and its partners were barred from running three franchises by the Department for Transport last month.

It is a move that could mean the end of the distinctive trains that have run on the line since the franchise system was brought in during the 1990s.

The government disallowed the bids because they did not meet pensions rules, but the Stagecoach claim alleges the DfT breached its statutory duties, which include a "fair" tendering process.

Weather on the fells: Cloudy at times

Temperature at 3,000ft (900m): Around 7C to 9C (45F to 48F)
Winds: At summit level, northwesterly 15mph to 20mph, with gusts to 30mph
Cloud: Mainly towards northern fells during the morning, with a base around 1,300ft (400m). Bases rising through the morning, but patches continuing to shroud western and northern summits at times.
Visibility: Good or excellent except in hill fog
Pollen Levels: Low UV Index: Moderate

New Barrow plan could clear way for 1,900 homes

Local Democracy Reporting Service

Plans to allow nearly 1,900 new houses across the Barrow area are close to becoming official council policy.

The 428-page blueprint, which contains guidelines for where where new homes and employment sites can go and has a target for 119 houses a year through to 2031, is expected to spark a flood of planning applications to the authority.

Helen Houston, the council's development services manager, said: "It's possible we will meet the target and there's a possibility we will exceed it."

However, she said work will be also required to address the "high" number of vacant homes across the borough, which stands at around 1,500.

Cars and homes damaged in air gun 'drive-by' attacks

Police are trying to find out who travelled around an area of West Cumbria on Wednesday night shooting an air gun at homes and cars.

Officers say there were at least 10 incidents in places including Moor Row, Parton, High Harrington, Salterbeck, Distington and Workington.

No one was hurt, but a number of vehicles and homes were damaged.