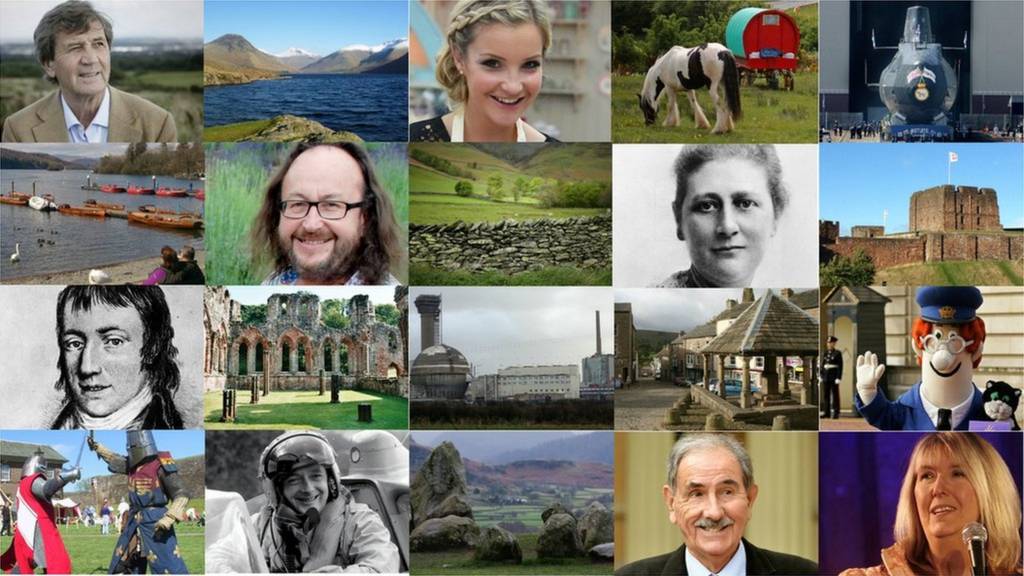 Our live coverage across the week

We've now finished posting news and other useful information about Cumbria for today, and this weekend.

Here's a reminder of some of today's developments:

The Furness peninsula was coming to terms with the news that the GlaxoSmithKline plant in Ulverston, which once employed nearly 2,000 people, will soon employ fewer than 200;
Plans to turn more of Cumbria's rubbish into fuel for Ferrybridge power station at a new plant near Carlisle were nodded through;
And John Oldfield from Urswick in South Cumbria took over the General Burgoyne pub, which as he's just 19, must make him one of the youngest landlords in the country.

We'll be back on Monday at 08:00 to do it again.

If there's news you think we should know or you want to share a photo you've taken in the county, let us know by sending an email, on Facebook, or on Twitter.

Have a very good weekend.

Market for GSK pills is growing, Ulverston meeting told

A meeting in Ulverston has been told that market for some of the products that will continue to come out of the Ulverston GlaxosmithKline plant, where job losses have been announced, is continuing to grow.

The factory makes the ingredients for cephalosporin antibiotics, and a meeting of the local task force was told that while the production of injectable forms was no longer profitable, the tablet form, Zinnat, had good prospects.

The MP for the neighbouring constituency, Tim Farron, said further investment would be "a test of GSK's integrity", after the company cancelled a huge investment programme last year.

But the plant director, Phil Wilson, insisted the future of the site was sustainable and more investment would go into the "orals", as the tablets are known.

Burglars take teaching screens from new school site

A number of interactive display screens have been stolen from the site of the new Campus Whitehaven school.

The police say they were taken sometime between Wednesday night and early Thursday morning.

The school, which will take pupils from St Benedict's and Mayfield, is expected to open after Christmas.

A Cumbria county council spokesman said it isn't known whether this will delay the opening, adding: "This is hugely disappointing news for the local community, progress on the new build was developing well, on schedule and on budget."

Copyright: Cumbria County Council

Sanctuary founder writes his life story to raise money

Jade Taylorson

BBC Cumbria reporter

A book has been published to raise money for a Cumbrian animal sanctuary, telling the story of its founder.

"Tom Scott's Lad" is the autobiography of George Scott, who is the owner of Knoxwood Wildlife Rescue in Wigton.

The book is available to buy as an e-book and is due to be printed in hard copy later this month.

Cumbria's weather: Chilly with rain moving back in

This evening and tonight will remain mostly cloudy with some outbreaks of rain pushing back up from the south. It will be a chilly night, with temperatures falling to 1C to 4C (34F to 39F).

You can find the latest BBC weather forecast for where you are, here.

Transport for the North welcomes new trains

The rail company Northern's new trains have gone on show to the minister with the job of improving transport in the region.

The first two of the £500m fleet of 98, some diesel and some electric, arrived last month, and the new sets should go into service in the new year.

Their first appearance on Cumbrian lines are likely to be those services connecting the county with Newcastle and Manchester.

Transport for the North and the Northen Powerhouse minister, Jake berry, were shown the trains in Liverpool.

Town skipper warns: Bulls could strike lucky

Workington Town skipper Oliver Wilkes believes his side will be the underdogs as they prepare to face Bradford Bulls in Sunday's League One play-off final at Odsal.

Town have having beaten the Bulls both home and away during the regular rounds of the season, but Wilkes says that may inspire the Yorkshire side to pay even harder.

Copyright: Workington Town

Quote Message: They are a proud club and they are loaded full of players that have plenty of Superleague experience, we've had the rub of the green over them for the two games but it might be third time lucky for them." from Oliver Wilkes

Engineers say A66 rebuilding 'running on time'

The major resurfacing of part of the A66 between Penrith and Appleby, which has meant the road being closed through weekends, is on schedule, according to Highways England

Farmer fined for disturbing ospreys given date for appeal

A farmer fined for disturbing the Bassenthwaite ospreys is to appeal to Carlisle Crown Court in the new year.

Paul Barnes, 59, was said to have towed a trailer loaded with visitors too close to the osprey nesting site in June last year.

In August at Workington magistrates fined him £300, with £2,000 costs. His appeal will be heard on 23 January.

Round-Up: Reds march on in FA Cup campaign

In tomorrow's local sport, Workington Reds are in FA Cup Third Qualifying Round action when they host lower league Kidsgrove Atheltic.

Carlisle United are at Oldham in League Two, Barrow host Sutton in the National League and Kendal Town host Runcorn in Evo-Stik West.

In rugby union's North Premier, Kendal go to Lymm while Kirkby Lonsdale travel to second-placed Hull.

Women of Cumbria march to celebrate suffrage centenary

There will be a parade around Carlisle's town centre pedestrian area tomorrow to celebrate 100 years since women were given the right to vote.

Copyright: Rob Grange Photography

They will be marching with banners created with the artist Karen McDougall and 11 museums around the county, a New Orleans-style street band and the Carlisle Community Choir.

They will parade three times, at 11:00. 11:30 and 12:00.

Design contract delay hits shared stadium plans

Local Democracy Reporting Service

John Connell

An "urgent" decision to appoint design consultants for Workington's shared stadium at an initial cost of £50,000 has been delayed.

Allerdale Council was due to make a key decision at the end of last month but an authority spokesman confirmed the process had been held up because the council the council is waiting for information from those bidding for the work.

The shared stadium would have to be built in two years to be ready in time for the town's Rugby League World Cup in 2021 and would ultimately house Workington's two biggest sporting clubs, Reds and Town.

However, no location has been announced for the venue and it is clear from council documents that any delay may mean additional costs.

Man who battered pensioner with iron bar jailed

A man who left a pensioner badly injured after he refused to give him money has been jailed for nearly seven years.

Raymond Adams, 56, of Cusack Crescent, Workington was invited into the house, but attacked the pensioner with an iron bar after a demand for £100 was refused.

Copyright: Cumbria Police

He told the 74-year-old: "When I've finished with you, you won't need an ambulance - you'll need a body bag."

Adams eventually fled empty handed, leaving his victim with broken hands and bruises.

Judge Peter Davies sentenced Adams, who admitted attempted robbery, to six years and eight months.

Meet John, the landlord barely old enough to drink

A 19-year-old landlord will open the doors to his Cumbrian pub for the first time today.

John Oldfield has taken on the General Burgoyne in Urswick, near Ulverston.

He used to work there as a member of the front of house team, and says as a village resident, if he can't make it work, no-one can.

Quote Message: My vision is for this place to be what it should be in my opinion, and that's a traditional country pub." from John Oldfield

Bruce on the mend, say RSPCA vets

Bruce, the cruelly-beaten dog who was found at the end of August near Carlisle with severe injuries and burns, is continuing to recover, according to the RSPCA.

Today the charity said that following scans, vets were now confident that Bruce had not been left in such pain that he might have to be put to sleep.

Bruce is a four-year-old brown male bull lurcher, a cross between a sighthound and a bull breed often used for illegal hunting.

The operation to find out who inflicted such serious injuries continues.

Quote Message: To say we are relieved by the feedback from vets is an understatement."

Quote Message: He can't yet open his mouth fully but is otherwise doing everything a healthy dog does which is amazing given all he's been through." from Ch Insp Rob Melloy

MP calls town task force meeting on GSK job cuts

The Ulverston Task Force is set to meet to discuss almost 200 job losses at the plant that was once the town's major employer.

GlaxoSmithKline announced yesterday that the jobs would go over two years, but the company has stressed that it will continue to make ingredients for antibiotic tablets and liquids on site.

MP John Woodcock, who will contribute to the meeting by internet from Australia, has described the news as a terrible blow, saying the workforce had proved themselves as world class but had been let down by the company

Quote Message: It's important that people don't think that GSK is going to exit completely and over the coming weeks and months I will be working closely with the company to ensure that they make good on that promise." from John Woodcock Independent MP for Barrow and Furness

Cumbria's weather: Largely dry with some sunny spells

It should be largely dry this afternoon with only a slight chance of some patchy light rain or drizzle, mainly early on.

There should be some sunny spells too, but it will feel cool with highest temperatures from 9C to 12C (48F to 54F).

You can find the latest BBC weather forecast for where you are, here.