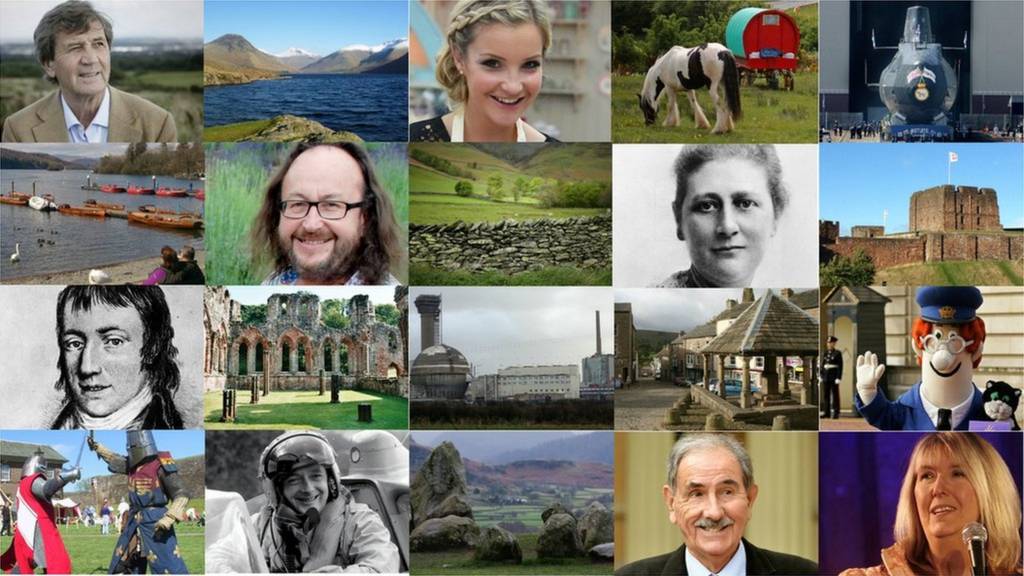 Severe disruption: M80 North Lanarkshire northbound

BBC News Travel

M80 North Lanarkshire northbound severe disruption, at J4A for A8011 Glasgow Road.

M80 North Lanarkshire - One lane blocked and queuing traffic on M80 northbound at J4a, A8011 (Low Wood Junction).

To report traffic and travel incidents dial 0330 123 0184 at any time

Through the day: BBC Cumbria Live

We've now finished posting the main news and other information for Cumbria for today, and this week. Here's a reminder of today's main developments:

We'll be back on Monday at 08:00 to do it all again. You can get involved with photos or news tips, by sending an email, on Facebook, or on Twitter.

Have a very good weekend.

Cumbria's weather: Evening sunshine and a clear night

Some evening sunshine will give way to clear periods through tonight. A few patches of mist will develop with gentle winds and minimum temperatures from 7C to 10C (45F to 50F).

You can find the latest BBC weather forecast for where you are here.

Contractors work through weekend on dangerous hotel

Contractors will work through this weekend from 05:30 until as late as 22:00 to remove loose roofing and masonry from the derelict Central Plaza Hotel in Carlisle.

A spokeswoman said today that the most urgent work, the removal of seven tonnes of brickwork that was threatening to fall into Victoria Viaduct, was progressing well.

Parts of the roof and chimneys, amounting to 32 tonnes of material in all, have to be taken down before the street can be reopened.

Travel: Continuing delays on A590

There are continuing delays on the A590 between junction 26 on the M6, and the Brettargh Holt junction, because of roadworks.

Swimmers of all ages crowd into lake for Great North

The Great North Swim is now well under way at the Brockhole visitor centre on the shore of Windermere.

Up to 10,000 people will swim between 250m and 10k over the next two days.

Whitehaven RL raise £25,000 in three days of appeal

Whitehaven RL say they've raised £25,000 in the first three days of an appeal to raise enough money to see them through to the end of the season.

The club announced it faced a budget shortfall of up to £60,000 at the launch on Wednesday evening.

Network Rail gets maintenance done during train suspension

Network Rail has confirmed to BBC Radio Cumbria that it will be carrying out track maintenance work on the Oxenholme to Windermere line while services are suspended.

Earlier this week, the Transport Secretary Chris Grayling told the Commons that the two-week period should be used to do any engineering work while no trains were on the line.

Robbers who terrified shop assistant jailed for 44 months

Two men who terrified a lone shop assistant with a modified craft knife as they demanded cigarettes in an early-morning robbery have been jailed for 44 months.

Kevin Glover and David Wallace, both 34 and from Poole Road in Salterbeck, both admitted robbery.

Glover also admitted possessing an offensive weapon at McColls corner shop in Harrington, Workington, in April.

The two had taken cigarettes worth £200, leaving the assistant feeling sick every time he went to work in case it happened again, the court was told.

Your pictures: Summer returns to the lakes

After a few cloudy days, the sun has shone again and you have been sending in pictures including these from Trevor Earthy, of Crummock Water, and Bob Brown, of Derwentwater.

Our thanks to both, and to Ian Ally who caught the sunset from Sandscale Haws near Barrow, below, and tweeted it in our direction, along with a number of other shots.

There are three ways to send in a picture if you take one: Sending an email, on Facebook, or on Twitter.

Council housing firm buys new Penrith estate

A council-owned company set up to provide affordable housing is on the brink of buying 81 homes in Penrith.

Eden District Council owns the Heart of Cumrbia and it's soon expected to complete the purchase of the homes at Carleton Meadows.

The estate is still being built and the houses should be completed over the next five to seven years, but three are almost ready now and could be let next month.

Driver jailed after 130mph dash from police

Police waiting for a criminal as he drove into South Cumbria on the A65 were left trailing as he sped along the M6 at up to 130mph, Carlisle Crown Court was told.

Mark Peter Nicholls, 35, of no fixed address, pulled his stolen Audi over on to the hard shoulder at the next junction.

He admitted dangerous driving while disqualified and without insurance, possessing cannabis and an attempted burglary.

Judge Peter Hughes jailed Nicholls, who refused to attend court, for three years and banned him from driving for four years.

MP Farron will walk the line in protest

The Westmorland and Lonsdale MP Tim Farron says he will walk from Windermere station to Oxenholme tomorrow in protest at the way services on the Lakes Line have been suspended.

He will start his walk at 14:00 and be accompanied by campaigners calling themselves the Lakes Line Action Group, visiting each station to gather signatures for a petition.

The MP's anger has been increased by the decision that emerged today for the suspension of services on the line to last not the two weeks initially announced, but four, and an apparent u-turn by the Department for Transport.

Quote Message: I have indicated to Arriva that I am not prepared to accept more than the current two weeks from Transport Secretary Chris Grayling in the Commons on Monday

Quote Message: He must now keep his word, and not sign this off." from Tim Farron

Quote Message: This is an operational decision taken by Northern and accepted by Transport for the North as the best temporary solution for passengers. The DfT did not object to this decision." from Department for Transport statement this morning.

Windermere ferry boat swap means no cyclists

The replacement shuttle for the Windermere Car Ferry, which up to today has taken cyclists and pedestrians, will now only take pedestrians on most days.

The vessel, provided by Windermere Lake Cruises, is now being used for the regular summer service from Brockhole to Wray Castle, further up the lake, which gives access to the cycle route up the western side.

There's still no word on when the car ferry will be repaired after damage caused by a fire in the engine room at the end of last month.

Cumbria's weather: Dry, some cloud, some sunshine

It will be a fairly settled afternoon with periods of sunshine, some areas of cloud, and just a light breeze.

Maximum temperatures will be from 18C to 21C (64F to 70F).

You can find the latest BBC weather forecast for where you are here.

Windermere swimmers take the big plunge

Over the next three days, 10,000 swimmers will take part in the Great North swim from Brockhole, on the shores of Windermere.

The first set off, on the 10k circuit, at noon, in relatively toasty temperatures for the Lake District.

Outdoor fans head to Keswick Mountain Festival

Keswick Mountain Festival starts today and is expected to attract 20,000 visitors over the weekend.

Copyright: Keswick Mountain Festival

The main Festival Village is at Crow Park and people can look forward to camping, two nights of live music, speakers and taster adventure activities.

New for this year, there'll be air displays of aerobatics and skydiving, as well as a new walking event.

Shap pool reopens on a £100,000 high

Shap swimming pool, the highest pool in England, has reopened after a £100,000 facelift.

Changing rooms and easy access steps for people with disabilities are among the improvements.