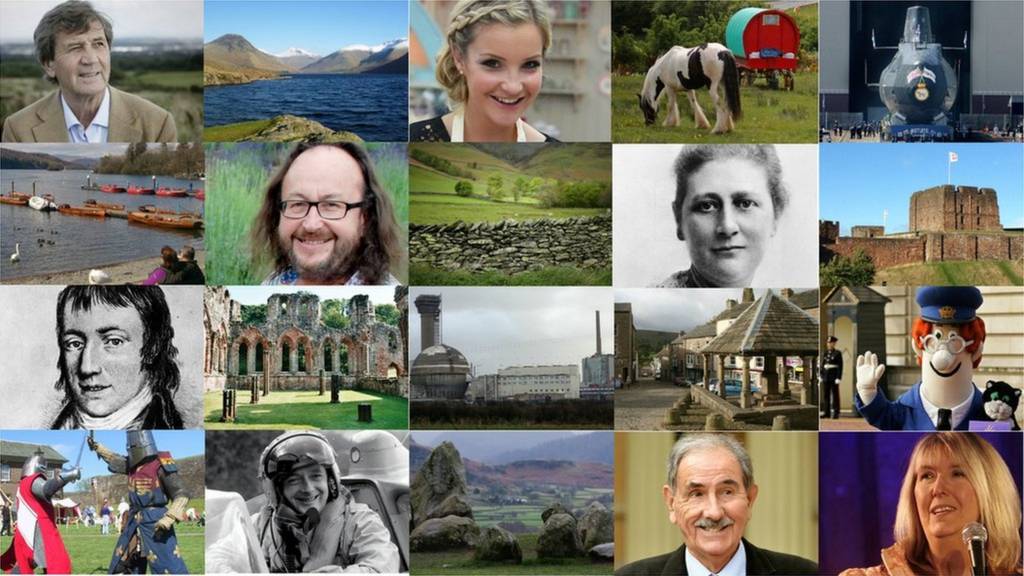 Summary
Opposition councillor moves to demolish city's derelict hotel
Cumbrian cyclist cracks trans-Europe record by nine hours
Plans 'still being laid' for flood defences after Desmond
Our live coverage across the day

We've now finished posting news, travel reports, a regular weather forecast and other nuggets from around the county for today, and this week.

Here's a reminder of today's main developments:

Fuelled only by BBC coffee, we'll be back from 08:00 on Monday to do it all again.

If you have a photograph you'd like to share, or you have news you think we should know, you can email us, tweet, or get in touch through our Facebook page.

Have a very good weekend.

Communities must play their part, says flood agency boss

The head of the body that provides flood defences has visited Cumbria today and urged everyone in affected communities to play their part to help prevent future flooding.

Copyright: Environment Agency

Emma Howard Boyd chairs the Environment Agency and was in Ulverston to mark the completion of the £9m scheme that its hoped will keep floodwater out of more than 500 homes and businesses.

She said the Agency will continue to invest in new flood defences in Cumbria, but the scale of the challenge from climate change means these will only be successful if communities worked together.

Outdoor gym starts taking the strain in Carlisle park

A set of outdoor exercise equipment has been installed in Bitts Park in Carlisle, complete with instructions on the best way to use it.

The weights, bars and poles are made so that if the park floods, they can easily be repaired.

The £61,000 cost was partly covered by the council's flood insurance, with civic leaders contributing part and a grant from Cumbria Waste Management making up the rest.

Police officer in court over wounding charge

A police officer has appeared in court accused of wounding a man while off duty in Workington.

Copyright: Craig McGlasson

Stephen William Light, 44, of Bede Close, Newcastle, denied wounding Andrew John Grant and breaking a window belonging to him during an incident in the Fountains Avenue area in April this year.

The court heard Mr Light is attached to Northumbia Police. The force said they were aware an officer was facing charges and he had been suspended from duty. They did not disclose his rank.

Mr Light was bailed to appear before Carlisle Crown Court for a trial in August.

City councillors to discuss demolishing derelict hotel

A Conservative Carlisle councillor's proposed that the Central Plaza hotel, so derelict that it's threatening to fall into the street below, should be demolished.

The Victoria Viaduct, and several shops along it, have been closed since last week, causing traffic congestion and problems for businesses.

Councillor Paul Nedved's motion will be debated at an extraordinary meeting of the council on 22 May.

His motion says the council should ask the government to remove the Grade 2 listing that protects the Victorian hotel, and either resolve the ownership issues that have so far prevented repairs, or demolish the building.

Court told man 'believed girls were under 16'

A man from Carlisle must sign the sex offenders' register after he was caught trying to make contact with what he thought were two young girls.

Steven Hodgson, 48, admitted two offences of attempted sexual communication with a child.

Carlisle Crown Court heard that no real children were involved in his crimes, but the charges state he "reasonably believed" he was communicating with girls aged under 16.

Hodgson, from John Street, was given bail, and will be sentenced in June.

Record-breaking cyclist heads for salad bar and beer

Sean Conway, who broke the record for cycling from west to east across Europe today, headed straight off for a salad and a beer, he told BBC Radio Cumbria.

The cyclist, who was born in Zimbabwe but now lives in Coniston, said he had spent the past 24 days living on service station food.

He slept many of the nights in culverts beneath the road, because he had saved weight by not taking a tent.

Quote Message: I've been eating 5,000 calories a day, what I didn't have any of was nice fresh salad, that's all I want, that and a lovely Cumbrian ale." from Sean Conway

Two admit robbing Workington store

Two men from Workington have admitted robbing a convenience store, taking cigarettes and threatening a member of staff.

At Carlisle Crown Court, Kevin Glover and David Wallace, both 34 and from Poole Road, pleaded guilty to robbery. Glover also admitted having an offensive weapon.

The court heard the two went into McColl's in Church Street, Harrington, with a knife with a razor blade attached, which they used to threaten an employee.

They were remanded in custody for reports, and they are due to be sentenced next month.

Penrith Ladies aim for football double at Brunton Park

Penrith Ladies will be looking to complete an impressive double tonight when they play Carlisle Ladies in the Womens County Cup Final at Carlisle's Brunton Park.

The Frenchfield Park side won promotion to the North West Regional Premier Division for the first time last weekend.

Quote Message: I think we've now for the framework as a team and we are capable to stepping up to the next level, no problem." from Kim McCormick Captain, Penrith Ladies

Travel: Bridge strike disrupts Settle-Carlisle trains

Trains on the Settle Carlisle rail line are being disrupted after a vehicle struck a bridge at Culgaith.

Traffic near Langwathby station is also being delayed.

Merging Alston's schools 'saved Samuel King's'

Belinda Artingstoll

BBC Cumbria Live

Combining two schools on the same site in Alston has saved the secondary school from closure, according to the local headteacher.

Alston Primary moved onto the Samuel King's site in November, and the headteacher of the Alston Moor Federation, Ian Johnson, says although it brought lots of other benefits, saving the school was the main aim.

Quote Message: Either we brought the schools together, or Samuel Kings would be heavily subsidised, which wasn't going to happen, or it would have to close." from Ian Johnson Headteacher, Alston Moor Federation

Fire crews deal with caravan blaze

Fire crews from Carlisle took just 20 minutes to extinguish a caravan fire at a park at High Knells, Houghton, yesterday.

Severe disruption: A686 Cumbria both ways

BBC News Travel

A686 Cumbria both ways severe disruption, at B6412 Culgaith Road.

A686 Cumbria - A686 in Langwathby blocked and queuing traffic in both directions at the B6412 Culgaith Road junction, because of a vehicle striking a bridge.

To report traffic and travel incidents dial 0330 123 0184 at any time

Cumbria's weather: Rain pushing in from west

This afternoon will be generally cloudy with rain pushing in from the south-west. A few heavier bursts are likely later on.

It will be rather windy with a brisk south-easterly wind and temperatures ranging from 12C to 15C (54F to 59F).

You can find the latest BBC weather forecast for where you are, here.

Cyclist Sean cracks Europe record with hours to spare

Sean Conway, from Conistion, has pedalled his way into the record books, demolishing the fastest previous time to cycle from Portugal to the Russian city of Ufa on the eastern edge of Europe

This morning Sean cycled across the Volga River on this bridge, nine hours ahead of the previous record holder, Jonas Deichmann, who covered the route in 2017, in 25 days, three hours and 38 minutes.

Sean's final time was 24 days, 18 hours and 39 minutes.

Twenty step up for the toughest 10 challenge

Twenty athletes will take their marks today on the shores of Windermere for the first of 10 marathons over 10 days in what is billed as one of the toughest challenges in the country.

It's the 11th year of the Brathay 10-in-10, when runners race the Windermere marathon course on successive days.

The Brathay Trust, which benefits from the challenge, says competitors have raised more than £1m since 2007.

This year comes just weeks after the death of Matt Campbell, a great supporter of the Cumbrian charity, in the London Marathon. Athletes have now raised £360,000 in his memory.

Sellafield faces basic health and safety charge

The charge Sellafield Ltd is facing is breaching the clause that is the foundation of most workplace safety law.

Section 2 (1) of the Health and Safety at Work Act 1974 reads: "It shall be the duty of every employer to ensure, so far as is reasonably practicable, the health, safety and welfare at work of all his employees."