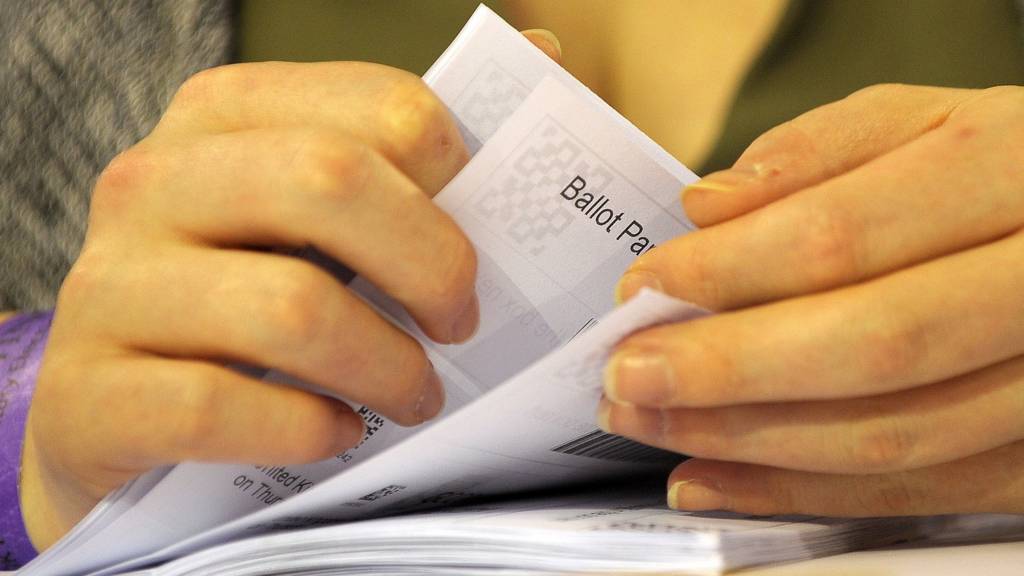 Through the day: BBC Cumbria Live

Tories take two of final three seats on South Lakeland

Conservatives Kevin Lancaster and Sheila Capstick shared the honours with Ian Mitchell of the Liberal Democrats in the final South Lakeland seat to be declared in the election, Sedbergh and Kirkby Lonsdale.

You can see all the results in detail here.

It leaves the Conservatives with 19 seats, Labour with three, and the Liberal Democrats still in charge with 29, but that is three down on where they were before today.

Boundary changes mean it is difficult to see exactly where the changes have come, but certainly Labour's slow resurgence in Ulverston, which used to be their stronghold, has done part of the damage.

And the other development was that the Green Party took one seat on Kendal Town Council.

Cumbria's weather: Dry with mist and low cloud later

It will be a dry night with some clear spells but patches of mist, fog and low cloud are likely to form later in the night.

There will be a gentle southerly wind and minimum temperatures of 5C to 8C (41 to 46F).

You can find the latest BBC weather forecast for where you are here.

Close but no cigar - the verdict on South Lakeland

Richard Moss, the BBC's political editor in the North East and Cumbria, believes Conservatives will be disappointed not to have at least undermined the Liberal Democrat's hold on South Lakeland council.

Breaking

Liberal Democrats hold control of South Lakeland Council

Liberal Democrats have retained control of South Lakeland Distirct Council with the final two wards in Kendal being declared, giving them at least 28 of the 51 seats on the authority.

The leader of the council Giles Archibald and the former leader Peter Thornton both retained seats with the results of the Kendal town ward returning three Liberal Democrats.

The Lib Dems also made a clean sweep of the Kendal West ward with all three seats.

In the Kendal Rural Ward, Pat Bell came first for the Conservatives, but Liberal Democrats Hazel Hodgson and Anne Hutton took the other two seats.

You can see all the council election results in details here.

Chef John dons Allerdale's mayoral chain

Allerdale councillors have confirmed John Crouch, the chef and councillor for Wigton (left), as their new mayor, with Councillor Neil Schofield, member for Workington St Michael's, as deputy mayor.

Copyright: Allerdale council.

John Crouch broadcasts regularly and travels widely as a demonstration chef, and also backs a number of local charities.

Police post CCTV shot after pensioner's purse is stolen

Police have posted a CCTV picture of a man they want to speak to after a pensioner's purse was stolen from the counter of the Newtown Road post office in Carlisle

Copyright: Cumbria Police

Officers say the woman had just collected her pension on 17 April, at about 16:30.

Penrith's industrial estates club together for BID

Penrith's industrial estates have voted to create a business improvement district, which means they pay an extra 2% on business rates, but have direct control of how the money is spent.

The group, which brings together 150 firms on three industrial estates, will have about £400,000 to spend over the next five years.

The BID documents suggest the money could be spent on a wide variety of projects ranging from joint purchasing and training, through maintaining and tidying up the estates, to controlling seagulls.

Most business improvement districts cover retail areas, with industrial estates covering only about one in 10 of the projects.

Plaza closure clogs up city's roads

The closure of the Victoria Viaduct in Carlisle because of the unsafe state of the Plaza Hotel is causing congestion, and problems for the city's bus services.

Driver who topped 122mph is jailed

A man who drove at speeds of up to 123mph in West Cumbria has been sent to prison for six months.

Tyler Wilson, 21, from Browside Road, Dearham, was being followed by the police, and Carlisle Crown Court was told he was being egged on by a passenger, who urged him not to stop.

The court heard police cars following Wilson's VW Passat topped 90mph in Maryport, and 123mph on the B5300 towards Allonby.

At a previous hearing, Wilson had admitted driving dangerously, driving otherwise than in accordance with his licence, having no insurance and resisting arrest.

Once he is released from prison, Wilson will be banned from driving for two years and will have to take an extended test before he can have a full licence again.

Curle prepares for final Brunton Park match

Brunton Park will say goodbye to manager Keith Curle tomorrow when Carlisle United play under his leadership for the final time.

Newport are the final side Curle will try to help United beat.

Labour take three Ulverston seats in South Lakeland poll

A slow Labour recovery in Ulverston has taken another step further with the party taking all three seats in Ulverston East.

Ulverston West has gone blue, though, with long-standing member Jeanette Jenkinson being joined by Helen Irving and Amanda Rigg.

In Kendal South and Natland, three Liberal Democrats have added to their party's total.

Tory leader keeps a seat in South Lakeland elections

The Conservative leader Ben Berry has kept a seat on South Lakeland council in Windermere.

But Liberal Democrats took the two other seats in the ward, and made a clean sweep of the three in Kendal East.

Comparisons with previous elections are not possible because of boundary changes, but the Lib Dems now hold 17 seats to the Conservatives 13, of the 51 on the council.

Carlisle street will be closed 'for weeks'

Ben Maeder

Journalist, BBC Radio Cumbria

The closure of one of the major streets into Carlisle's city centre is likely to last for weeks rather than days, according to the city council.

The Victoria Viaduct was totally shut off on Wednesday afternoon over fears that debris could fall from the derelict Central Plaza Hotel.

The council says cranes will probably be needed to remove tonnes of loose masonry from the top of the listed Victorian building.

Liberals Democrats and Conservatives level-pegging

The Liberal Democrats and Conservatives hold 12 seats each of the 51 available as counting in the South Lakeland council elections nears the half-way point.

The Green party's Carole Wood came third, ahead of Labour and Conservative candidates, in the two-seat ward of Kendal North. Those two seats went to Liberal Democrats Jon Owen and Stephen Coleman.

In the rural seat of Broughton and Coniston, the Conservatives took two seats and the Liberal Democrats one. Joss Curwen, a member since 1987, lost out, while Anne Hall, active in Coniston politics at parish and district level for many years, retains a place.

Academy meeting called off after parents and MP arrive

The troubled Whitehaven Academy has been the centre of new controversy after a meeting between staff from the Health and Safety Executive and the Bright Tribe Academy Trust was called off because of a demonstration outside.

The meeting was to discuss the recent closure for several days of the school after asbestos was disturbed.

The Bright Tribe Trust said the HSE was concerned about the presence of parents and reporters and called off discussions, but the Copeland MP Trudy Harrison said the meeting was called off by the Trust.

The parents, Ms Harrison and the Mayor of Copeland Mike Starkie said they wanted to talk to the HSE staff but were refused a meeting.

Travel: A596 closed after crash near Aspatria

The A596 is closed between Maryport and Thursby after a crash involving a car and a motorcycle.