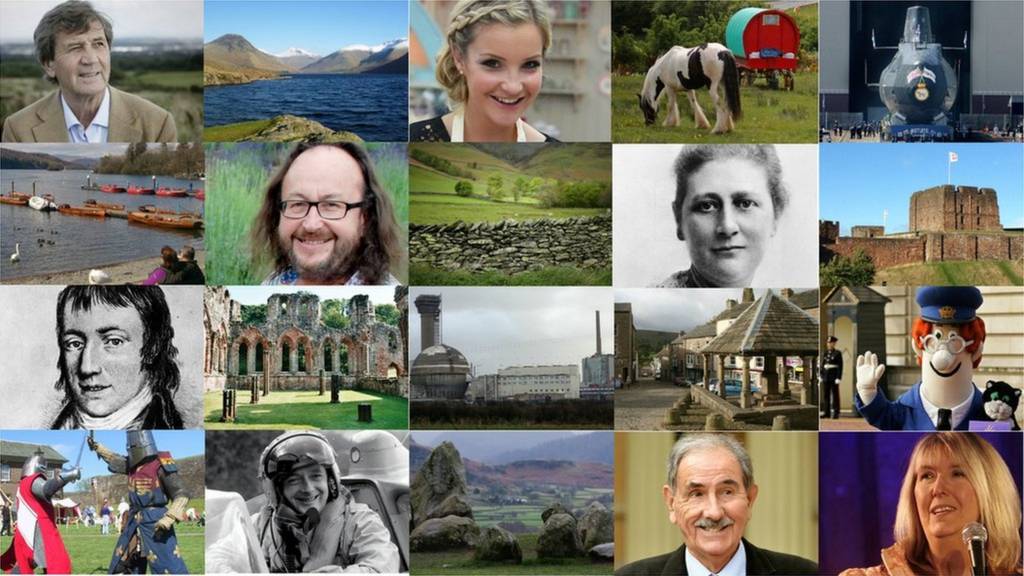 BBC Local Live: As it happened
Summary
Updates on Friday 16 February
Through the day: BBC Cumbria Live

Cumbria's weather: Rain moving in with snow on hills

It will be a mostly dry evening, but cloud will build with outbreaks of rain moving in overnight. Some of the rain is likely to be rather heavy with some snow over the hills and temperatures falling to 0C (32F).

You can find the latest BBC weather forecast for where you are, here.

Watch: Carlisle celebrates the start of the Year of the Dog

Today is Chinese New Year and for the first time, people in Carlisle decided to celebrate in suitable style.

Fraudster who paid for flying lessons with VAT fiddle

A Carlisle man who admitted VAT and benefits frauds that brought him £284,000 to fund a lavish lifestyle of expensive holidays and flying lessons, has been jailed for four-and-a-half years.

Copyright: Cumbria Police

Kieran Farrer, 39, filed 34 monthly VAT returns in which he claimed to have spent £2m in supplies for a vehicle hire and leasing company, but Carlisle Crown Court was told the firm "barely traded".

On top of the £260,000 he reclaimed from the taxman, Farrer claimed £41,000 in disability living allowance, although investigators filmed him walking unaided and pushing a shopping trolley.

Farrer, of Whinsmoor Drive, Carlisle, admitted one count of VAT fraud and two of making false statements to the Department of Work and Pensions.

Cocaine driver reached 100mph in chase, court told

A man from Carlisle who admitted driving at 100 miles per hour during a police chase has been given a suspended prison sentence at Carlisle Crown Court.

Richard Williams, 24, who was under the influence of cocaine, was seen travelling speeding through the 30mph area in Moorhouse to the west of Carlisle.

When a police car pursued him, he sped up dramatically, before crashing.

Williams, from Trinity Buildings in Carlisle, was given a six month sentence suspended for 12 months, and a 12-month driving ban.

Police pup models cadet caps

Cumbria police officers are looking forward to welcoming their first cadets, and the uniform has started to arrive.

Engineers spot water leak in Keswick

Travel: Roadworks slow M6 southbounders

Southbound traffic is queuing on the M6 between junctions 36 at Kendal and 35 at Carnforth, where resurfacing has closed one lane.

Snow ploughs cut through Hartside drifts

Hartside Pass on the A686 between Penrith and Alston has been closed for days by snow, but today highways engineers declared it open.

One local bobby took the opportunity to show why he and other officers had spent time turning drivers back.

Volunteer bus service chair laments 'terrible' decline

The chairman of a bus service run by volunteers in Cumbria says he's disappointed that public transport has to be provided that way.

Copyright: Western Dales Bus

Jock Cairns was giving his reaction to figures analysed by the BBC, showing a 20% decline in services since 2013.

Jock Cairns was a founder of the Western Dales Bus, which started when a service between Sedbergh and Kendal lost subsidy in 2011, and he says the volunteers only provide the service because there's no other way for many people to get around.

Quote Message: It's terrible in Cumbria because we are a rural county, sparsely populated, and if you don't have a car you are stuck." from Jock Cairns

Business surveyed over nuclear waste store plan

Cumbria's Chamber of Commerce is asking businesses for their views over whether a nuclear waste store could be sited under the west of the county.

Copyright: Cumbria Chamber of Commerce

The chief executive, Rob Johnston, says West Cumbria is likely to be considered, simply because most of Britain's high level waste is already there, but it would be an issue that cut both ways.

"There would be economic benefits in the immediate area of the GDF. The Government is talking about 1,000 jobs during the construction phase and early years of operation, then 600 well-paid jobs for the next 100 years.

"On the other hand there is potential for 'brand damage', particularly to hospitality and food businesses all over Cumbria."

Rescues lower walker down Helvellyn's icy flank

Volunteers from the Keswick Mountain Rescue Team stretchered a man down from Helvellyn who had tripped in icy conditions and injured an ankle.

With his injury, the 61-year-old walker and his companion found it impossible to walk down the Swirls path, the easiest descent.

The rescue team lowered him down the slope in a stretcher, in what they described as "very icy conditions".

A team spokesman said ice axe and crampons (which the walker was using) were essential in the "full winter" conditions.

Last chance for your own cup glory!

#FAPeoplesCup

The deadline to get involved in the 2018 FA People's Cup is midnight THIS Sunday - so get your entry in now.

It's FREE
There are 18 different categories
You get the chance to play at St George's Park and go to the FA Cup final

What have you got to lose?

Find out all the details and how to sign up here.

Facebook appeal trapped harness burglar

A court has heard how a burglar who stole riding equipment from a home in a village near Wigton was caught after the victim posted CCTV pictures on Facebook.

Neil Anderson, 31, from Syke Road in Wigton, was traced after breaking into a container at Rosley last August.

At Carlisle Crown Court, he admitted burglary and was given a 12-month community order and a night-time curfew. Most of the stolen property has been returned to its owner.

Curle tells United to go for three in a row

Manager Keith Curle's describe Carlisle United's next three League Two games as "winnable", starting with relegation-threatened Chesterfield at Brunton Park tomorrow.

His side are then away at Barnet in the week, before travelling to Yeovil next weekend.

Quote Message: The important thing now is that we've come to the stage in the season where we need results." from Keith Curle Manager, Carlisle United

Promotion 'unfinished business' says 'Haven skipper

The county's Division One rugby league sides are preparing to start their season this weekend, with Whitehaven chasing to get into the championship.

'Haven's captain, Mark Shackley, says his team, which entertains Oldham, is still sore over losing in the play-offs final to Barrow last season.

Copyright: Whitehaven RLFC

Quote Message: It was tough, and the way we got beat was hard, but it feels like we've got unfinished business."

Cumbria's weather: Sunshine turning hazy

There could be somewhat more cloud around at times this afternoon with the sunshine turning hazy too. The highest temperatures will range between 5 to 8°C (41 to 46°F)

You can find the latest BBC weather forecast for where you are, here.

Police link Kendal banking fraud calls

Police in Kendal say they believe three attempts to defraud women in the Kendal area are related.

In the first, two women were telephoned separately and asked to withdraw money from their banks, and then called again and told the notes were fraudulent and would be collected.

A young man, black, of slim build, then arrived at their homes to collect the notes.

In the third, which police believe may be connected, a woman in her 90s was called by someone claiming to be from Hammersmith police, who had some personal information about her, including banking details, but no money was taken.