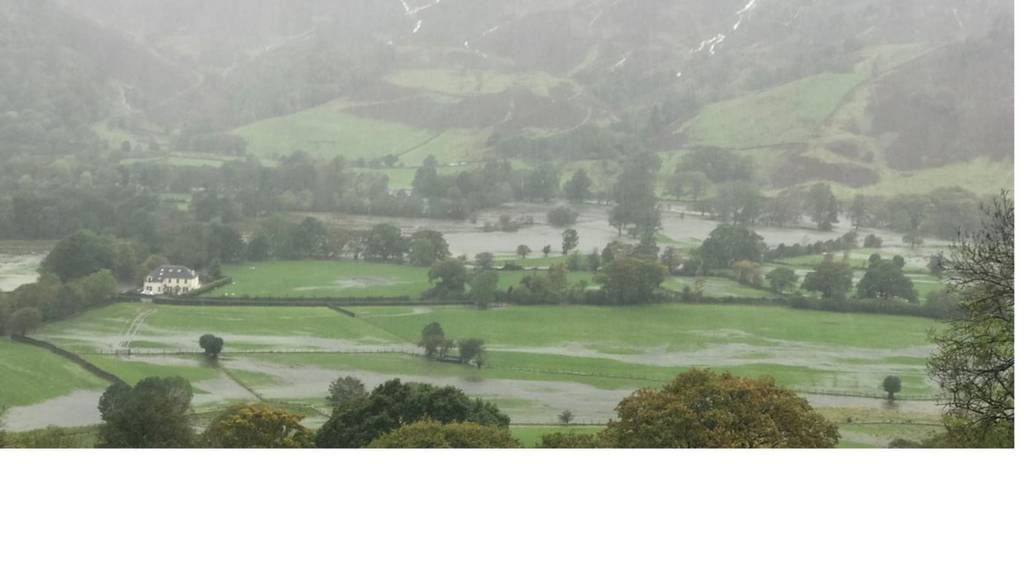 Summary
Updates on Wednesday 11 October 2017
Flooding causing problems on roads
Some schools close after flooding
Disruption on trains between Carlisle and Maryport
Through the day: BBC Cumbria Live

Weather: Showers easing and dry tomorrow

Good news on the weather - it will be dry overnight and tomorrow.

Showers will continue at first this evening, but these will ease by midnight leaving a dry and chilly night with clear skies. Winds will remain brisk over the higher ground of the Lakeland Fells.

Minimum Temperature: 8C (46 F).

Tomorrow after a chilly start, it will be a fine day with sunny spells allowing it to turn pleasantly warm. Cloud will gradually thicken later but it should remain dry.

Maximum Temperature: 14C (57F).

Cumbria saw 'significant' rainfall

Some parts of Cumbria saw more than 8ins (206mm) of rain fall in less than 24 hours, according to provisional figures from the Environment Agency.

Honister, Seathwaite and Ennerdale were the worst hit areas as torrential downpours closed schools and disrupted road and rail travel.

The agency issued 19 flood alerts and eight flood warnings, while a Met Office yellow warning for rain was in place for much of Wednesday.

No serious injuries were reported.

BBC weather presenter Paul Mooney said the amount of rainfall had been "significant" but not on the scale of that which sparked devastating floods in the county in 2007 and 2011.

'Not going to see anything like Storm Desmond

Jim Ratcliffe, from the Environment Agency, said while there had been a lot of rain they were "pretty confident we are not going to see anything like Storm Desmond".

He said there was a significant difference in terms of rainfall - in 2015 at Honister there was 300mm of rain in 24 hours and over the last 24 hours there has been 100mm

Mr Ratliffe said: "That said we still have staff out on the ground. Whilst it's not like Desmond we are very tuned into this."

Wasdale Head Show cancelled because of flooding

Wasdale Head show has been cancelled. Here's the statement from their website:

Quote Message: With deep regret I am heartbroken to have to announce the cancellation of our show this Saturday. It was a very difficult decision for the chairperson and myself to make. All the hard work the committee has put in through the year has sadly come to nothing. I would like to personally thank all the people involved for a great effort as usual. The weather is beyond our control the valley is flooded.

River high at Egremont Bridge

Megan Paterson

Reporter, BBC Look North

I'm at Egremont Bridge where there is a cordon stopping people from crossing bridge. The river is really high and is flowing with some force. The rain stopped a few hours ago though.

There is one property which has been flooded here but generally fire crews say they haven't had to rescue people from properties. They have rescued some people from their cars.

But they haven't seen large scale flooding of properties.

Penrith FC's match called off due to water-logged pitch

Penrith Football Club's Cumberland Cup Game against Crown Newlaithes tonight has been called off because of a water-logged pitch.

Eight flood warnings and 18 flood alerts as river levels keep rising

Sandbags available in Ulvertson, Ecclerigg and Kendal

South Lakeland District Council says that sandbags will be available throughout the night at their depots in Ulverston and Ecclerigg and until 22:00 at their depot in Kendal.

Travel: Train delays and cancellations

Virgin Trains say services been suspended on trains between Penrith and Oxenholme because of flooding. They say replacement transport has been arranged at Carlisle, Lancaster and Preston

On Transpennine Express there are delays of up to two hours between Penrith and Oxenholme - they are conducting safety checks.

Travel: A595 closed at Muncaster Bridge

Cumbria County Council says that the A595 is closed at Muncaster Bridge due to high tide. It's expected to be reopened within two hours.

Travel: A590 closed at Brettagh Holt roundabout

The A590 is closed at the Brettagh Holt roundabout because of flooding.

Your photos: Floods in Blennerhasset

Thanks to Chris Allman for this photo he took in Blennerhasset. He says that a van full of turkeys is stuck in the floodwater.

If you have any photos you'd like to share you can email them to us here.

Driving conditions on A6 'horrendous'

The A6 between Shap and Kendal is horrendous. Water is cascading off the fells and there are queues at Prizet near Kendal - there's a big lake in the road.

Also police are diverting cars on to the opposite side of road near Brettargh Holt roundabout to avoid major flooding at bottom of the hill.

Eight flood warnings and eighteen flood alerts for Cumbria

The Environment Agency says there are now 18 flood alerts in the county and eight flood warnings - meaning flooding is expected - for Cumbria.

The flood warnings are for:

Dragley Beck at Ulverston from Dragley Beck Bridge on Well Lane downstream to South Ulverston
Keswick Campsite
River Ehen at Egremont, Bleach Green, Ennerdale Mill, Springfield Rd, Vale View, Wood Bank
Skirting Beck at Egremont, Church View and Beck Side
Skirting Beck at Egremont, Milton Road to Beck Side
Town Beck at Ulverston from The Gill downstream to The Ellers area
Whangs Beck at Egremont, Southey Avenue to Beck Side
River Cocker at Southwaite Bridge

Two bridges closed because of the weather

Cumbria County Council says that two bridges have been closed because of the weather. They are:

Egremont Bridge, Egremont
Forge Bridge, Eskdale

Police warn of 'significant flooding' at Brettagh Holt roundabout

Barrow police warn that there's "significant flooding" at the Brettagh Holt roundabout:

Travel: A595 and J36 on M6 re-opened at Bothel

The A595 has been reopened in both directions following the earlier closure between Bothel and Mealsgate because of flooding.

The exit sliproad on the M6 at J36 southbound has also re-opened.

Travel: Heavy traffic on A591 due to flooding

There's heavy traffic on the A591 in both directions between B5287 Stock Lane and Greenbank Road because of flooding which is partially blocking the road.

Water is reported to be about 2ft (61cm) deep and one vehicle has already become stuck.