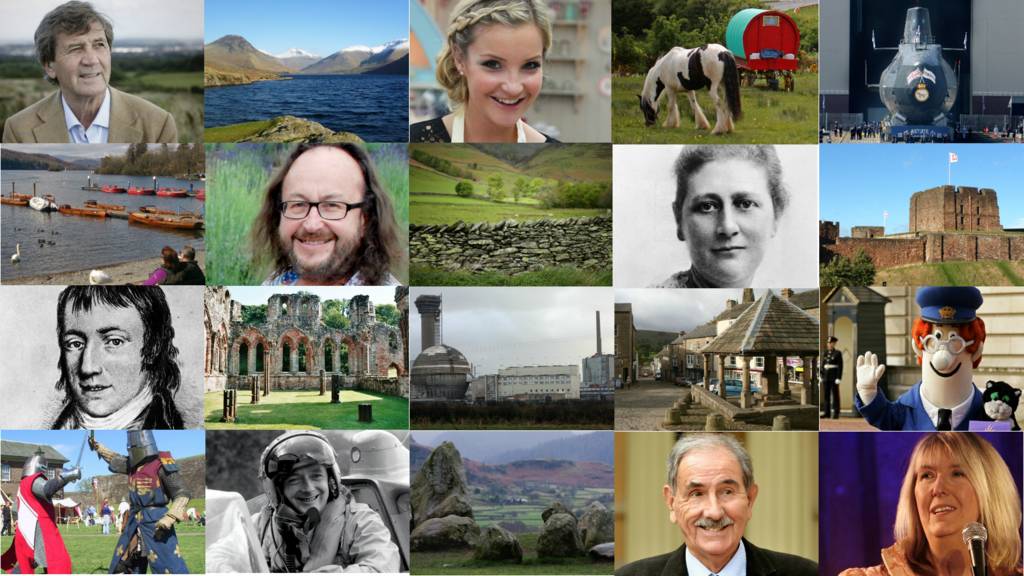 Summary
Tuesday 3 October 2017
BBC Cumbria Live: as it happened

Lee Macaulay

Journalist, BBC Cumbria

Our updates have now ended for today.

Here's a recap:

We'll be back tomorrow to let you know about the latest news, sport, weather and travel for Cumbria tomorrow morning from 08:00.

Weather: Clear spells with just a few showers

Dry and clear with a few showers tonight as temperatures fall to around 9C (48F).

A windy day to come tomorrow with some bright spells as first but turning more cloudy through the day.

Tomorrow's top temperature will reach 14C (57F)

New Moorside owner could be found by early near year

The man in charge of developing a new nuclear power station in West Cumbria has said that he expects to have secured a new investor by early 2018.

During an interview with Reuters news agency, NuGen chief executive Tom Samson said the consortium had hoped to have a nuclear power station up and running next to the Sellafield nuclear site by 2025 but that this now wouldn't happen.

Quote Message: Clearly there will be a shift in the start date from 2025 to later in the 2020s, but the plant could still be up and running before 2030 from Tom Samson Chief Executive, NuGen

He added that there were a number of credible bidders interested in NuGen's Moorside project.

It's thought that South Korean company Korea Electric Power Corp (KEPCO) and China General Nuclear Power Corporation were interested in the project.

Donations reopened to Cumbrian fund for Millom flood victims

A Cumbrian charity has reopened donations to the fund that was set up to help following the 2015 winter floods in response to the weekend's flash flooding in Millom.

The Cumbria Community Foundation has donated £50,000 of its own money towards the Cumbria Disaster Fund and is now asking for others to make their own donations.

More than £10m was raised for its predecessor, the Cumbria Flood Fund, which was set up the same weekend as the severe flooding caused by Storm Desmond.

Andy Beeforth, Chief Executive of Cumbria Community Foundation, said: "It has been devastating to see the damage done yet again to our community over the last few days.

"We want to do all we can to help and are pleased to be part of the coordinated response led by the county council. We hope that our donation will help to bring immediate assistance to those most in need."

The charity says that people looking to apply for funding can find more information on its website.

Cumbrian power station makes top 10 places of scientific interest

The Cumbrian site of the first commercial nuclear power station to generate electricity has made a list of the top 10 most important places of scientific interest in England.

The predecessor to the modern day Sellafield Nuclear Site, Calder Hall was chosen by Professor Robert Winston for Historic England's campaign Irreplaceable: A History of England in 100 Places

In 1956, the Queen pulled a lever to connect Calder Hall to the National Grid for the first time.

It later closed in 2003 with its well-known cooling towers demolished four years later.

The other places featured on the list are:

Bletchley Park, Milton Keynes, Buckinghamshire (codebreaking)
Royal Observatory, Greenwich, London (astronomy and time measurement)
Jodrell Bank Observatory, Macclesfield, Cheshire (radio astronomy)

Ouse Washes, March, Cambridgeshire (drainage engineering)
Brown Firth Research Laboratories, Sheffield (stainless steel)
The Jenner Hut, Berkeley, Gloucestershire (smallpox vaccine)
Former MRC Biophysics Unit, King's College London (DNA)
Former ICI laboratory, Widnes, Cheshire (anesthetics)
Water pump on the corner of Broadwick & Poland streets, Soho, London (public health)

Severe accident: A591 Cumbria both ways

BBC News Travel

A591 Cumbria both ways severe accident, between Mislet Brow Turn-off and Ings Turn-off.

A591 Cumbria - Slow traffic on A591 in both directions in Ings between the Mislet Brow Turn-off junction and the Ings Turn-off junction, because of an accident involving two vehicles earlier on.

To report traffic and travel incidents dial 0330 123 0184 at any time

Copeland MP backs parents on school transport costs

The Conservative MP for Copeland has told BBC Radio Cumbria that funding should be provided to West Cumbrian parents who've sent children to their third closest school in Millom after failing to gain a place at their closest school, West Lakes Academy.

Speaking to Mike Zeller at Breakfast, Trudy Harrison MP said that it wasn't the fault of those parents and that Cumbria County Council should be providing funding for their children to attend Millom School rather than making them go to the second nearest school, The Whitehaven Academy:

Quote Message: We're talking about probably a mile difference. There already is a bus route going to Millom whereas the route to Whitehaven Academy would be a completely new bus route. from Trudy Harrison MP for Copeland, Conservative

In a statement, Cumbria County Council said the critical issue is the '"very low number of parents" sending children to The Whitehaven Academy:

It said: "The changes that parents are requesting are outside the existing school transport policy, and would set a precedent that could have serious financial implications for the council, and taxpayers."

Cumbrian nuclear plant set to be delayed

Severe accident: A590 Cumbria eastbound

BBC News Travel

A590 Cumbria eastbound severe accident, between A591 and M6 J36.

A590 Cumbria - A590 partially blocked and queuing traffic eastbound between Brettargh Holt Roundabout in Levens and Kirkby Lonsdale in Crooklands, because of an accident involving three vehicles.

To report traffic and travel incidents dial 0330 123 0184 at any time

Parents' frustration at taking school transport into own hands

West Cumbrian parents whose children did not win a place at their first choice school say they're being unfairly hit with transport costs.

More than 20 children from villages near Egremont were denied a place at West Lakes Academy because it's in such high demand.

It means parents who've sent their children to Millom School instead of the next nearest school, The Whitehaven Academy, are having to fund their own school transport.

Quote Message: When the children can't have a place there [West Lakes Academy] because of things out of our control, they should be allowed to go to the other school [Millom School] that links have already been forged with and the transport should be paid. from Helen Sibbald

Cumbria County Council says it understands the parents' frustration but that paying for transport, or moving their villages to additionally be in Millom School's catchment area, would be costly to taxpayers.

Sport: New permanent Barrow manager looks for first win

Manager Micky Moore is looking for his first win after taking permanent charge of Barrow AFC as they travel to Hartlepool in the National League.

Midfielder Bedsente Gomis is back from suspension.

BBC Radio Cumbria Sport has live coverage of the game tonight on AM and online while Carlisle United vs Leicester City 'B' is the commentary on FM and Freeview channel 721.

Bank closed because of falling roof tiles

A West Cumbrian bank branch is currently closed because of falling roof tiles.

Weather: Bright and breezy with a few showers

Most places should stay dry on a bright and breezy afternoon with a few showers. Highs of 14C (57F)

A few showers to come overnight but it'll be dry otherwise with clear spells as lows fall to 9C (48F)

Carlisle MP says Foreign Secretary's future 'is decision for PM'

The Conservative MP for Carlisle John Stevenson says that only Theresa May's opinion matters when it comes to Boris Johnson's future in the government.

The Foreign Secretary is due to address the Conservative Party Conference in Manchester later.

It comes after he's been forced to deny suggestions that he was on the verge of resigning because of cabinet tensions over Britain's exit from the European Union and charges that he'd been undermining the Prime Minister.

Copyright: John Stevenson

Quote Message: At the end of the day, it's up to Theresa May who is in her government. He is a big beast, he is a character. I don't always agree with his views - particularly on aspects of Brexit but nevertheless he does make a contribution to political debate." from John Stevenson Conservative MP for Carlisle

Egremont coach gets 'amazing opportunity' with wrestling

A Cumbrian wrestler has landed his dream job after being head-hunted to be a coach for wrestling group WWE.

Johnny Moss runs the county's only wrestling school in Egremont but will travel to Orlando later this month to start his new job.

A final "goodbye" match is being held at Whitehaven Sports Centre on Saturday 14 October and the Johnny Moss School of Wrestling will stay open in the town.

Turbine delivery delay for drivers in Longtown

Organisers respond to criticism over 'shocking' Cumbrian Run

Organisers of the Great Cumbrian Run have responded to criticism from runners who took part in Sunday's half marathon.

Plans for north Cumbrian town's future a step closer

The planned development of Penrith over the next three decades could move forward today.

Eden District Council wants to create a masterplan for the town that would decide on the best places to build new roads, industrial estates, schools and houses.

Today, senior councillors are being asked to allow a budget of up to £45,000 to hire the consultants who'll produce the document.

Copyright: Eden District Council

Millom flood: Pumps are working says water company

The county's water company says its new pumps in Millom are working as normal.

It comes after criticism from people whose homes were flooded in the town over the weekend.

Around 160 properties were damaged following the heavy rain on Saturday.

In 2015, United Utilities was fined £750,000 following a pump failure two years earlier at King Street Pumping Station in Millom which allowed seven million litres of raw sewage to flow into the Duddon Estuary.

At the time, the company said it had refitted the pumping station as part of an £80m project to improve sewage disposal and treatment.