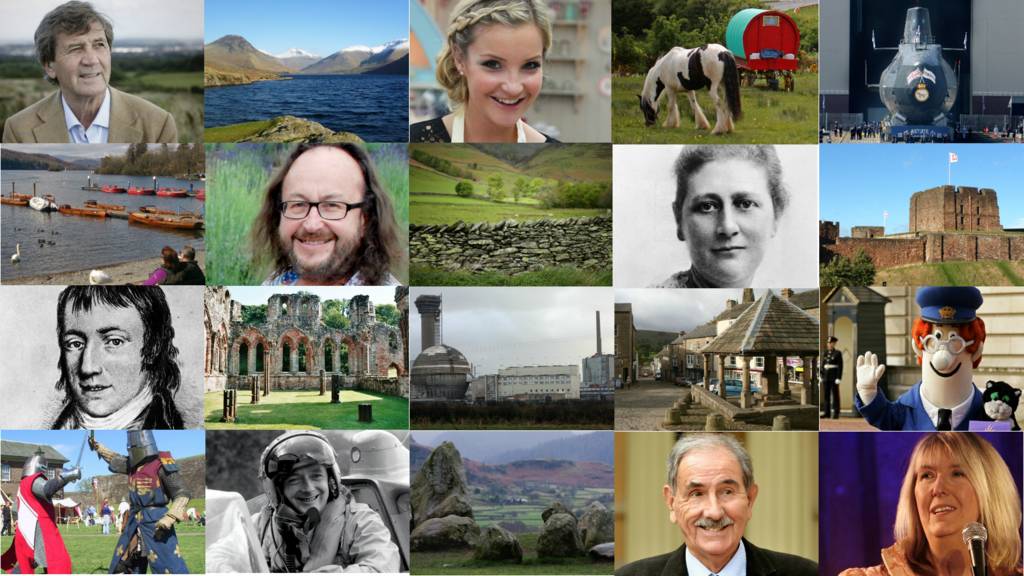 Summary
Tuesday 12 September 2017
Our live coverage across the day

We've now finished posting the latest news, travel reports, a regular weather forecast and other things that catch our eye, for today.

Here's a reminder:

We'll be back to tell you what Aileen has done, and cover the rest of the county's developments, from 08:00 tomorrow, earlier if the lady turns out to be worse than expected.

If you have pictures of Aileen's doings or anything else, or news, you can email them to us, send them using Twitter where we're @BBC_Cumbria or head to our Facebook page.

Stay safe, and have a good evening.

Chair of safeguarding children board: 'There's a passion to improve'

The woman who chairs the Cumbria Local Safeguarding Children Board has been talking about the changes made to try to stop incidents like the death of Poppy Worthington taking place.

Gill Rigg has called for a series of workshops and a conference to discuss the lessons learned from serious case reviews of six cases dating back a number of years.

The latest report, published today, described how professionals trying to protect two very young children from neglect and suspected sexual abuse were "overwhelmed" by dealing with a family with a culture of substance and alcohol abuse, and domestic violence.

But she said new arrangements to make sure information was shared and passed on were now operating.

Quote Message: I can never give a guarantee but I've seen significant improvements, and I have worked in children's safeguarding for over 40 years.

Quote Message: There is a massive commitment and passion for improving safeguarding in Cumbria." from Gill Rigg

'Blame no use', says opposition councillor on Amey court case

Bob Cooper

Political reporter, BBC Cumbria

An opposition Conservative councillor who chairs an important committee on Cumbria County Council says it's no use blaming anyone for mistakes that led to a £21m court case.

The council has apologised for a dispute with its former roadworks contractor Amey, in which it wrongly withheld payments for alleged poor workmanship and lost out in litigation.

Records show councillors were not asked about holding back the money, and it's proved impossible to identify whether any particular officer signed off the decision

But Conservative Hilary Carrick, whose Audit and Assurance Committee has been examining the case, says identifying culprits for the decision won't help.

Quote Message: It's very easy to look at blame as some sort of closure. The closure that we're looking for is why did the council get into this position in the first place and what does it need to do to make sure it doesn't happen again." from Hilary Carrick

Cumbria's weather: Aileen comes on, with gales and rain

There's a yellow weather warning for the wind tonight, with gusts potentially reaching around 70mph.

Storm Aileen, the first named storm of the season, also has a yellow warning for rain.

Temperatures will slip to about 8C (46F).

You can see the latest BBC weather forecast for where you are, and all the information on weather warnings for the night, here.

Child neglect report : Charity speaks of 'missed opportunities'

The NSPCC says a report today into a six year saga before two small children at risk of neglect and abuse were taken into foster care "highlights a series of missed opportunities".

The charity said: "The report raises concern over the assessment of risk surrounding the children and it's important that all its recommendations are swiftly acted on."

The independent chair of the Local Safeguarding Children Board, Gill Rigg, said the board, which oversees the protection of children, had changed its practice since the six years covered by the serious case review.

She said the changes "enhance the partnership approach to safeguarding children and the sharing of information".

Motorway patrols cut in on calls

Cumbria police patrols are out watching the weather, and how people drive in it, this afternoon. They like their smartphone symbols as well...

Environment Agency adds warnings on flood risk from Storm Aileen

Up'n'over: New arch swings in to replace historic bridge

Bell Bridge was 250 years old when the River Caldew, fatally undermined by the floods of Storm Desmond, collapsed in January 2016.

Today a new arch was lifted into place, that should be strong enough to survive whatever future storms can throw at it.

By the magic of TV, here's how the job was done, in 15 seconds.

Woman arrested 'after stag party claims Ibiza trip for wasn't booked'

A 29-year old woman has been arrested on suspicion of fraud by false representation.

Cumbria police say the woman from Cleator Moor was arrested yesterday evening and has been released while investigations continue.

Police would not confirm the details of the investigation, but the arrest comes after The Sun reported a stag party arrived at Leeds Bradford airport to find their tickets had not been booked.

None of those involved would comment to the BBC.

Travel: Slow going on the A6 into Kendal

There's very slow traffic at the Duke of Cumberland junction on the A6 into Kendal.

Samurai sword man jailed for threats

A man who terrified a woman by threatening to chop her up as he stood in a Workington street with a Samurai sword has been jailed for 16 months.

Barry Simm, 38, of Gosford Street in Liverpool, made other threats against Louise Bowman and spat at her, Carlisle Crown Court was told.

Simm admitted possessing an offensive weapon and putting a person in fear of violence.

He was also banned from contacting his victim for seven years.

Lottery numbers come up to help fund Cumbrian projects

More than £70,000 has been awarded by the National Lottery Fund to eight projects across Cumbria.

They range from three separate projects to improve school playgrounds, to training people with learning difficulties in furniture restoration and providing help and support to new mums.

Controversial Carlisle road scheme may be scrapped

A plan to widen one of Carlisle's main roads will be discussed by city councillors this evening.

Cumbria County Council had suggested adding an extra lane to Warwick Road to ease congestion.

But some local people have objected saying they are worried about safety and the removal of trees.

The city council's Labour leader, Colin Glover, has submitted a motion opposing the plans. If other councillors agree, the scheme is expected to be altered, or scrapped.

Man who abused child warned he faces jail

A man who repeatedly abused a child in the Eden Valley and used threats of violence to buy secrecy has been told he faces jail.

Roger Cook went on trial at Carlisle Crown Court yesterday and denied 12 indecent assault charges with a child under the age of 16.

Today, the 50-year-old pleaded guilty to three charges which occurred in the Appleby area over a two-year period.

Jurors returned not guilty verdicts on the other charges after hearing no evidence would be offered.

Cook, from Trotternish Avenue, Staffin, on the Isle of Skye, was given bail and told to return to court on 20 October for sentencing.

New bridge hoisted to replace 18th century arch that Desmond swept away.

Work is carrying on apace to replace the Bell Bridge, whose 18th Century arch over the River Caldew was brought down by Storm Desmond.

Today contractors were craning the deck on the new bridge on to concrete abutments.

But in spite of being built of modern concrete and steel, it's being masonry-clad to look as similar as possible to the one that was washed away.

We'll have some more pictures to show you the whole story later.

County's child carers 'need to learn lessons of neglect reports'

The Cumbria Local safeguarding Children Board, which oversees protecting children in the county, says it's planning a conference to spread the lessons of the serious case review published today, and a number of other similar reports.

In a covering message, it says: "If you work with children and families in Cumbria, there may be additional specific actions and lessons for your agency and your role."

The report published today speaks of "inaction and drift" for six years as two very young children were neglected and possibly sexually abused in a family where drug and alcohol abuse, and domestic violence, were rife.

In a post on its website, the board lists five other serious case reviews from 2016, including the case of Poppi Worthington, and says: "Sharing learning from serious case reviews in order to improve safeguarding practice is vital."