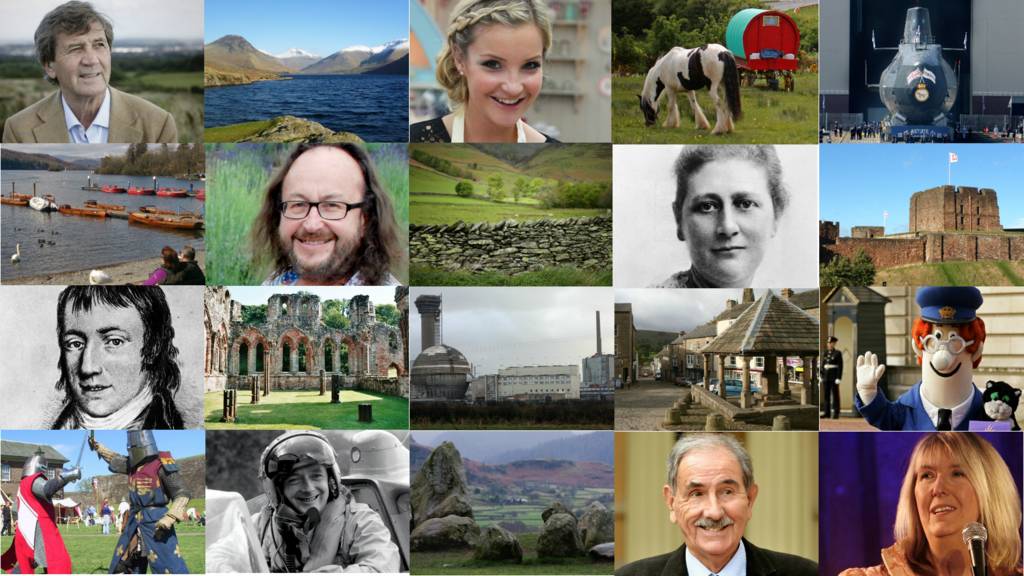 Our live coverage across the day

We've now finished posting news, travel reports, a regular weather forecast and the odd other nugget from around the county, for today.

Here's a reminder of some of the main developments.

We'll do it again from 08:00 tomorrow.

Until then, if you want to pass on news you think we should know, or share a photo with the county, you can email them to us, send them using Twitter where we're @BBC_Cumbria or head to our Facebook page.

Have a very good evening.

Barrow hope for points from visitors Halifax

Barrow host FC Halifax Town tonight, still looking for their first points of the new National League season.

Joel Dixon, Andy Parry and Byron Harrison all miss out again through injury.

The Bluebirds lost their opening game to Dagenham 2-1 at the weekend.

Match commentary is on BBC Radio Cumbria's AM frequencies and online.

Cumbria's weather: Showery rain, then windier

Heavy showery rain will continue this evening and initially overnight, before easing southeastwards.

It will then turn dry with strengthening winds, and temperatures falling to about 11C (52F).

You can find the latest BBC weather forecast for where you are, here.

Sellafield defends pay offer as unions call ballots

Sellafield Ltd's defended a 1.5% pay rise given to staff, after two unions at the plant called ballots on industrial action.

Unite and the GMB unions, which together represent about 5,000 workers, have both rejected a 1.5% increase being paid from next month.

Unite said the rise was "paltry" but the company said it had already been accepted by a union representing more than half the 10,000 workforce, and would increase the wage bill by £12m a year.

"Like all publicly funded organisations we have to control costs and ensure we are delivering value for money for the tax payer, so we're implementing a pay award which we feel is fair, reasonable and, most importantly, affordable."

Top mountain race returns to Lakes after nine-year gap

One of Britain's best-known mountain endurance races is returning to the Lake District next year for its 50th birthday, for the first time since 2008.

Competitors in the Original Mountain Marathon have to navigate their way up to 120km across a series of mountain checkpoints over two days, camping in the hills overnight and carrying all equipment and supplies.

There was controversy in 2008 when the race, based in Borrowdale, was hit by severe weather, but competitors see cold, rain and wind, almost inevitable for the race's traditional timing at the end of October, as part of the challenge.

The 2,000 places in the race, starting on 28 October, are already booked with 300 in the waiting list.

Biker still critical after Ullswater crash

A motorcyclist is still in a critical condition in the Preston Royal Infirmary after a crash on the A592 at the weekend.

The 53-year-old man, from Manchester, was riding a Triumph that collided with a Ford driven by a man from Penrith.

The crash happened between Aira Force and Glenridding at about 18:00 and the road was closed for a couple of hours while the emergency services dealt wkth the incident..

Carlisle United short of defenders for cup tie

Carlisle United could be down to just four fit defenders for tonight's Carabao Cup first round tie at League One Fleetwood following an injury to summer signing Tom Parkes at the weekend.

Forward Sam Cosgrove is one of several players hoping to make their senior debut tonight following loan spells in the non-league.

There's full match commentary on BBC Radio Cumbria FM and Freeview 721.

NSPCC joins praise for groping teacher's victim

The children's charity the NSPCC has joined police in praising the bravery of the young victim of a teacher jailed today for assaulting her.

David Harrison, 26, of Friars Garth, Abbeytown, had denied four charges of assaulting a child under the age of 13, but he was jailed for four years after the jury found him guilty.

The girl's evidence, in which she used two small mannequins to demonstrate to a police officer how she had bee assaulted, was shown to the trial.

A spokesman for the NSPCC said: ""Harrison knew what he was doing was wrong, yet he carried on abusing his young victim for several months.

"She has shown great courage in speaking out about the abuse she suffered at his hands."

Council offices shut as police investigations continue

Allerdale council says its office in Maryport will remain closed for the rest of the day, because it's inside a police cordon for an investigation into a stabbing last night.

Man arrested after Maryport stabbing

A 32-year-old Carlisle man has been arrested on suspicion of attempted murder after an incident in Maryport left a second man critically ill in hospital.

Police say the 34-year-old suffered stab wounds in the assault in Senhouse Street just after midnight.

The injured man is now being treated in the Cumberland Infirmary in Carlisle.

Detectives say the scene's still cordoned off and they've appealed for witnesses.

Your pictures: The cattle built for the Cumbrian summer

It may be rather unseasonal weather for August, but for these HIghland cattle photographed by Carolyn Farthing up at Hartside, it's just water off a cow's back.

Copyright: Carolyn Farthing

Many thanks to Carolyn; if you want to pass on news you think we should know, or share a photo with the county, you can email them to us, send them using Twitter where we're @BBC_Cumbria or head to our Facebook page.

Police step up hunt for bar attacker as victim counts the cost

This man was punched in the face in the Walkabout Bar in Carlisle more than two weeks ago, but his bruises are still vivid, and his deeper injuries remain.

Copyright: Cumbria Police

The 33-year-old suffered facial fractures and a head injury that lead to a brain haemorrhage, and has now been released from hospital.

Police have renewed an appeal for witnesses.

A 32-year-old man has been arrested and questioned about the incident.

Travel: Lorry fire slows traffic near Penrith

A lorry on fire near Penrith has closed the A6 near Kemplay roundabout and caused congestion on the A66, from the M6 at junction 40 past Kemplay roundabout.

Police welcome sentence for groping teacher

Police have welcomed a four-year jail sentence handed down to a teacher who was found guilty at Carlisle Crown Court of putting his hand down the front of a young girl's clothing.

Copyright: Cumbria Police

David Harrison, 26, of Friars Garth, Abbeytown, was convicted by a jury of four counts of sexual assault on a girl under the age of 13; he has been placed on the sex offenders register for life, and must abide by an indefinite sexual harm prevention order.

Set Con Deborah Story said his victim had shown immense courage, and Harrison had shown a total lack of remorse.

Quote Message: We are pleased that Harrison will now serve time for his crimes." from Deborah Story Cumbria Police

Cumbria's weather: Increasing risk of showers

There will be some bright or sunny spells this afternoon, though with an increasing risk of a few showers breaking out through the day.

The temperature will rise to 19C (66F) at best, but it will probably be much cooler.

You can find the latest weather forecast for where you are, here.