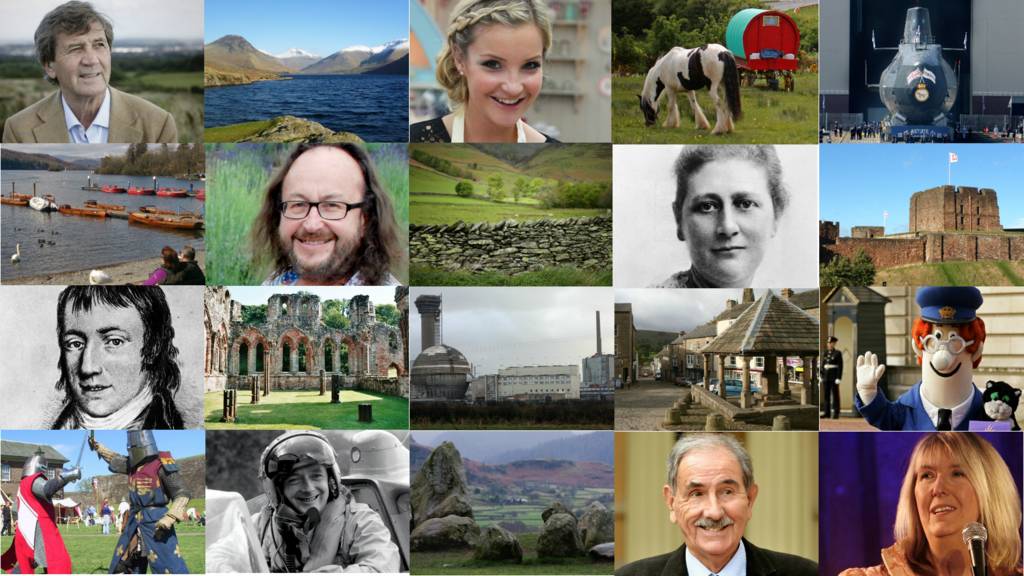 As it happened: BBC Cumbria Live

We've now finished posting news from across Cumbria for today.   

We'll be back to do it again from 08:00 tomorrow. As always, if you have a photograph you'd like to share or you have news you think we should know, you can email us, tweet us or get in touch through our Facebook page. 

Have a lovely evening.

Maryport fire: Manufacturing company hopes it'll be 'business as usual' tomorrow

The manufacturing company which lost its storage facility in a major fire in Maryport yesterday is hoping it'll be "business as usual" by tomorrow morning. 

Fire fighters were called to SIS Pitches on the Glasson Industrial Estate yesterday lunchtime. They're expected to remain on site for most of today. 

But the company, which makes artificial sports pitches, has told BBC Radio Cumbria that it has already ordered replacement materials and hopes to be up and running again tomorrow. 

Weather: Cloudy and cold night with patchy rain

Any showers soon dying away this evening. However, the skies will turn increasingly cloudy overnight with patchy rain drifting southeast through the early hours of the morning. 

It'll be chilly with lows of 4C (39F).

You can get a detailed weather forecast for where you live here.

Carlisle man jailed for breaching court order over contact with children

A man who talked to children despite being banned from doing so has been sent to prison. 

Brian Key, 49, from Freshfield Court, Carlisle, was given a restraining order by a judge in 2014 after harassing two 14-year-old girls on Facebook. 

But Key admitted speaking to several children on separate occasions in Carlisle in September and October last year. 

The judge at Carlisle Crown Court sent him to prison for two years.

Copyright: Cumbria Police

Strike to hit Northern services on Friday

A 24-hour rail strike on Northern services will go ahead after talks failed to resolve a dispute over the role of guards.

Rail, Maritime and Transport (RMT) union members are to walk out on Friday over staffing for new trains due to come into service in 2020.

The company - which serves routes across the north, including Cumbria - said it expects to run "more than 40%" of its timetable and more than 300 rail replacement buses.

People living near fire advised to still keep doors and windows closed

People living near a large factory blaze are being advised to keep their doors and windows closed and to stay out of the smoke plume from the fire for the next 24 hours.

Firefighters are still at the scene of the blaze at the SIS Pitches factory in Maryport more than 24 hours after it started.

A number of roads in and out of Maryport were closed for public safety reasons but all have now been reopened, with the exception of Hutton Place between the A596 Main Road and Ellenborough Place which will remain closed until further notice.

The Household Waste Recycling Centre is closed today and people are advised to use Clayflatts recylcing centre until the Maryport site reopens.

Maryport factory blaze was 'extremely challenging'

The fire at a factory in Maryport was one of the biggest in the area for many years and was "extremely challenging", Cumbria's chief fire officer said.

The fire at SIS Pitches on Glasson Industrial Estate started on Tuesday afternoon and more than 60 firefighters were involved in tackling it.

Fire crews stayed at the scene through the night and most if it was put out by this morning. Firefighters are now dealing with the remaining hotspots and are likely to be there for the rest of the day.

Chief Fire Officer Paul Hancock said: "This was a very severe and extremely challenging fire for our fire crews to deal with, it is certainly one of largest that we have dealt with in West Cumbria for a number of years. 

"The incident required a significant and sustained response from our firefighters, and support of colleagues from Sellafield and other agencies. 

"Thankfully no one has been hurt in the blaze and we will now begin the fire investigation work to determine the cause of the fire." 

Copyright: Cumbria Police

Police 'seriously concerned' about missing man

An investigation is under way in Lancaster after a man disappeared from the Royal Lancaster Infirmary, after being taken there from Windermere. 

Edward Giles, 59, also known as Ted was last seen yesterday morning. 

Det Insp Andy Ellis from Lancashire Police, said: "We are now seriously concerned about Mr Giles and are appealing for the public's help in locating him. 

 "The circumstances of his disappearance are very worrying. He has arrived at hospital in a confused state, left before he could be fully assessed and went missing without providing more personal details to staff". 

Copyright: Royal Lancaster Infirmary

Copyright: Royal Lancaster Infirmary

Travel: A596 and train line re-open following Maryport fire

The A596 has re-opened following the fire on the Glasson Industrial Estate in Maryport, although Hutton Place remains closed between the A596 and Irish Street/Ellenborough Place.

Trains are returning to normal but some services may be delayed. Replacement buses are still running to supplement trains.

Your photos: A sunny day across the county

Thanks to our BBC Weather Watchers for some gorgeous pictures from around the county.

Graham from Keswick sent us this photo:

And 'KT' from Elterwater uploaded this image:

If you'd like to be a BBC Weather Watcher you can sign up here.

Mountain film festival set to get under way in Keswick

An international festival of adventure films begins three nights of screenings in Cumbria later.

The Banff Mountain Film Festival, from Canada, is visiting Keswick as part of its world tour. 

Two different programmes of films featuring sports such as climbing, kayaking, and paragliding are being shown at the Theatre by the Lake, tonight, tomorrow and on Saturday.  

Copyright: Matthew Newton/Banff Mountain Film Festival

Copyright: Stephen Gautier/Banff Mountain Film Festival

Further £90m needed to repair storm damaged roads and bridges

More than 500 roads and bridges in Cumbria are still in need of repairs following December 2015's Storm Desmond.

The county council says it has already spent about £30m repairing such damage and the remaining work will cost £90m.

The A591 was closed after Storm Desmond caused a landslip. It re-opened in May last year.

Weather: Most places dry with sunny spells

Scattered showers will fade away this afternoon with most places becoming dry with sunny spells. 

There'll be a moderate northerly wind and a maximum temperature of 10C (50F). 

You can see a detailed weather forecast for where you live here.

Weather: Today's fells forecast

If you're thinking of heading out on to the fells this afternoon, here's the forecast:

Temperatures at 3000 feet: -3C rising to -1C 
Winds: Strong northerly gusting 45mph decreasing moderate to fresh 
Cloud: Fells will be cloud free 
Visibility: Excellent 
Freezing level: 200m (650ft) rising to 600m (2000ft) this afternoon

Barrow Raiders to face Leeds Rhinos in Challenge Cup

Paul Newton

Sports Editor, BBC Cumbria

Barrow Raiders were handed a trip to Super League side Leeds Rhinos in last night's draw for the sixth round of rugby league's Challenge Cup.

Paul Crarey's side - who are the lowest ranked team left in the competition - will travel to Headingley on the weekend of 13 and 14 May.

More job losses at Siemens in Ulverston

Neil Smith

South Cumbria journalist, BBC Cumbria

Another 36 jobs are going at a factory in Ulverston. 

Siemens is shedding the jobs at its Subsea factory, which makes underwater cable connectors. It's blaming the continuing slump in the world's oil and gas industries.

The job losses come on top of the 52 positions that went last year and 60 the year before that. 

Photos: Carlisle Castle in the morning sun

This was my view on the way into work this morning. I'd love to see your photos from this beautifully clear (and cold) Wednesday morning.

You can email them to us here.

Travel: Warning of delays in Barrow this afternoon

The shipyard in Barrow is warning of delays for motorists as it moves a heavy load in from the docks later.

There will be roadblocks for around 30 minutes from 14:30 as the load moves along Dock Road, Michaelson Road and Bridge Road.

Car parking is also restricted on Michaelson Road and Bridge Road until after the move has taken place.

Cumbrian union supports rail strike

Neil Smith

South Cumbria journalist, BBC Cumbria

Trade union activists in Barrow are supporting plans for a strike that will lead to many Cumbrian train services being cancelled on Friday. 

The Barrow Trades Union Council will take part in a demonstration in the town today.

It's in support of the RMT union, which is in a dispute with train operator Northern because of plans for train drivers rather than conductors to operate doors.