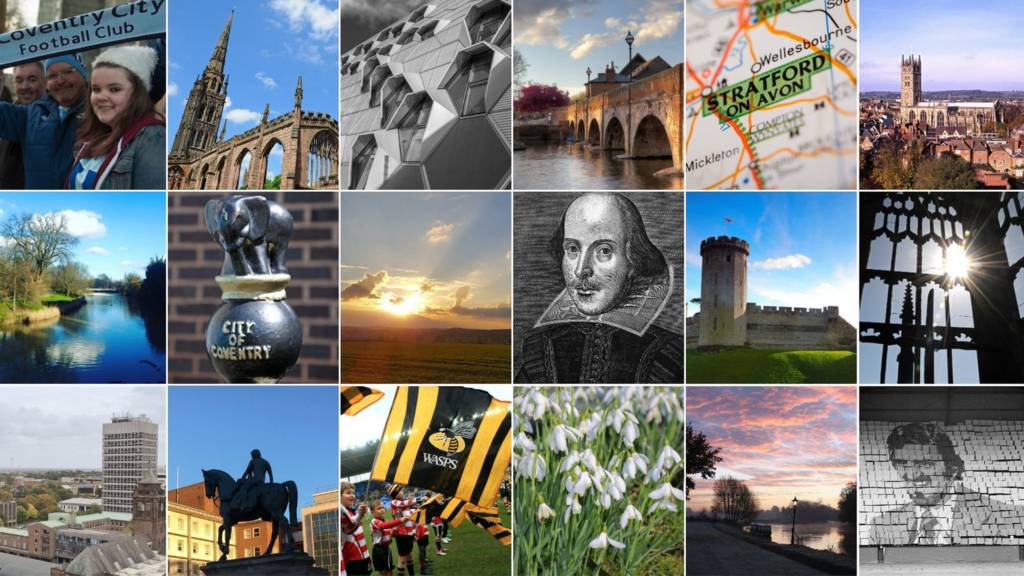 BBC Local Live: Coventry & Warwickshire
Summary
Updates on Thursday 7 July 2016
Latest weather for the West Midlands

Our coverage across the day

Live updates for Coventry and Warwickshire have now ended for the day.

We'll be back with you from 08:00 tomorrow but keep an eye out here for updates through the evening and into the morning.  

Watch: Latest weather for Coventry and Warwickshire

Shefali Oza

BBC Midlands Today

Warwickshire MP 'delighted' over Conservative leader vote

The only Warwickshire MP to back Conservative leadership contender Andrea Leadsom has tweeted his "delight" at the news she will be going through to the next round of the contest.

The North Warwickshire and Bedworth MP was among 84 MPs who voted for Leadsom, compared with 199 for Theresa May and 46 for Michael Gove.

Drug ring ordered to pay nearly £600k

Vanessa Pearce

BBC Local Live

Members of a drug smuggling ring have been ordered to pay nearly £600,000 under the Proceeds of Crime Act.

The gang, from Coventry, Warwickshire and Essex, were jailed in 2014 for distributing millions of pounds worth of class A and B drugs around the country, police said.

At hearings at Birmingham Crown Court this week four of the gang, all from Coventry, were ordered to pay back £595,662.18 within six months or serve additional prison sentences.

Ice Hockey: Coventry Blaze sign Canadian Garrett Klotz

BBC Coventry & Warwickshire Sport

The Blaze have announced a new signing, in the shape of Canadian forward Garrett Klotz.

The 27-year-old has played over 370 professional games and scored nearly 900 penalties, most recently with the East Coast Hockey League's Elmira Jackals.

Latest headlines: Illegal skin products on sale in Coventry; and former special constable jailed

Vanessa Pearce

BBC Local Live

Drones in plane near misses every week

Daniel Wainwright

Data unit - English regions

More near misses between drones and aircraft over the UK were reported in the first six months of 2016 than the whole of the previous year.

New figures show there were 34 reported near misses, including one in Coventry, between January and June, compared with 29 for all of 2015.

Future of homeless Coventry Bees could be decided within days

The future of homeless Coventry Bees could become clearer within the next two weeks as "positive talks" continue with the owners of the speedway team's Brandon Stadium.  

Watch: 'I use cream to make myself lighter'

An Afro-Caribbean model has spoken about the pressures to lighten skin, after a BBC investigation discovered illegal skin bleaching products being sold in Coventry.

Mutsa Chikwana, 24, from Coventry, said she hid her products from her daughter and tried to teach her that "black is beautiful".

Trading Standards have seized the illegal products which were being sold.

Big Picture: Chesterton Windmill

Each day we feature a photograph sent in from across England - and today's was taken by Deano Moore of Chesterton Windmill in Warwickshire.

He said the photo was taken after a downfall of rain  

If you have a picture you'd like to share, email us at england@bbc.co.uk, post it on Facebook or tweet it to @BBCEngland. You can also find us on Instagram - use #englandsbigpicture to share an image there.  

Kenilworth Station plans dealt a blow

Stratford teacher takes on 11-hour commute to work

It took one teacher 11 hours to get to work at Stratford's King Edward VI School today, as he joined colleagues in a Duke of Edinburgh Award challenge.

To mark the 60th anniversary of the awards, about 30 teachers at the school decided to walk in.

Award co-ordinator Rachel Biggs said the distances ranged from the headmaster walking "18 paces and a flight of stairs" to head of computer science Richard Barfoot walking 36 miles".

"I think he's probably planning on getting the train home," she said.

You can follow their journeys on Twitter.

Illegal skin products seized in Coventry

BBC Coventry & Warwickshire

National Trading Standards has joined with UK Border Force officials to tackle banned skin bleaching products getting into the country.

Warwickshire Trading Standards officer Eleanor Lake said the authority had seized 1,000 illegal skin products at Coventry airport since May.

"We've found that some of them have contained up to 13% hydroquinone and significant amounts of mercury and these are dangerous substances which can lead to cancers.

"The idea is that they're putting these products on their skin to make themselves more beautiful - but ultimately they're causing themselves harm".

Endangered bats roosting in a Hampton-in-Arden property earmarked for demolition have been saved, West Midlands Police says.

Several rare species had been discovered ahead of works in 2012, meaning development could only go ahead if their protection and safe migration was guaranteed. But as work got under way last year, a builder found a bat under a roof tile.    

Copyright: West Midlands Police

It was found the developer had ignored previous instruction to protect the animals.

Police say he was spared prosecution after apologising and agreeing to build dedicated environments to house the bats.

Warwickshire MPs switch support to Theresa May in leadership race

The two Warwickshire MPs who'd previously supported Stephen Crabb in the Conservative leadership race are now both backing Theresa May.

Mark Pawsey, MP for Rugby, and Attorney General Jeremy Wright - MP for Kenilworth and Southam - have pledged their support for the Home Secretary as MPs vote today for a shortlist of two candidates who then go forward to a vote of members.

Premiership Rugby fixtures announced

BBC Coventry & Warwickshire Sport

Russell thinks castle is something to 'Crowe' about

Hollywood star Russell Crowe is in the UK and here's what he had to say about a local tourist attraction.

Former Warwickshire special constable jailed for abuse

A judge at Warwick Crown Court told former Special Constable Ronald Potter he was "effectively leading a double life" as he jailed him for indecently assaulting a boy.

Sentencing the 79-year-old from Tippers Hill lane, Fillongley, to three years in prison, Judge Sylvia de Bertadano accepted the pensioner was previously of exemplary character who had forged a successful business. 

Copyright: West Midlands Police

She said: "I don't doubt that these proceedings have caused you very considerable stress. You were effectively leading a double life which few of your friends or family knew about or even suspected."