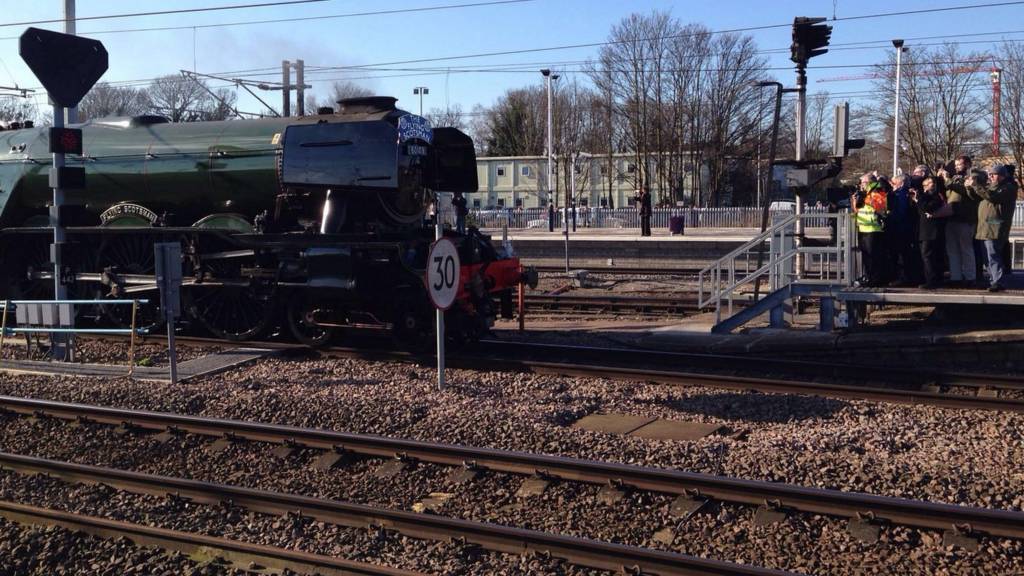 BBC Local Live: Cambridgeshire
Summary
Updates for Thursday, 25 February 2016
More news, sport, travel and weather from 08:00 on Friday
Our live coverage across the day

Weather: A dry night with frost and ice

Alex Dolan

BBC Look East weather

It'll be a dry evening and night, but some areas of cloud will prevent temperatures from falling as low as last night.

There's still the risk of a widespread frost and some icy patches with minimum temperatures varying between -4 to -1C (25 to 30F).

Tomorrow expect a cold start, sunny spells and even some scattered showers later. Maximum temperature 7C (44F). 

For a more detailed forecast for where you live head to BBC Weather. 

'Unethical' not to cut south Cambridgeshire sheltered housing tenant rents, council says

Sheltered housing tenants in south Cambridgeshire are to have their rents cut by 1% after district councillors decided it would be "unethical" to do otherwise. 

Copyright: Adrian Cable/Geocache

They said the vote was taken after the government imposed a 1% rent cut for council house tenants - but gave councils the option to increase them for supported housing tenants.

South Cambridgeshire District Council's deputy leader Simon Edwards said: "It wouldn't be ethical to cut the rent we charge for the bulk of our tenants and increase it for those who live in sheltered housing."

Stagecoach says it is 'never complacent' about guided busway safety

After a guided bus crashed on Monday, the company running it says safety is its "absolute priority".

The Stagecoach bus left the track near Foster Road at about 14:00 GMT on Monday, injuring six people.   

The company said its investigations had uncovered no faults with the bus or the trackway and an "internal disciplinary process" is under way. The Health and Safety Executive is investigating the crash.

X Factor auditions at city centre Argo lounge

Peterborough's Willow Festival organisers have joined forces with The X Factor and Argo Lounge in the city centre to produce a high quality event for those who wish to audition for the ITV talent show.

River Nene wins £200k Heritage Lottery funding

A £200,000 Heritage Lottery grant has been awarded to a team to develop plans to highlight the historical importance of the River Nene between Peterborough and Northampton.

It's one of the longest rivers in the country, yet it lacks the national prominence of areas like the Cotswolds or Peak District.  If the scheme is successful it will receive a further grant of £3m.

Find out more about the project on BBC Look East tonight, from 18:30.

Headlines: Stagecoach launches internal disciplinary process after guided bus crash... The UK's fastest speeding driver is caught near Peterborough

Emma Maclean

BBC Radio Cambridgeshire

These are the stories making the news in Cambridgeshire today:

Bus operator Stagecoach says an internal disciplinary process is under way in connection with Monday's crash on the guided busway
About 60 trespassers had to be cleared from the side of train track at St Neots - halting the Flying Scotsman's run through Cambridgeshire
The UK's fastest speeding driver last year was caught in Cambridgeshire, doing 156mph on the A1 near Peterborough

Police appeal for witnesses after a couple in their 60s were robbed in St Ives

Officers in Huntingdonshire have tweeted an appeal for more information after a couple in their 60s were robbed on Sunday morning.

Posh manager Westley says Forrester's injury 'won't keep him out for much longer'

Peter Swan

BBC Radio Cambridgeshire sport

Good news for Posh fans now, as it turns out Chris Forrester's shin injury is less serious than it first appeared. 

Forrester received the injury during Saturday's away match at League One Millwall.

Peterborough United manager Graham Westley has told us initial fears the midfielder would need surgery were allayed after a scan - and while he'll miss this week's play "it won't keep him out for too much longer".

Flying Scotsman steams ahead in bright conditions

BBC Weather Watcher Steve, from Chatteris, captured the Flying Scotsman steaming through the county earlier this morning where it's been a bright and sunny day with plenty of sunshine.

For a more detailed forecast for where you live head to BBC Weather.  

Stagecoach says technical faults not to blame for Monday's guided bus crash

The company which runs a guided bus that crashed earlier this week has launched an "internal disciplinary process" after it was unable to find faults with either the vehicle - or the the busway infrastructure.

Six people were injured when the vehicle left the track near Foster Road at about 14:00 GMT on Monday, while travelling between Addenbrooke's Hospital and Trumpington.

Stagecoach said it is "continuing to fully assist the relevant authorities with their investigation".

Cambridgeshire's firefighters have been training hard this morning

Cambridgeshire Fire and Rescue have tweeted the following picture of Black Watch doing ladder drills. It looks like they had a perfect day for it.

Here's some facts on the Flying Scotsman which passed through Cambridgeshire this morning.

Headlines: The Flying Scotsman passes through Cambridgeshire... Nearly 300 drivers caught exceeding 100mph

Emma Maclean

BBC Radio Cambridgeshire

Here are some of the stories making headlines in Cambridgeshire today:

The Flying Scotsman has passed through Cambridgeshire today as it makes its first official journey since a 10-year restoration
Nearly 300 drivers exceeded 100-miles per hour in Cambridgeshire during a 12 month period
Irish folk singer Christy Moore and rockabilly singer-songwriter Imelda May are two of the stars appearing in the 52nd Cambridge Folk Festival later this year

Gypsy folk punk band Gogol Bordello play Cambridge Folk Festival

Internationally recognised Gypsy folk punk band Gogol Bordello have also been revealed in the line up for this year's Cambridge Folk Festival.

Copyright: Cambridge Folk Festival

The event, between 28 and 31 July, also features award-winning folk singer-songwriter Kate Rusby and singer and performer Eliza Carthy and The Westwood Band.

The festival is held at Cherry Hinton just outside Cambridge.

Flying Scotsman completes journey

The Flying Scotsman, which passed through Cambridgeshire earlier, has finally pulled into its destination at York station.

In total it was 54 minutes late because of hold-ups, including when trespassers were spotted beside the track near St Neots.

You can read the full story of its journey here.

Tom Meechan: From university trial reject to football pro

A player who will later be deemed good enough for professional football will surely have no trouble getting into a university team, right?

Well, not if you are Tom Meechan.

Find about his rise from uni team reject to the Football League here.

Arrest following bus sex attack

A man has been arrested after a woman was sexually assaulted on a bus in Cambridge.

Police said a 27-year-old woman was attacked on a bus heading towards Arbury on 10 February.

A 51-year-old man from the city is being questioned on suspicion of sexual assault.

Sam Kelly to play Cambridge Folk Festival

Former Britain's Got Talent finalist Sam Kelly, from Norfolk, is to play the Cambridge Folk Festival it has been announced.

The festival, which takes place at Cherry Hinton between 28 and 31 July, is being headlined by iconic Irish folksinger Christy Moore.

Kelly, a singer-songwriting originally from Spixworth, appeared in series six of BGT.

Cambridgeshire comes top for 100mph+ drivers

Cambridgeshire Police recorded the highest number of drivers going more than 100mph out of any force in the UK last year, figures obtained by the BBC reveal.

In total 284 motorists were caught, with the highest recorded speed being 156mph on the A1(M) in Sawtry in March.

A footballer was fined £1,400 and given a six-month ban for that offence after being stopped in his BMW M4 Coupe.