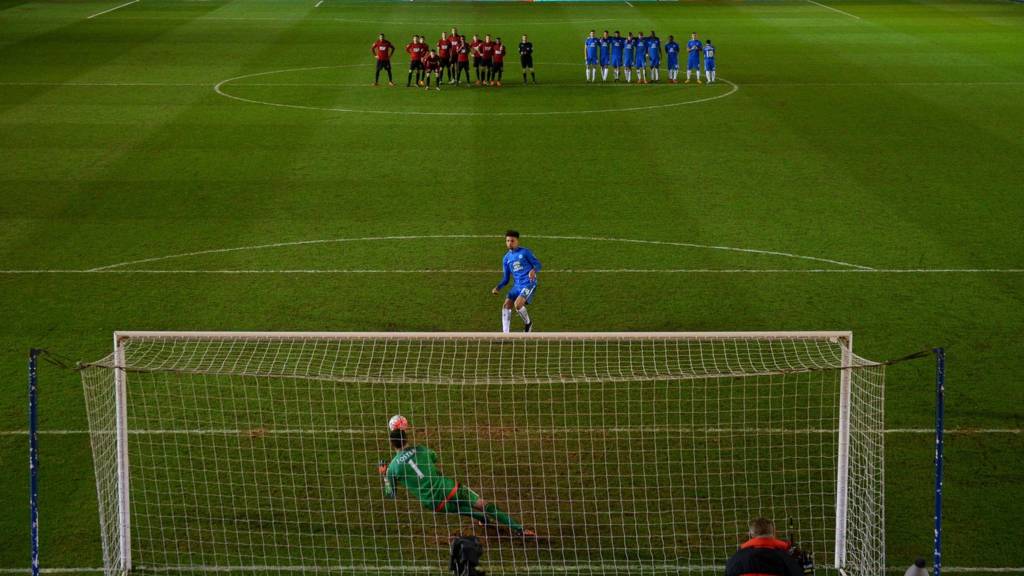 BBC Local Live: Cambridgeshire
Summary
Updates for Thursday, 11 February 2016
News, sport, travel and weather updates resume at 08:00 on Friday
Goodbye from Cambridgeshire Local Live

Posh 'better side over 120 minutes'

Peterborough boss Graham Westley said his team will learn from their FA Cup penalty shootout defeat by West Brom.

Posh lost the fourth-round replay after a 1-1 draw following extra time.

"It was tough on the boys. If you ask me hand-on-heart who was the better team over the 120 minutes, I'd have to say us," said Westley.

Books return to phone box in Elsworth

Julia Greenaway

BBC Radio Cambridgeshire

A community book exchange housed in an old red phone box in Elsworth has resumed service.

Just a few days ago the books were thrown into skips after a warning was issued by the Society of Local Council Clerks, saying planning permission was needed. 

Now permission from South Cambridgeshire District Council has been given and most of the books are being returned.

Headlines: Stephen Hawking praises scientists who discover gravitational waves... £1m in NHS money for Cambridgeshire project

Kerry Devine

BBC Radio Cambridgeshire

Here are the top news stories in Cambridgeshire this afternoon:

Stephen Hawking says the detection of gravitational waves "provides a completely new way of looking at the universe"
The motorcyclist killed on the A141 at Ermine Street in Huntingdon is named as Hartford man Andrew Symmonds
A Cambridgeshire project aimed at keeping people with mental health problems out of hospital unnecessarily receives nearly £1m in NHS funding

Weather: Another chilly night with frost and icy patches

Alex Dolan

BBC Look East weather

It'll be a clear and chilly night, with the risk of frost and icy patches. Wintery showers could fall later in the night. Minimum temperature -2C (28F).

Tomorrow, expect frost first thing and possibly scattered showers merging with rain. Maximum temperature 6C (42F).

Two Cambridge School of Art graduates nominated for their book illustrations

Two former Cambridge-based students are competing for the Best Illustrated Books category in the Waterstones Children's Book Prize.

Copyright: Matty Long/Oxford University Press

David Barrow and Matty Long both received masters in Children's Book Illustration from the Cambridge School of Art, Anglia Ruskin University.

What you can see above is the cover from Matty's Super Happy Magic Forest.

Anglia Ruskin graduates up for Waterstones Children's Book Prize

Many congratulations to two Anglia Ruskin post-graduates who've been nominated for the Best Illustrated Books category in the Waterstones Children's Book Prize.

Copyright: David Barrow/Gecko Press

David Barrow and Matty Long studied Children's Book Illustration at Cambridge School of Art, which is part of Anglia Ruskin.

What you can see above is the cover picture for Have you Seen Elephant by David Barrow - keep reading and we'll put up Matty's image next.

Stephen Hawking: Gravitational waves are 'a completely new way of looking at the universe'

Pallab Ghosh

Science correspondent, BBC News

Cambridge University's Stephen Hawking says the detection of gravitational waves "has the potential to revolutionise astronomy".

A team of international scientists have announced the "stunning discovery" - which will help them in their quest to fully understand gravity.

The professor, who is an expert in black holes, says gravitational waves "provide a completely new way of looking at the universe".

Nearly £1m comes to Cambridgeshire to free up hospital beds

I've been seeing how a project to try and keep more people out of hospital in Cambridgeshire has been given almost £1m.

The Cambridgeshire and Peterborough Urgent and Emergency Care (UEC) Vanguard Programme is a pilot project working in the county to free up hospital beds. 

The money will fund eight rooms at a care centre run by the Papworth Charitable Trust.

Van rammed and robbed at service station

Katharine Park

BBC Radio Cambridgeshire

The driver of a silver van has been robbed after his vehicle was rammed at the Haddon services on the A1.

Copyright: Peter Whatley/Geograph

People wearing balaclavas in a silver Peugeot and a silver BMW drove up to the van at about 19:40 on Tuesday, forcing it to stop. 

The victims tried to drive away before leaving their vehicle. The suspects entered the back of the van and took various bags, some of which contained money.

People who speak two languages are more visually 'attentive'

If ever you want to play spot the difference, never play it with someone who speaks two languages. 

Copyright: Dr Roberto Filippi

That's because new research out today by Dr Roberto Filippi at Anglia Ruskin University claims that anyone who is bilingual has better visual attention. 

Now try looking at the image above to see if you can see the one difference. 

Emergency doctors Magpas attend overturned lorry at Huntingdon

The Magpas team tweeted the lorry driver suffered minor cuts and bruises in this morning's accident...

Travel news: A141 now clear

Memorial to be held for Cambridge University student killed in Egypt

Peterborough 'womble' to get award

Johnny Dee

BBC Radio Cambridgeshire

A woman from Peterborough is to be presented with a civic award later this month after picking up litter in the city for five years.

Janet Cox told me she spends about 30 minutes every day clearing up other people's mess.  

Biker killed in Huntingdon named

Kerry Devine

BBC Radio Cambridgeshire

The motorcyclist killed at the junction of Ermine Street and Lancaster Way in Huntingdon yesterday afternoon has been named. 

Andrew Symmonds, 44 from Barn Close, Hartford died at the scene. 

Police are appealing for more information after the collision between a blue Kawasaki motorcycle and a white Mercedes Sprinter van at about 15:00. 

It will stay cold this afternoon but should be dry.

Copyright: Ebb&Flow/Weather Watcher

The best of the sunshine will be towards western parts such as Peterborough. Maximum temperature: 8C (46F). 

Thanks to Weather Watcher Ebb&Flow for the photo.

Posh boss Westley thanks the fans

Nick Fairbairn

BBC Radio Cambridgeshire sport

Praise has been heaped on Peterborough United's fans following the side's FA Cup exit at the hands of Premier League West Brom.

Posh manger Graham Westley said: "The fans were terrific and got right behind the team and really helped them through the extra-time period when legs got heavy."

Thomas Cook still making a loss

Underlying losses at Peterborough-based holiday firm Thomas Cook improved by 11%, to £49m at the end of 2015.

Copyright: Kevin Flynn/Geograph

The figures are for the three months to the end of December.

The company described trading in its typically quieter winter period as "challenging".

No serious injuries in A141 crash

The police have confirmed that there are no serious injuries in the A141 crash, but the road will stay closed for some time.