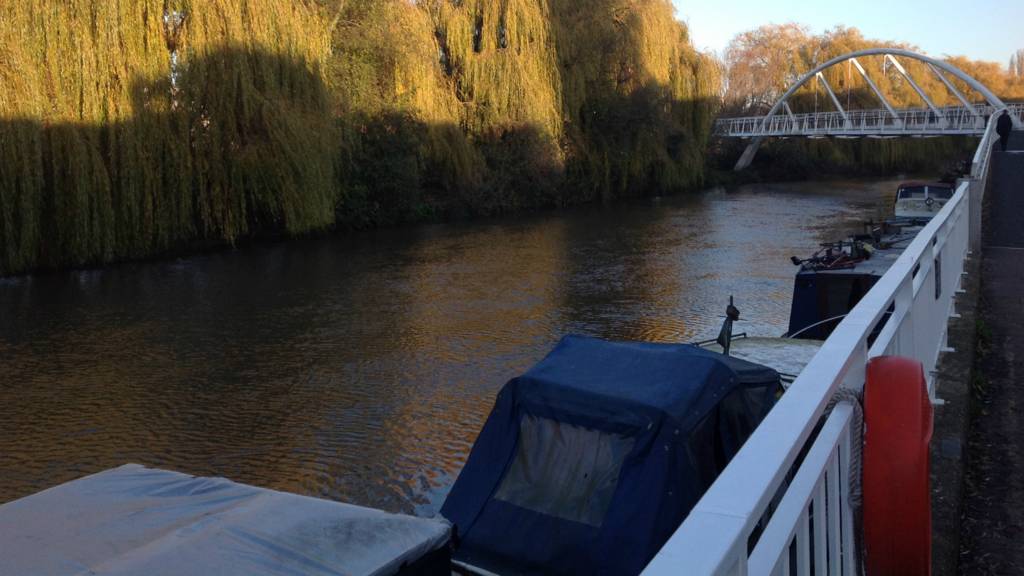 BBC Local Live: Cambridgeshire
Summary
Updates for Thursday, 10 December 2015
News, sport, travel and weather updates resume at 08:00 on Friday
Our live coverage across the day

MP calls for earlier train services to Stansted

Hannah Olsson

BBC Radio Cambridgeshire political reporter

Peterborough MP Stewart Jackson has called on the rail minister and Rail Regulator to introduce an earlier Cross Country train service between Peterborough and Stansted Airport. 

The Conservative told the Commons his "constituents often can't use the trains because they run too late" and that there needed to be better "connectivity".

The Transport Minster Claire Perry says she'll take up the issue with Cross Country trains.

High-flying Cambridge company wins prestigious award

The creators of a single seat aeroplane have been handed a prestigious award by the Royal Aeronautical Society (RAeS). 

Copyright: E-go areoplanes

e-Go areoplanes, based in Conington, took home the Team Bronze Award last night. 

The RAeS made the award "in recognition of the team's achievement in creating a unique single-seat aircraft that is fun to fly, easy to handle, stylish, ergonomic and efficient".

Peterborough schools not faring well in maths, writing and reading standards

Katharine Park

BBC Radio Cambridgeshire

Peterborough is one of the lowest-attaining authorities in the UK when it comes to primary children achieving the expected standards in maths, writing and reading. 

New data reveals an overall drop in the number of schools considered failing this year, but there are wide variations across England. 

Schools Minister Nick Gibb said it was "essential" that every child left primary school having mastered reading, writing and maths.

Weather: It'll be a rainy night

Outbreaks of rain should clear by midnight, but then showers may develop later. Minimum temperature: 5C (41F).  

Tomorrow will start cloudy with the odd spot of rain across the Fens. You can find a more detailed forecast for where you live at BBC Weather.  

Supplies needed to help Cumbrian flood victims

Katharine Park

BBC Radio Cambridgeshire

An appeal has started in Cambridgeshire to collect supplies to send to Cumbria to help people affected by the floods. 

Copyright: Alison Jeffrey

Alison Jeffrey from Malco Freight in Ely is collecting items like bottled water, bedding, clothing, wellington boots, and tinned foods. 

Headlines: Man jailed for 12 years sentence after 'savage' attack in Cambridge... Oxford win 12-6 in men's Varsity match

Emma Maclean

BBC Radio Cambridgeshire

Here are our lead stories for Cambridgeshire this afternoon:

Tobias Badcock begins a 12-year sentence after he attacked a man in Cambridge, leaving him with life-changing injuries
South Cambridgeshire MP Heidi Allen calls on all parties in the House of Commons to work together to improve mental health provision
Cambridge lose 12-6 in the men's Varsity rugby match at Twickenham - but the university's women win their match 52-0

Police appeal for witnesses following racial abuse on bus

Sam Edwards

BBC Radio Cambridgeshire

Cambridgeshire police are appealing for witnesses after passengers were racially abused on the number three Stagecoach bus from Thorpe Way to Cambridge railway station in the early hours of Saturday.

It's believed a 5ft 10in tall (1.78m) man wearing a black Trespass waterproof jacket with the hood up, and a brown broad hat with a large feather in the band, shouted racial abuse at other travellers. 

It's also thought he was carrying a guitar in a black webbed case and a woodland camouflage rucksack.

Varsity match: Oxford 12-6 Cambridge

It's a record-breaking day for the Dark Blues as they win for the sixth successive time - the first time that has been achieved in the Varsity's history.

Meanwhile, it's the first time in 14 years there hasn't been a try in the match, but let's be honest, it was still a cracking game of rugby!  

Advanced warning of A14 closures

This is an advanced warning that the A14 will be closed overnight until Saturday. 

Death of Werrington man not being treated as suspicious

Emma Maclean

BBC Radio Cambridgeshire

Police say they're not treating the death of a man whose body was discovered in a river in Peterborough as suspicious. 

Officers were called to the scene near Mancetter Square, Werrington, on Monday afternoon. 

The case has now been passed to the coroner.

Half-time in Varsity game

We may not have had many clear try-scoring chances, but the intensity of the match has been everything you'd expect from a game with this much history behind it.

Cambridge and Wales star Jamie Roberts has had a rather interesting match so far, accidentally causing an injury to Dark Blues captain Henry Lamont, but has struggled to get hold of the ball much.

The current score is Oxford 3-3 Cambridge.

Delays are expected on the A14 after an accident on the eastbound carriageway by the Spittals interchange. 

Police pooch Holly sniffs-out stolen items

Police hound Holly has been busy at work sniffing-out some stolen items in the county. 

Purses stolen in St Neots

Emma Maclean

BBC Radio Cambridgeshire

Nearly £800 in cash has been stolen from the purses of two elderly women in St Neots.

Cambridgeshire police are warning shoppers to be extra vigilant after the thefts in the High Street on Tuesday. 

The thieves also took credit and debit cards and immediately withdrew over £1,000.

Men's Varsity game starts at Twickenham

As the men's Varsity match between Cambridge and Oxford gets under way, lets hope the men can do what the Light Blue's women did earlier crushing Oxford by 52-0.

You can get live updates throughout the match on the BBC Sport website. 

Man found with serious head injuries at Christ's Pieces

A man in his 30s has been found unconscious with serious head injuries in a Cambridge park. 

Police were called at about 02:00 to Christ's Pieces. 

Officers say they don't know how he sustained the injuries and are keeping an open mind. He remains in a critical condition at Addenbrooke's Hospital. 

New fire recruits start Cambridgeshire jobs

We've been hearing how Cambridgeshire police are looking to recruit more people from diverse backgrounds. 

Copyright: Cambridgeshire fire and rescue service

It comes as Cambridgeshire Fire and Rescue Service recruits one of its biggest group of trainees in 20 years. 

The 21 firefighters started their operational careers on Monday after undertaking 11 weeks of training in Cardiff. 

Varsity match: Our coverage

Later today, Wales and British and Irish Lions centre Jamie Roberts (pictured, left) will become the first current international since 2009 to play in the Oxford v Cambridge Varsity match at Twickenham.

Copyright: Cambridge University RUFC

Head to the BBC Sport website ahead of the 14:30 kick-off where BBC Radio Cambridgeshire will be providing full radio commentary and the online team will give you a live text commentary if you're somewhere you can't listen.