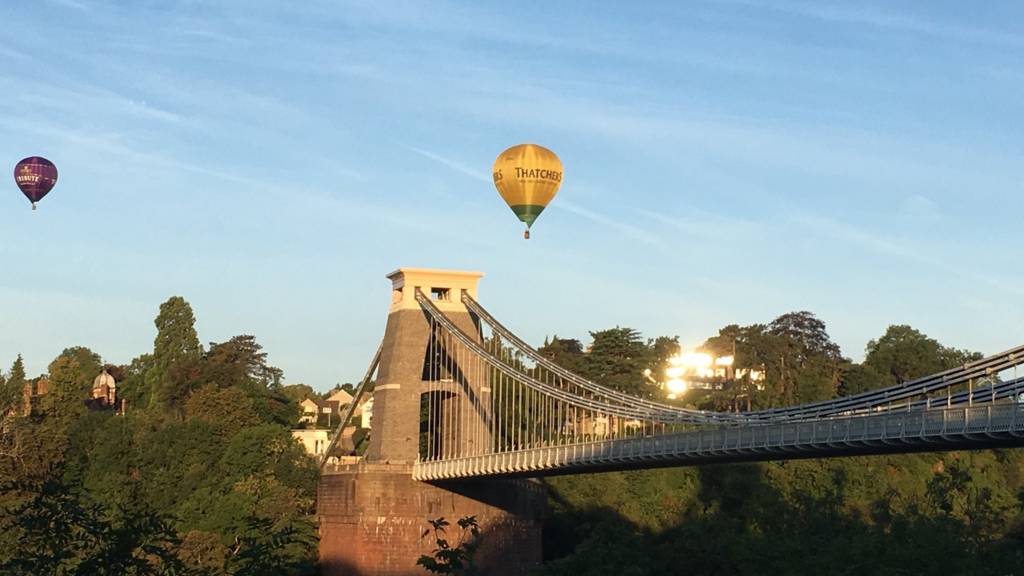 As it happened: West of England
Severe accident: M4 Bristol eastbound

BBC News Travel

M4 Bristol eastbound severe accident, at J22 for M49.

M4 Bristol - Stationary traffic on M4 eastbound in Gloucestershire at J22 M49, because of all traffic being temporarily held and an accident.

To report traffic and travel incidents dial 0330 123 0184 at any time

Severe accident: A354 Wiltshire both ways

BBC News Travel

A354 Wiltshire both ways severe accident, from Old Shaston Drove to Marsh Lane.

A354 Wiltshire - A354 Salisbury Road closed in both directions from the Old Shaston Drove junction to the Marsh Lane junction, because of an accident involving two cars and a lorry. Congestion to Bake Farm on A354 Salisbury Road.

To report traffic and travel incidents dial 0330 123 0184 at any time

Former Bath captain Stuart Hooper speaks to BBC Points West about his development as a coach, as he prepares to succeed Todd Blackadder.

British Pie Awards: Vegan pastry takes top pie-ze

Introducing Britain's best pie - and guess what? It's vegan.

Copyright: British Pie Awards 2019

The curried sweet potato and butternut squash pie was picked as Supreme Champion at the British Pie Awards, held in Melton Mowbray, Leicestershire.

It was considered the best of 886 entries from pie makers, bakers and butchers from across the country.

Copyright: British Pie Awards 2019

It featured in the brand new vegan category along with 67 other entries.

The pie is made by Jon Thorner's Ltd in Shepton Mallet, Somerset.

The competition's head judge said the pastry had "exceptional crispness" that complimented the filling.

Swindon Wildcats one win from league title

Swindon Wildcats Ice Hockey team could win the League this weekend with victory.

They're playing against Streatham on Saturday evening at the Link Centre.

Victory would also mark 16 consecutive wins for the club.

Swindon suffragette honoured on GWR train

Edith New was a leading member of Emmeline Pankhurst's Women's Social and Political Union movement.

Edith famously broke two windows of 10 Downing Street, the first time an act of vandalism had been used during the suffrage protests.

She was born in Swindon and now her face immortalised on the side of one of GWR's five-car Intercity Express trains.

Megan Lloyd George, daughter of former Prime Minister David Lloyd George is pictured on the other end of the train.

Quote Message: I really pleased GWR is marking International Women's Day with the naming of this train after two people from our region who did so much to further the role of women in our society. from Ruth Busby GWR HR Director

Alcohol related hospital admissions on the rise in the West

New figures from Public Health England suggest that admissions to hospitals in the West caused by alcohol are the highest they've been for ten years.

Between 2008 and 2018, they're up by 4% nationally. But in Swindon admissions have gone up by 29% in the same period; and in South Gloucestershire, they're up by 18%.

Last year, Scotland introduced a minimum price of alcohol at 50p a unit. But in England, the government says it will wait until 2020 to evaluate the impact the Scottish legislation has had.

But Ian Keasey, from Public Health England, said he is "frustrated" at the delay in introducing a minimum price.

Severe disruption: A361 Somerset both ways

BBC News Travel

A361 Somerset both ways severe disruption, between Martins Lane and A37 Whitstone Road.

A361 Somerset - A361 Fosse Lane in Shepton Mallet closed and slow traffic in both directions between the Martins Lane junction and Cannard's Grave Roundabout, because of unsafe tree. Congestion to Charlton Road and the A37.

To report traffic and travel incidents dial 0330 123 0184 at any time

Local Radio Headlines for the West

BBC Wiltshire: The name of a suffragette who grew up in Swindon has been given to a new high speed train on the Great Western Railway.

Radio Bristol: Plans for a controversial 800 space car park for the Bristol Royal Infirmiry will be considered at City Hall next week - with opponents calling it "repugnant and offensive."

BBC Somerset: A jockey from Somerset is fronting a campaign to give women more chances in racing. Harriet Tucker from Frome works in the yard of former champion trainer Paul Nicholls at Ditcheat.

Radio Gloucestershire: A 71-year-old man who went into cardiac arrest at a pub in Cheltenham has been reunited with the fellow customers who saved his life.