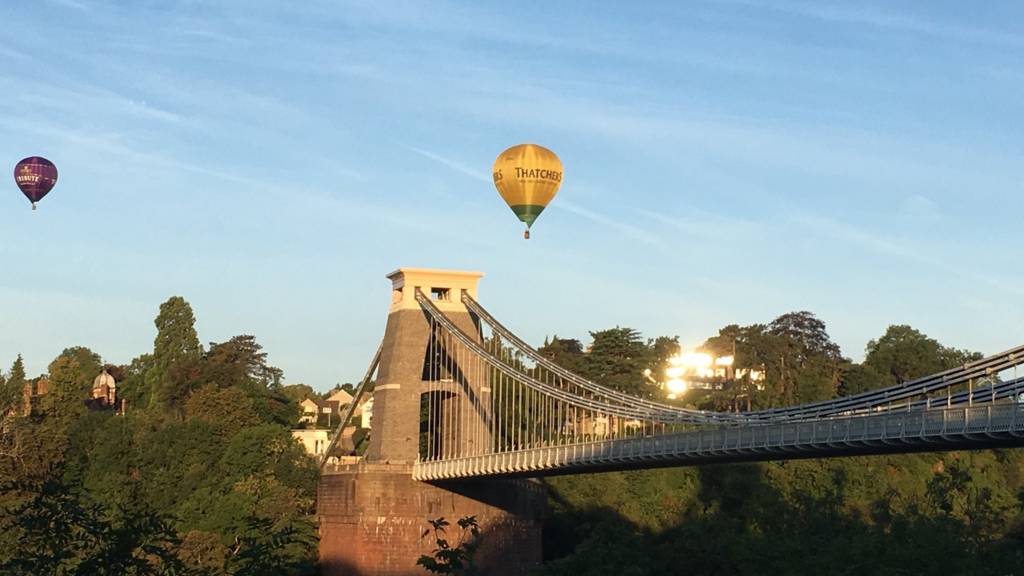 As it happened: West of England
Seven miles of slow traffic

Update on M4 lane closures

'Milestone' in Salisbury clean-up

The Department for Environment, Food and Rural Affairs has announced completion of clean-up work at the final site at Christie Miller Road, following the Sergei Skripal poisoning.

The former Russian spy's house and 11 other potentially infected sites were ruled safe on Friday.

Quote Message: Today marks a significant milestone in the clean-up programme further to the unprecedented events of the last 12 months. All 12 sites affected by last year's attacks have now been handed back to the South Wiltshire recovery co-ordinating group. Wiltshire Council will shortly begin work to renovate and refurbish the house, so it can return to being a home again. We are continuing to talk to the residents on the future of the property as it is important their views are taken into account on how it is used in the future. I would like to take this opportunity to thank the residents of Christie Miller Road, and the wider community, for their resilience and stoicism during what has been an extremely difficult and challenging time. from Alistair Cunningham Chair of the South Wiltshire recovery coordinating group

50 years since Concorde's first flight

Aviation history was made 50 years ago today when the first ever Concorde plane took off.

The first plane test happened at Toulouse in France, with the supersonic jet flying for just 27 minutes before it landed after weather concerns.

Concorde was designed and partly manufactured in Filton, north of Bristol.

Barber break-in in Bristol

Traffic: lane closures M4 westbound after collision

Massive Attack gig at Filton tonight

New appeal on anniversary of 1996 missing-woman case

Copyright: Avon and Somerset Police

Police are renewing an appeal to find a woman who has not been seen since 1996.

Linda Millard, 48, disappeared 23 years ago today and was last seen in Portishead, where she was staying with friends.

Officers found her car – a white Austin Mini Metro - and some of her personal possessions near Battery Point in Portishead. She has not been seen since that day.

Police say they are treating her disappearance as a missing persons case but also stress they are keeping an open mind, and can't rule out foul play.

Bristol Pride moves to the downs

Bristol Pride says it is moving to the downs after record crowds in 2018 saw 36,000 people flocking to Bristol's Millenium Square.

The event is now in its 10th year, and will run for two weeks from the 29th June to the 14th July.

Acts performing at this year's festival include Sophie Ellis Bexter and Boney M.

Animal rescues cost Gloucester Fire & Rescue £138,000

Animal rescues have cost Gloucestershire Fire & Rescue £138,152 in the past three years.

It costs them £463 an hour for any animal rescue - whether that's cats up a tree or livestock strapped in rivers.

The most expensive single incident was the rescue of a bullock from a river in Gloucester in 2016, costing £5,563 in total.

Wiltshire Police to stop collecting lost and found today

From today Wiltshire Police says it won't be taking the vast majority of lost and found property handed in at police stations from today.

The force says it takes up too much time which could be better spent elsewhere.

Quote Message: Nowadays there's so many different ways that people can be reunited with their property, especially through social media, sowe are trying to encourage people not to come to us but to try to deal with the matter themselves. from Wiltshire Police spokesperson

Children in secure units 'not safe from sex abuse'

Copyright: Jupiter Images/Heide Benser

Children in custodial and secure units are "not safe from physical or sexual abuse", an inquiry has found.

The investigation considered reports of abuse in secure children's homes, training centres and young offender institutes across the country.

One witness recounted being abused at a secure children's home in South Gloucestershire by six different members of staff.