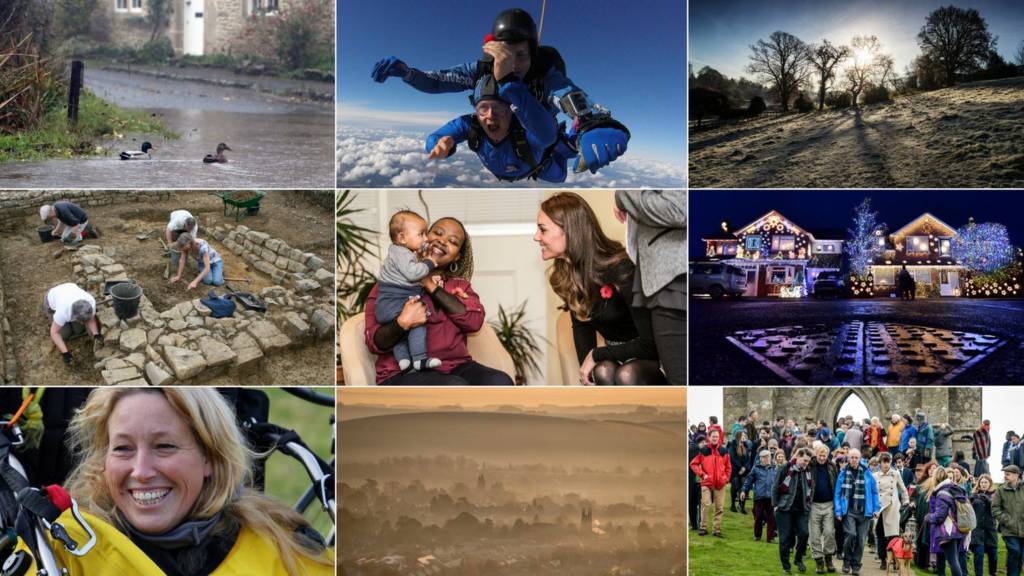 Summary
News, sport, weather and travel from across the West of England on Friday, 10 February 2017
Goodnight from Local Live for the West of England.

We'll leave you with this stunning photo of the full moon behind the Wills Memorial Building in Bristol.

It's going to be a cold night ahead with a widespread frost forming. 

Saturday will be fairly cloudy with occasional showers. The wind chill will make it seem significantly colder on Saturday with a mixture of rain, sleet and snow, especially over the Mendips. 

Much of the same for Sunday with further wintry showers over the hills. 

We'll be back from 7am on Monday morning with all your news, sport and weather for the West of England.  

More than 1,000 properties in Gloucester without power

Man seriously injured in 'hate crime' attack

A 35-year-old man has been seriously injured in a "hate crime" attack in Street.

Police say the unprovoked assault happened as he was walking along High Street, close to Chipmunks fish and chip shop, at about 11.30pm on 30 January when he was assaulted by up to three men.

The victim was taken to hospital where he was treated for a broken jaw.

Det Con Russell Head said: "The victim suffered some serious injuries in this vicious unprovoked attack, which required surgery.

"The words used by the offenders suggest this was a racially aggravated crime."

Dozens of mountain bikes stolen from cycle centre in Forest of Dean

Council buys country pub - and plans to keep it open!

Image caption: Stroud District council has bought the Ship Inn

Stroud District Council has bought the Ship Inn at Brimscombe. 

The 18th Century pub stands alongside the route of the Thames and Severn Canal and will form part of the re-development of Brimscombe Port.

The council want to open up the canal and build a new bridge over the canal and River Frome.

Andy Nash, from Stroud District Council, said: "Buying the pub was a fantastic opportunity, giving us flexibility in planning these things and also avoiding the possibility of expensive compulsory land purchase in the future."

The council says it will keep the pub open for the foreseeable future.

Full time: Bristol 8-42 Harlequins

Latest pictures: Bath 32-30 Northampton

Latest: Bristol 8-39 Harlequins

Full time: Bath 32-30 Northampton

Latest pictures: Bristol v Harlequins

Latest: Bath 29-28 Northampton

Latest: Bath 29-23 Northampton

Latest: Bath 22-21 Northampton

Latest: Bristol 8-32 Harlequins

Family need to know what happened to father-of-three

"Help us discover what happened to Chris" - that's the appeal from the fiancee of a Gloucestershire father-of-three who was knocked down by a van and killed. 

An inquest into the death of Chris Smith was suspended after it heard he may have argued with an unknown man in the minutes before his death. 

Gloucestershire Police have ruled out foul play, but his family believe someone else was responsible.  

Latest: Bath 22-14 Northampton

Latest: Bristol 8-20 Harlequins

Police appeal for help finding missing clubber Lewis Ball

Police want to trace a woman who was seen leaving Thekla at the same time as missing man Lewis Ball.

Lewis, 26, left the nightclub on Bristol's harbourside at around 3.20am on Sunday. He has not been seen since.

Police officers will be outside Thekla tomorrow night to see if anyone remembers seeing him leave the club. 

If you recognise the woman in the picture, or have any other information, call 101.

Farmer calls for 'dangerous' level crossing removal

A farmer from Bathampton says he wants a self-operated level crossing that leads to his farm removed "because it is dangerous".

He has spoken out after a man died when his vehicle was hit by a train on a similar crossing in Frampton Mansell, Gloucestershire, earlier this week.

Mac McKillop from Bathampton says the single light at his nearby crossing isn't intuitive enough and the gates can easily be left open. 

Network Rail says level crossings are safe when used correctly and those that are currently operational will have passed strict safety standards.