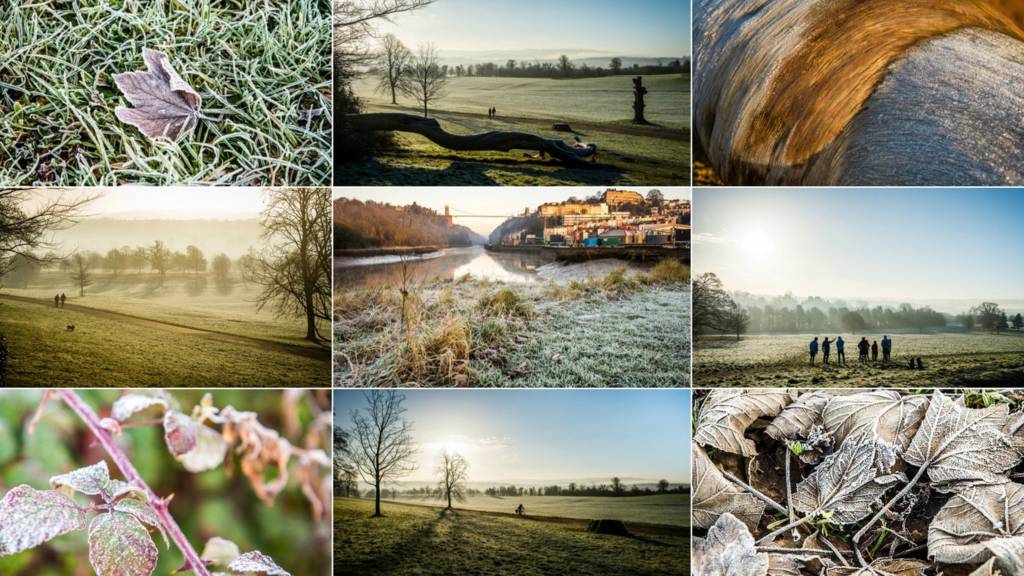 Summary
Updates from across the West of England on Tuesday, 7 February 2017
Nathan Middleton

BBC Sport

Concorde on the move: In the hangar

Earlier today we showed you Concorde 216 taking up residence in its new home.

The famous aircraft will now be taking shelter in a purpose-built hangar where it will become the centrepiece of a £16m museum called Bristol Aerospace Centre.

That's all from Local Live in the West, we're back from 7am tomorrow with all the news, travel, weather and sport.

Before we go here's Ian Fergusson with the latest weather forecast.

Level crossing crash: Rail disruption to continue through tomorrow

National Rail says all lines remain blocked between Swindon and Gloucester and disruption is expected to continue until the end of service tomorrow.

The following changes currently apply:

Trains are unable to run between Swindon and Gloucester. 
Replacement buses are conveying passengers between Swindon and Gloucester, calling at Kemble, Stroud and Stonehouse.

Passengers can use their tickets on CrossCountry services between Cheltenham Spa and Bristol Temple Meads and Stagecoach bus routes 10, 51, 61, 61A, 63, 64, 66E, 66S, 94, 94X, 94U, 97 and 98.

'Not OK to blame the victim' of sexual abuse

More victims of historic sexual offences in Wiltshire are coming forward to report it.

Wiltshire Police​ and Swindon Women's Aid​ are among those raising awareness this week. 

#ITSNOTOK  

ICYMI: Concorde moves to new home

BBC Radio Bristol was live at Concorde's new purpose-built hangar in Filton earlier today.

It's to become the centrepiece of a £16m museum called Bristol Aerospace Centre.

Adam Crowther talks to Lloyd Burnell of the Bristol Aero Collection Trust and Captain Les Brodie, the last captain to fly the Concorde.

Fewer people visiting libraries

The manager of Somerset's library service says a significant drop in the number of visits to the county's libraries is "a concern":

Level crossing crash: Car dragged along track

The main railway line between London and Cheltenham remains closed tonight after a driver was killed at a level crossing in Gloucestershire.

It happened this afternoon near Frampton Mansell between Stroud and Cirencester. 

A busy Intercity train travelling from London to Cheltenham hit the Land Rover. 

The rail passengers were taken to a nearby pub where they were picked up by relatives or taken by bus to their destinations.

Children are 'sleepwalking' into online abuse

Two senior elected officials are urging the government to make internet safety a priority in schools. 

The Mayor of Bristol, Marvin Rees, and Police and Crime Commissioner, Sue Mountstevens, say we are "sleepwalking" into a world where children are being abused online.

They are calling for compulsory Personal, Social and Health Education (PSHE) lessons in schools to combat the rise of so-called sexting via social media.

Brother says Lewis' disappearance is out of character

The brother of a missing man says it is out of character for him to go missing.

Lewis Ball was last seen at the Thekla nightclub in Bristol shortly after 3.20am on Sunday.

The alarm was raised with Avon and Somerset Police when the 26-year-old didn't turn up for work later that day.

Alex Ball says he is trying to contact as many people as possible in the city to find his brother.

Foodbank charity teaching cookery to parents

The country's leading food bank charity, the Trussell Trust, is running cookery courses.

The trust, which is based in Salisbury, is helping to teach parents how to prepare and cook meals with fresh food on a budget.

'Scrappers' secure funding for boxing classes

A community resource centre in Swindon is offering free boxing classes thanks to Big Lottery Funding.

The Swindon Children's Scrapstore secured a grant of £8,000 to provide free sessions to people with disabilities.

The boxing skills and fitness classes are said to help with muscle strength and co-ordination. 

According to Swindon's Joint Strategic Needs Assessment, there are more than 10,000 disabled people in Swindon including 3,000 with a severe disability and many find it difficult to access commercial gyms due to cost and lack of available support.

The project provides regular weekly boxing skills sessions at Scrappers Boxing Gym & Community Fitness Centre for a period of 40 weeks, and takes place every Monday and Friday 10am -11am.

Level crossing crash: Local man and his dog killed

The crossing is on a small side road so isn't automatic, rather it is a manual gate that you can open yourself. A dedicated phone should be used to find out if a train is coming.

It's thought this is the fourth fatality in the last three years on this stretch of line. 

An investigation is under way, it's unclear whether the man who died used the dedicated phone line or not.

Passengers who were on the train have been taken to their destinations by bus.

Level crossing crash: Car still trapped under train

A man has died after his car was struck on a level crossing in Gloucestershire. 

It happened just after 3pm near Frampton Mansell between Stroud and Cirencester.

An intercity train travelling from London to Cheltenham hit the vehicle, no one else was hurt. 

The line is still closed and passengers have been taken to a nearby pub. 

Severe disruption: M5 Gloucestershire southbound

BBC Travel

M5 Gloucestershire southbound severe disruption, at J12 for B4008 Quedgeley.

M5 Gloucestershire - M5 exit slip road closed and queuing traffic southbound at J12, B4008 (Quedgeley), because of a broken down vehicle.

Check local traffic and travel reports for:

Round Britain coastline walk completed by grieving mother

Natalia Spencer from Cheltenham has completed a 6,000 mile (9,600km) walk around the coast of Britain in memory of her daughter. 

Five-year-old Elizabeth died from a rare illness at Bristol Children's Hospital in 2015. 

The charity trek raised more than £116,000 for the hospital. Ms Spencer completed the walk at Durdle Door, in Dorset, where she set off in February last year.  

Level crossing crash: Last safety report highlighted key risks to drivers

Copyright: Nicky Blackmarket

A man has died after his car was hit by a train on a level crossing in Gloucestershire.

The vehicle was struck by the Great Western Railway London Paddington to Cheltenham Spa service at 3.10pm.

The man, who was believed to have been driving the car, died at the scene of the crash near the Frampton public footpath crossing.

People wanting to use the crossing, a metal gate at the end of a field leading to railway tracks, have to phone a signaller to get permission. 

Network Rail says there is a 50mph speed limit for trains passing through the crossing.  

Approximately 37 trains pass by every day, with 62 pedestrians or cyclists using the crossing. 

An Network Rail safety assessment carried out last May highlighted key risks to drivers of deliberate misuse or user error at the crossing, a large number of people using it and a "low sighting time". 

But there were no accidents, near-misses or incidents of misuse in the year prior to the assessment. The next one is due by August 2018.

Level crossing crash: Second driver killed in less than three years

Another man was killed near to the scene of today's level crossing crash in May 2014.

Motorcyclist Paul Martin, 37, from Stroud, died when his trail bike was hit by a train at Frampton level crossing. 

A report by the Rail Accident Invetigation Branch found he may not have heard the train's horn because he was wearing a crash helmet.

Level crossing crash: Passengers disembarking via stepladders

The BBC's Mark Jones is at the scene of the level crossing crash at Frampton Mansell.

"Passengers are being disembarked from the train via stepladders, as there are some elderly people among them," he said.

"They are then being escorted along the line to the local pub, The Transport.

"The vehicle was a Land Rover which was struck on a manually operated level crossing.

"It is now covered up at the front of the train."