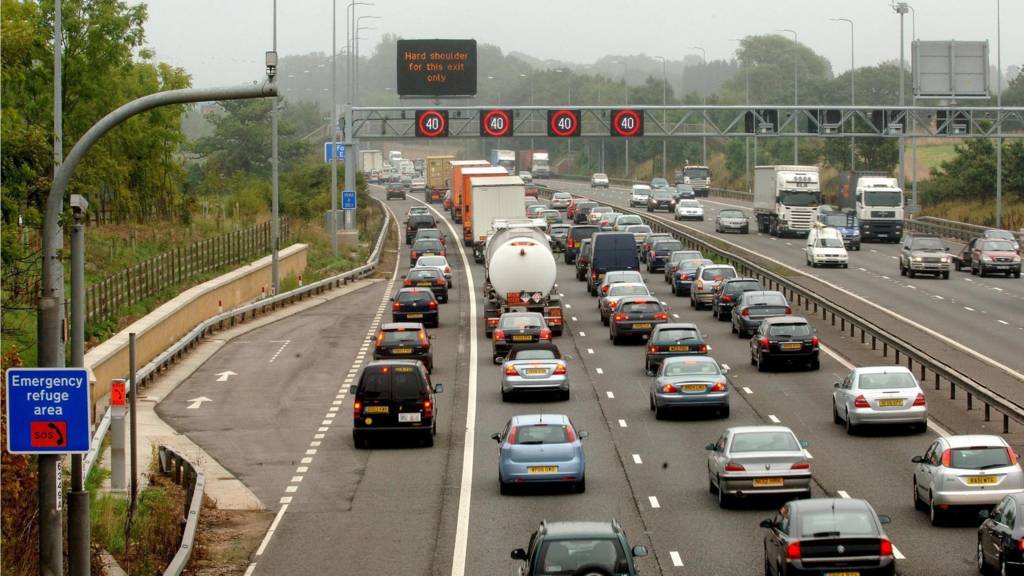 Summary
Long delays on motorways around Bristol after an accident and broken down vehicle block routes
Christopher Halliwell sentenced to life in prison for murdering Becky Godden
Somerset miss out on the County Championship in cricket after Middlesex beat Yorkshire
A man who was among the first to receive pioneering heart surgery has returned to the Bristol hospital where it took place
Family of a motorbike crash victim, 18, are starting a sponsored walk with the remains of his bike
News, sport, weather and travel across the West of England on Friday, 23 September 2016.
Goodnight from us - we'll see you on Monday

It's time for us to head off for the evening. Thanks for being with Local Live for the West today. We're off to console ourselves over how close Somerset came to winning the title.

In the meantime, here's a look at tomorrow's weather map. It will continue to stay warm and dry for us with temperatures reaching 19-20C. Don't get too used to it, because the rain will be back on Monday!

BBC Local Live will return at 7am on Monday with the latest news, sport, travel and weather.

The giant vegetables hoping to win big

We doubt you'll ever see a larger vegetable.

Peter Devonald has grown this huge pumpkin which he is taking off to the UK's Giant Veg Championships at the Malvern Show.

So is there a magic trick to getting vegetables to grow so big? Not according to Peter...

Another one of the entrants is Dale Toten, who grows vegetables at the Ston Easton Park Hotel near Bath. 

Dale hit the headlines recently when his prize cabbage was accidentally cooked by chefs at the hotel near Bath.

FT: Bristol 17-41 Exeter Chiefs

Deadline for Bristol Council voluntary redundancies

Today is the last day that employees of Bristol City Council can apply to leave voluntarily.

The council is attempting to save £29m by next April, as part of overall savings of £60m by 2020. They are looking to get rid of 1,000 jobs as a result. 

But too few employees have come forward, so compulsory redundancies are expected.  

Bristol's 'queer history' recognised by government

The Bristol grave of Egyptologist, writer and musician Amelia Edwards has been given a Grade II listing by the government. 

Amelia died in Weston-super-Mare, only a few months after her female partner Ellen Braysher. She was a big advocate for women's rights, and visited countries of the world that had barely been explored at the time, especially by women. 

Copyright: Historic England

Ellen and her partner were buried together at St Mary's Church in Henbury, Bristol. Her grave was decorated with an obelisk as a mark of her dedication to Egyptology.

The listing of her grave is part of a national project by Historic England, recognising the untold queer histories of locations across the UK.

Paralympic medals helping blind athletes

Anne Dunham from Worton in Wiltshire won a gold and two silvers in the Equestrian events in Rio. She said "none of it would be possible" without her daughter Amber.  

Her Paralympic medals look amazing, but they also ring when picked up. Each medal has different sounding bells inside to help blind athletes. They also have braille on the back to help Anne know which medal she is holding. 

You could say the medals are a ringing endorsement of her success...

Suspended Labour councillor upset over ordeal

The Labour party has suspended around 200 party members for allegedly breaking party rules.

One of those affected by the decision was Brislington West Councillor Harriet Bradley. She was told she has been suspended by the party over her use of social media, but she insists she has done nothing wrong.

In response, the Labour party has said it has a "robust validation process for all votes to ensure every vote cast is eligible in keeping with the Labour Party rules".

Half time: Bristol 5-24 Exeter Chiefs

Three thousand fish rescued from Somerset river

More than 3,000 fish were rescued in Somerset yesterday ahead of a river diversion.

'Horseboarding' finals come to Wiltshire

Tie a skateboard to a horse, and you've got horseboarding. It's bumpy, fast, and rather dangerous. 

The national final of a UK horseboarding competition will be held Bowood's Game and Country Fair this weekend. Be warned - this video below is not for the faint-hearted! 

Bristol Rugby owner talks about the side's tough start to the season

Bristol Rugby are back in the Premiership - but it has been a tough start for the side.

Owner Steve Lansdown talks about the side's return to the big time.

Want Bristol Rugby commentary? Here's where you'll find it...

Girl with cerebral palsy and a fear of heights to abseil for charity

A brave 11-year-old girl with cerebral palsy and a fear of heights will abseil down Stroud's Ecotricity building tomorrow to raise money for charity.

Seren Levay is raising funds for the Allsorts charity which supports local families with children with disabilities. 

Seren said she's not worried because "I know I'll be safe."

But mum Rachael said the thought of her "dangling off the edge of that wall is a bit frightening".

Claudia Fragapane takes to the Strictly dancefloor this weekend

Tonight sees the return of the hit BBC TV show Strictly Come Dancing, with Bristol gymnast Claudia Fragapane doing the cha cha cha to One Direction's What Makes You Beautiful.

Because there's seemingly hundreds of celebrities on the show this year, we're not sure if she is dancing tonight or tomorrow. 

The opening episode will be split over two parts, but Claudia has been sworn to secrecy about when she will be dancing.

Bring that glitterball trophy back to Bristol! 

All M5 lanes open northbound after accident

Breaking

Labour suspends 200 members in Bristol

Robin Markwell

BBC political reporter

Some 200 Labour party members have been suspended for allegedly breaking party rules in Bristol, the BBC has learned.

City party chair, Eileen Means, said it was thought the local suspensions were "in the hundreds" but it was unclear as the party had failed to notify them.

She said, the process was "extremely unfair" - "punishing people" who "don't know what offence they've committed".

A Labour spokesman, said it has a "robust validation process" to ensure all votes meet "Labour Party rules".

Somerset thanks the fans who supported them this year

Dozens of fans gathered at the County Ground in Taunton to watch Middlesex beat Yorkshire earlier.

Sadly, the result didn't go in Somerset's favour - it was a bit of a rollercoaster for these fans.

Copyright: Press Association

Copyright: Press Association

Motorways across the West affected by accidents

There are now three motorways across our area hit by slow traffic this afternoon.

The M5 in Somerset has been hit by a severe accident northbound between J22 for Burnham-on-Sea and J21 for Weston-super-Mare
Separately, Highways England say a broken-down vehicle on the M4 westbound is causing delays between J19 for Bristol and the M32, and J20 at the Almondsbury Interchange
The M32 in Bristol is also solid between Junctions 1-3 in both directions.

Tonight at Ashton Gate, Exeter play Bristol Rugby. Here's hoping the roads clear before then. 

Breaking

Middlesex win County Championship

In the last few minutes, Middlesex have won the County Championship. 

This is a huge disappointment for Somerset who were hoping to be champions if Yorkshire and Middlesex had drawn their match.