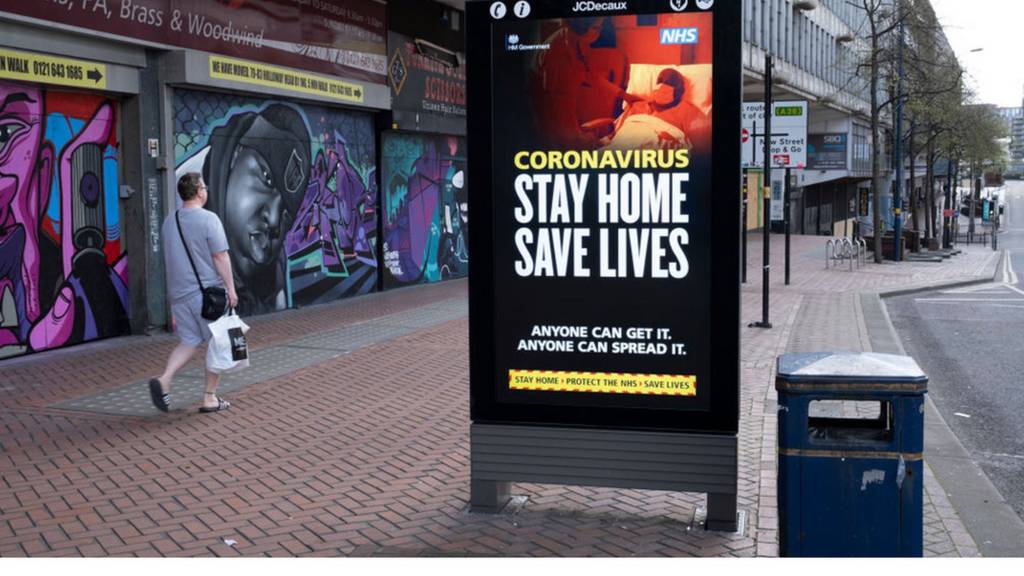 End of live updates today

We'll return with our live coverage tomorrow from 08:00.

Tie-dye rainbow t-shirts raise cash for hospital

We've seen rainbows going up everywhere during the coronavirus outbreak, starting off in house windows, then across buses, fire stations - and now t-shirts.

Five-year-old Leo Dunnigan, of Selly Park, decided to create tie-dye t-shirts for his family and a friend but his dad Stu told BBC WM they started to get orders from their neighbours.

"They were sort of noticed by other people up and down the road who started putting in their orders because they quite liked the look and the brightness that he was bringing to the street," he added.

Stu told BBC WM they now have orders for 70 t-shirts, a local firm's supplying them with materials and, through donations, Leo's already raised £500 for the Queen Elizabeth Hospital Birmingham.

Arrest after 'man with metal bar chased paramedic'

A man's been arrested after a paramedic was reportedly chased with a metal bar in Stoke-on-Trent.

Staffordshire Police said the ambulance service was called to a home in Blurton last night after being told a man had collapsed.

When they arrived, the crew called for police support after a man allegedly threatened the paramedic with the bar.

Officers said a 40-year-old man from Stoke-on-Trent was arrested on suspicion of affray and assault of an emergency worker and released under investigation.

Around the web: Mum stranded for month in Pakistan

These stories are being covered today on the Birmingham Live website:

Care homes to allow goodbyes to dying

Close family members will be able to say goodbye to dying relatives in care homes under new coronavirus guidelines,Health Secretary Matt Hancock has said.

Speaking at Wednesday's briefing, he said the government will introduce new procedures to "limit the risk of infection" and allow people to say goodbye to loved ones "wherever possible".

'Don't put out extra rubbish from spring cleaning'

Bob Hockenhull

BBC Midlands Today

Residents in Birmingham are being urged not to put out extra waste from spring cleaning during lockdown as they could overwhelm the bin service.

In some areas, bin staff have been faced with overflowing household bins and the city council's warning people it might not be able to maintain a full service if the problem gets worse.

Councillor John O'Shea said: "If you've got excess waste you produce because you're spring cleaning or from your garden then please, store it. Store it safely because we will reopen the tips as soon as we can."

Work restarts on Birmingham development 'to secure jobs'

A decision to restart work on the huge Paradise Birmingham scheme was taken to support construction and supply jobs , the developer has said.

Copyright: Paradise Birmingham

Development Managers Argent said work resumed on 6 April with a "considerably smaller" workforce after new risk assessments were carried out following the coronavirus outbreak.

The firm added all staff on site would wear full personal protective equipment and practise social distancing during their work.

The big development's seen the old central library and the Paradise shopping precinct demolished to make way for two new office blocks.

Coronavirus survivor, 106: 'I feel very lucky'

Copyright: Sandwell and Birmingham NHS Trust

A 106-year-old woman is thought to be the oldest patient to recover from coronavirus.

Sandwell and West Birmingham NHS Trust said Connie Titchen, from Birmingham, was admitted in mid-March with suspected pneumonia and diagnosed with the virus soon after.

Ms Titchen, a great-grandmother, said: "I feel very lucky that I've fought off this virus. I can't wait to see my family."

Her granddaughter Alex Jones added: "I want to thank the staff for all they have done for her during her stay."

Your photos: Trees in blossom

There's plenty of blossom on trees across the West Midlands, by the look of these photos sent in by our local BBC Weather Watchers.

These are from users Sarahlou86 in Stone, Staffordshire, Shropshire Lass in Diddlebury, Shropshire and Kingfisher Whisperer in Coventry:

Copyright: Shropshire Lass

Copyright: Kingfisher Whisperer

Hunt for man over suspected arson attack

A man's being sought by police who want to question him about a suspected arson attack at a house while a woman and two children were inside.

Copyright: West Midlands Police

West Midlands Police said the home was set on fire on Farren Road in Northfield, Birmingham, on Monday morning.

The woman and youngsters managed to get out and didn't need medical treatment.

Officers said David White, 34, is known to the trio and they want to speak to him urgently.

By Michele Paduano

BBC Midlands health correspondent

'Thank you will never be enough'

An 81-year-old man's been applauded by hospital staff as he left their care in Worcester after recovering from Covid-19.

Worcestershire Acute NHS Trust said David Ray had feared he'd never see his family again and spent 22 days battling the disease.

After posting their video on Facebook, Mr Ray's wife Anne commented on the post saying "I salute you. Thank you will never be enough".

Weather: No sign of rain, turning warmer

Fine and dry this evening and staying that way with mainly clear skies and gentle winds. Low: 3C (37F).

Tomorrow will see a cool start before becoming another fine, mostly sunny day and turning warm by the afternoon. High: 20C (68F).

Keep up-to-date on your local forecast with the BBC Weather website.

Around the web: New test centre in Worcester

Hospital wants people to 'clap for businesses'

There have been claps for the NHS over the past few weeks during the pandemic, now an NHS trust wants people to #clapforbusinesses.

Copyright: Sandwell and West Birmingham NHS Trust

Sandwell and West Birmingham NHS Trust tweeted it wanted to show appreciation to local firms for their support during the outbreak.

The trust tweeted staff would be clapping at 17:00 today at the corner of Dudley Road and Western Road, outside Birmingham City Hospital.

For the past few Thursdays, there have been rounds of applause from people across the UK for all of the people working in the fight against coronavirus.

Artworks pitted against each other in 'World Cup'

Football across most of the world's been suspended due to the coronavirus but a world cup - of sorts - is still taking place.

Copyright: Birmingham Museum & Art Gallery

It's been organised by the Birmingham Museum & Art Gallery this week and it's pitting works of art against each other in a public vote on Twitter.

Their world cup started yesterday with 32 of their greatest works shortlisted in eight groups with the contest finishing on Saturday.

Whether Gareth Southgate will be turning up in a waistcoat or England defender Harry Macguire on an inflatable unicorn, we'll have to wait and see (almost certainly not).

Fire services appeal over sky lanterns blaze risk

Fire services are urging people not to set off sky lanterns as they could cause blazes.

The National Fire Chiefs Council says there's a campaign on social media encouraging people to light the lanterns in support of NHS staff during the coronavirus outbreak.

However, a sky lantern is thought to have been responsible for a blaze at a recycling plant in Smethwick in 2013 (photo below) that is thought to have been one of the worst ever seen by West Midlands Fire Service.

At its height, about 200 firefighters took on the blaze involving 100,000 tonnes of plastic.

Copyright: West Midlands Fire Service

Cheshire Fire and Rescue Service has urged people not to use lanterns to show their appreciation for the NHS as they "pose a real risk to property, livestock and agriculture".

The view was echoed in the West Midlands on Perry Barr fire station's Twitter account.

'We have enough knitted hearts' hospital says

Hundreds of crocheted and knitted hearts are being shared with patients at the main hospital in Coventry.

Copyright: University Hospitals Coventry and Warwickshire NHS Trust

The University Hospitals Coventry and Warwickshire NHS Trust said they'd been donated over the past few weeks during the coronavirus pandemic.

They are being offered to patients, but the trust has asked for donations to stop, as it has so many of them.

Man released by police after death ruled natural causes

Investigations into the death of a woman in Rugby have concluded she died from natural causes.

Officers were called to a home on Featherbed Lane on Sunday and found her body.

Today, Warwickshire Police said a post-mortem examination had concluded there was nothing suspicious about the death.

A 47-year-old man arrested in connection with the case has been released without charge.