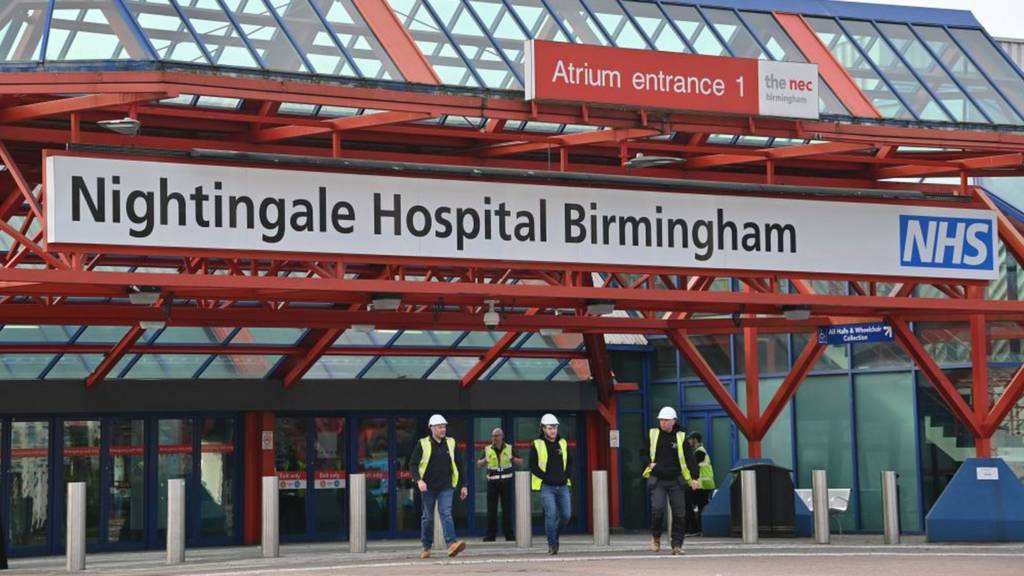 Our coverage across the day

Thank you for joining us.

Our live coverage returns on Wednesday from 08:00.

Wasps players are among the latest sports professionals to hit the phones during lockdown and speak to fans.

Players for Coventry's rugby union team are ringing up supporters who are in self-isolation.

Fly-half Jimmy Gopperth said teammates were enjoying getting involved.

"We put a lot of emphasis on our supporters and we play the game we love. They're the guys that turn up and support us so we thought we could give back a little bit."

Around the web: Woman hurt in window fall

Weather: Chilly night, warmer tomorrow

The rest of the day looks to be staying fine leading to a dry night with mainly clear skies and temperatures turning chilly again. Low: 2C/36F.

Copyright: Stormchaser Al

Then tomorrow, another fine, sunny day with light winds. Feeling a little warmer than today, with a high of 17C/63F.

Keep up to date with how it's looking where you live via the BBC Weather website.

Garden waste service resumes in Worcester

BBC Hereford and Worcester

Green bin collections are going to resume in Worcester after being suspended in the wake of the coronavirus outbreak.

Copyright: Worcester City Council

Like most of the country, the city council made the move last month so it could focus on emptying black bins.

But the green waste service, which residents have to pay for, has been restarted today.

Boy's crash death: Woman released under investigation

A woman arrested on suspicion of causing the death of a 13-year-old boy by dangerous driving has been released under investigation, police say.

Copyright: West Midlands Police

The West Midlands force said Mason O'Grady was crossing Chester Road in Erdington, Birmingham, with his family on Sunday when he was hit by a black VW Polo.

He was taken to hospital where he later died.

The 28-year-old female suspect was also arrested on suspicion of failing to stop.

Fire crews stop spread of huge recycling blaze

A fire involving about 1,000 tonnes of recycling materials has been stopped from spreading to nearby firms, the fire service says.

At its height, 60 firefighters battled the blaze on Alvar Business Park, on Straight Road, Short Heath, Willenhall. They were called at about 12:25.

By 17:10, station commander Lee Baker tweeted they were scaling back the number of crews at the scene and had plans in place to protect the local environment.

Around the web: PC with coronavirus 'on the mend'

By Leo Kelion

Technology desk editor

NHS skills hub set up by university

Hundreds of students and returning healthcare workers are going to have their skills honed at Birmingham City University to help fight the coronavirus pandemic.

Copyright: Birmingham City University

The university says it's reopening its Seacole Building to teach key techniques and skills to students near the end of their studies, current NHS staff and returning employees.

The £71m building contains mock wards, and staff have worked with local NHS trusts to deliver the programme.

The fire involves about 1,000 tonnes of material including cardboard and clothing.

Lorries blaze was 'arson'

A fire which destroyed two lorries and a trailer is being treated as arson, Staffordshire Police says.

Five fire crews were called just before midnight to Jet Express on Heath Mill Road, Wombourne.

Copyright: Staffordshire Fire and Rescue Service

Your photos: Tuesday's blue skies

We told you blue skies were forecast today and our BBC Weather Watchers have confirmed that this morning.

These are from users Wendy of Warwick in Warwick; JJ infinity in Great Wyrley, Staffordshire; and Skye in Clee Hill, Shropshire:

Copyright: Wendy of Warwick

Neighbours help WW2 veteran mark 93rd birthday

Neighbours have helped a World War Two veteran celebrate his 93rd birthday while social distancing due to the coronavirus pandemic.

Parmjit Singh, who lives next door to former paratrooper Eddie Moore in Solihull, posted on Facebook that an impromtu party had been held in his honour.

Mr Singh told the BBC his neighbour had helped "absolutely everybody in the area", adding he wanted to make sure Mr Moore felt connected to people during lockdown.

Around the web: Rest stops created for hospital staff

Region's death toll reaches 1,656

Another 67 people in the West Midlands have died after testing positive for coronavirus, NHS England says.

It added the region's overall total had reached 1,656.

'1,000 tonnes of recycling' on fire

People living nearby a huge fire in Willenhall are being told to keep their doors and windows shut as about 1,000 tonnes of waste are burning.

Copyright: West Midlands Fire Service

West Midlands Fire Service said 60 firefighters were continuing to battle the blaze on Straight Road, Short Heath, having been called at about 12:30.

It said the fire involved mixed recycling materials including cardboard and clothes.

The financial nightmare facing football

BBC Sport has been examining the financial impact of Covid-19 on English football and how clubs face a range of problems.

On 3 April, the Premier League agreed to advance £125m in payments to the EFL and National League, although only £2m of it will go to the 68 National League clubs.

However, business plans in the Championship remain under great strain, a mass furlough of players is being threatened in Leagues One and Two, while non-league clubs are considering legal action.

The financial impacts include Birmingham City, which reached a deferral agreement with its first-team squad, and West Bromwich Albion chief executive Mark Jenkins who took a 100% pay cut.

Read more on the BBC website.