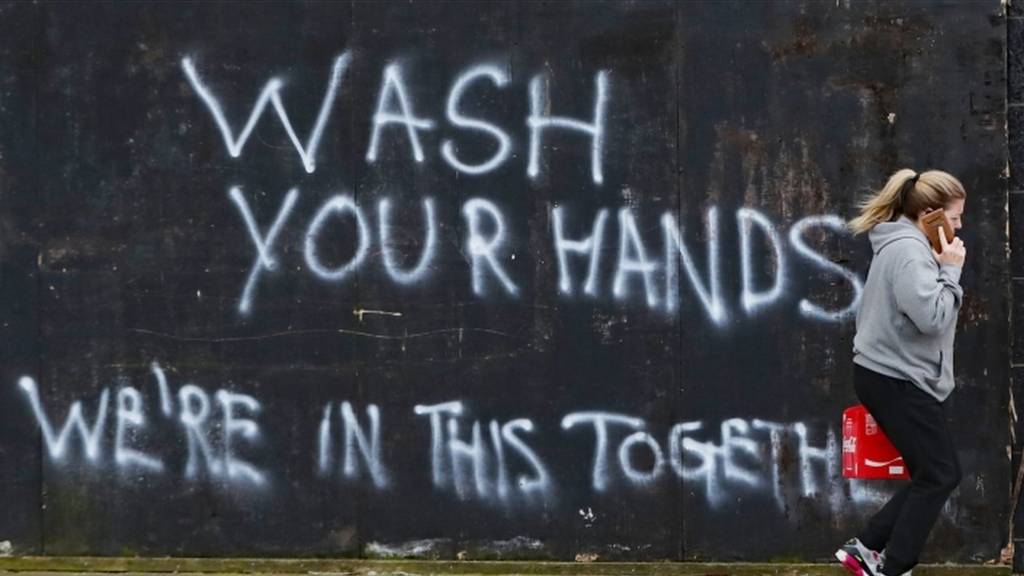 By Rachel Schraer

Health reporter

Our live coverage across the day

That's all for our updates from across the West Midlands for today.

Many thanks for being with us and sharing what is happening during the coronavirus lockdown.

The live page team will be back to keep you updated from Wednesday morning.

Boy's artwork decorates police station

Homes, shops, pubs and even police stations are being decorated with artwork by children, to cheer us all up and pass on important advice.

Six-year-old Joseph has been thanked for his drawings which have gone on display at Ketley police station in Telford and in a police patrol car.

Joseph wanted to thank key workers and NHS staff while reminding us all to wash our hands.

Copyright: West Mercia Police

Make a Difference: Shakespeare Trust donates masks and gloves

Warwickshire's Shakespeare Birthplace Trust has donated gloves, masks and goggles to the local NHS trust.

The organisations that runs Mary Arden's Farm and Anne Hathaway's cottage said the kit would normally be used by their museum, library and archives team.

Make A Difference: Thousands raised for people in Staffordshire

The Community Foundation for Staffordshire has launched an appeal for people across the county affected by coronavirus.

It has already raised over £100,000, which will be distributed to those in need. To donate, visit the fundraising page.

Arts centre forced to cease trading

Bromsgrove arts centre, the Artrix, has taken the decision to cease treading immediately.

It had already been facing financial uncertainty before closing its doors last month to comply with lockdown regulations.

Director Angela Galvin said it was "devastating, but with no clear indication of when it could potentially reopen, there was no other option."

People who used the centre and musicians such as Nigel Clark from Dodgy and Chris Helme from The Seahorses, who played at the venue crecently, have tweeted to share their disappointment.

In a hospital bed in Dudley and struggling to breathe pregnant Michelle Wright calls on people to stay at home and save lives.

Around the web: Bottling company makes hand sanitiser

Headlining stories from across the West Midlands:

Make a Difference: Stones painted to 'thank NHS'

Coventry artist Helen Watson-Jones has been painting stones and leaving them out as thank you notes for NHS workers.

Copyright: Helen Watson-Jones

She urged people to paint similar stones and share images of them on the NHS Stones Facebook page she's set up.

Copyright: Helen Watson-Jones

But, she stressed, people must stick to social distancing guidelines.

"It's very important not to go out just to leave stones, and if you do find a stone it's important not to pick it up, because you don't want to be touching surfaces right now."

"But you could stand by it and give it a little clap," she added.

Messages brighten the days for police

Pictures and messages of support continue to brighten up the days for our emergency service workers.

Police officers came across message of support whilst patrolling in Sutton Coldfield earlier.

"Great to see lots of social distancing and also some great art work that has made our day," the force tweeted.

Copyright: West Midlands Police

Officers in Smethwick also came across some "lovely messages."

Make a difference: Hundreds of trees planted

Four hundred trees have been planted by one man as volunteers were unable to meet amid the coronavirus lockdown measures..

Tristan Haynes of the Telford Woods Social Enterprise had recently received the small trees from the Woodland Trust to plant in locations across the area.

But, as coronavirus meant his team could not meet, he worked with the Bournville Village Trust to plant the trees in an area of Lightmoor Village in Telford.

A colleague is on hand to keep them watered and weed free while they're establishing throughout the summer.

In five years he hopes they will be "quite sizable trees" and become a "tiny forest".

Virtual remand hearings introduced a year early

Virtual remand courts are being introduced to the West Mercia police area a year earlier that originally planned, because of the Coronavirus crisis.

The West Mercia Police and Crime Commisioner, John Campion, announced two years ago that the regions five remand courts were going to be cut to down to just one, with measures put in place to do them via video link in 2021.

The virtual hearings were held for the first time yesterday in Telford, Hereford and Worcester have been rolled out earlier than scheduled.

Folk activities grant to be used online

A £10,000 grant which was meant to be spent on folk activities in Shropshire this year will be spent on online projects instead.

Artists are being asked to use the lottery money to create a series of videos for social media and people are being asked to contribute their own folk memories too.

By Leo Kelion

Technology desk editor

Make a difference: Football club charity delivers snacks

Staff from the Aston Villa Foundation, the football club's official charity, have been delivering snacks and drinks to hospitals across Birmingham.

They say it's just their way of saying thank you for all staff's hard work and efforts during this unprecedented time.